I received a follow-up question to my 90-degree article a few weeks back asking for the history of 100-degree weather in Denver.
One hundred degree temperature readings do happen in Denver, but aren't typically all that common for the city.
Denver averages just two 100-degree days each year – Denver International Airport (DIA) is the official weather reporting station for the city.
DIA came online in mid-1994. In its 20 full summers of data, DIA has had years without a single 100-degree day (1995, 1996, 1997, 1999, 2004, 2009, 2011, and 2015) but has had as many as 13 100-degree days (2012).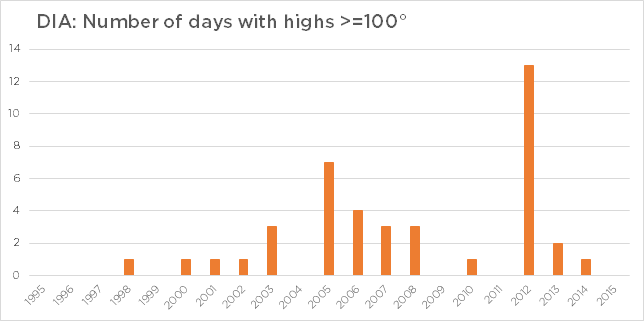 Here's the list of top 5 occurrences of consecutive 100-degree days; note that 2012 appears 3 times...it was a hot one that year:
5 days in 2012
5 days in 2005
3 days in 2012
3 days in 2012
2 days in 2008
For those that want some data comparison within the city, Stapleton was the official site for Denver for a long stretch before DIA. I've pulled that location's data and since 1948, Stapleton averages less than one 100-degree day per year.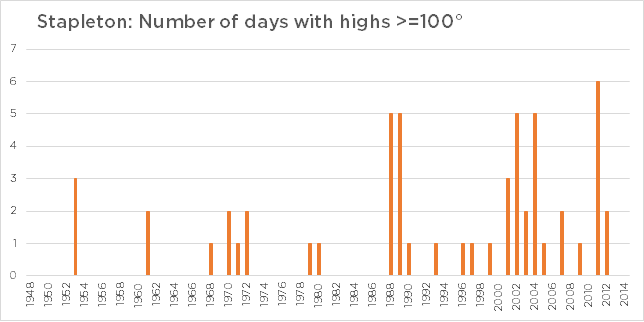 Like DIA, the longest streak of consecutive 100s was in 2012:
5 days in 2012
5 days in 2005
5 days in 1989
4 days in 1990
2 days in 2008
So, although we do have 100-degree days in the Denver area, there aren't very many. And, if we can string more than 2 days in a row of 100-degree heat that's even more of a rarity.
We'll be close to the 100 degree mark this afternoon. In fact, several weather stations across the region are already reporting 100 degree readings as of 1:30pm Sunday. Our station, located about a mile south of Downtown has so far logged a maximum temperature of 98.7° F, so 100° is certainly within reach. The airport, however, was sitting at 94° as of 1:30pm, so has a bit further to go. We'll see.
Stay cool!