We're nearly two thirds of the way through meteorological summer (June 1 – August 31), and so far, 2016 has been a very warm summer indeed. While not record-breaking, if you've been complaining about the heat, here are some hot numbers to back you up.
The mean temperature through the July 26th is sitting at 73.2°F, the warmest mean temperature we have seen for the period since 2012 (which was remarkably warmer at 76.8°F). Since 1972, this is the 10th warmest June 1 to July 26 period on record for Denver, with 2012 being the warmest (76.8°F) and 1967 the coolest (63.8°F).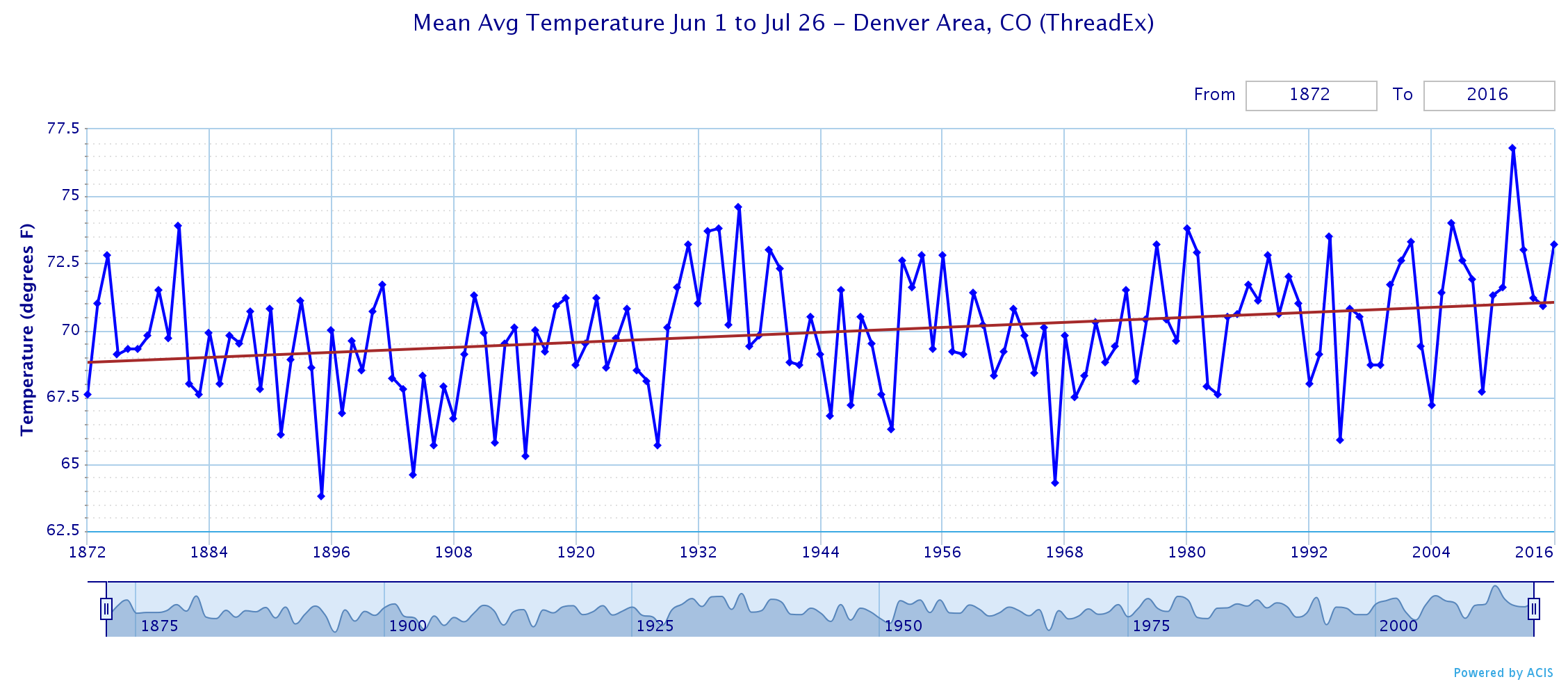 While we've seen a lot of hot days in the last two months, we've also had at least a couple nice breaks. July, for example, started quite cool with several days in a row recording below normal temperatures for highs. We've since been much warmer overall, including today marking the 11th day in a row Denver International Airport (where records are currently kept) has recorded a high 90°F or warmer. This is tied for the 18th longest streak on record, the longest being 24 consecutive days of 90°F+ set in 2012 and 2008. The chart below shows the high temperature departure from normal for each day between June 1 and yesterday July 26. The +12.7°F on July 10th was the 102°F reading at DIA. As you can see, many more days have been above average than below:

Through July 26 there have been 13 days where the maximum temperature has reached 95°F or hotter at DIA. That works out to be a four way tie (1978, 1989, 1990, 2001) for fifth most days with maximum temperatures that warm:
2012: 28 days >= 95°F Jun 1 - Jul 26
1874, 2007: 17
2005, 2006: 16
1936, 1994, 2008: 14
1978, 1989, 1990, 2001, 2016: 13
Since 1872, there has definitely been an up-tick in these extremely hot days – even considering how often Denver's weather station has moved so dramatically. In fact, I did compare Stapleton and DIA for the last 20 years, and the trends show similar results. Since 2000, fourteen years have made the top 10 list for number of days >= 95°F (many ties) for the period in question.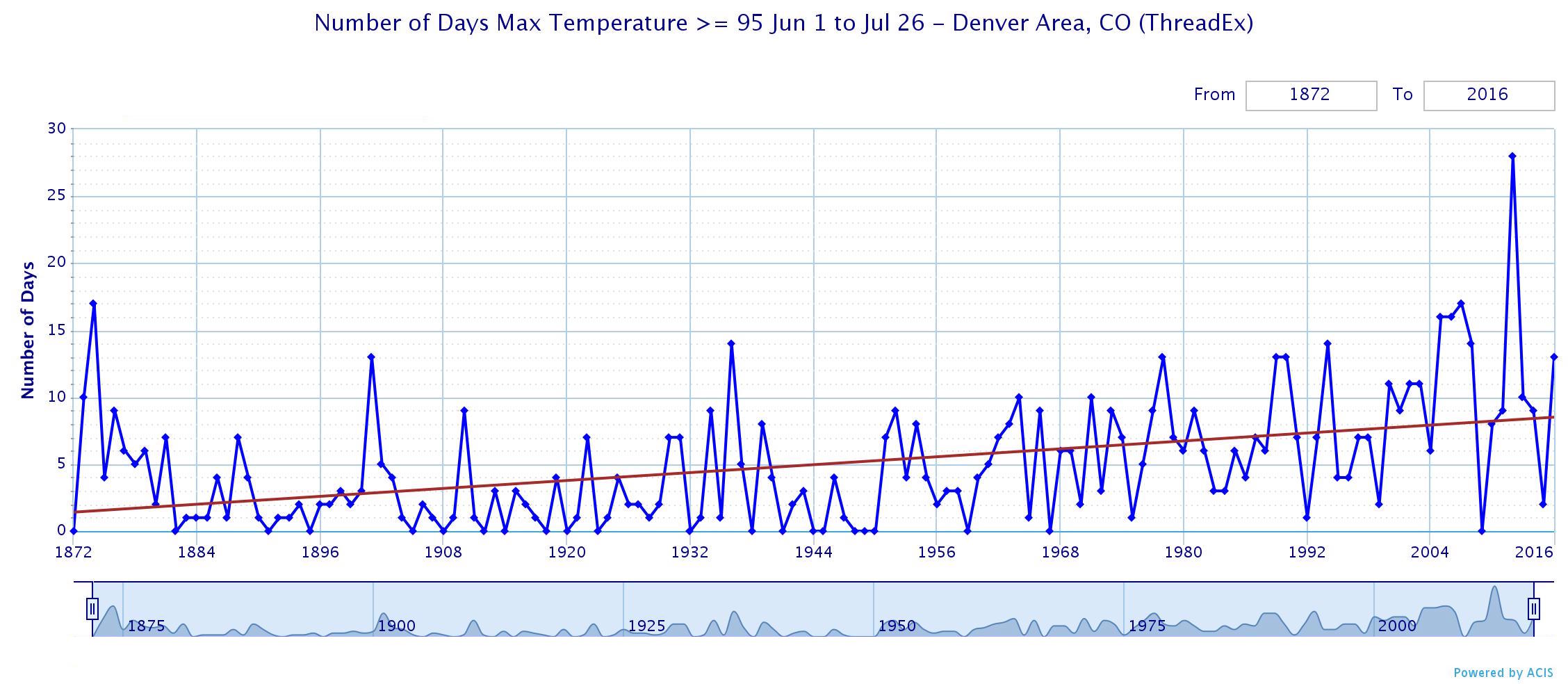 So far this summer the hottest temperature recorded at DIA has been 102°F. While it broke the record for the date, the city has seen warmer temperatures, with the all-time record high for the city sitting at 105°F, last reached in 2012, and prior to that 2005. While the official temperature has come close to the century mark several times this month, July 10th was the only time it actually made it, and was the first time since 2014 to do so.
Related: 100 Degree Days Aren't All that Common for Denver
As for precipitation, the numbers aren't quite as grim for much of eastern Colorado, but there's a mixed bag. In Denver, we're running a below average for the two month period in Denver (2.68" at DIA vs 3.75" on average) with a few days left in the month to pick up some additional precipitation – maybe.
The map below shows precipitation totals as a percent of normal of the last 60 days (so includes the last few days of May). Those across the Palmer Ridge south of Denver and areas extending northeast have faired the best with precipitation over this period, with communities up and down the I-25 urban corridor seeing much more variation in boom or bust for precipitation (bust looking at you Fort Collins).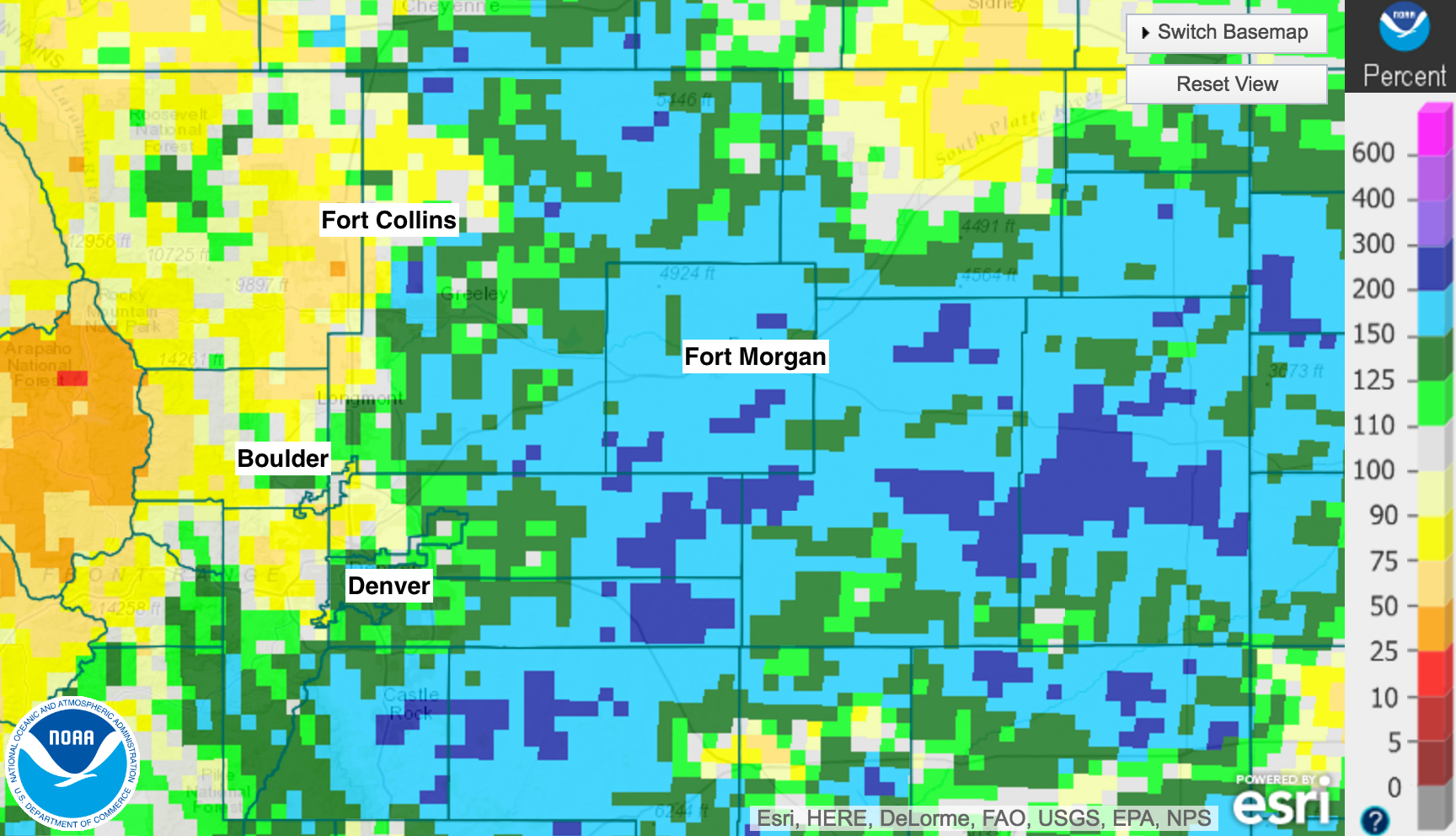 As for the forecast? It continues to look pretty warm overall. We'll likely see some cooler days scattered in here (we discussed how poorly models are handling things in this week's SOTA), but much of the next 5 to 7 days look very warm. Below is last night's GEFS forecast (today's 12z was notably cooler for next week). The latest EURO forecast looks very similar, though still insists this coming Thursday will be much cooler than the GFS thinks it will.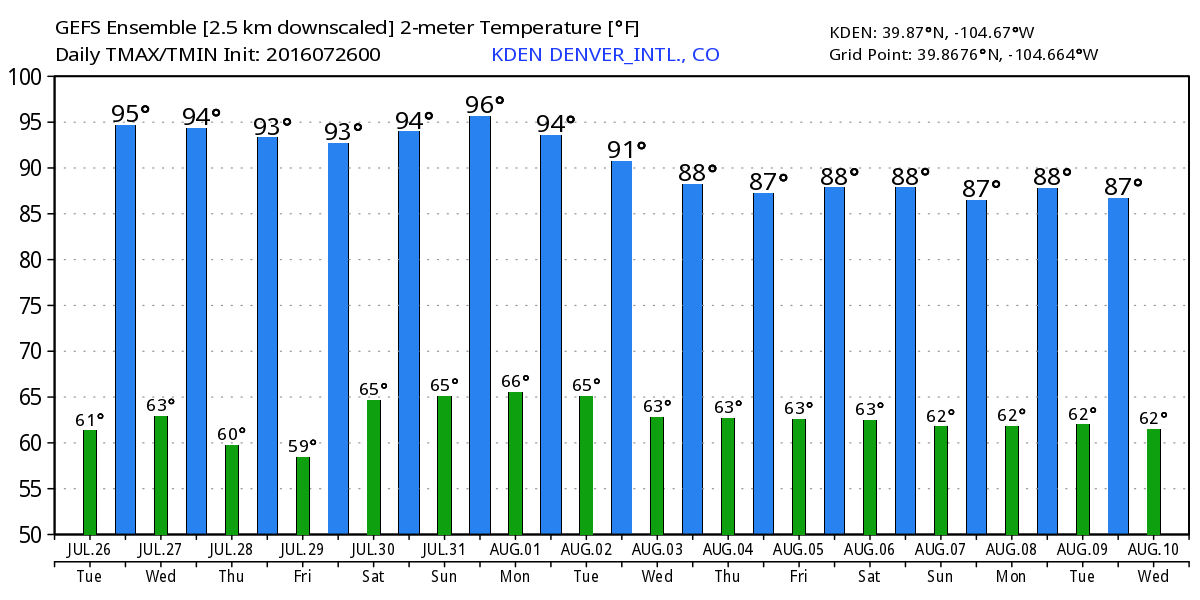 While August is yet another very warm month for us on average, those tired of the heat can take some solace in knowing that as of August 2nd, Denver's average high temperature begins to fall, and will continue to do so each day through the end of the year.
---
Post has been updated with corrected precipitation numbers for DIA.