As we discussed at length in our Insider update last week, some cold air is on the way for this upcoming week, as well as at least a chance for snow across the region.
While models have been fairly consistent in bringing snow to the Denver area with this system, they've flip-flopped quite a bit on exactly how much. With these types of systems, generally models have a tendency to overdo QPF, and I think we've seen that a lot over the last several days. Today models are much drier, which makes sense given systems coming from the northwest usually aren't that favorable for big snowfall totals across the I-25 urban corridor as they are moisture-starved.
First, the cold: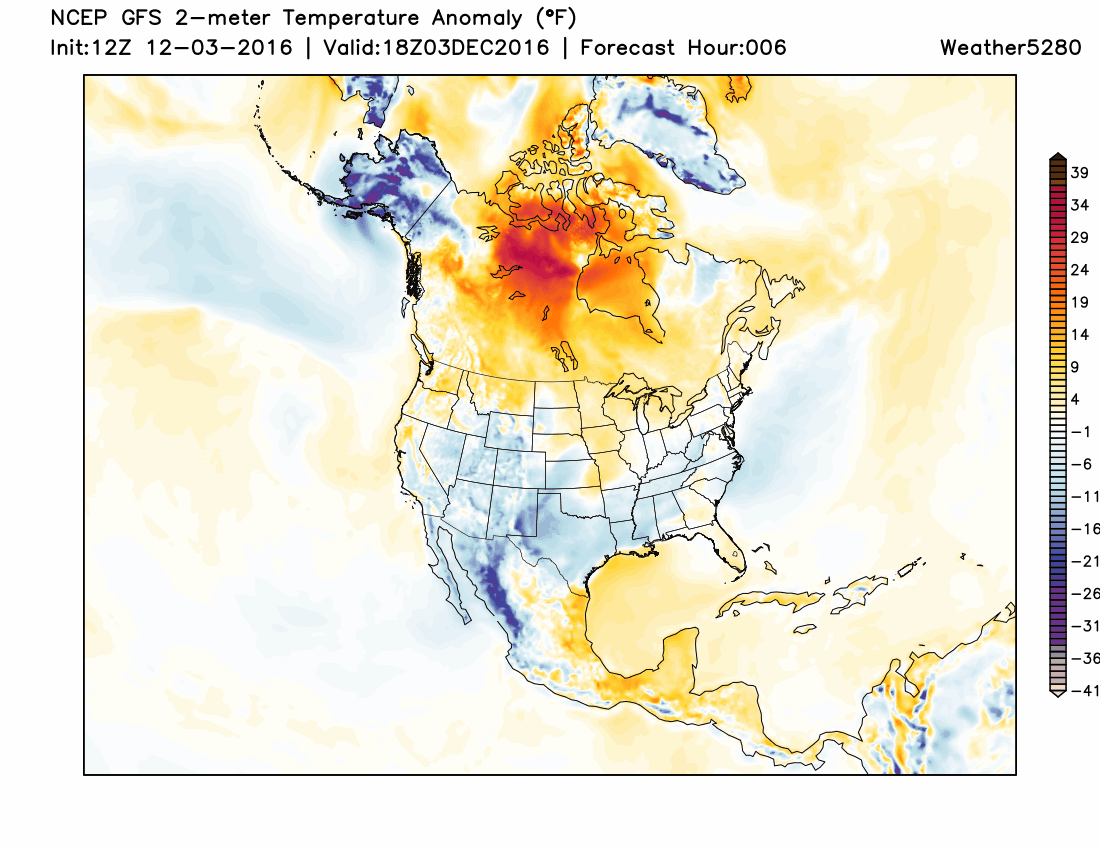 The map above indicates forecast temperatures that are above normal (golds/reds) and below normal (blues/purples/whites). At forecast hour zero one can see the cool temperatures we have across the region right now, but they are light blues, with even some warm colors across the Plains. In the next days, however, we see a pocket of very cold air pool in western Canada, which then slowly pushes south.
This is the coldest air of the season on the way for eastern Colorado. It'll arrive Tuesday, with the chance for snow, with the coldest air of the week settling in for your day Wednesday. Latest MOS guidance suggests highs in the 20s Tuesday with overnight lows in the single digits for Denver, with teens for highs Wednesday, and possibly some sub-zero readings across the region Wednesday morning. So, quite cold, but at this point not record-breaking cold for this time of year either.
The GEFS would agree (blue bars are high temp forecasts, green lows):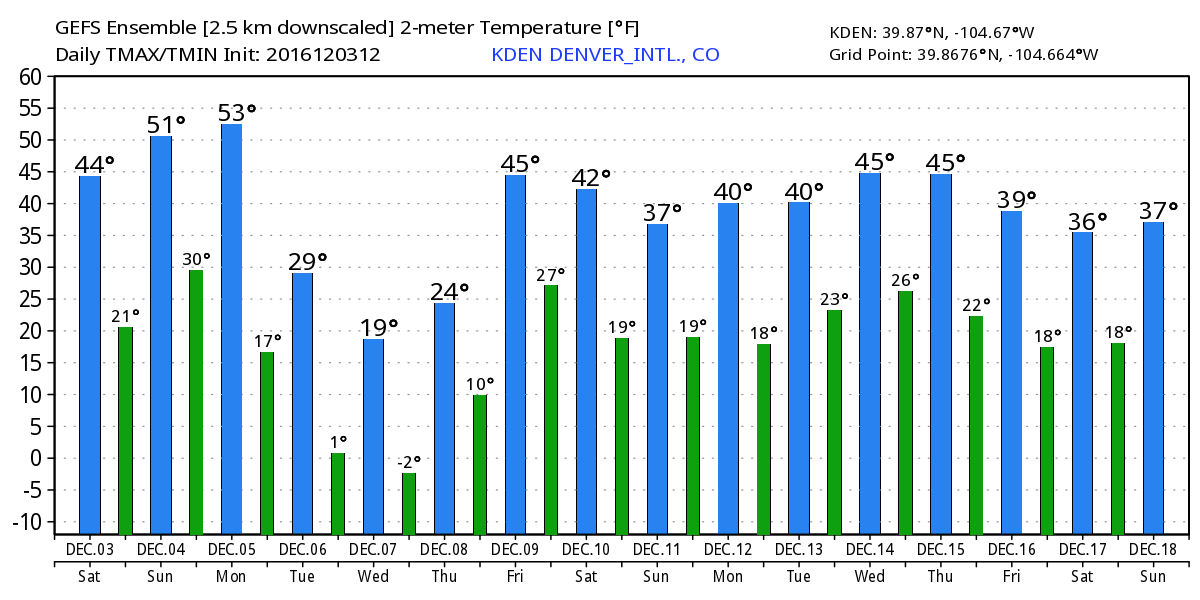 How cold we end up getting will greatly depend on how much snow we receive. While either way you cut it it'll be quite cold, if we end up with a few or even several inches of snow Tuesday, we may see temperatures cool a bit more than indicated above for Wednesday. Conversely, less snow means less cold – though at a certain point that's splitting hair. This kind of cold is just cold.
Until then, we'll actually see a bit of warm up, with highs Monday into the 50s for Denver, before the cold front arrives later in the day Monday.
Snowfall potential
While several models have produced upwards of 8" of snow for Denver with this system over the last week, consensus is narrowing in on much lower snowfall totals, which makes more sense given the set up.
If we look at the 500mb forecast from the GEFS, we see the blues (storminess) skirt Colorado on Tuesday on Wednesday, but notice how quickly they pass through, and that much of the deeper blues are focused right over and north of the state. Typically we'll look for these troughs to dig a bit further south and to be moving a bit slower to enhance snowfall over northeast Colorado by tapping into better moisture for those on the east side of the Rockies.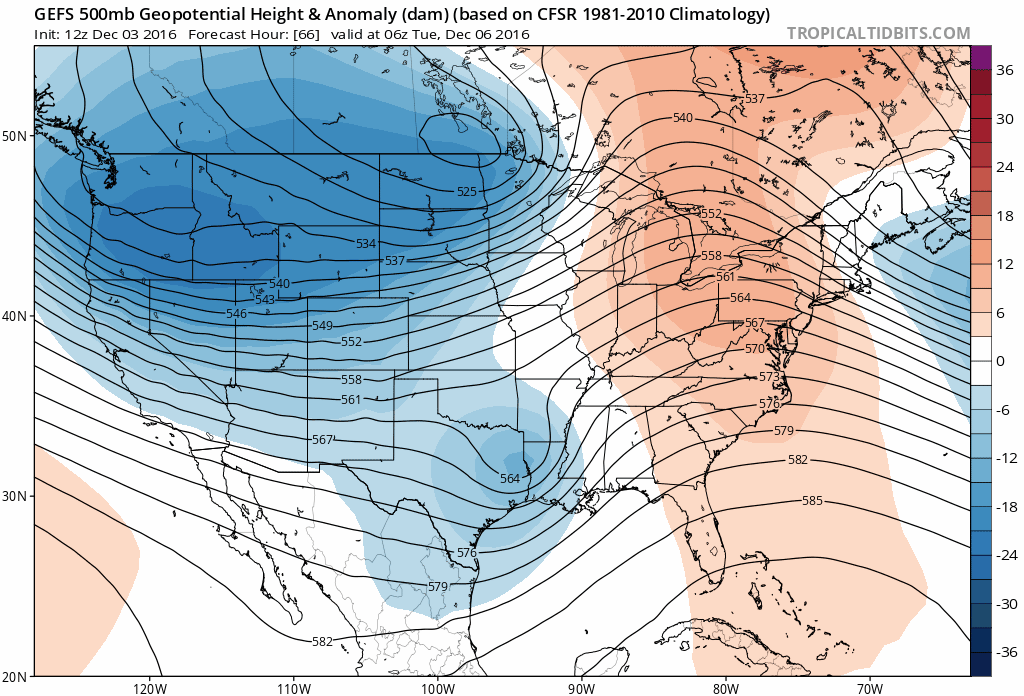 Instead, this system will likely favor the northwest mountains, and closer to the Denver area foothill locations immediately adjacent to I-25, and the Palmer Divide, while those living out across the Plains will likely see much less snow (unless things change), with Denver somewhere in between.
The GFS (American model) has been all over the place with snow, most recently producing not much of any for the Denver area. The EURO, while jittery earlier in the week, has been more more consistent over the last day or two, and has come into good agreement with its ensemble mean forecast as well. If we lean EURO, it'd suggest the Denver area sees somewhere in the 1 - 4" range for snow, with likely higher amounts west and south of town. If it begins to dry out as the GFS has, it could be we see those numbers go down too. One thing this system has going for it, is that while maybe a bit moisture-starved, snowfall ratios will be high, so with fluffy snow, may see a bit better measurable accumulation from what does fall.
A quick look at CIPS analogs for this next week would agree with the EURO. Here's a look at the 15 top analogs that exceed 2" of snow – upwards of 60% for Denver, with much higher percentages west.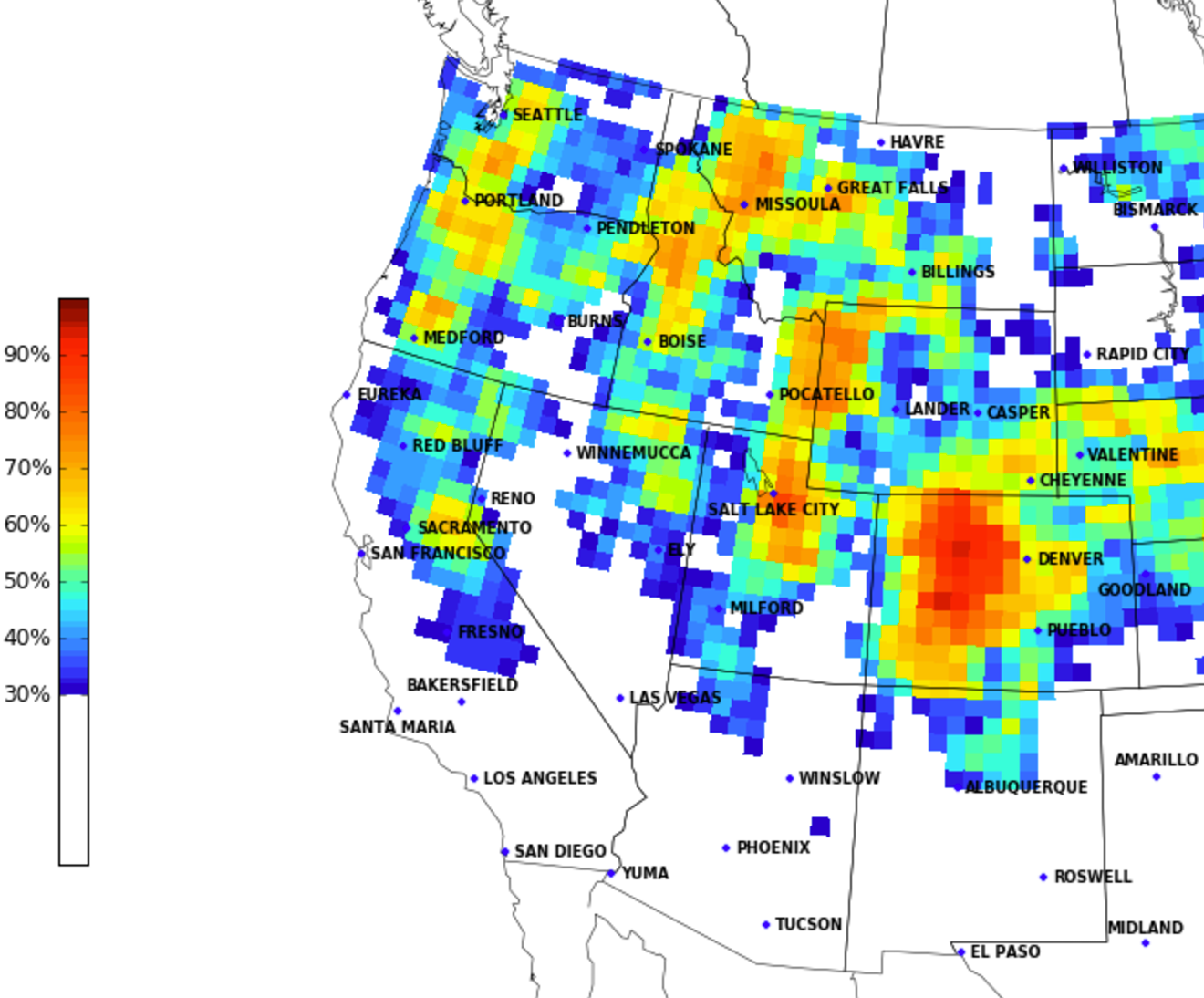 When we look at the percentage of top analogs that exceed 4" of snow, we see those number drop dramatically: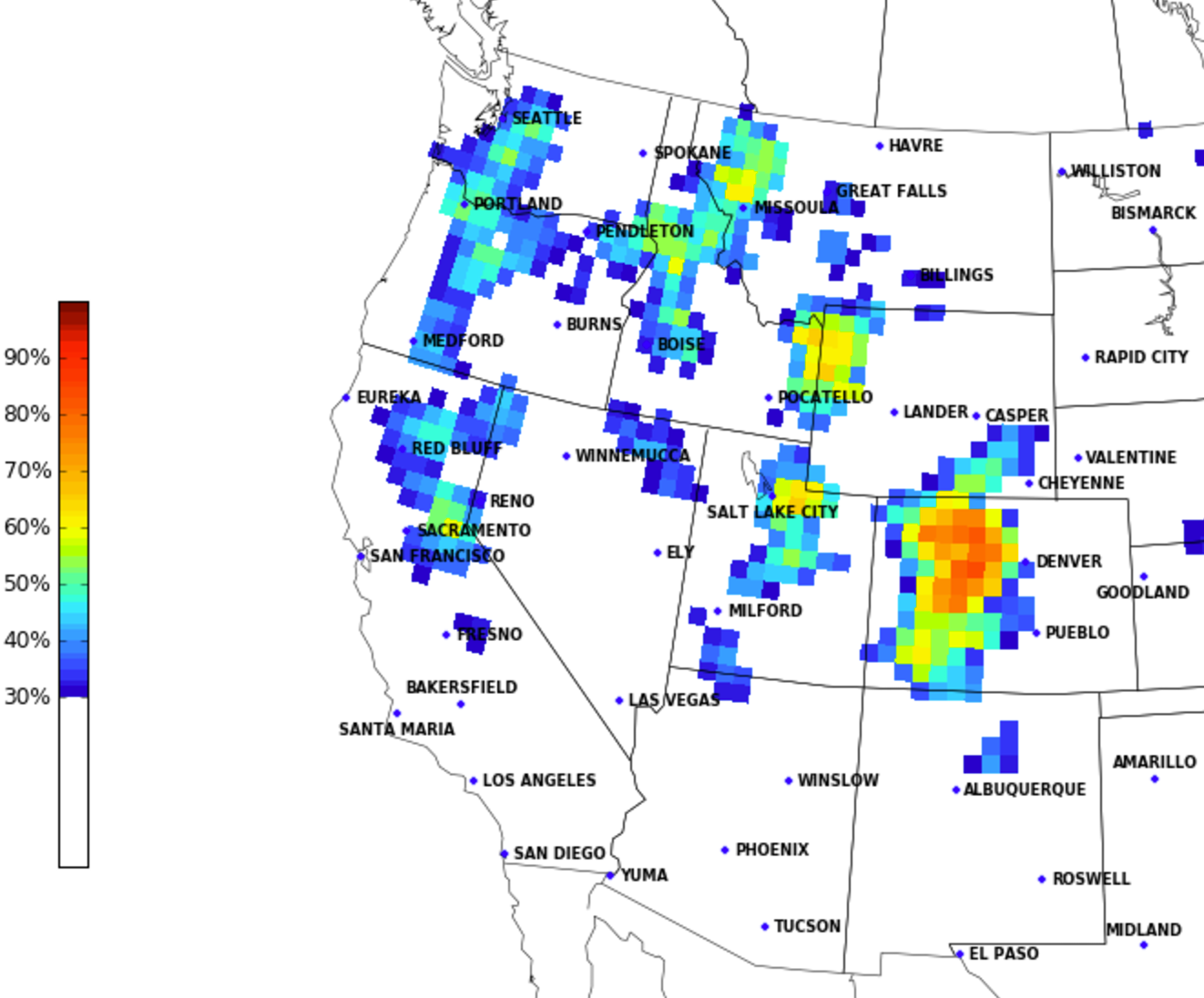 Planning
For your planning forecast, look for a couple more nice days before the changes arrive. Sunday will be mostly sunny in Denver with highs near 50, with a similar day on tap for Monday – depending on the speed of the front. An earlier arrival would knock down those daytime highs a bit, later arrival would mean another full day of nice, mild December weather.
By Tuesday look for a chance of snow across the region, with daytime high in the 20s, and falling. That chance of snow remains in the forecast Tuesday night, with highs dropping into the teens and single digits. Wednesday will be the coldest day of the week, when highs may not make it out of the teens in Denver.
The warming trend begins slowly on Thursday, with 40s back in the forecast by Friday.
What to watch
Does GFS hold steady? If so, do other models come around to it. If current GFS trends hold, this will be a very minor snow event for the Front Range urban corridor.
Does the good consensus between the deterministic EURO and its ensemble mean win out? This would mean a few inches possible along the I-25 urban corridor.
Just how cold will it get?
Stay tuned!