We hope all of you are enjoying a quiet time of weather because the weather pattern is going to get increasingly active late this week. We talked a bit about this in the State of The Atmosphere on Sunday, and I did a Facebook Live about it yesterday. But, enough of the small talk...let's dive in!
GFS Forecast Upper-Level Pattern and Surface Temperature Anomaly
Midday Thursday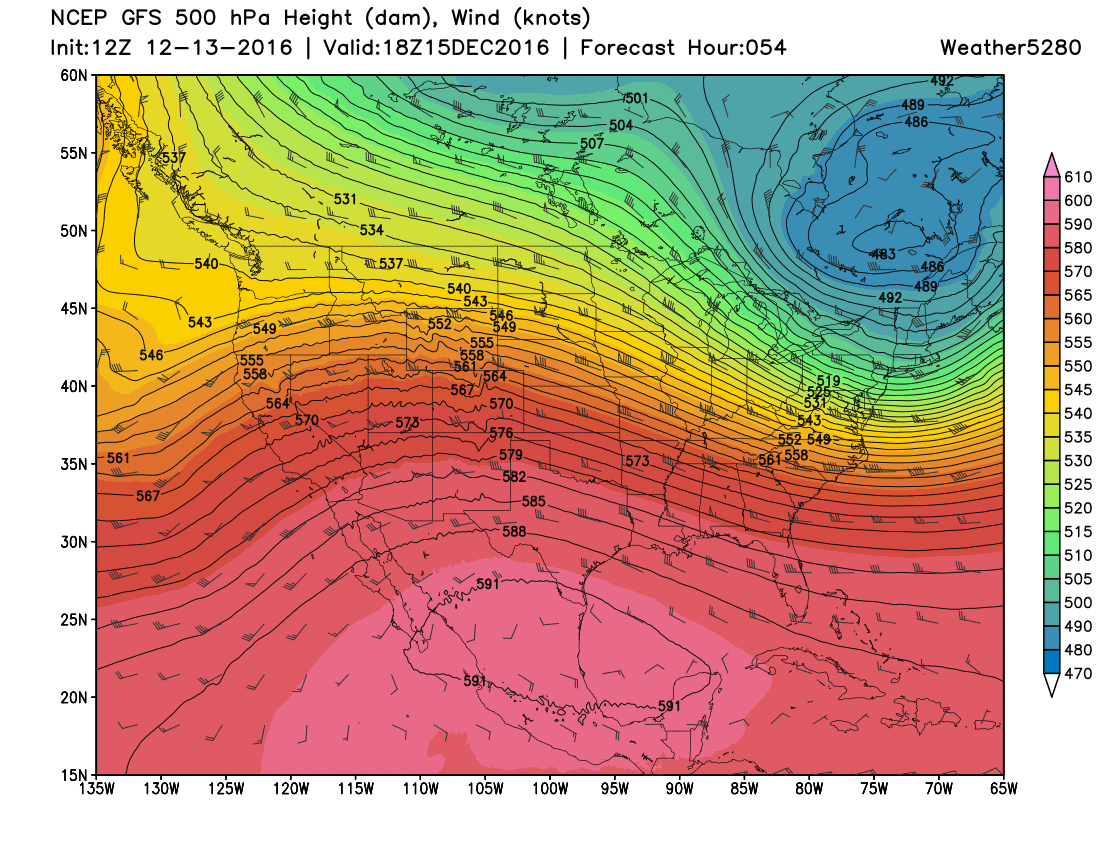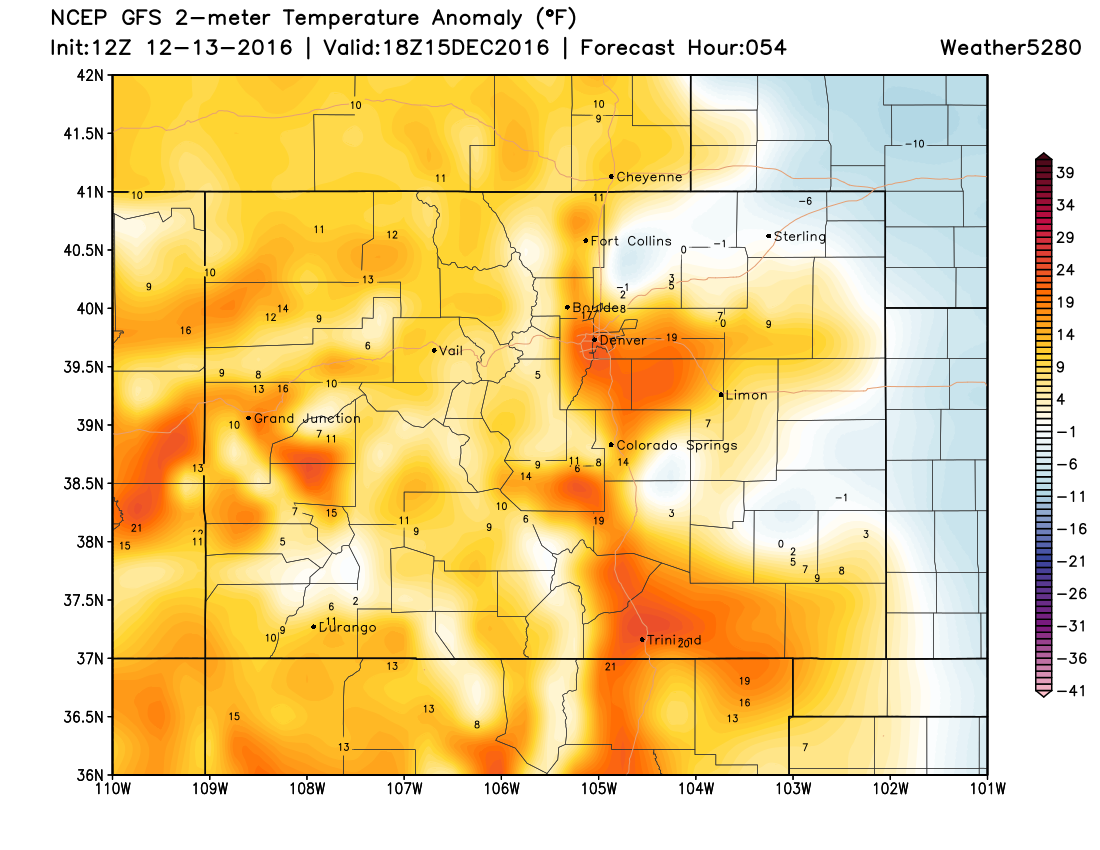 After a chilly day on Wednesday with some snow showers around, an upper-level ridge of high pressure provides us with a nice warm up for Thursday. The wind will start to crank a bit in the mountains and foothills, so look for that as well.
Midday Friday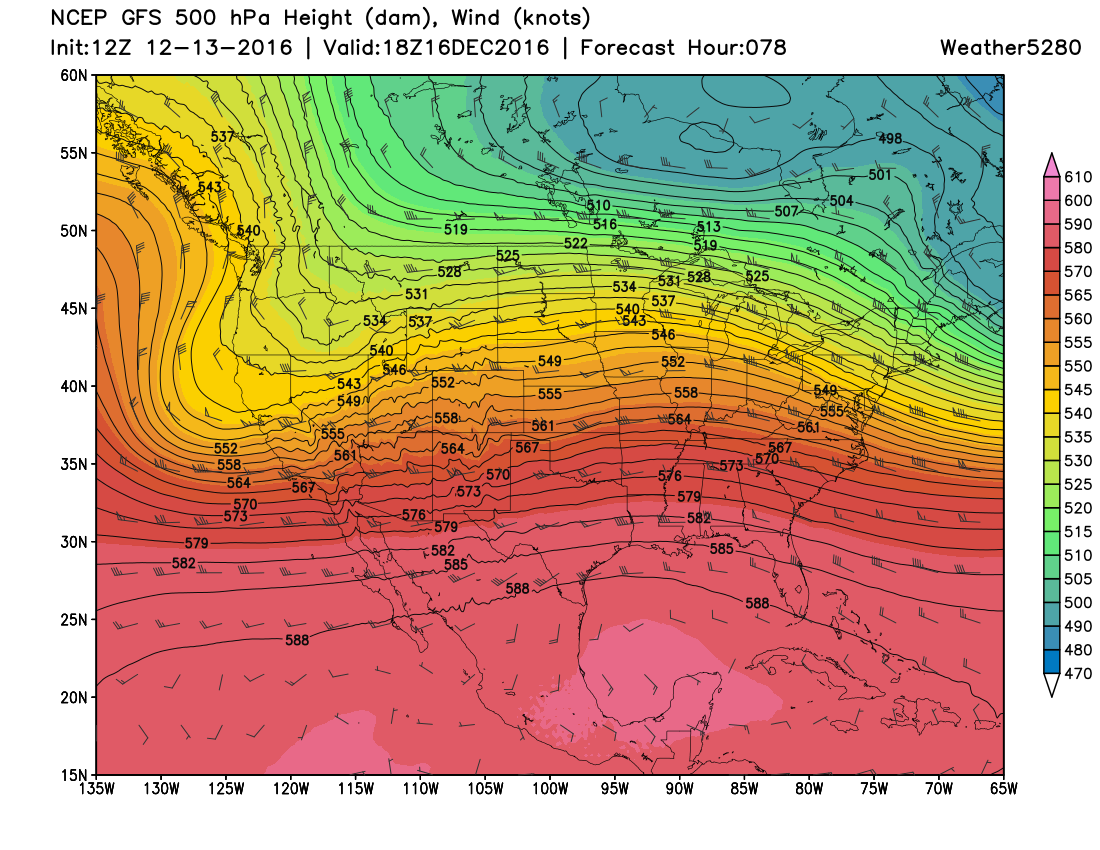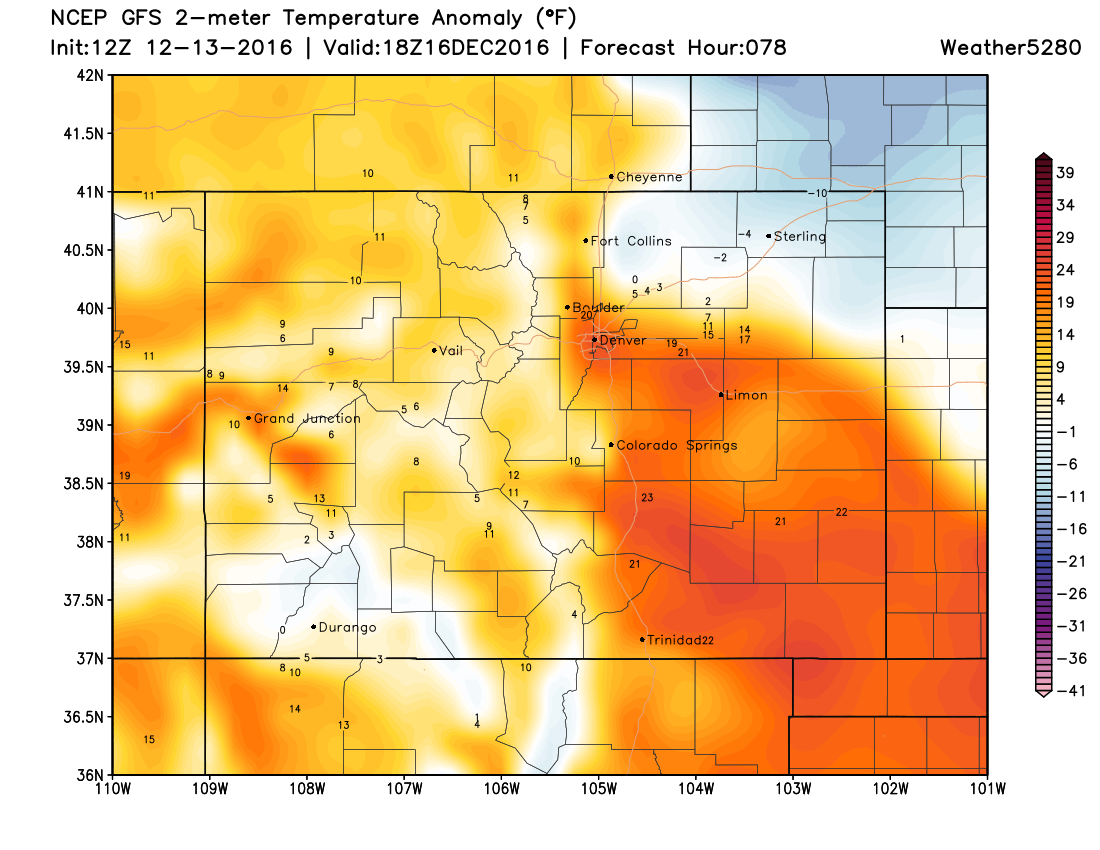 On Friday, we see the upper-level ridge flatten, as strong jet stream energy starts to move into Colorado. This will make for a windy and very warm day. Some records will likely be threatened and or broken in Southern Colorado this day.
Midday Saturday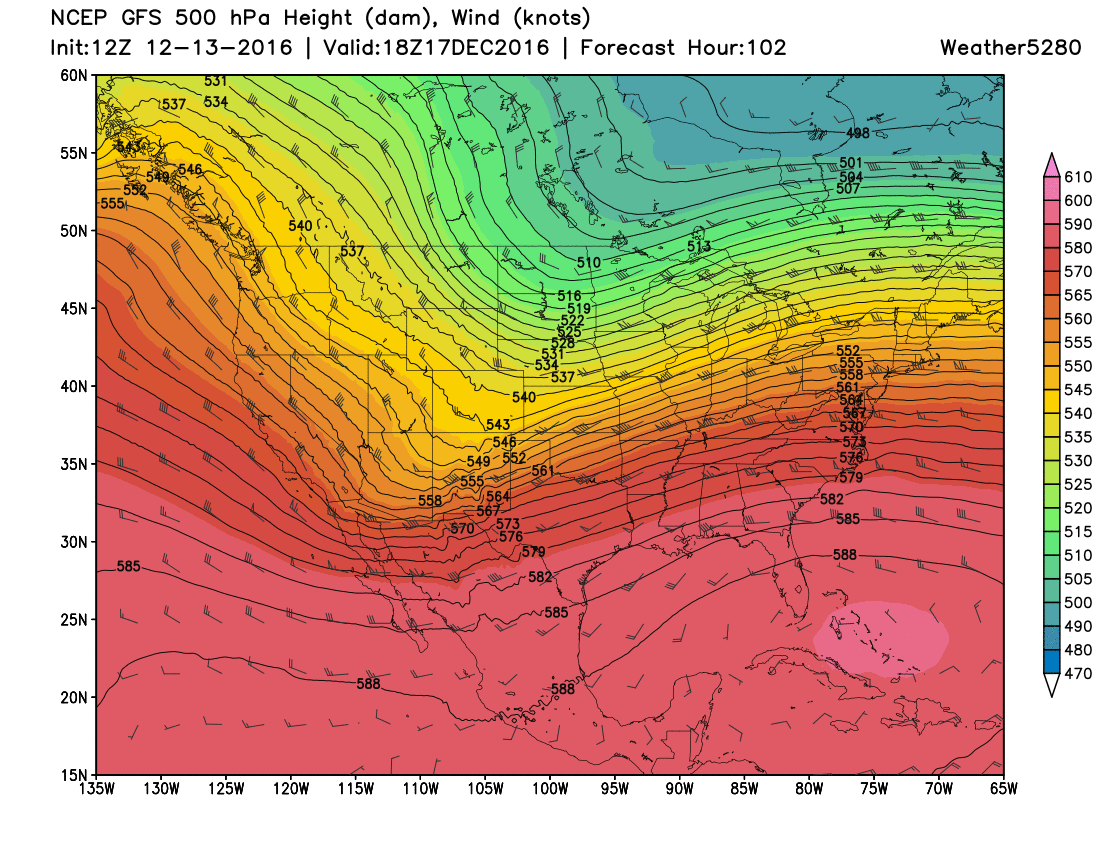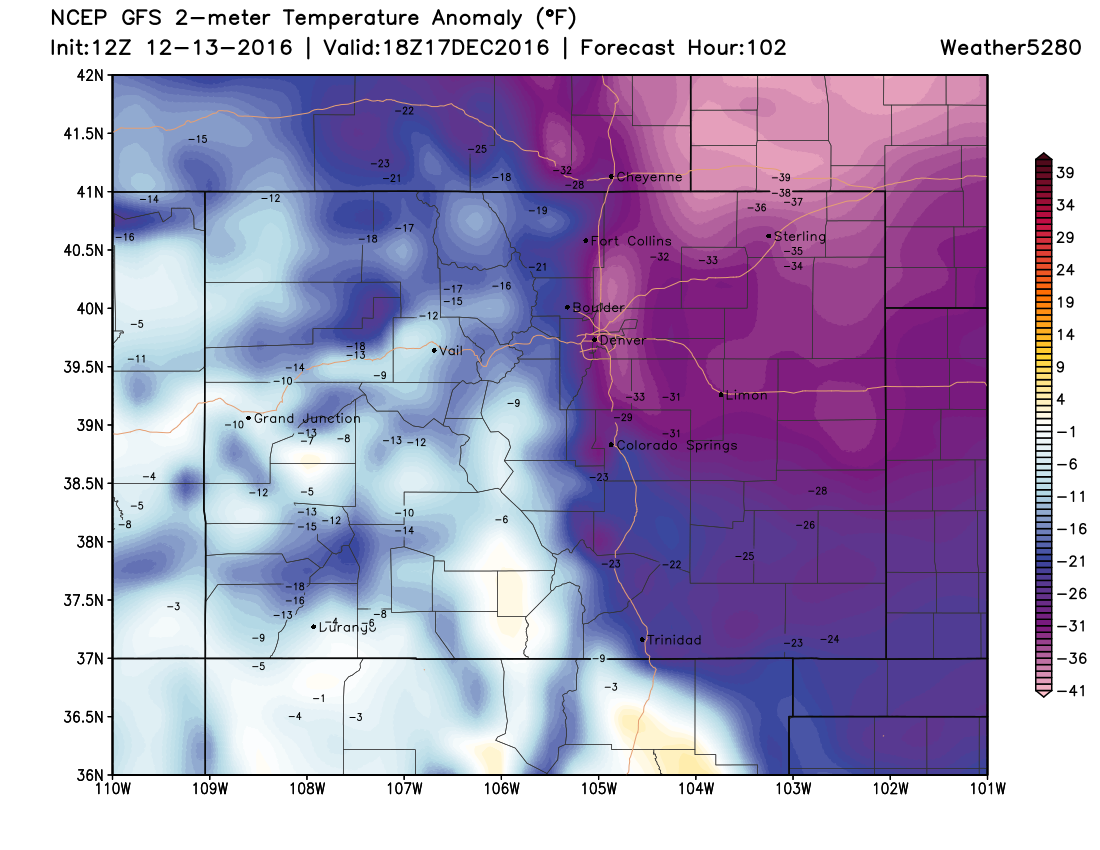 An upper-level trough of low pressure swings through Colorado. At the surface, a STRONG Arctic front rolls through late Friday night and early Saturday. By midday Saturday, all of Eastern Colorado is in the deep freeze. Temperatures will be 20 to 40 degrees below average... and still falling.
Midday Sunday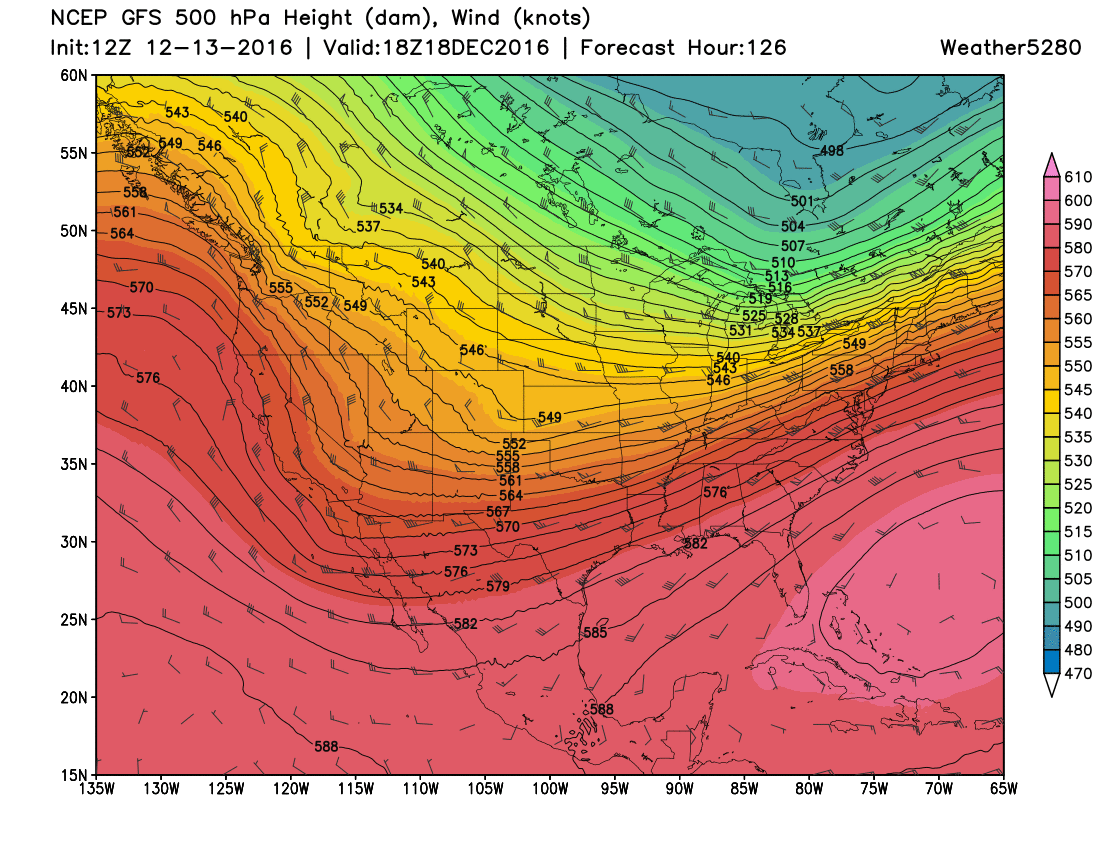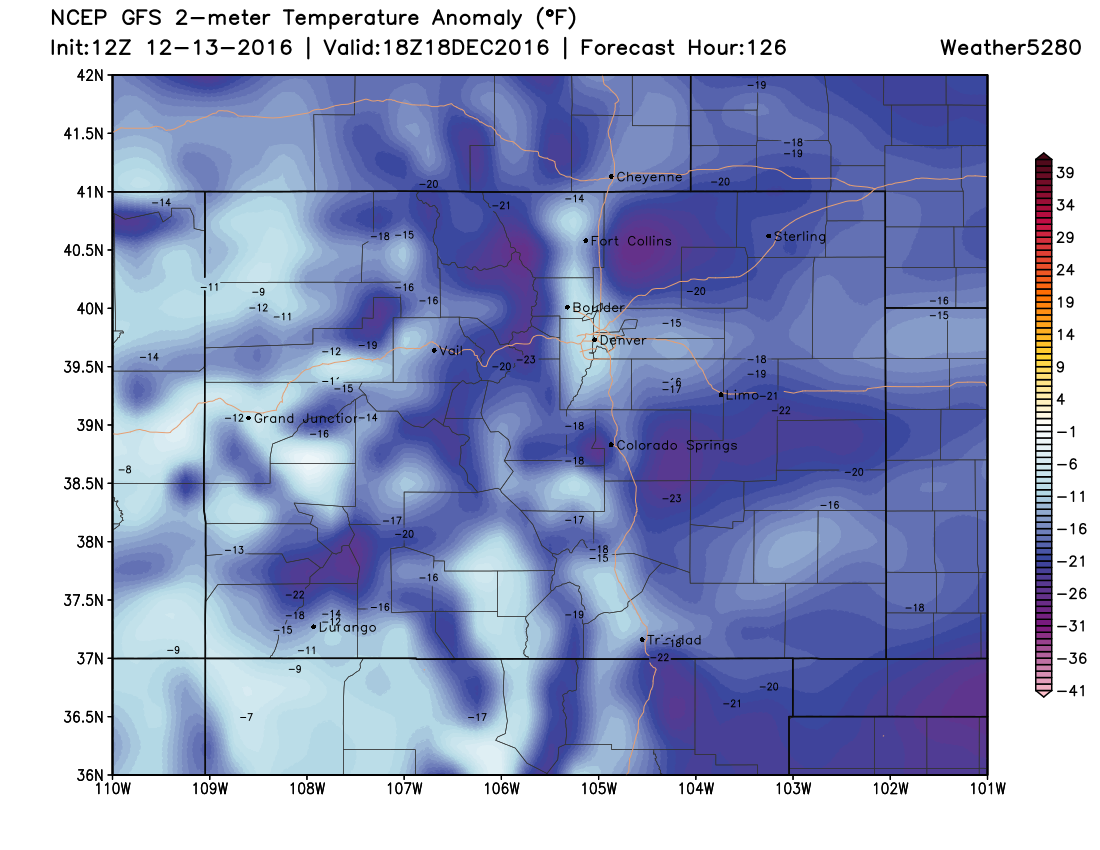 By Sunday the upper-level trough is still influencing our area, but the Arctic air is the main story. Temperatures will struggle to get out of the teens in most places.
Now, let's look at snow potential...
GFS Surface Pattern and Precipitation Type
6 PM Friday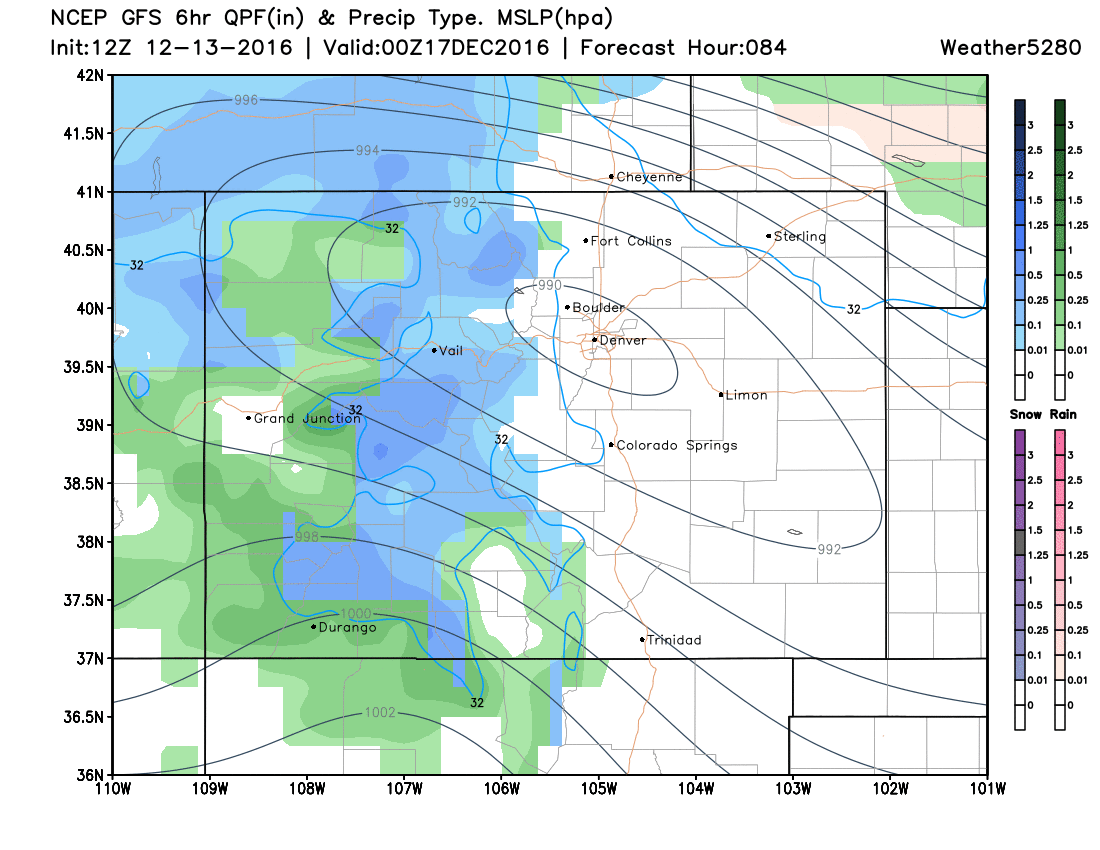 Low pressure developing around Denver, with Arctic front depicted farther north. GFS may be a bit too far with the low-pressure area and subsequent Arctic air.
12 AM Saturday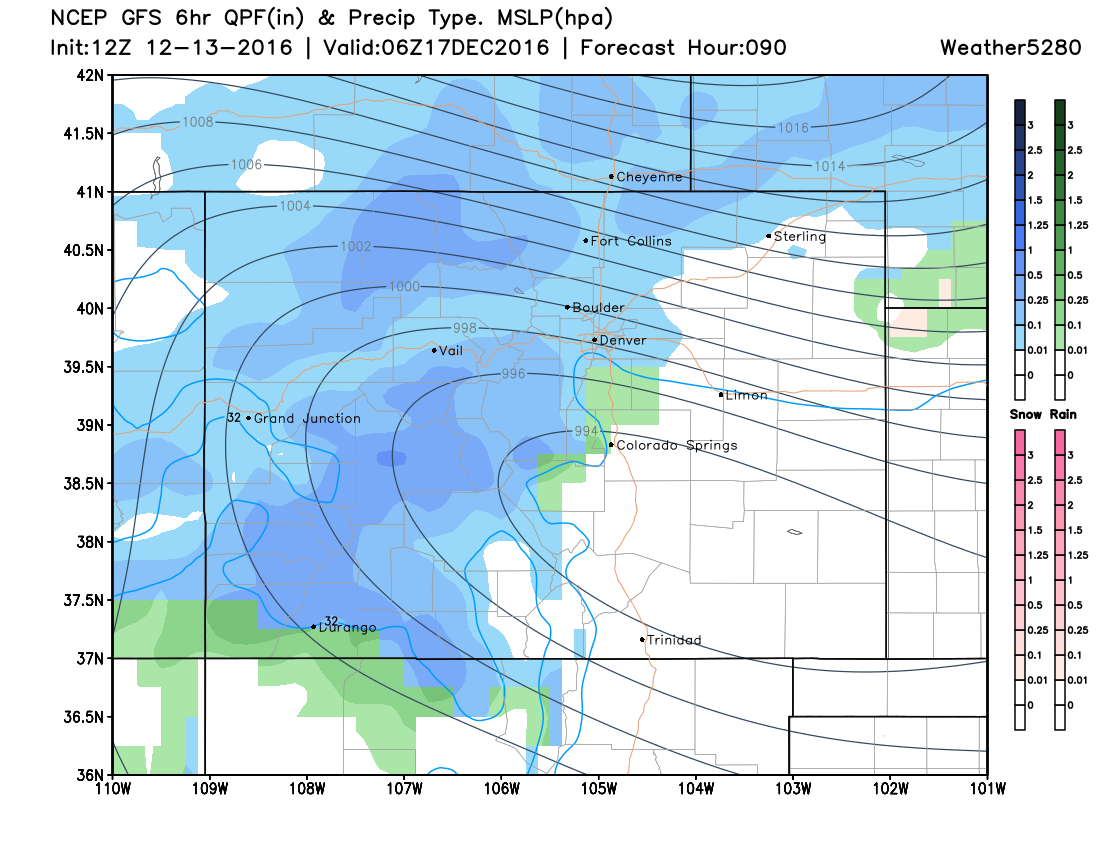 Low-pressure area slides southward, and Arctic air really starts to move into Eastern Colorado. Snow breaks out along and immediately behind the front. Gust north-northeast wind will be ongoing...
6 AM Saturday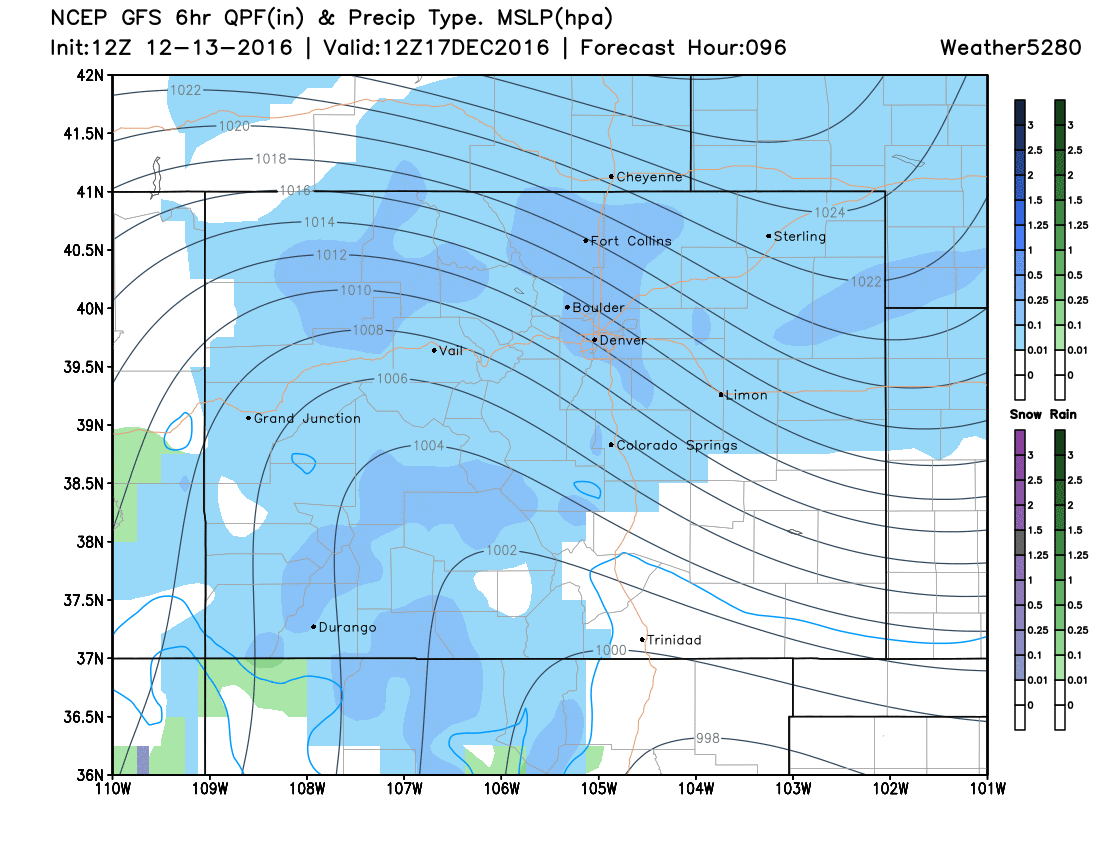 Snow showers continue for much of the state, but GFS may also be a bit shy with snow potential farther southeast. Thus, we think areas of Southeast Colorado will be seeing some snow too. Gusty wind is still ongoing...
12 PM Saturday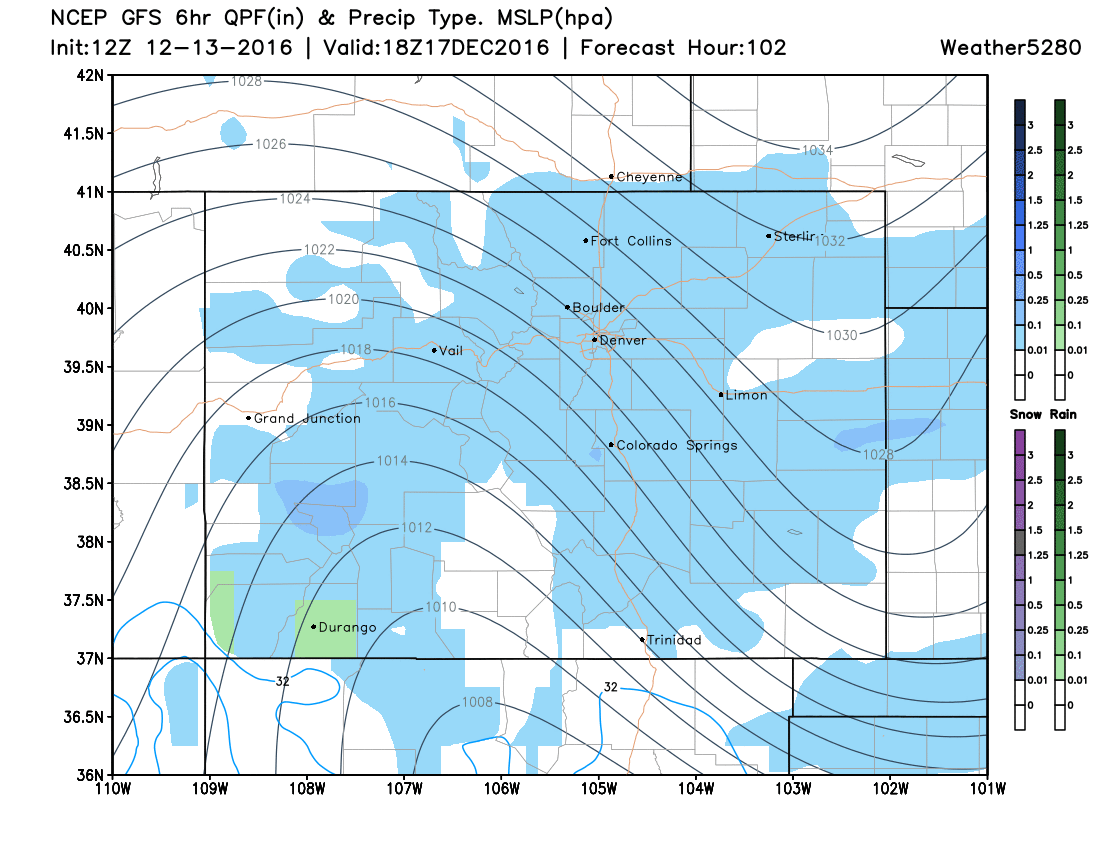 Snow showers will be tapering from north to south, as the main influence of the front slides well to our south. The wind will be letting up, but it will be VERY COLD...as we talked about earlier.
6 PM Saturday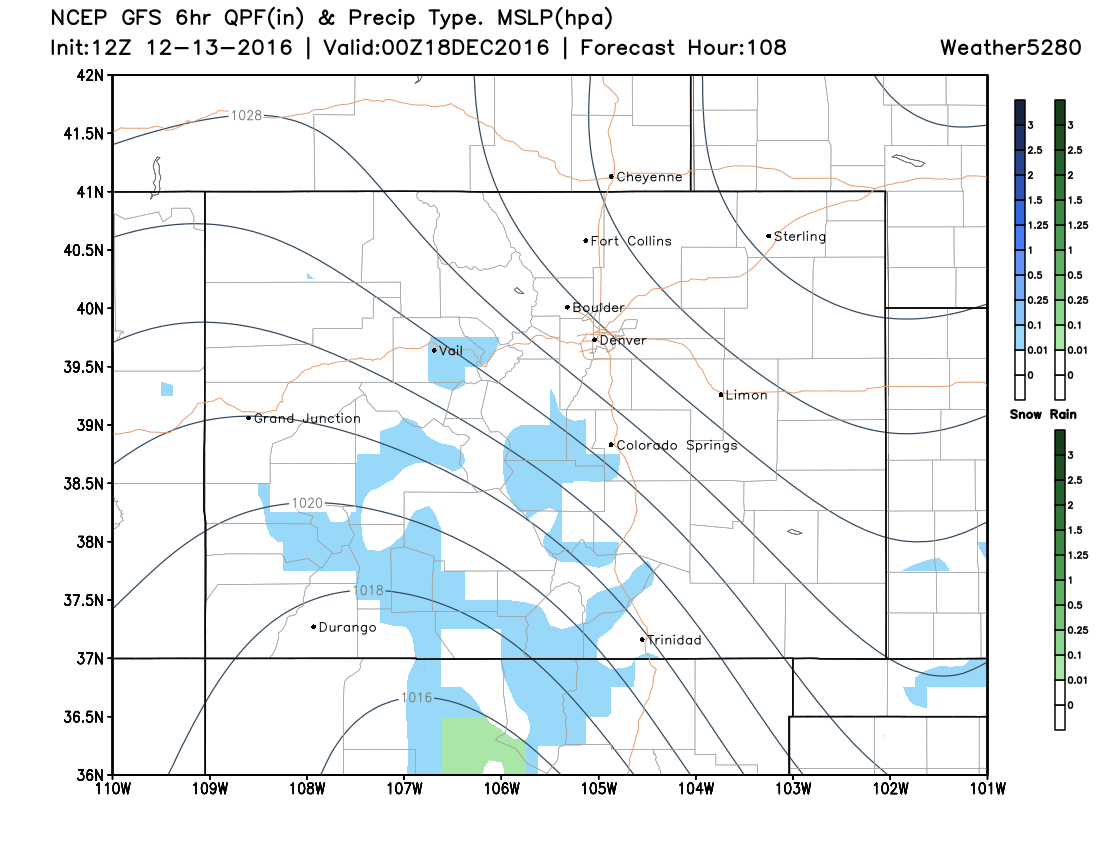 Most areas should be dry by Saturday evening. Arctic cold will be the biggest story...
Key Takeaways:
The change from Friday afternoon to Saturday morning will be huge! Wind chill temperatures will be well below zero on Saturday. If nothing else, you need to prepare for the extreme temperature change that will occur. Make sure you fill your car with gas on Friday and that it is in good running order. Also, make sure you have plenty of windshield washer fluid in your car. Anything you can get done while it is warmer, you'll appreciate later.

Upslope will be lacking with this storm system. That means that the combination of the Arctic front and jet stream dynamics will have to do the work. This usually means a quick, and sometimes intense burst of snow, but the longevity of such an event is usually limited.

Outside the mountains, snow doesn't look huge with this system. However, it will likely be enough to make the roads slick late Friday night and Saturday. The snow will be dry and fluffy, but can still cause issues. It's far too soon to be offering snowfall totals, and frankly a bit irresponsible, thus we won't be doing so quite yet.
Our main message to you...BE PREPARED! Many people will be traveling this weekend and have Christmas shopping to do. Right now, Sunday certainly looks like a better day to do both. It will still be cold, but it will feel much better than Saturday. We'll be fine tuning the forecast over the next few days, so please check back for updates.