We hope you all had a wonderful and happy holiday weekend. For those living along the northern Front Range and northeast plains, we hope you enjoyed the Christmas snow, if only briefly for many.
Most living along the northern urban corridor saw less than an inch of snow as a very powerful storm system raced across northern Colorado Christmas day. A few locales out across the northeast plains, especially up near the Wyoming state line, saw upwards of 2", with a few 4" totals as well. In Denver, a few flakes (and plenty of wind) was the best we could do, as the storm track was not a favorable one for snow in the city.
The month as a whole has been a chilly one across eastern Colorado, and a snowy one for many across the state. Denver is averaging a respectable 3.7°F below normal through the first 25 days of the month, with extreme eastern Colorado ranging from 4 to 6 degrees below normal.
The pattern for the remainder of the week will quiet just a little for the state. The mountains, which have seen big time snowfall of late will even see a few days with no snow over the coming week, with just a the northern mountains seeing the best chance for snowfall during the middle of the work week, and then a better chance for heavier snowfall – especially across southwest Colorado – this coming weekend.
To that end, we've seen a great bump in snowpack in Colorado this month. After a very slow start, statewide average snowpack is now 115% of normal, with every basin reporting above average snowpack. Find the dark blue line in the chart below to see how this year compares to recent years and average: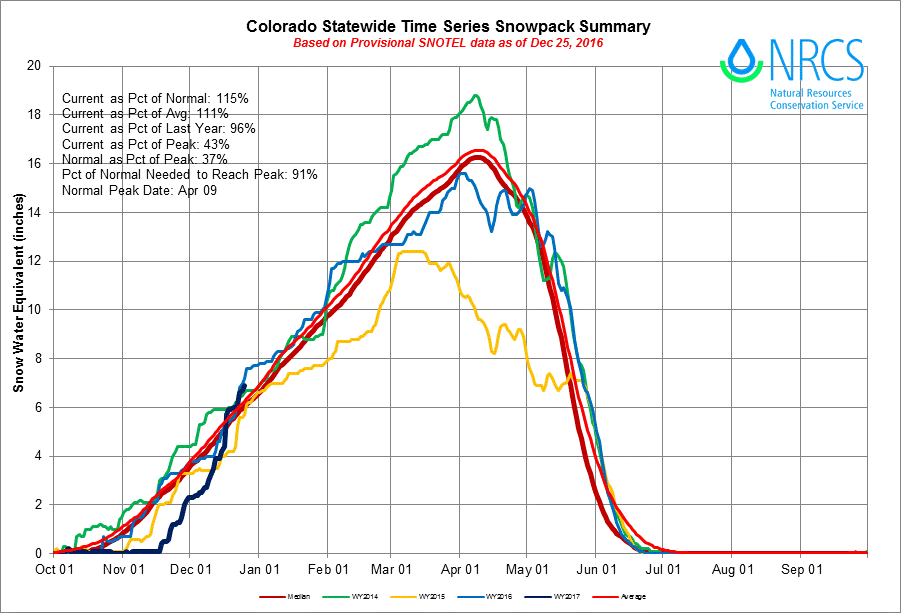 Below is the latest GFS forecast for snow through Friday. It has the best setup for Steamboat and possibly Winter Park on Wednesday, but not huge snowfall overall, and is in reasonable agreement with other models in this respect as well.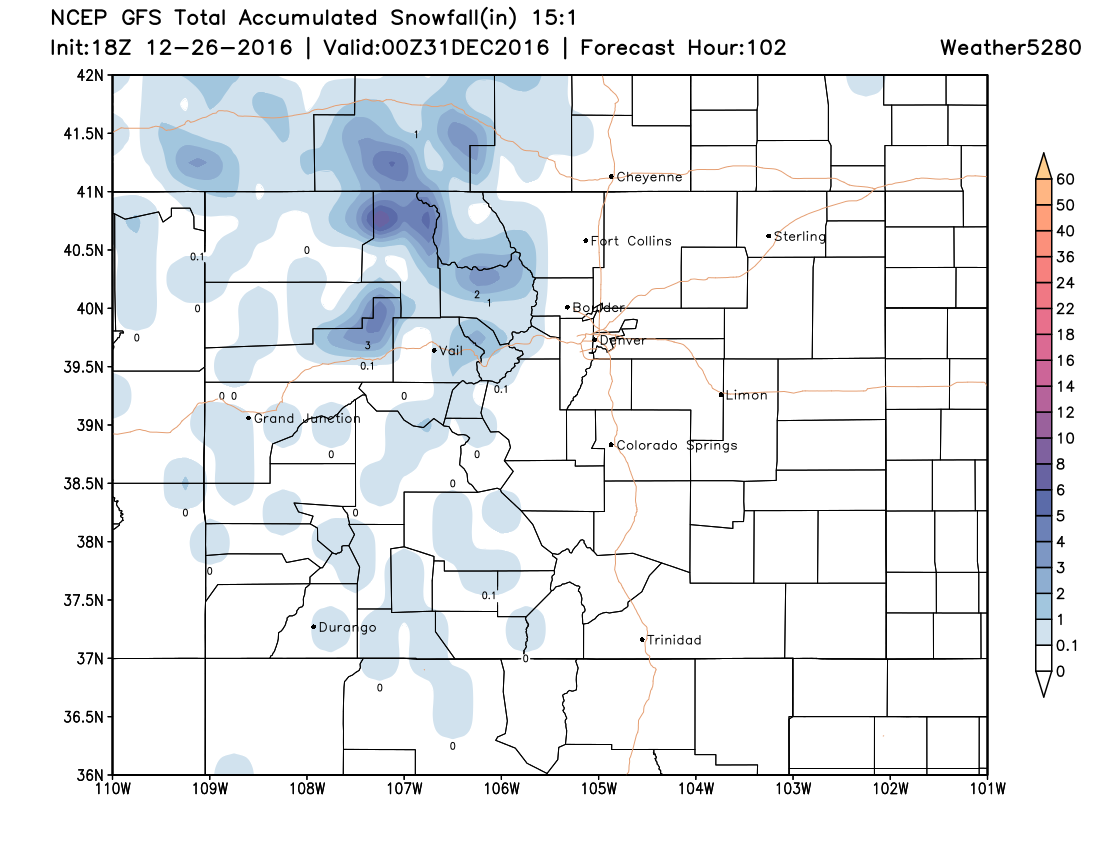 By the weekend we see the map fill in a little as a cut off low swings through south-central California, then eventually swings south of the four corners over the weekend. This should mean a good round of snow for southwest Colorado, with most of the snow associated with this system once again confined to the mountains: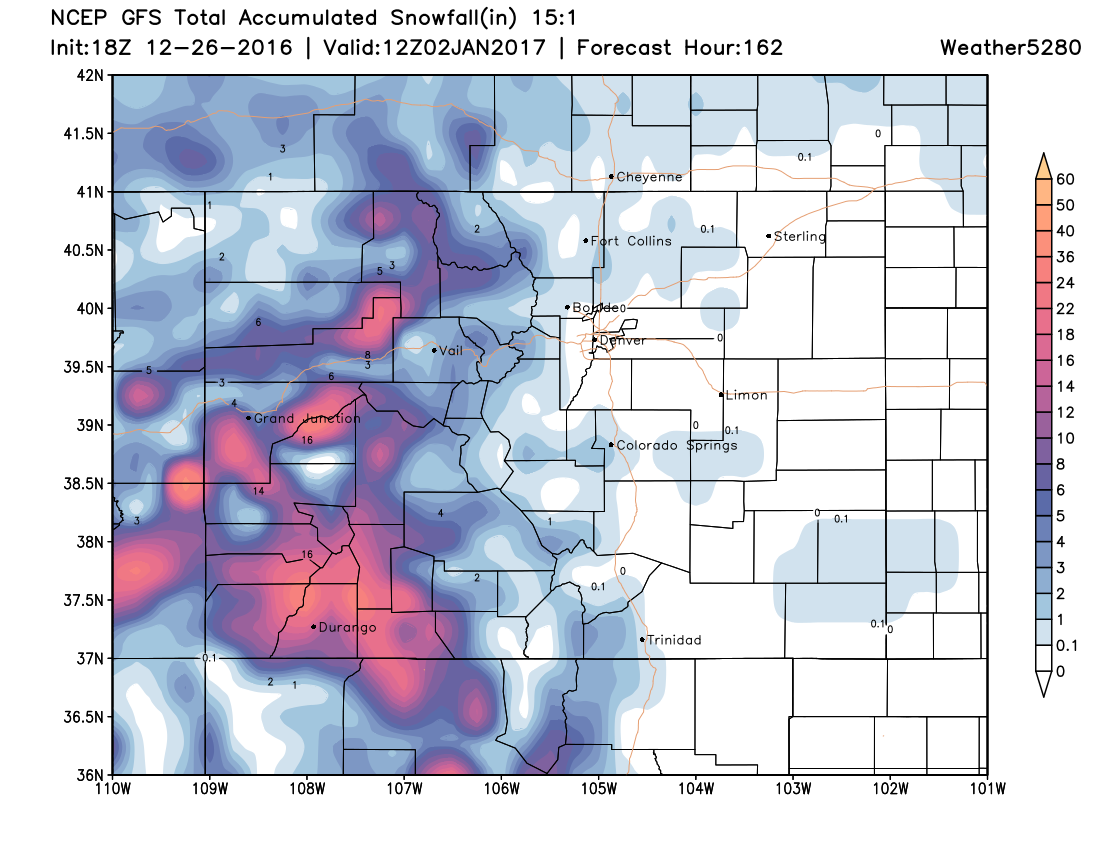 Temperatures in Denver will be seasonal through the remainder of the week, with little to no chances for snow at lower elevations at this time. The warmest day of the week may come Friday, as upper level ridging over the western U.S. shifts east.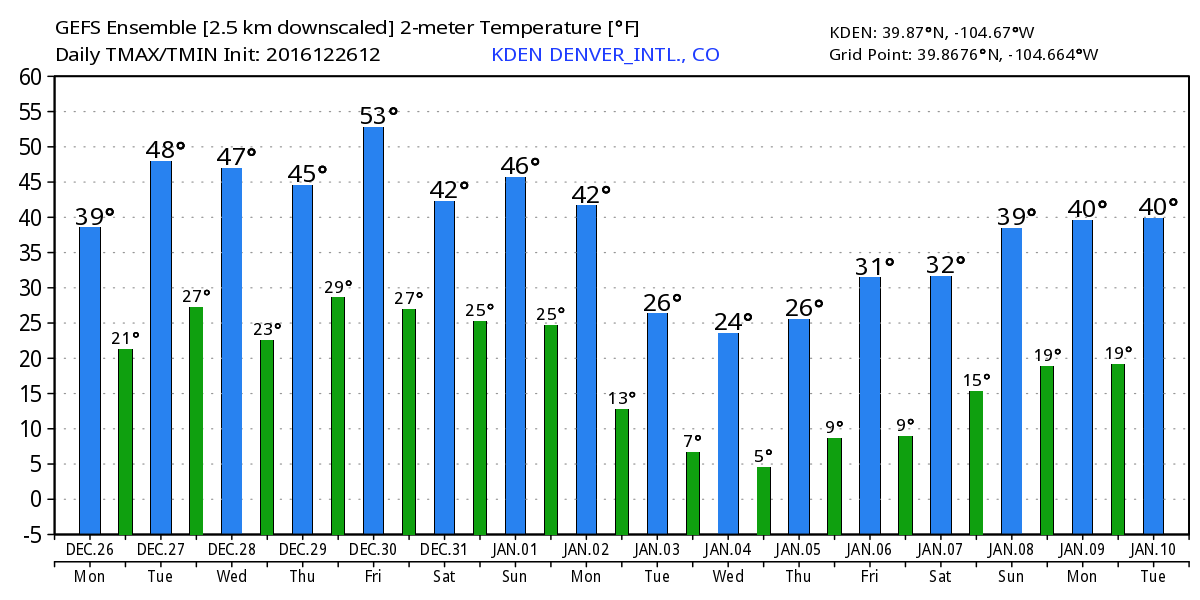 As you also will notice in the chart above, colder temperatures are forecast to arrive for the first week of January – with a few models really ushering in some very cold air for Colorado during the January 2rd - 5th timeframe.
Of course, the details that far out are a bit fuzzy. While there's decent agreement on a shot of cold air during that period, there's much less agreement on exactly how cold, and how much snow (if any) will fall across eastern Colorado as this next system dives out of western Canada and progresses east across the United States.
Overall, this pattern setting up for the beginning of January doesn't look all that different from what we've seen through much of December. A fairly potent arctic air mass, but the flow remains generally zonal, and with that more favorable for mountain snowfall than something big across the plains. That said, the door remains open, and with a shot of arctic cold we typically at least see some snow (as we've seen all month), so certainly worth watching early next week for that.