It's been quite a stretch for the high country with huge snowfall over recent weeks. All that fresh powder as come at a price, avalanche danger is high to extremely high across north-central Colorado, with "Considerable Danger" listed for southern Colorado on the Colorado Avalanche Information Center site. If you're heading to the high country in the coming days, please be aware of these dangers, and also note that several resorts have been forced to close from time to time due to the avalanche risk.
Across the Front Range we've mostly had to deal with the high winds, but overall temperatures have been warm, and there's not been much in the way of precipitation in recent days.
That could change tomorrow, especially right along the foothills, as we see a bit better chance for snow showers during the afternoon and evening. Not much in the way of accumulation is expected, but a quick dusting (perhaps a quick inch or two in some spots) can't be ruled out as colder air moves in for Thursday night and Friday.
Here's the latest NAM forecast through Thursday night. It tells the story pretty well: more heavy mountain snow, with some spotty accumulation up and down the I-25 corridor, but certainly not widespread.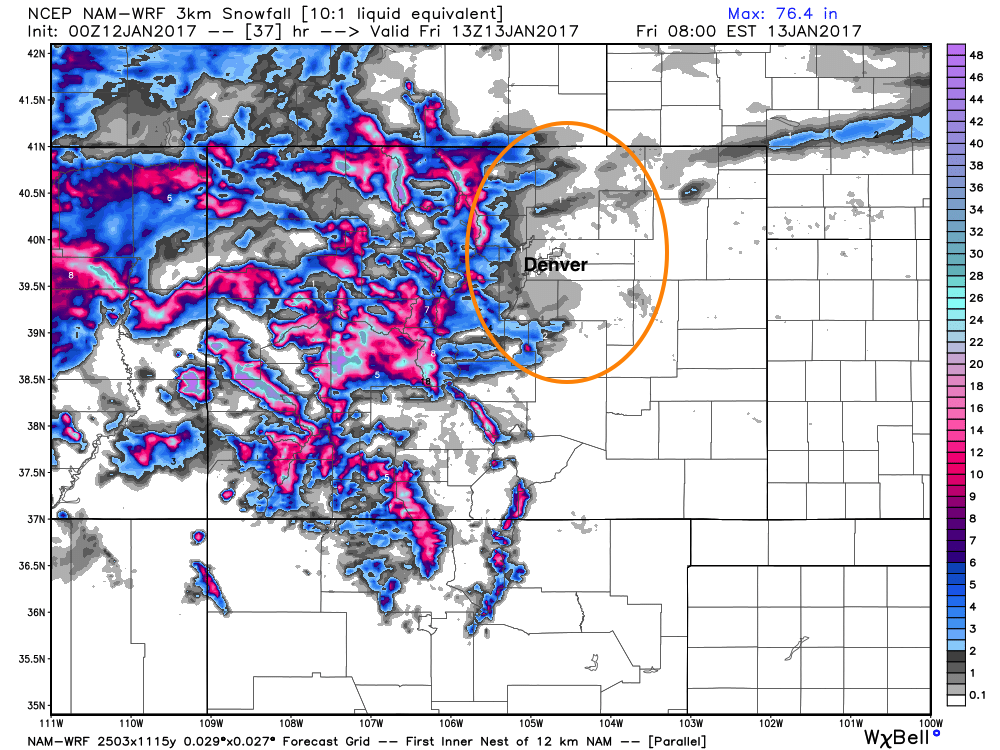 Our focus then turns to the weekend and the storm we discussed yesterday. There's still plenty of uncertainty here folks, but we're at least getting a better idea of what we think will happen with it, even if the models haven't quite made up their mind. Many of the things we hit on yesterday remain true:
Heavy snow is headed for the mountains of southwest Colorado through the weekend.
Across eastern Colorado the southeast plains remain favored for heaviest precipitation with this event.
Those east and southeast of Colorado will be dealing with the potential for a big icing event, with plenty of snow and rain to boot.
Still some potential that snow makes its way up into the Denver area by Sunday/Monday, but odds for a big snow remain low at this time.
There's decent agreement in the modeling through about Saturday night with the track of this low. It'll first dive into southern California, then track very far south along the U.S. / Mexico border through Saturday night. By Sunday we see the low start making a sharp hook north/northeast... with the big questions being:
How far east will it make it before it turns north?
How north does it move vs east after it makes the turn?
A more northerly route (the left arrow) would put more of eastern Colorado in line for snow by Sunday and Monday. If, however, it gets too far east of us as we suspect it may, that window will be very brief, especially north/northwest of I-70.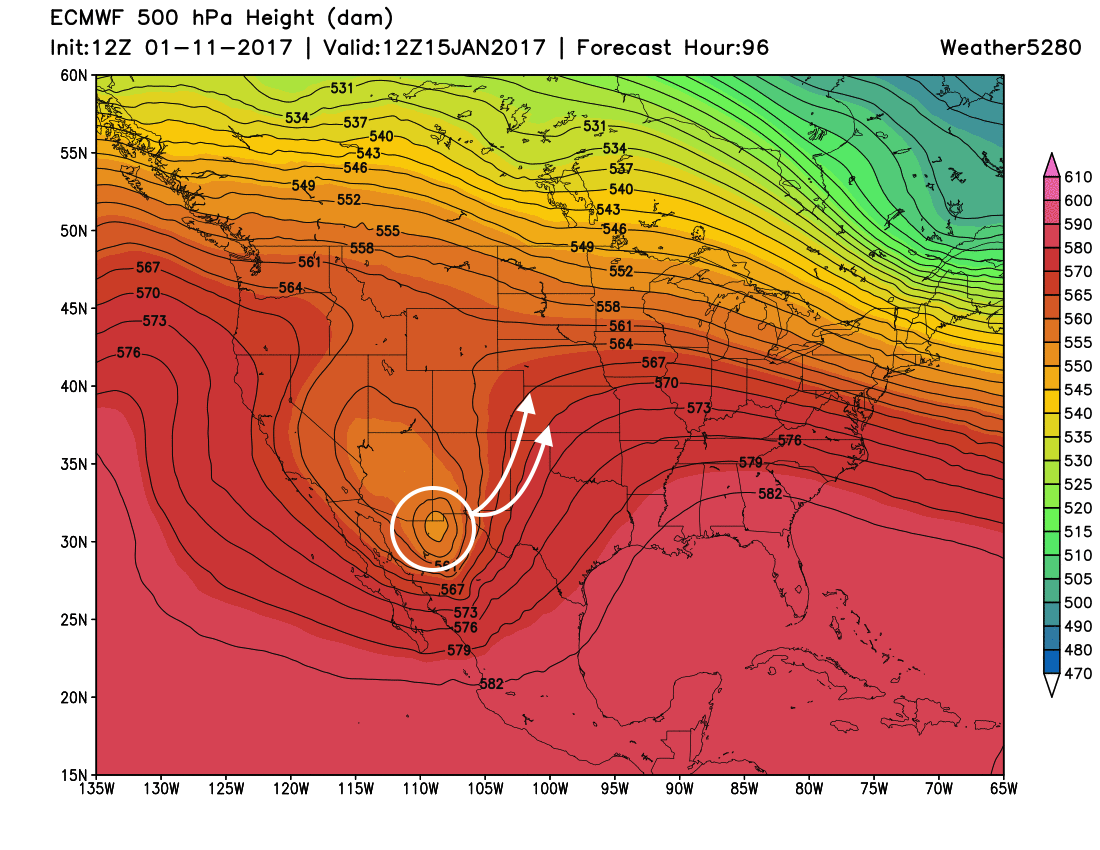 Track is one aspect working against a bit snow across the Denver area with this thing. The other is that this system will be firing off convection to the south, and really putting down a lot of water well southeast of Denver, and what moisture will be left for us is of concern.
With that, we'll continue to lean toward the mean ensemble forecasts, that are generally much drier across the Colorado Springs / Denver / Fort Collins area than we've seen with some of the operational models. If we start to see a trend toward a more northerly solution, that of course would change. For now, it seems like the 18z GFS (without taking to literally) has the right idea: heaviest QPF across southeast/east-central Colorado, with generally lighter amounts the further north/northwest you go. As you can see, it's still got something for the Denver area, but not much on the north side of the Palmer Ridge.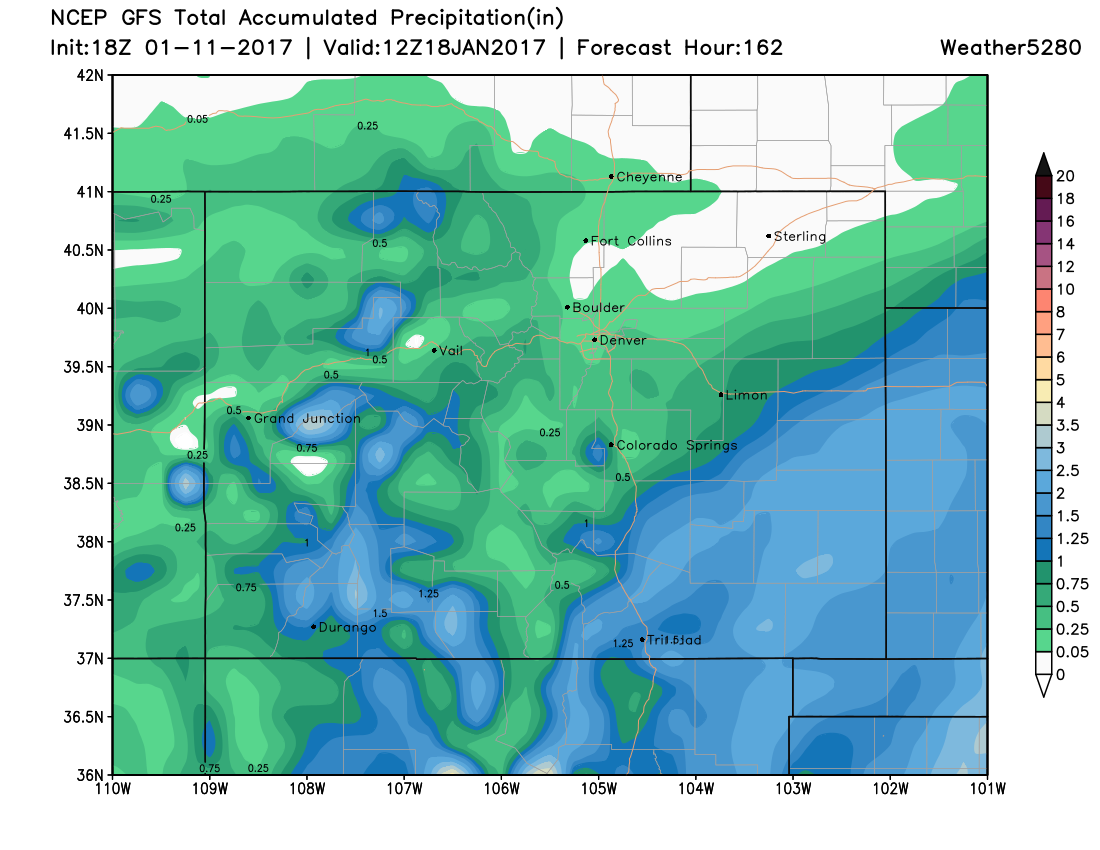 For planning: Expect tough travel across the high country through the weekend, with the greatest threat moving into southern Colorado as toward the end of the week and weekend. Across southeast Colorado we're expecting rain and snow to make travel difficult beginning Saturday and lasting possibly though Monday. Greatest snowfall potential for significant snowfall at this point looks to be south of I-70 and southeast of Colorado Springs. If your travel plans take you east into Kansas, southeast into the Texas/Oklahoma panhandles, plan on tough travel through the period as well, with models forecasting the potential for a significant ice storm for these areas with this system.