Well, it's been quite a week tracking our next storm now moving into southern California. While it remains of interest, especially for those living across southern Colorado and the eastern plains, probabilities for a big snow event in Denver and the northern Front Range have dropped some.
As we've discussed at length, it's all about the eventual track of this low. The EURO continues to be the most bullish with precipitation for the Denver area, and that's because it continues to track the low much further north (and west) than most of the other models at this point. As we mentioned in our Insider update last night, we've been leaning more toward the EURO as long as its ensemble mean remained in agreement. Today we've seen the mean come down some from yesterday, and while still the most northerly track, it's shifted the low just a bit further east as well today.
Our biggest concerns, if you will, with the system producing snowfall for the greater Denver area is that we'll continue to see the storm track shift east/south through the next 24 to 36 hours, and will moisture be able to make it this far northwest?
Setup and models
The range in possibilities right now in Denver range from nothing... not a flake of snow in the city, to upwards of 6". Probabilities would suggest lower-end totals are the more likely solution, but the the EURO ensemble mean still produces 0.4" of QPF for Denver Sunday and Monday, so not to be ignored.
Below is a rough look at what is a very complex setup on Monday. First, notice where the NAM, GFS, EURO, and GEM are positioning the low Monday morning. All in the same ballpark-ish, but the GFS would basically be a non-factor, while the EURO is in a better placement, and is forecast to move north (red arrow) which would keep Denver in the running for snow.
The positioning of the low greatly depends on how each model is handling the other factors on the map. The southeast ridge being the biggest issue – we think the GFS is too far east right now given the ridge. But then we have a short wave moving through Montana that needs to be watched... some models are showing some interaction there, which is rarely a good thing for Denver snow, and would likely help usher the low along.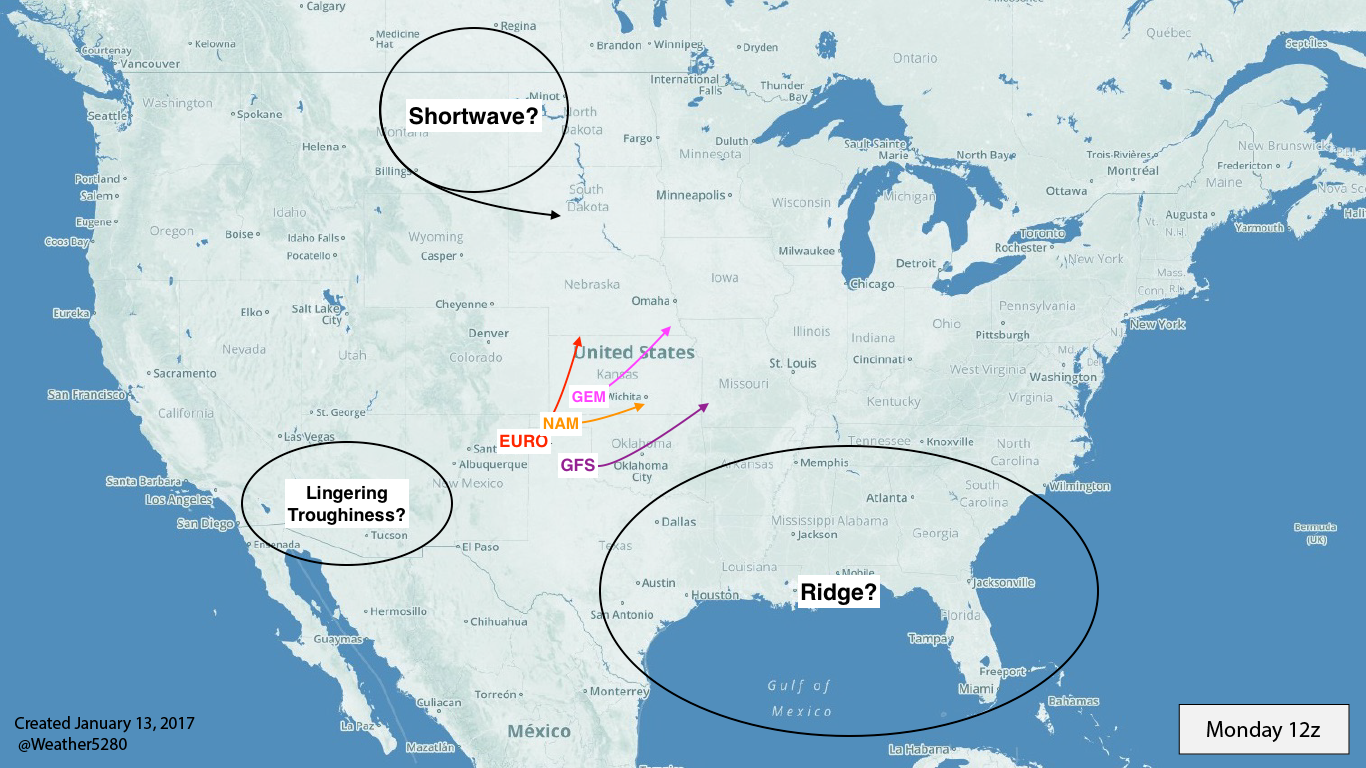 Right now, the EURO and its ensemble continue to be the most bullish for snow for us, while the others have shifted east, and reduced snow chances. Is this a trend we'll continue to see? Perhaps, but as long as the EURO mean stays steady, we'll continue to keep a chance for snow as far northwest as Denver.
Where we have greater confidence is across the southeast plains. Really any of the above solutions should provide rain and snow here, with the potential for some heavy snow depending on how exactly things shake out. Colorado Springs also has a bit higher probabilities for snow, but there's some concern that the city gets robbed by downsloping, even as immediate neighbors do quite well.
A look at the latest GEFS probabilities for greater than 3" of snow isn't really confidence inspiring either (sorry EURO). Last night's runs show >40-50% probabilities across most of eastern Colorado, while 12z that's been reduced to southeast Colorado:
So where does this leave us?
Honestly, in a bit of a wait and see. With the EURO still tracking north we can't call it a no-event just yet, so let's see how things look in another 12 hours+. Also, while impacts will begin to be felt across southwest Colorado tonight, Denver's best chance (should it happen) for snow won't come until Sunday/Monday, so there's still time to see how this thing progresses.
Traveling for the holiday weekend? Please pay attention to the forecast. Even if this ends up just sideswiping us, it'll be a mess across the central plains over the next several days, with Winter Storm Watches and Ice Storm Warnings already in place across much of Oklahoma, Kansas, Nebraska, Iowa, and Missouri.
For Denver, if the a north northerly solution pans out we may see several inches during the Sunday/Monday timeframe, with greatest totals likely across the eastern/southeastern suburbs, and lower totals from downtown north/northwest. For those to the east of Denver, and then southeast across the Palmer Ridge, this system has a much greater potential of producing several inches of snow than it does in the city. Stay tuned!