Well, it's been quite a week tracking what remains a mess of a storm to forecast. Here we are with the event basically upon us, and there's STILL huge disagreement in the modeling on how things will ultimately shake out.
It appears our inclination early on that chances are this thing would miss south are coming to fruition. The EURO, which remains most bullish for Denver snow, is now also tracking the main low pretty far south/east, rather than hooking it hard north as it has for much of the week. With that, generally speaking the further northwest you live from the southeast corner of the state, the less snow you are likely to see.
Messy forecast
I'm not at all convinced any of the (many) models have a good handle on this thing. We've got some producing no snow for Denver, with others producing upwards of 4" for the city. The latest 4km NAM puts down 8"+ for the Palmer Divide, and east of DIA, with nothing southeast. The EURO continues to bring moderate QPF all the way up into the northern Foothills. Meanwhile the GFS is DRY for Denver, and keeps most of the best moisture WELL south down near the state line.
We'll try to take the middle of what is a very awkward road with our forecast, and hedge our higher totals east and southeast of Denver given the general agreement of the Low at 500mb. Suffice it to say, it's likely someone sees a good wallop (wouldn't be shocked to see some 10"+ reading across the plains from this), while others will be greatly underwhelmed.
For Denver we'll go with 1 - 4", with generally higher totals on the east and south sides of town, and lesser totals north and west. Of course this could all change in another 8 hours and we'll be scrambling to let you know...
If you live across the Palmer Divide, then out along I-70 mainly east of DIA, I think your odds are a bit better for some higher totals, but not necessarily great. For these areas 2 - 6" should cover okay, but should some of the hi-res models be right, we could see some greater totals here as well.
With that, here's what we're running with, and will see if any big changes come through this evening: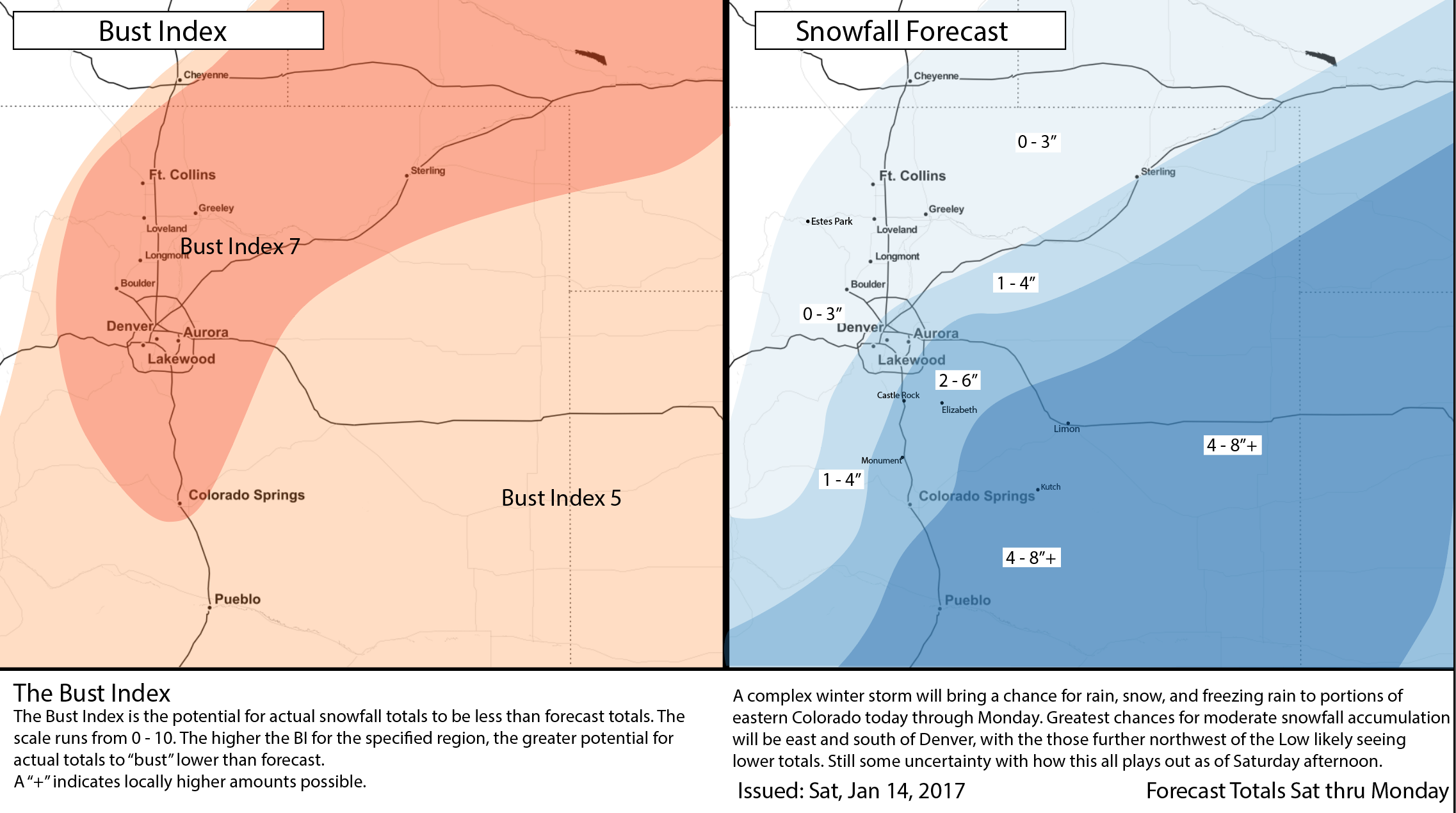 Timing and impacts
It looks like we'll see snow chances come in a few waves. Models indicate a decent snow band Sunday morning (Colorado Springs this could be your make or break band) with another round Sunday night into Monday.
The big question for the metro areas is how far north and west these bands get. They fall short, we'll mostly be talking about a Palmer/eastern plains event, if they manage to get up this way, we'll likely see a few inches across the metro area between Sunday morning and Monday afternoon.
Current advisories are in place for southeast Colorado, but nothing for the metro areas – which likely won't change unless we see a shift in things this evening. If your travel plans take you east over the next several days, please be prepared for some tough travel, with heavy snow and ice across the central plains: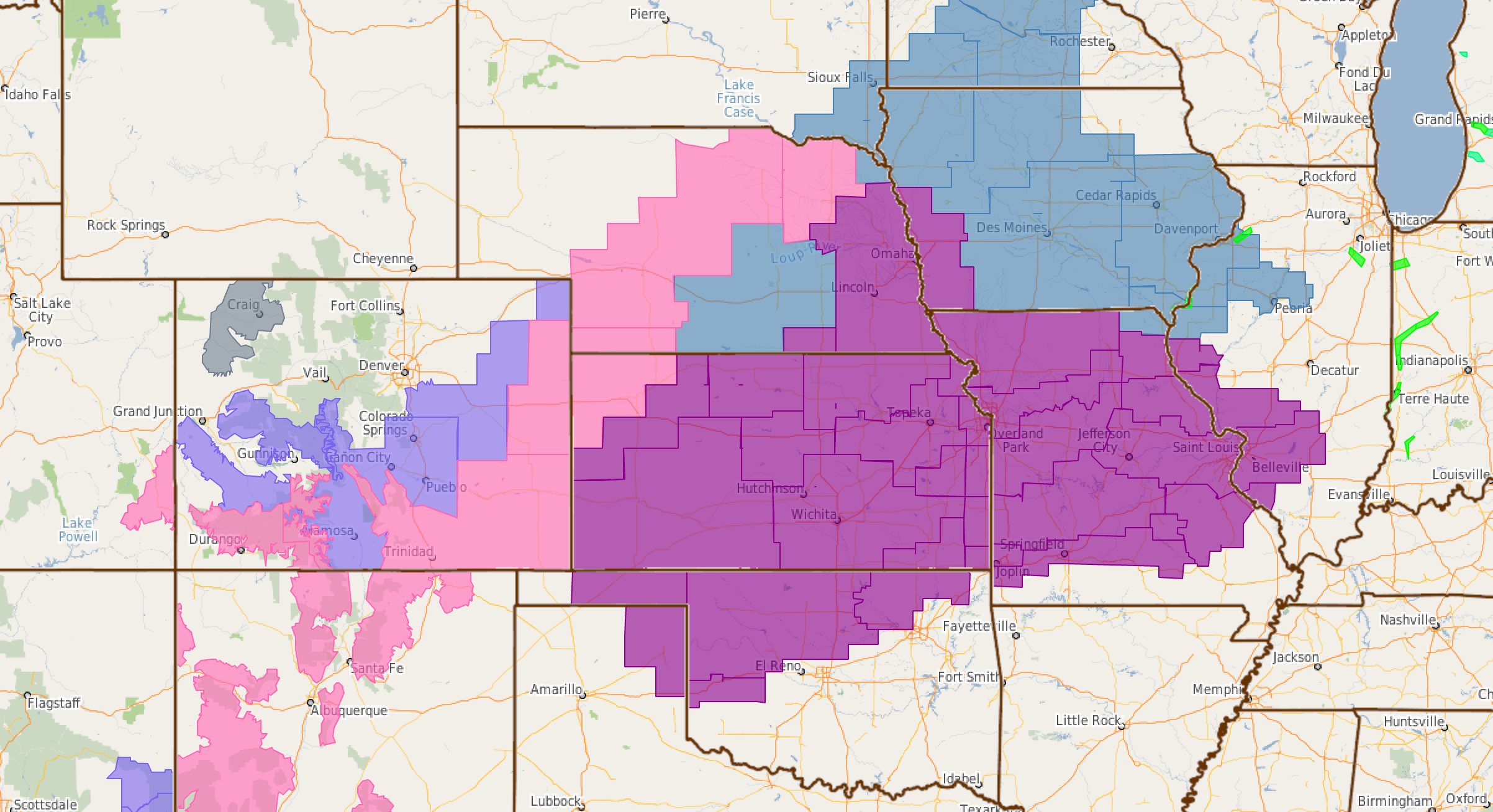 The good news if this turns into a complete dud of a storm, the GFS (which has no snow for Denver with this system) is producing near 20" of snow for the city next week. So... we'll get another chance to spend the week analyzing a storm that'll likely miss us to the east as the EURO indicates it will today.