In many respects, the last few weeks have been epic for snowfall on some of the state's mountain ranges. Near Crested Butte, totals have climbed above 200" on the season, with several more months to go.
These totals are mostly due to a weather pattern change that triggered in late November and early December. Some of this rapid snowfall and water storage was discussed in a previous State of the Atmosphere so I won't repeat that here.
Let's take a look now at the state's snowfall season to date; we have some impressive totals and have had some great moisture.
Firstly, the amount of precipitation received since October 1st (that's the start of the water year) is shown here: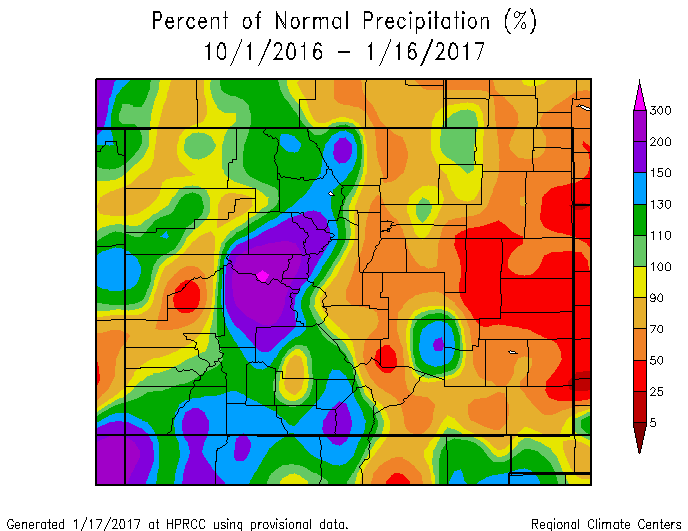 Note the purples shown through many of the mountain ranges - this represents at least 150% of average precipitation. Outside of those areas, we have a slightly different story. Not the yellows and reds that dominate the eastern half of the state – this represents a need for more snow and/or rain with well less than half of the average precipitation to date in the red shaded regions.
Granted this map is based on several singular points of data, and some of those points are quite impressive. Denver, for one example, is not as dry as the map indicates. Officially, the city is very close to its average precipitation since October 1st; in combining rain and snow. At the same time, our snow number is a few inches below average with about 18" received so far when on average the city will have had closer to 23" season to date.
Our recent storm helped in this regard. Denver International Airport recorded 2.2" officially, with most of the I-25 urban corridor seeing 3 - 4" of snow, with our forecast range of 1 - 4". A few locales, for example those living in Highlands Ranch, saw totals in the 5 - 6" range, as upslope flow really enhanced snowfall Monday morning.
Secondly, we have a lot of water stored in the mountains within all that deep snowpack. Here is an interactive map showing you snowfall to date based on public reports to CoCoRAHS (note, these haven't all been verified yet).
Those public reports match what the SNOTEL stations are showing, and that's a lot of water ready to fill streams, rivers, lakes, etc. Here's the latest river basin map showing snow-water levels are MUCH higher than normal: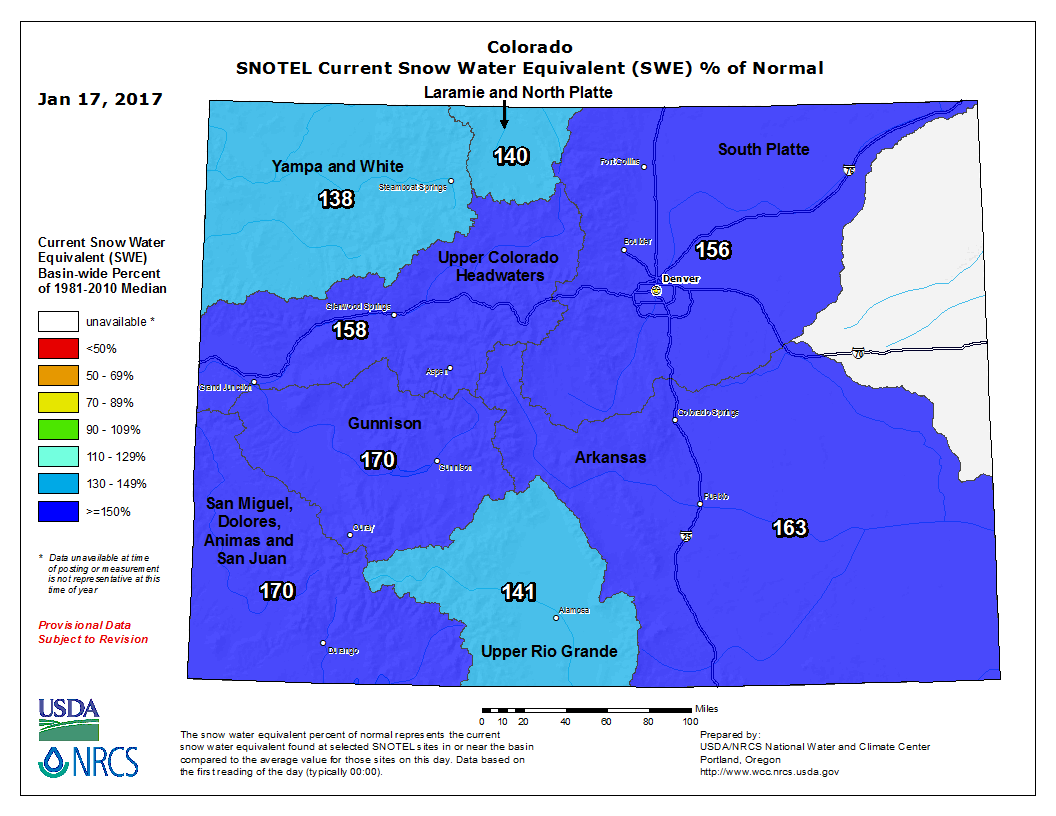 Thirdly and lastly, we still need to overcome the dryness of the plains. It isn't common in a weak La Nina year to have much moisture east of the Rockies and that pattern is fitting so far. Hey, why did I say so far? Well, La Nina is weakening and a neutral to weak El Nino may form, we'll have more on this in the coming days.
The drought monitor (combines water availability, short and long-term precipitation, etc.) re-enforces the need for moisture east of the Rockies: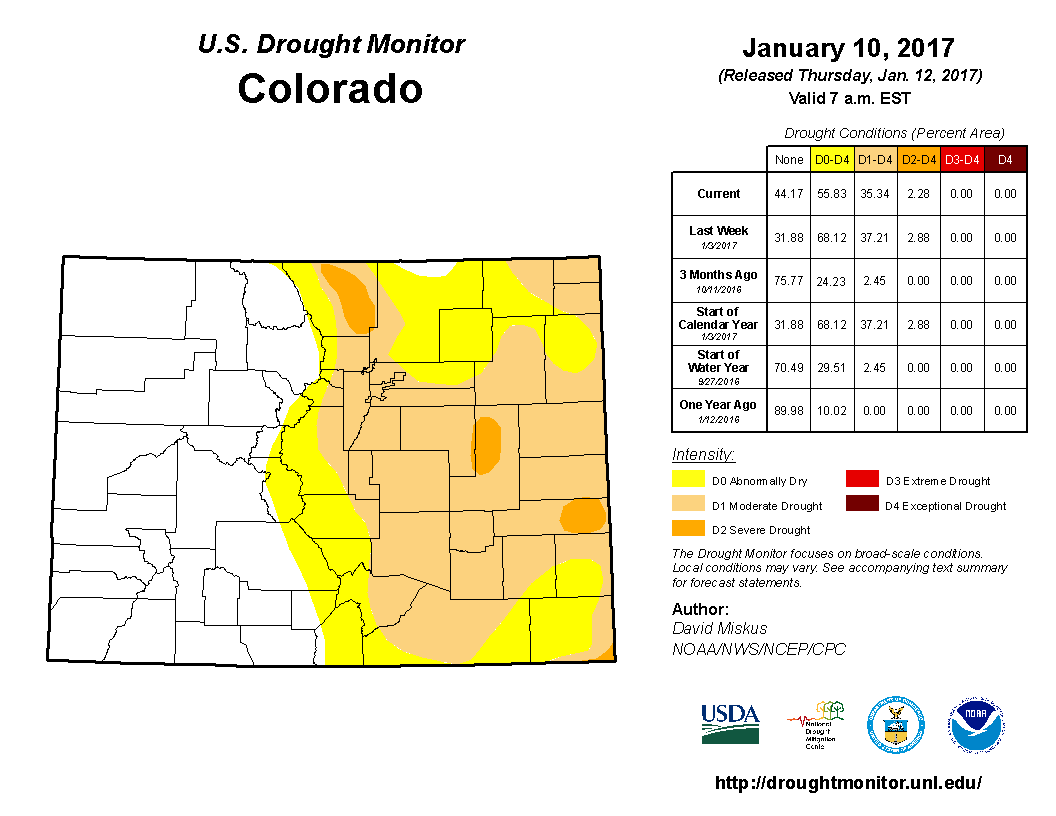 In all, our State of the Snowfall Season is looking awesome in the high country, yet in need of improvement in our urban and agricultural areas east of the Divide.