The recent "heat" continues today, and on through at least the first half of Wednesday as well before we finally see an end to the streak of recent mild weather across the region. A Red Flag Warning is in effect through Tuesday evening for most of eastern Colorado, as dry conditions and high winds will continue a high fire danger across the plains and adjacent foothills.
By Friday, temperatures will be some 30+ degrees colder for highs than we are experiencing today across northeast Colorado, with the first below-normal temperatures in some time forecast for the region. Unfortunately, both for snow-lovers and water-users, this upcoming system just doesn't appear to be coming inline for a big (or perhaps even moderate) snow event along the Front Range and northeast plains.
The pattern remains very progressive, and while this next system will pack more of a punch and more cold air than we saw over the weekend, it appears that the best energy associated with it will remain too far north for big impacts along the Front Range. A very familiar theme this winter.
It's a wasted opportunity, really. The PNA is diving negative, which is a signal we often look to for a storm around here. And, while we're getting a storm, it's not very well reflective of what we might expect given the sharp negative drop.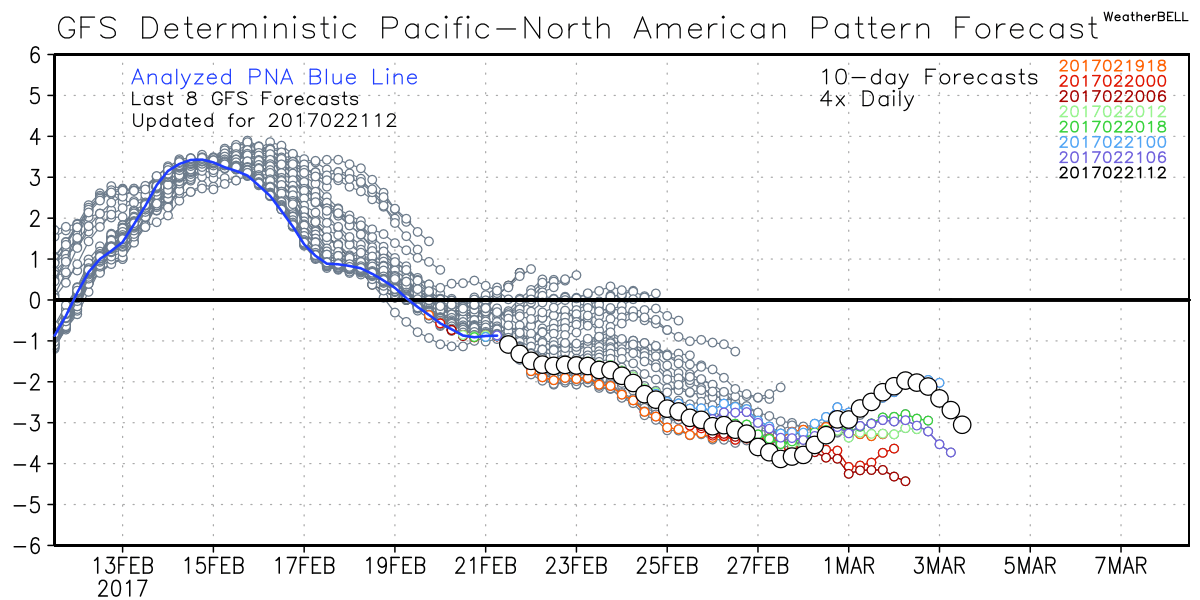 While we aren't, at this time, expecting a huge snow event around there Wednesday night through Thursday night, we do expect some big changes – if only compared to the recent warmth. Expect temperatures to drop into the 40s for highs Thursday, with overnight lows into Friday perhaps in the teens, with a chilly day on tap for Friday, before warming for the weekend.
As for snow, any potential accumulations look light at this point. It looks like the better chance for heavy snow will be from the Wyoming state line and north, with our snowfall potential largely hinging on jet-induced snow banding Thursday and Thursday night. While this setup panned our pretty okay for us a few times in December and January, it's not an ideal setup for snow east of the Rockies, and at this time models are too enthused about QPF (moisture) east of the mountains either.
The latest GFS snowfall forecast for the high plains through the weekend shows general consensus between the global models at this time for where the heaviest snow ends up. Denver will see heavy snow to its west (more good snow coming for the north-central mountains!) and likely to its north, across Wyoming, Nebraska, and northeast.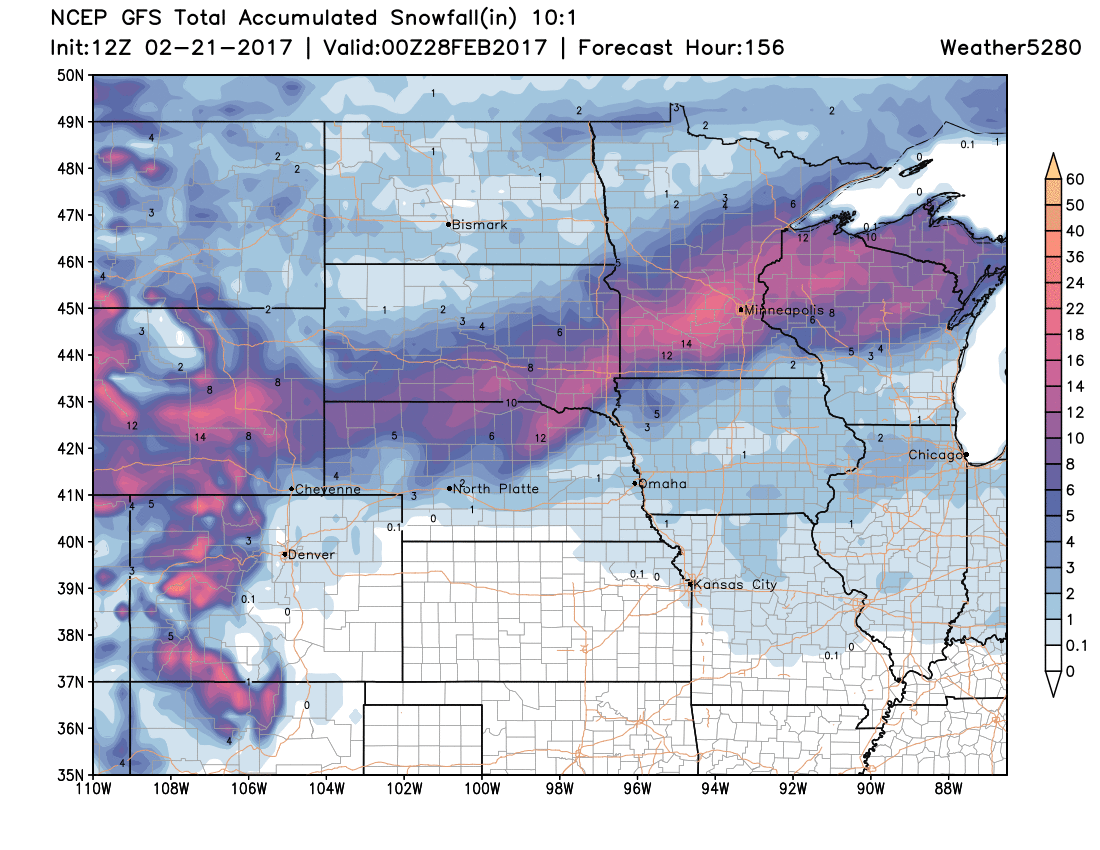 Obviously a shift south would change things dramatically. That, however, looks less likely now, despite the fact the GFS has been trying to deliver on that scenario over the last several days. Today it looks much more inline with the EURO and Canadian models, with only light snow potential across northeast Colorado from this event.
We'll keep a close eye on this one and offer updates as needed. If we get a shift in track, or it looks like banded snowfall will offer more potential than we currently expect, we could end up with a bit more snow around here. As it stands, it looks like a bit of light snow in the Wednesday night through Thursday night timeframe, with at least a quick return to more winter-like temperatures around here to end the week.
Beyond the weekend the overall pattern remains worth keeping an eye on. In many respects it reminds us of earlier this winter – where not an obviously good setup for us, but should 1) continue to deliver some good mountain snow, 2) looks colder overall across the west, and 3) leaves the door open for something to swing through and deliver some snow to eastern Colorado in the coming 10+ days.