A disturbance is passing through the state tonight and tomorrow and will bring some areas snowy travel and, at least, some moisture.
Just as in my update on last week's storm, I remain that dog sleeping at the front door waiting for my owner (a one to two-foot snowstorm) and yet I'll keep dreaming.
This storm doesn't quite have the strength to really impact areas outside of the mountains and possibly the Palmer Ridge.
Timing & Amount
Not everyone living on the Front Range or Plains will have snowfall this time.
Heavy snow falling Monday in the mountains will remain there overnight through portions of Tuesday. The plains will have a wind shift overnight/early Tuesday which will prompt the clouds to increase and snow to develop.
On a large scale we won't see a broad area of heavy snow develop until the afternoon/evening hours, however, on a small scale the wind shift may create areas of upslope snow for the morning drive.
This early snow is more likely to happen on the Palmer Ridge (Elbert, El Paso, and Douglas Counties – spilling into Jefferson County). Should this early upslope snow pan out we can see a trace to 2 or 3 inches through the morning.
The better energy of the system will create a heavier band, or two, of snowfall through the afternoon and evening. This will cover a greater area – potentially the Denver metro area – in time for the afternoon/evening commute. Snowfall totals will again be in the trace to 2 or 3-inch range for the most part.
The Palmer Ridge has the best shot at "winning" out with this setup, with morning AND afternoon energy in play, this area may come away with a 4 or even 6 inch total in very isolated pockets. That will have to be the result of both morning and afternoon snow bands.
As an example of the 'layout', here is the American GFS model projected snowfall totals. Note good snow across the southern and central mountains, with just a bit spilling onto the plains: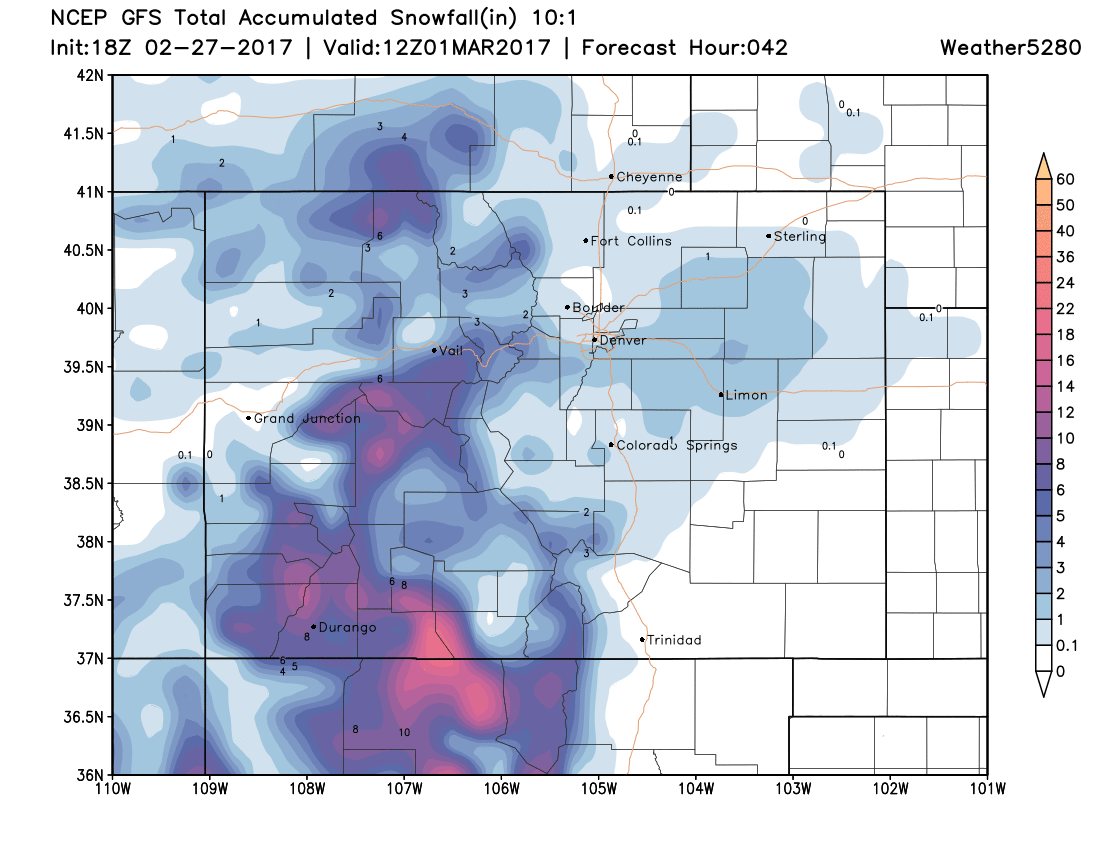 Impact
Certainly, the morning drive will be impacted in the mountains, and between Denver and Colorado Springs should the early upslope kick in.
The greater impact may be in the afternoon and evening with the "main" snow banding that develops. Although the possibility of icing remains lower with this system, it remains possible that ice develops on road surfaces as the wet snow falls along with temperatures.
Temperatures
From 50s and 60s Monday, highs will be in the 30s and 40s Tuesday. Should you have snow, expect dropping temperatures as that snow develops and falls – likely in the 20s with that activity.
This will be a quick hitting system so temperatures Wednesday will hold steady with sunshine but will then warm quickly into the 40s, 50s, and even 60s by the weekend.