The last weeks have been very warm and dry along the Front Range and eastern plains. Our Feb - April outlook issued in January painted a wetter-than-normal forecast for Colorado, including the eastern plains.
To date, that outlook has clearly been at odds with reality. However, we've also been saying since January we expect our time to come sometime in the March/April time period. It's important to remember, especially around here, that a three month outlook can be a bit misleading, as we may end with above normal precipitation overall, but that doesn't mean it'll be wet throughout the entire period.
Obviously if none of the next several systems pan out for us, not only will our forecast be in a world of hurt, but so will the parched eastern half of the state. We need the moisture!
Denver International Airport has recorded 2.63" (green) of precipitation since September 1, 2016. On average we'll see about 4.26" (brown) over the same period. The wettest such period during the 2013-14 season, largely due to the September floods that year (blue).

At just 19.3" of snow on the season (we should end March with about 45" of snow on average) this season is shaping up to be one of lowest snowfall seasons on record for the city without some big-time help in coming weeks. Of course, March is Denver's snowiest month on average, and April its second, so we've got a ways to go yet. It's worth mentioning, the 1888-89 snowfall season holds the record for the least snow, with just 21.3" being recorded that season.
It's not uncommon for poor snow years in Denver to coincide with good snow years in the mountains. The same patterns that can promote heavy snow for the high country, will often promote warming and drying east of the divide – a familiar theme this winter. The last extremely poor snowfall season for Denver came in 2010-11, with just 22.8" of snow recorded at DIA (34.3" below average). During that season, the mountains saw some of their best snowpack in years, very similar to what we're experiencing this year.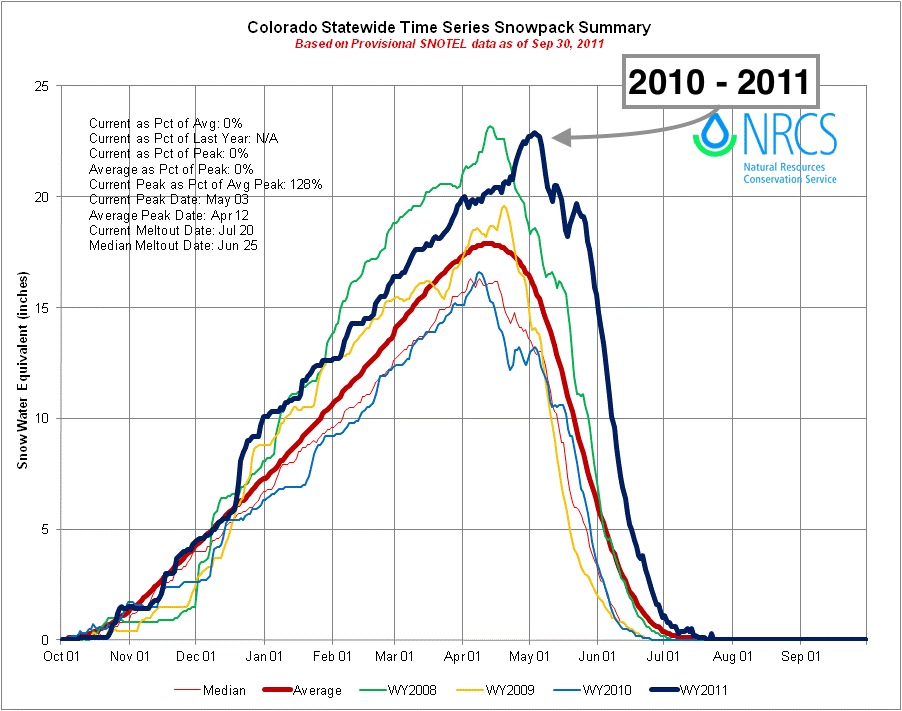 Currently, mountain snowpack sits at 116% of normal, despite a long period of quiet weather up there in recent weeks as well. With any luck at all, the upcoming pattern will help deliver a strong finish for the mountains this year as well.
Storm arrives Thursday
Timing of this much-anticipated storm system on the way still appears to be sometime Thursday, though the greatest precipitation threat may hold off until later Thursday night and Friday.
As is typical with these spring storms, there will be many aspects to this one – from rain, to wind, to snow, and perhaps even some severe weather out across the plains.
The devil will very much be in the details as we get closer to the event. Right now wet-bulb temperatures for early Friday morning (under best conditions for precipitation as currently modeled) aren't all that supportive of snow for Denver, but if and how that may change in the next few days must be watched. While this system doesn't appear to be packing a ton of cold air with it, it's that time of year where we often see models underdo cooling.
So, where the rain/snow line ends up will be a VERY big question that we'll be trying to answer in coming days. As it stands, we'd expect mostly rain in Denver, but as you go higher in elevation – west of Denver (foothills), south of Denver (Palmer Divide) and southeast of Denver (east/southeast Aurora, eastern Palmer) we'll need to keep an eye on the potential of rain to change to snow, and perhaps become heavy at times.
What we know
We know a potent spring storm will move through sometime in the Thursday PM through Friday PM timeframe, and that it'll bring with it quite a bit of moisture. There's decent agreement in the modeling around the general track and speed of this storm today, with minor track variations leading to difference in exactly where the heaviest moisture ends up, and how much / who sees snow vs just rain: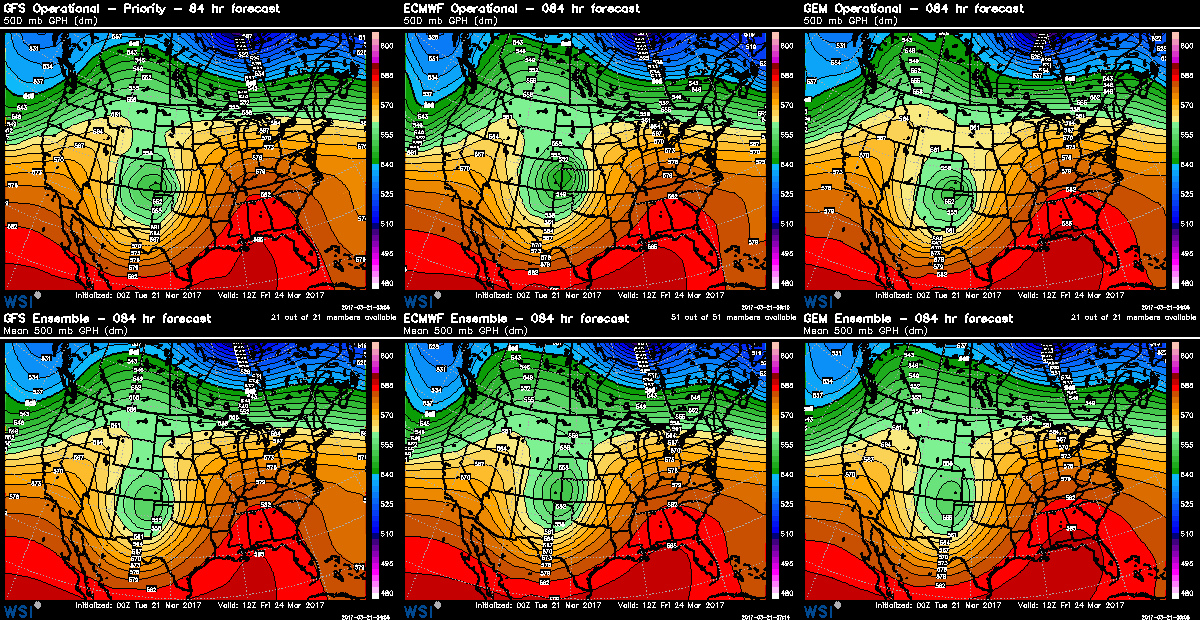 We also know that no matter how this thing shakes out, there will be a sharp rain/snow line. It'll be one of those scenarios where in one neighborhood people are wondering what the big deal is it's just some rain, while up the road that rain will be falling in the form of heavy snow. If you live in the Front Range foothills or along the Palmer Divide, your chances for seeing more snow than rain are certainly higher at this time as compared to communities along the northern I-25 urban corridor.
Lastly, while we will have to see how things evolve as we get closer to the event, whether rain or snow, this system will deliver some much needed moisture to the region. Last night's 0z EURO ensemble mean forecast had about 0.8" for Denver, 0.8" for Arapahoe County, and 0.6" of Colorado Springs. Some operational models are producing a QPF bullseye in the 2 - 3" range (mostly east/southeast of Denver), which is certainly possible.
What to watch for
What we'll be watching for over the next few days is how the overall storm continues to evolve. Latest forecast guidance has slowed the main trough, which puts more of the moisture into late Thursday night through Friday (vs Thursday afternoon/night), so we'll need to see if that slowing trend continues.
The other two big items will be 1) how much moisture will we see (and who sees it), and of course... Where will that rain snow line ultimately end up.
It's been a long time since we've seen any weather to speak of around here, and after recent fires and days and days of dusty wind... well, let's hope this one delivers. More to come!