Temperatures have warmed into the mid 70s in Denver this afternoon ahead of a potent storm system set to arrive overnight Thursday into Friday. A Red Flag Warning is in effect through 6pm for most of eastern Colorado, where fire danger remains high under dry conditions and gusty winds: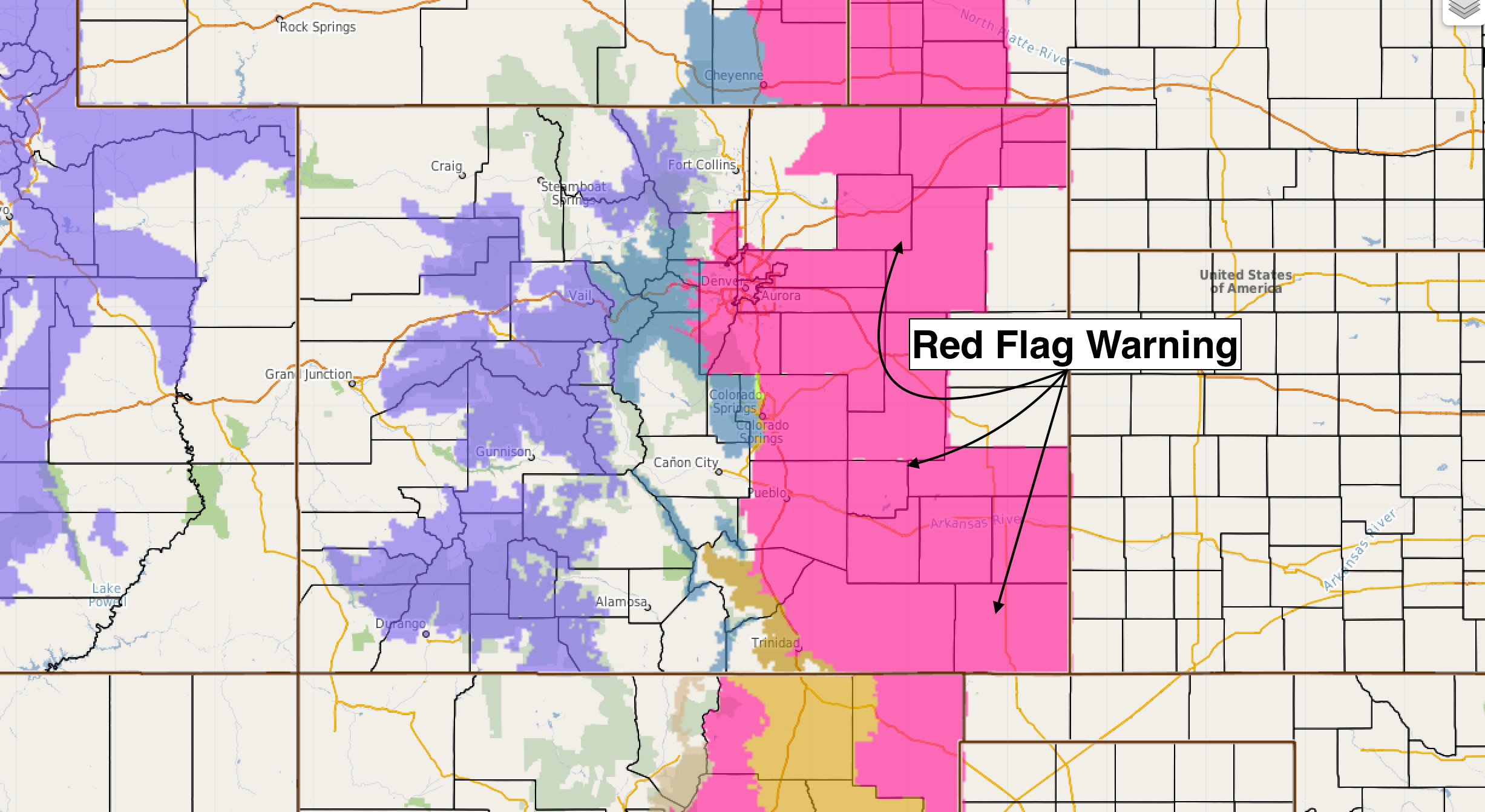 A Blizzard Watch has been issued for the Palmer Divide and areas east/southeast of Denver. This watch goes into effect late Thursday night and extends through Friday morning. This will be a very windy system, so, where snow does fall expect very poor conditions with heavy snow and reduced visibility for a period early Friday. The Watch does not include Denver at this time.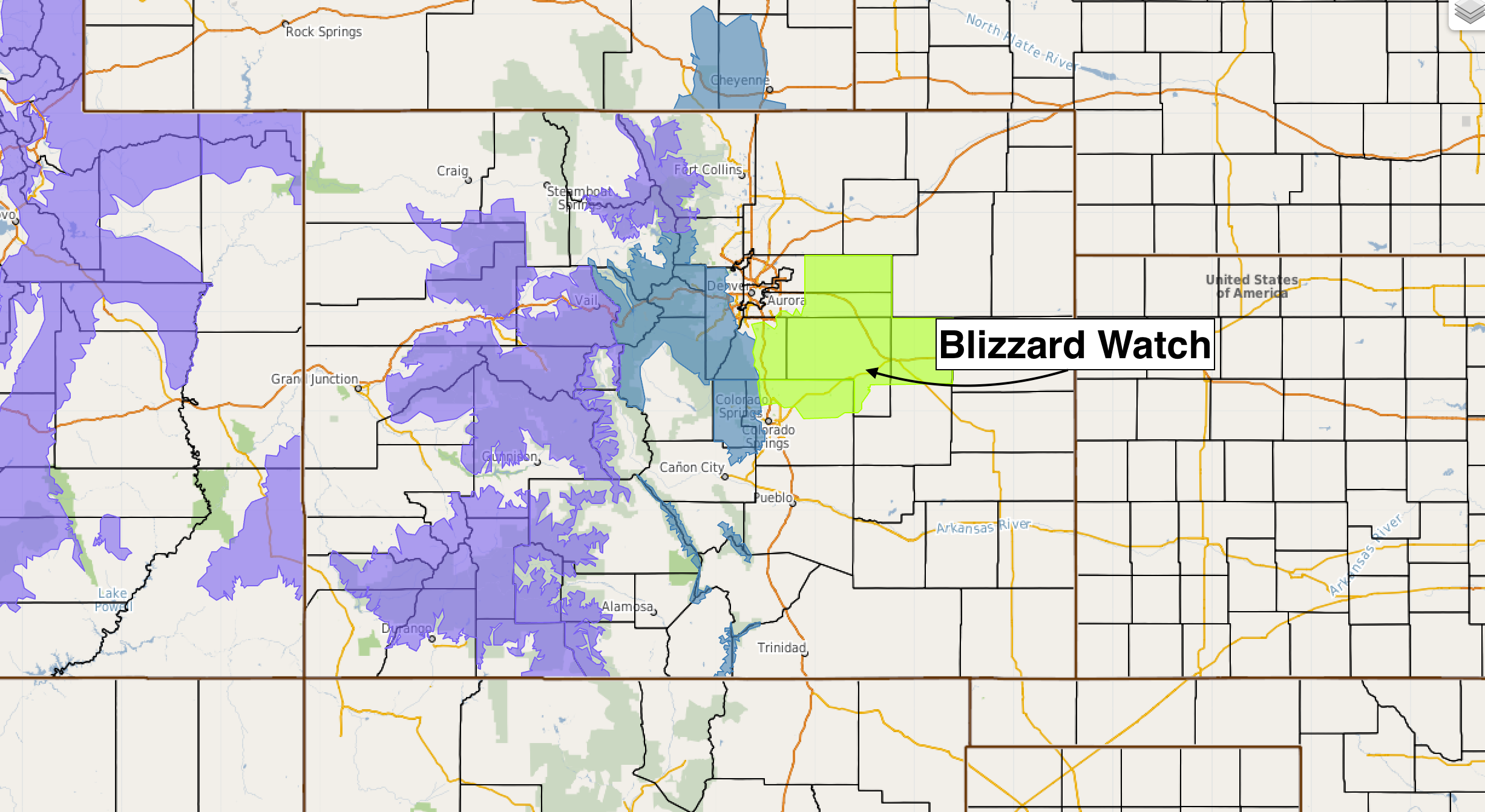 Overall, things have remained pretty steady since our update yesterday. This is a tightly wrapped system, and should have no problem delivering good moisture to a large portion of the forecast area.
Generally speaking, the Palmer Ridge (between Denver and Colorado Springs) is the favored snow area for this setup. The further north and northwest of Denver you go expect lower probabilities for both rain and snow (Broomfield, Loveland, Fort Collins), as well as further southeast of Colorado Springs.
Those living at elevation (>6000ft) will see a better chance for accumulating snow. While we may see enough cooling in Denver for snow too – those odds greatly increase as you head south into Highlands Ranch/Castle Rock, or southeast into Aurora and Parker. Determining both where that rain/snow line ends up exactly, AND, how much melting we'll have to overcome before accumulation can occur, remains (unsurprisingly) a very big challenge with this storm.
Areas of concern
Which brings us to our areas of concern. These are mostly unchanged from yesterday:
Downsloping. This will be an issue, especially off the Cheyenne Ridge and eventually for Colorado Springs as well. We think this will help limit both rain and snow the further north and northwest you go of downtown Denver. For COS, expect downlsoping winds to eventually cutoff precipitation for you all as well, the big question is... how fast does this happen?
Evaporative cooling. Models almost always under-do cooling, ...until they don't. The thermal profile continues to look too warm for much snow in Denver, but how much cooling are models missing?
Warm ground. If we cool more than forecast, and rain changes to snow in Denver soon than expected... how long will it take to overcome warm surface temperatures, and how much snow will melt on contact?
Sharp gradients. And finally, we know there will be both a sharp snow and precipitation gradient with this system. Some models indicate this sets up right through the heart of Denver... while others remain a bit further west. We continue to think the setup will be favorable for good precipitation to make it all the way west back into most of the Denver metro area, but this is an area of concern... and certainly worth watching for.
Forecast
What's certain, is big changes are on the way for a large portion of the forecast area tonight and Friday. Wind, rain, and heavy snow will be likely, with travel becoming difficult at times due to heavy snow and wind. The latest HRRR forecast shows these changes... from clear skies today, to heavy rain and snow by early Friday morning.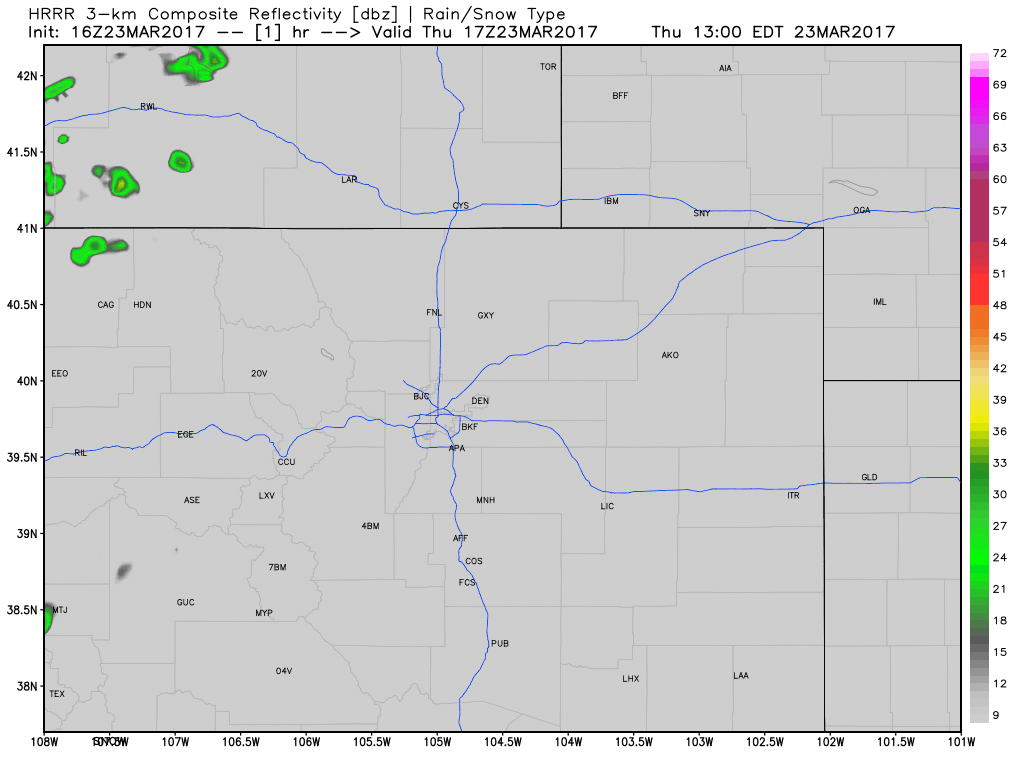 For what it's worth, its latest run has Denver changing to snow around 5am... which if true would mean that 1) we see some snow, but 2) it's likely a bit late in the event to see much accumulation in town. In the loop above, you'll note the heaviest precip (yellows and dark blues) is focused along the Palmer extending east and northeast along I76. This matches our forecast.
For Denver, the best chance of rain and snow comes after 11pm or so this evening and extends through mid morning Friday. Latest guidance suggests rain may mix with or changeover to snow during the early morning hours Friday, but again, especially for downtown, those temperature profiles are questionable at best for snow.
With that, we'll only make a few tweaks to our snowfall forecast from yesterday. As for precipitation, totals will rain from just a few tenths 0.1 - 0.4" north and northwest of Denver, with upwards of an inch possible from Denver south/southeast. Under the main band of heavy heaviest precip expect snowfall rates of 2" per hour at times, and total moisture in the 1.5 to 2.0" range.
Below is our updated snowfall forecast. We're expecting mostly rain in downtown Denver, but an earlier changeover means 3 - 4" of slushy accumulation on colder surfaces could be possible. East/south suburbs are in the 2 - 6" range, with 5 - 10" and upwards as you move up in elevation. The low-end for Denver remains 0", as changeover remains a concern.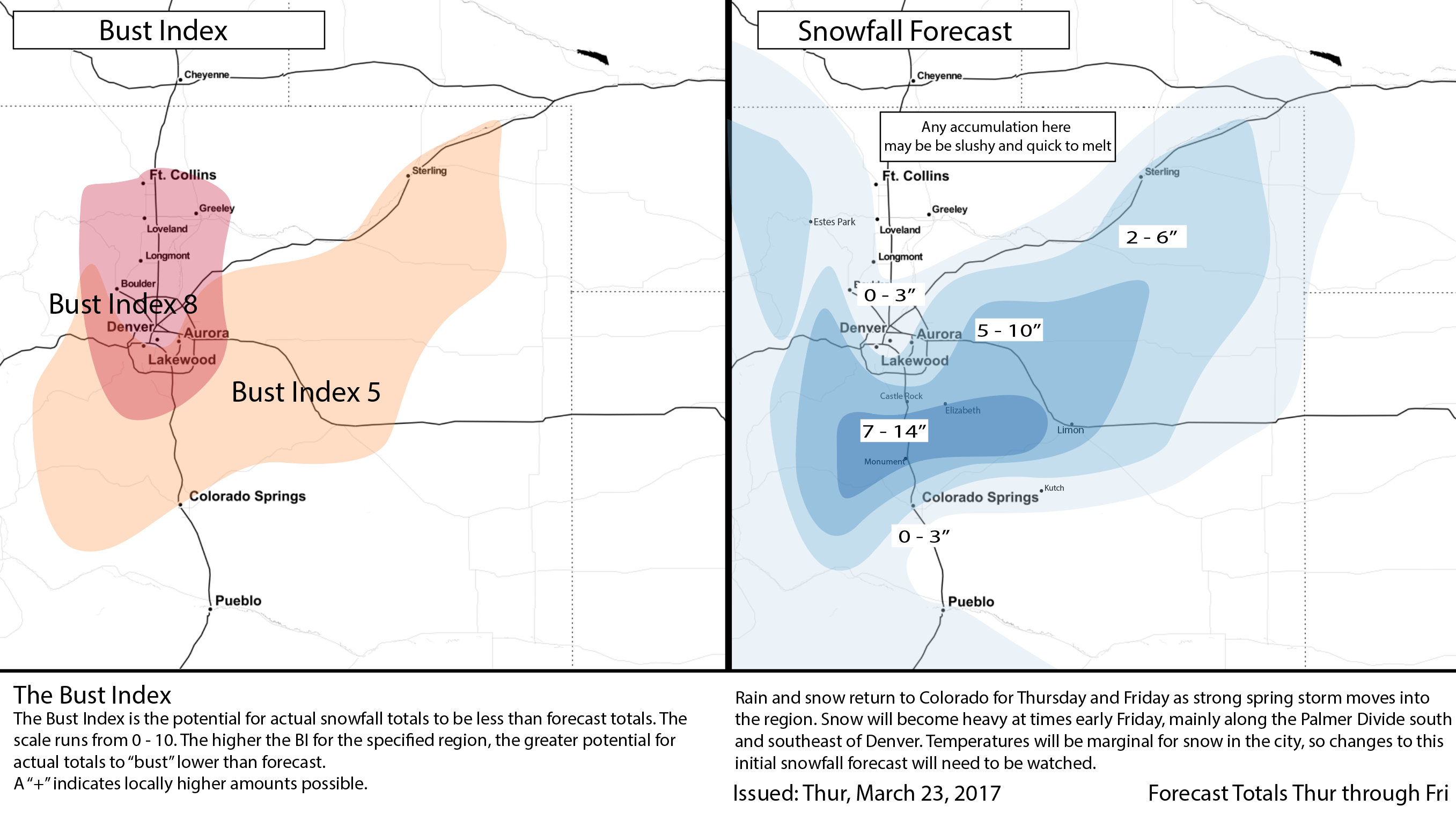 Bottom line: this is the first storm in awhile, and a tricky one at that. Be aware if traveling that while things may be 'okay' at your place, if you head across town, or especially if you plan to commute between Denver and Colorado Springs, you're likely to run into some bad weather. It may very well be one of those cases where Denver isn't seeing much snow maybe, but it could be a different story at DIA.
This is a tough setup to communicate, so hopefully the takeaways are just that, and most importantly... hopefully we get some MUCH needed moisture out of this thing.
As always, please share your reports and photos in the comments below!