The advertised wetter weather pattern is certainly here as we track another strong storm system to impact our region Tuesday and Wednesday (mostly).
There are some similarities to the last storm, and a few notable differences.
Similarities
The amount of available moisture in the air to fall as either rain or snow is similar. Total precipitation, in the favored areas, will be near an inch and more.
The areas of heaviest precipitation will again be the eastern plains and Palmer Ridge. *See the differences section, however, as the mountains/foothills and Raton Plateau may be much wetter this time.
The rain versus snow areas will be a sharply distinct 'line' again. It's a bit too early to call the exact elevation of the cutoff but it appears to be most likely 5 to 6,000 feet and above for accumulating snow. Those nearer 5,000 feet are more likely to see a rain/snow mix than snow only.
Wind will be an issue on the Palmer Ridge and the plains again. A winter storm watch is already posted for some of those on the Palmer Ridge – mainly south of Castle Rock and north of Colorado Springs.
Differences
The track of the storm, as projected in the modeling, will be farther south and slower than last week's storm. The biggest thing about this is that the heaviest precipitation will be altered from the last event. This time, the mountains/foothills and southern Colorado may favor from more moisture – an area with high levels of drought, too.
Temperatures are a bit different too. We don't have a distinct cold front to move in and create the lift/temperature contrasts that we saw last week. This storm will have to do all the work on its own. We will be cooler/cold Tuesday and Wednesday with the precipitation moving through.
Ultimately, this storm is slow enough that Tuesday's rain may be enough to cool the air enough to create snow for more of those in the metro area than saw it last week. This is something to be watched closely for commute impacts by late Tuesday night and Wednesday morning.
Timing
Snow in the mountains will continue overnight, meanwhile some areas of lighter/moderate rain to develop east of the Divide. The metro area has a chance of rain overnight but a better chance for rain during the day Tuesday, particularly later in the day. By Tuesday evening rain will have turned to snow above the to be determined snow level (likely 6,000 feet) and we will watch to see if that snow line will drop to cover the Denver area by Wednesday morning – it is certainly possible.
Snow and rain will continue Wednesday, first tapering off in the northwest and west edges of the state. By late Wednesday through Thursday, the storm will have cleared the metro areas and southeastern Colorado will hold onto the precipitation longer than the rest; travelers using I-25 between Colorado Springs and Raton should be mindful that travel could be a pain Tuesday through Thursday.
Precipitation
We've covered that this is going to be another rain and snow event for the state and that the snow level will drop very close to that of the metro areas late Tuesday or early Wednesday. Our thought process on that aforementioned snow line leads us to this coverage of snowfall for the Northern Front Range: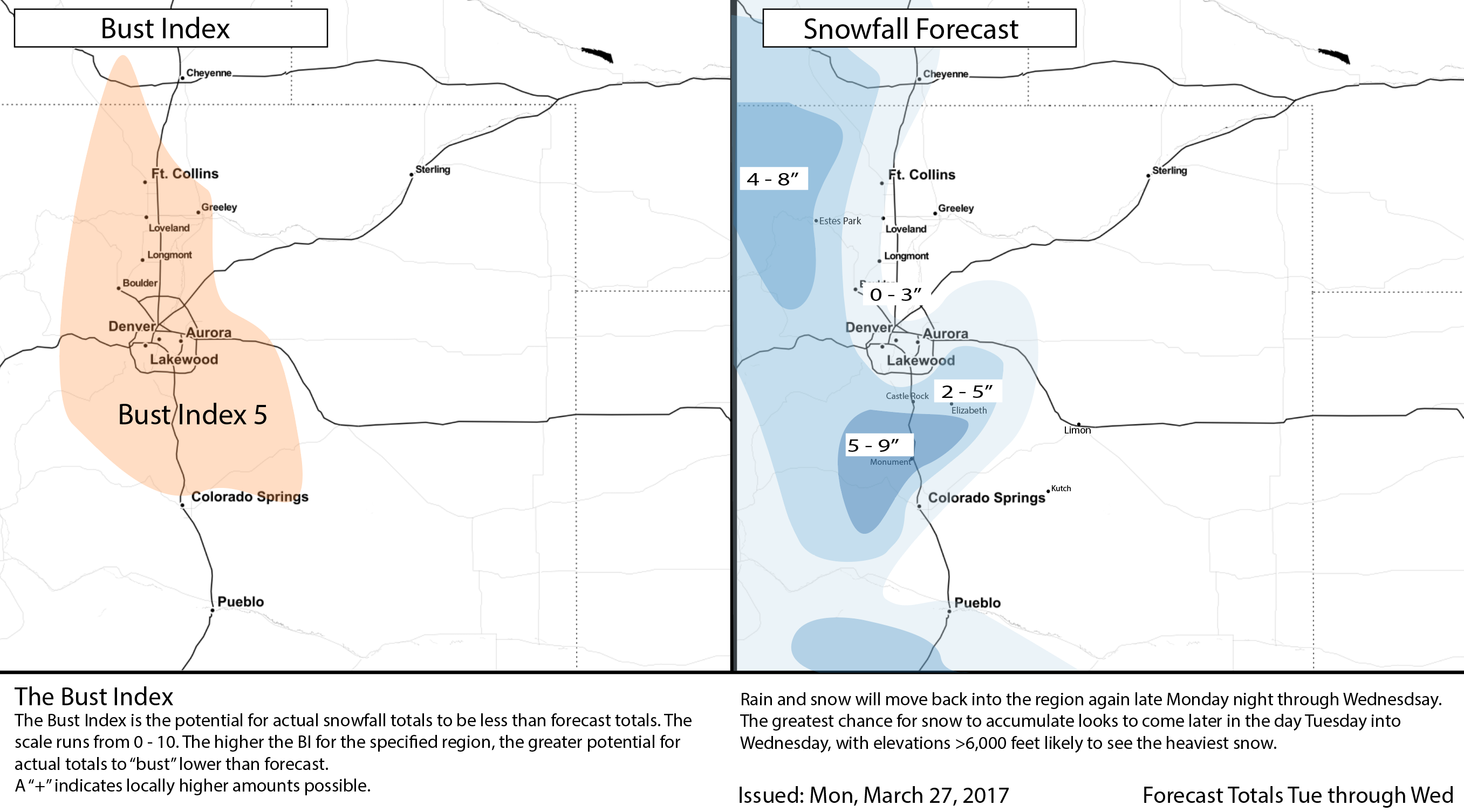 Note, that total moisture out of this storm will be beneficial to most all of us. Below one of Monday morning's model runs that aligns with our thinking on total precipitation. As you can see, more precipitation for some than others, but overall look is quite wet for the entire region: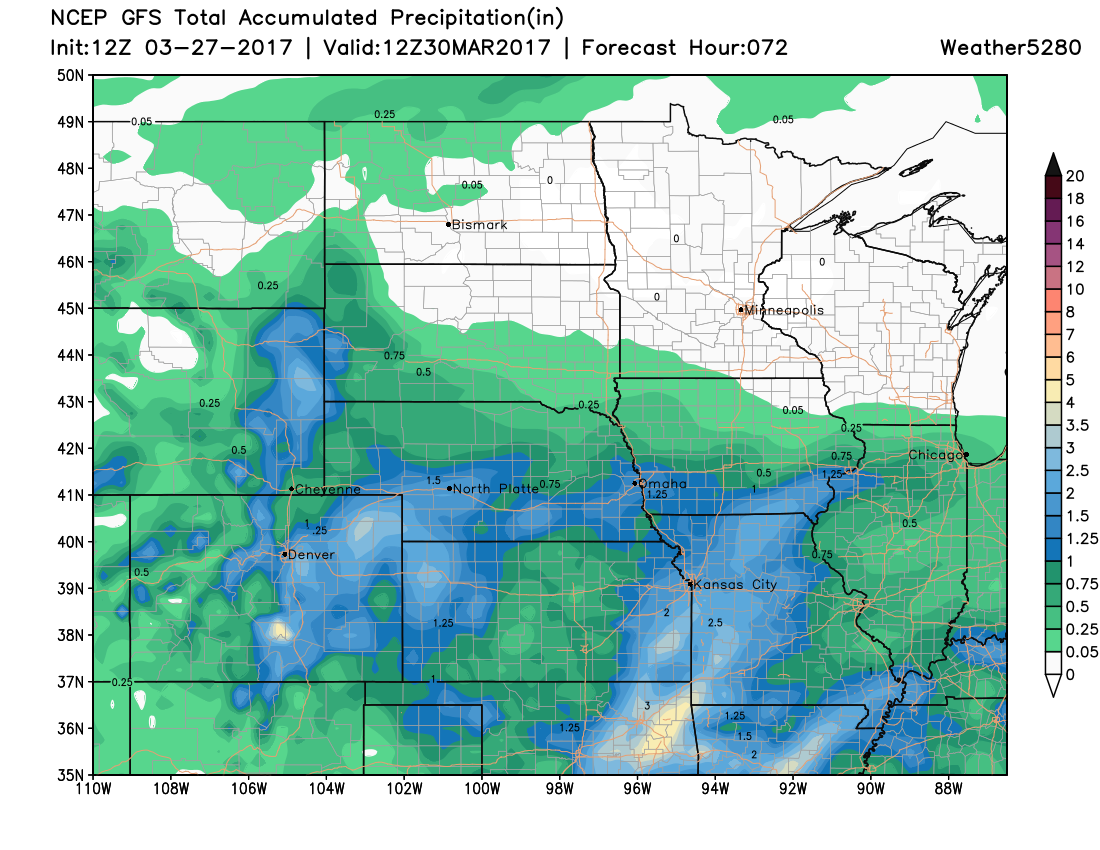 Impacts
Clearly, rain and snow will impact us commuting Tuesday and Wednesday. I-70 running through the mountains will have areas of heavy snow. I-25 between Denver to New Mexico will also likely have some snowy/slushy conditions ala the last storm. I-70, Hwy 24, and Hwy 86 will have wet/slushy/snowy/windy impacts for those miles on the Palmer Ridge between Denver, Castle Rock, and The Springs out to Limon.
Wind and heavy snowfall will have to be watched for creating power issues and also tree issues, too.