Our weather pattern has been very active lately. Despite the fact that some areas haven't received as much moisture as they would like, many areas have done very well. Below is the total liquid precipitation that has occurred during the last week, a huge flip from what where we were before: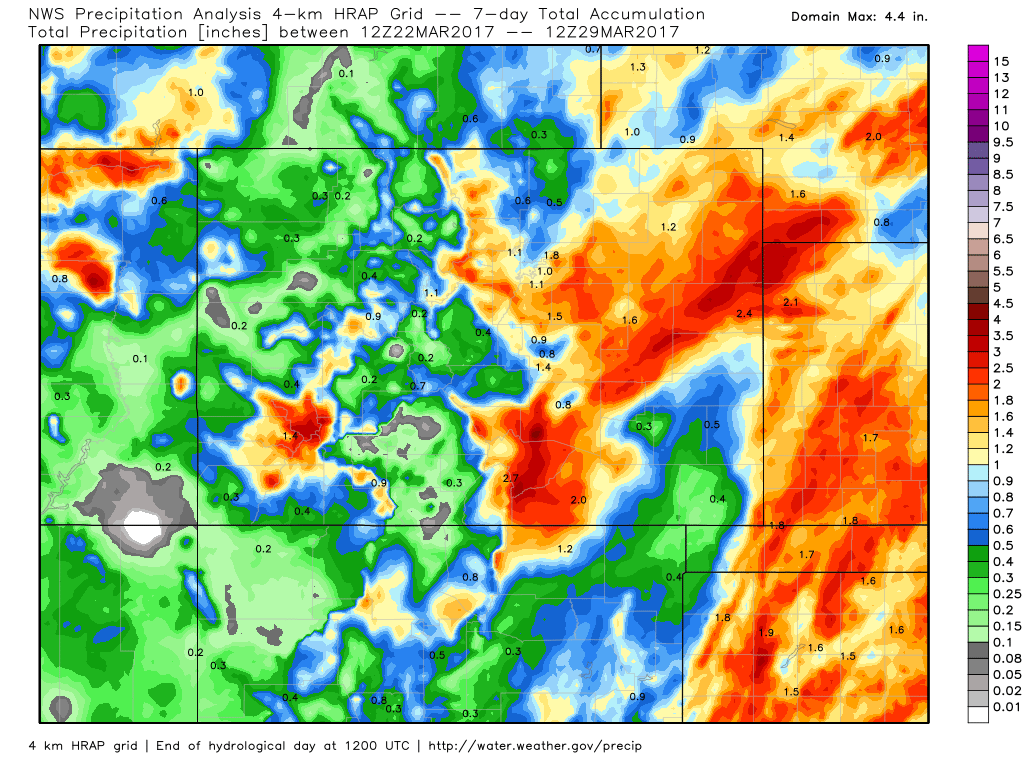 Locations just north of Denver and parts of the far Southeast Plains have been shorted recently, but look at all that water others have received. No doubt, this will put a big dent in the drought for many of us.
Next system on the way
While this last storm didn't deliver as much moisture as the one last week, the storm that is set to impact us late this week and early in the weekend looks like a strong one. Strong storm or not, it is all about how it develops and where it tracks. Here is a look at the latest upper level low pressure tracks, as forecast by the various models.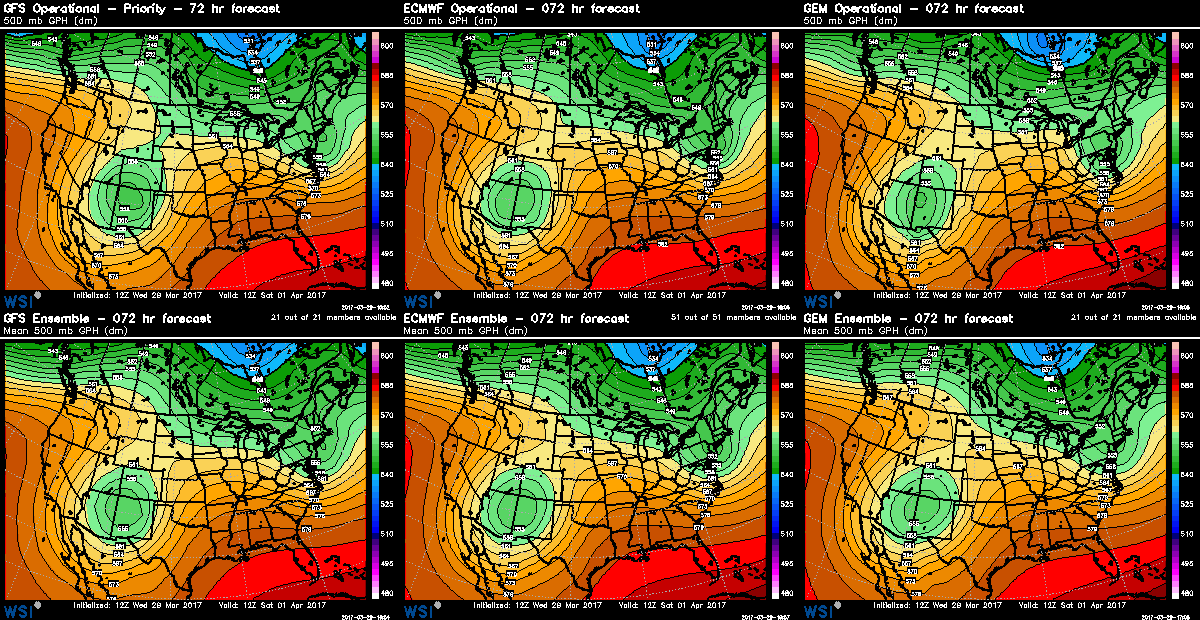 The top images are from the operational models, while the bottom images are from the model ensembles. Typically, the model ensembles are more accurate due to it being the mean track of the several members of each model. We usually lean pretty heavy on the ensembles, and for good reason. That being said, there really isn't a huge difference between the operational and ensemble solutions. They all bring a very strong, closed upper level low pressure into the Four Corners area. The big question is how far east the storm center tracks from there. If it hangs back farther to the west or southwest, we don't get as much rain and snow. If the storm moves through Northern New Mexico, then that puts us in a much more favorable spot to get some great moisture over most of eastern Colorado. Given the cooler temperatures this time around, much of that moisture would likely come down in the form of wet snow.
So, let's pick out our most accurate model (EURO) and see what it's ensemble mean is projecting for snowfall right now.
Denver International Airport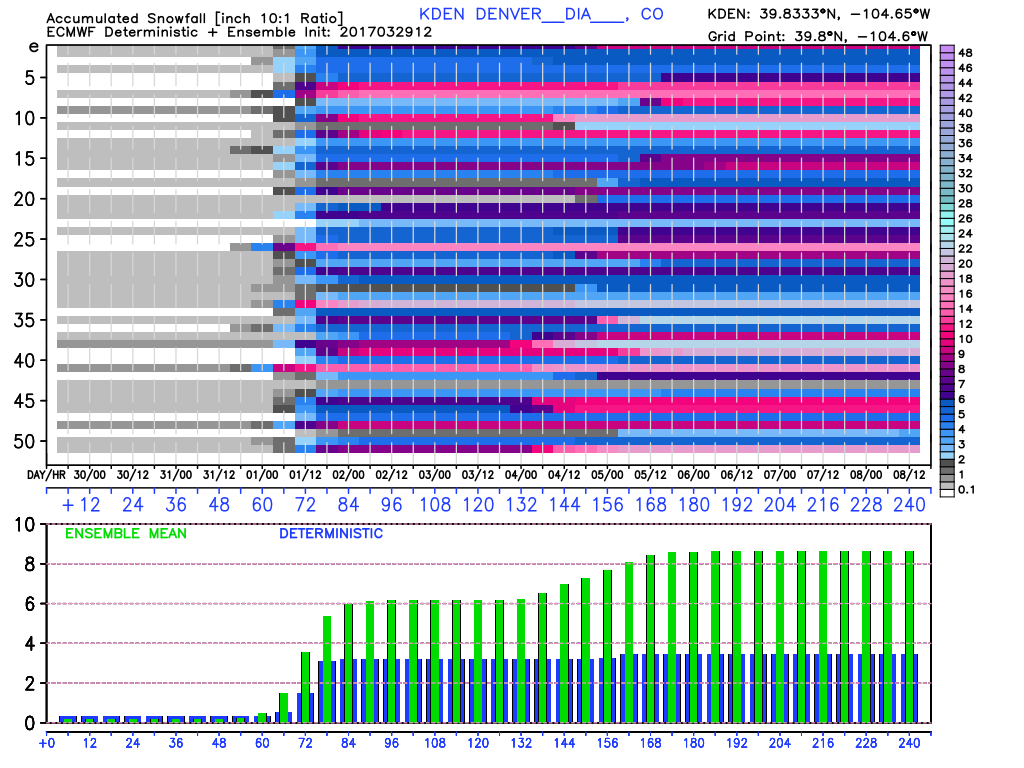 Centennial Airport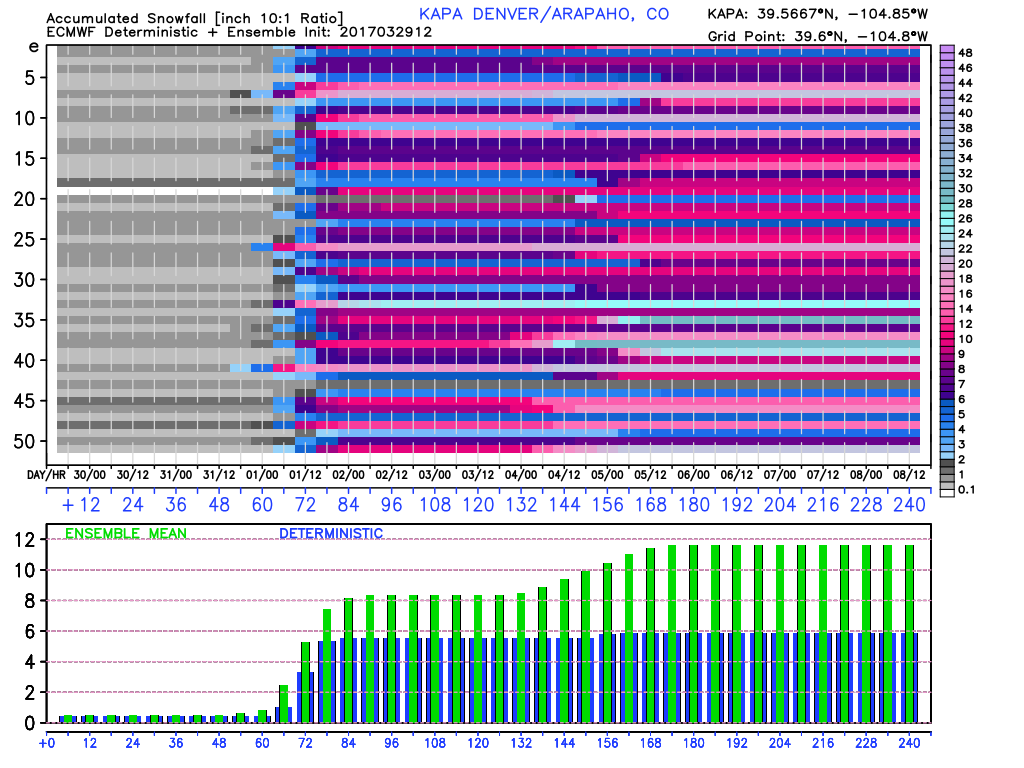 Fort Collins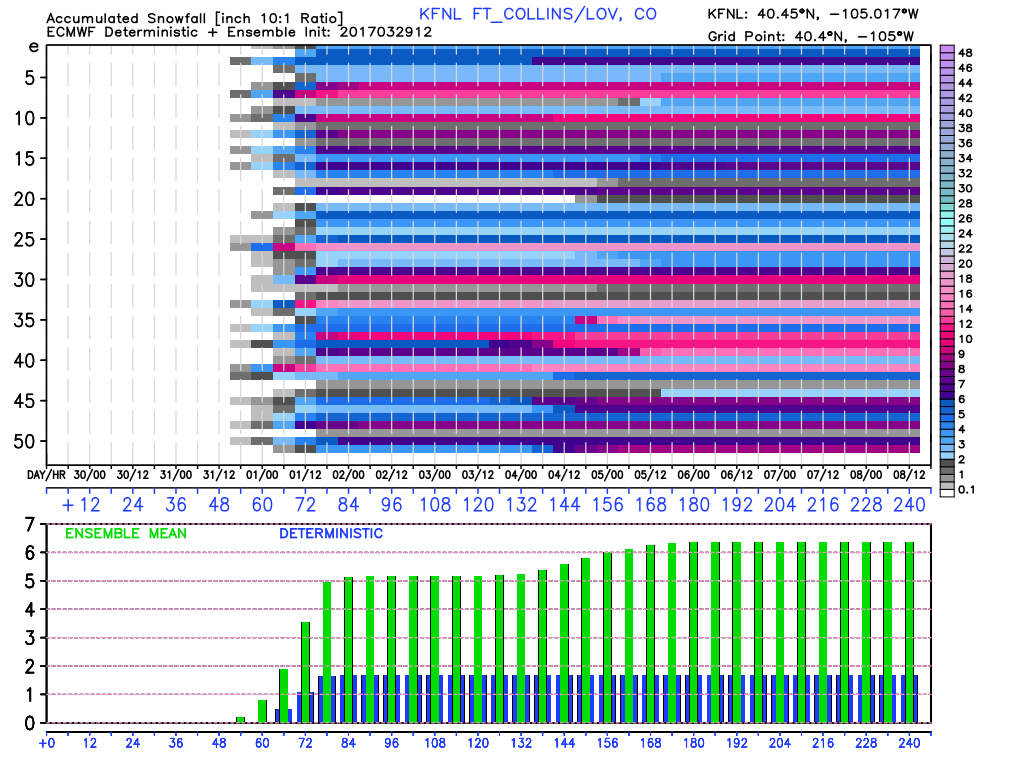 Air Force Academy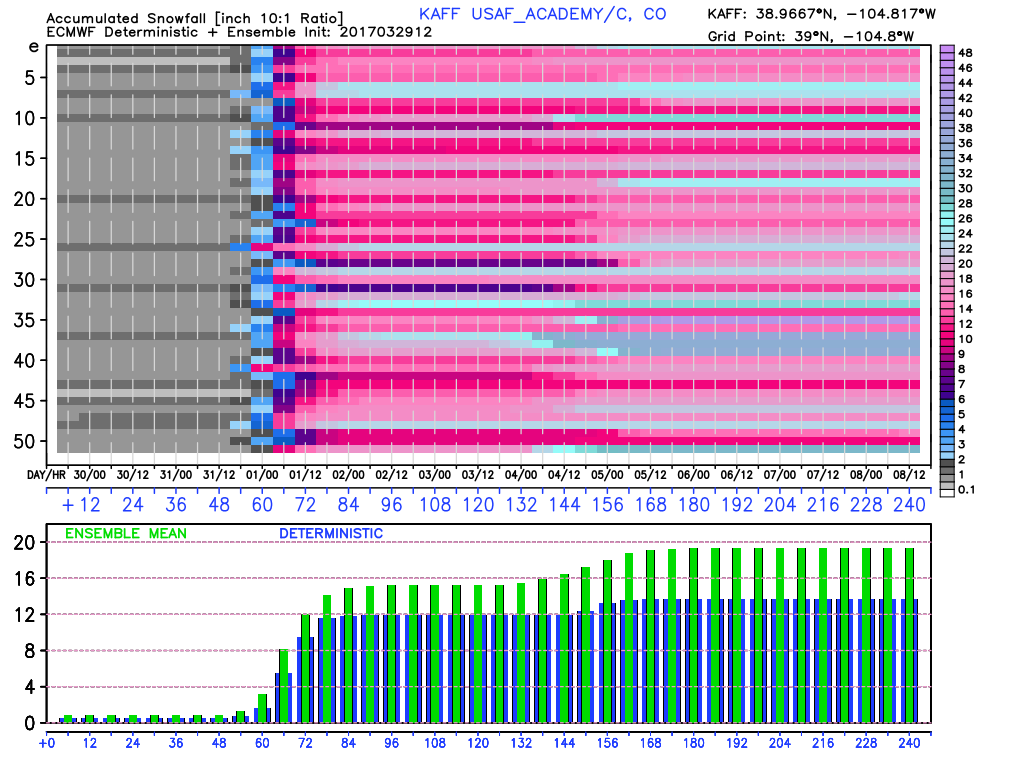 Colorado Springs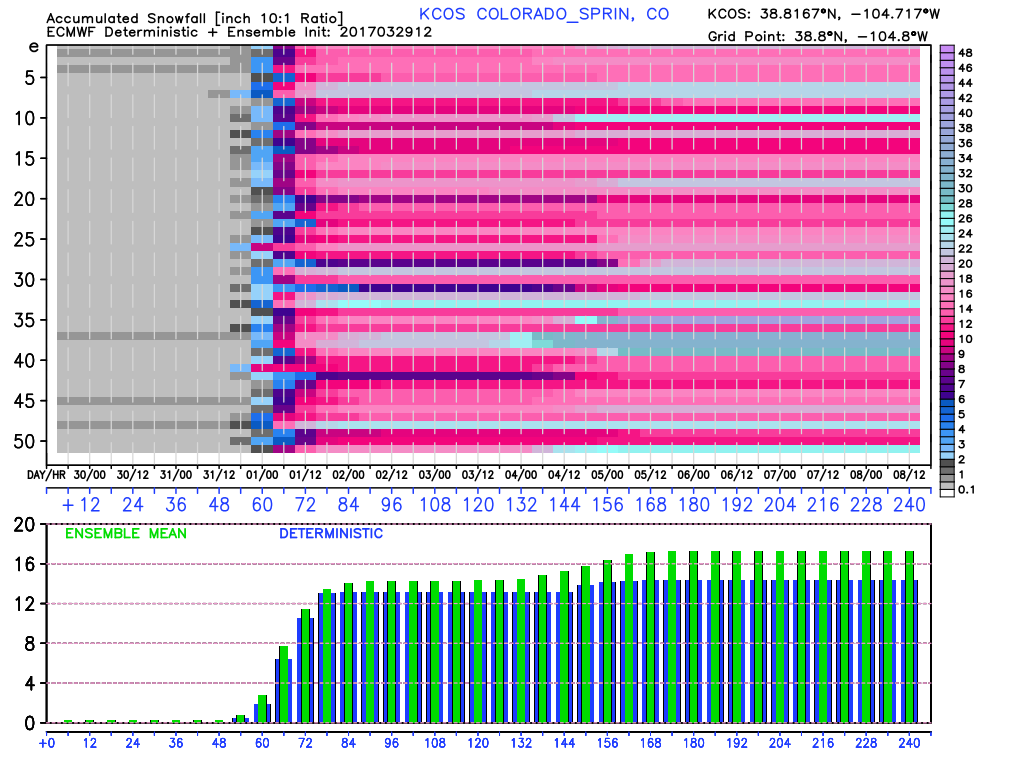 Limon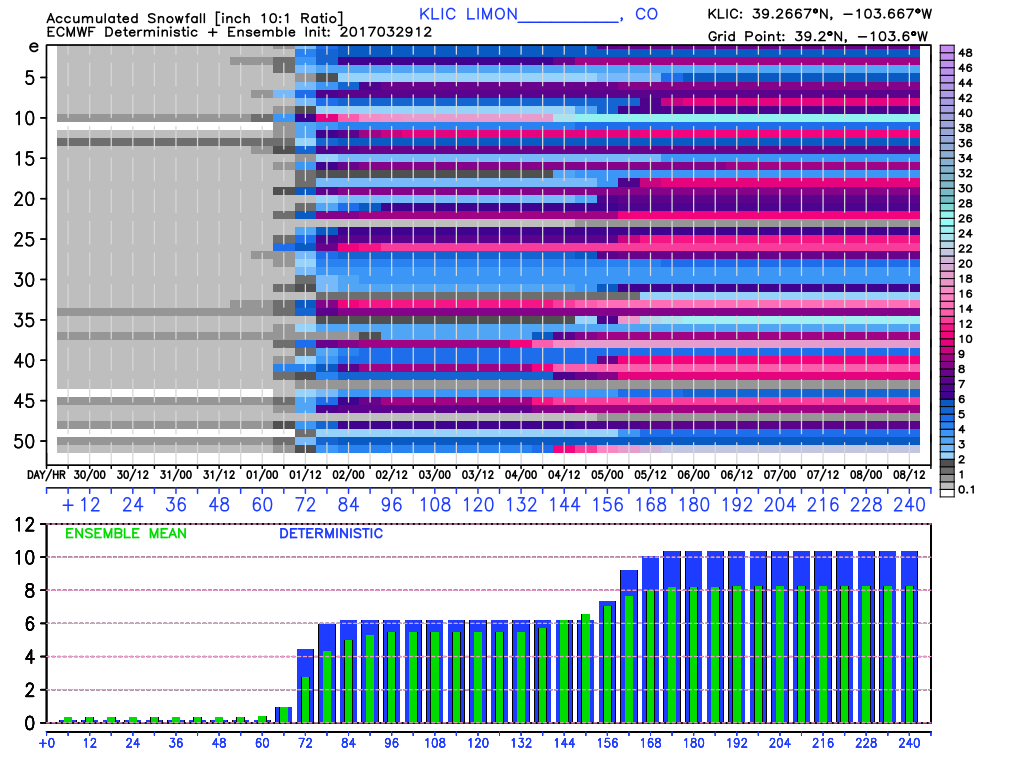 The green lines represent the ensemble mean, while the blue lines represent the deterministic or operational snow output. The totals are in inches and are figured at a 10" of snow equals 1" of liquid ratio (ratios may differ with this system).
Notice there is a lot more spread between the two for Denver and Fort Collins. Areas farther south have less separation between the two. Thus, forecast confidence is greater for places like the Air Force Academy and Colorado Springs.
However, the ensemble mean is forecasting more snow for the northern areas than the deterministic / operational output. That's good news if you like snow, but is far from a guarantee for areas north of the Palmer Divide.
DO NOT TAKE THESE NUMBERS TO THE BANK! We just wanted to give you an idea of what the most accurate model we use is showing. The devil is always in the details, and how much snow we see really depends on the eventual storm track. Duh, right? Evening models are are starting to come in now... we'll see how things look after these runs are in.
The two things we have working in our favor for this storm? 1) Moisture 2) colder air. Notice that I didn't say cold air, I just said colder air... likely cold enough for mostly snow along the Front Range, but we'll have some rain to factor into the forecast too.
The images below represent a storm timeline, and show who is likely to see what... green = rain and blue = snow.
Storm Timeline from GFS Model:
Friday Morning: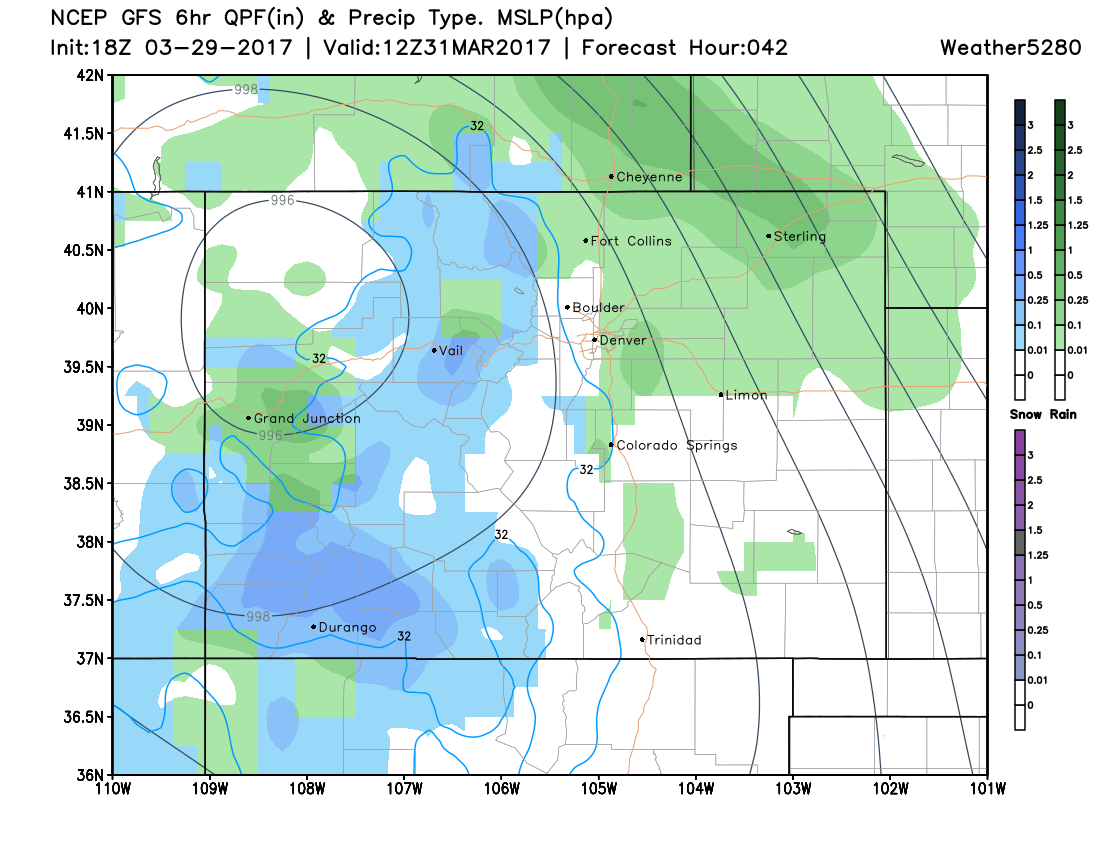 Friday Evening: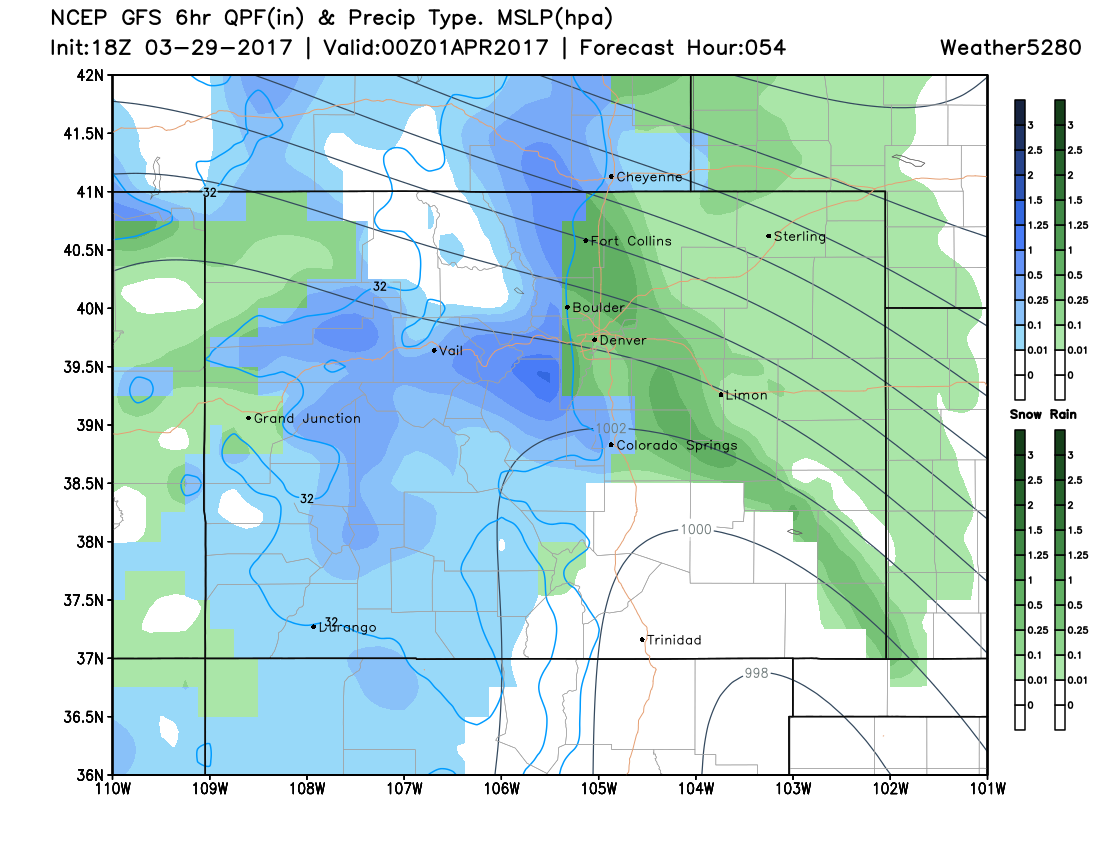 Saturday Morning: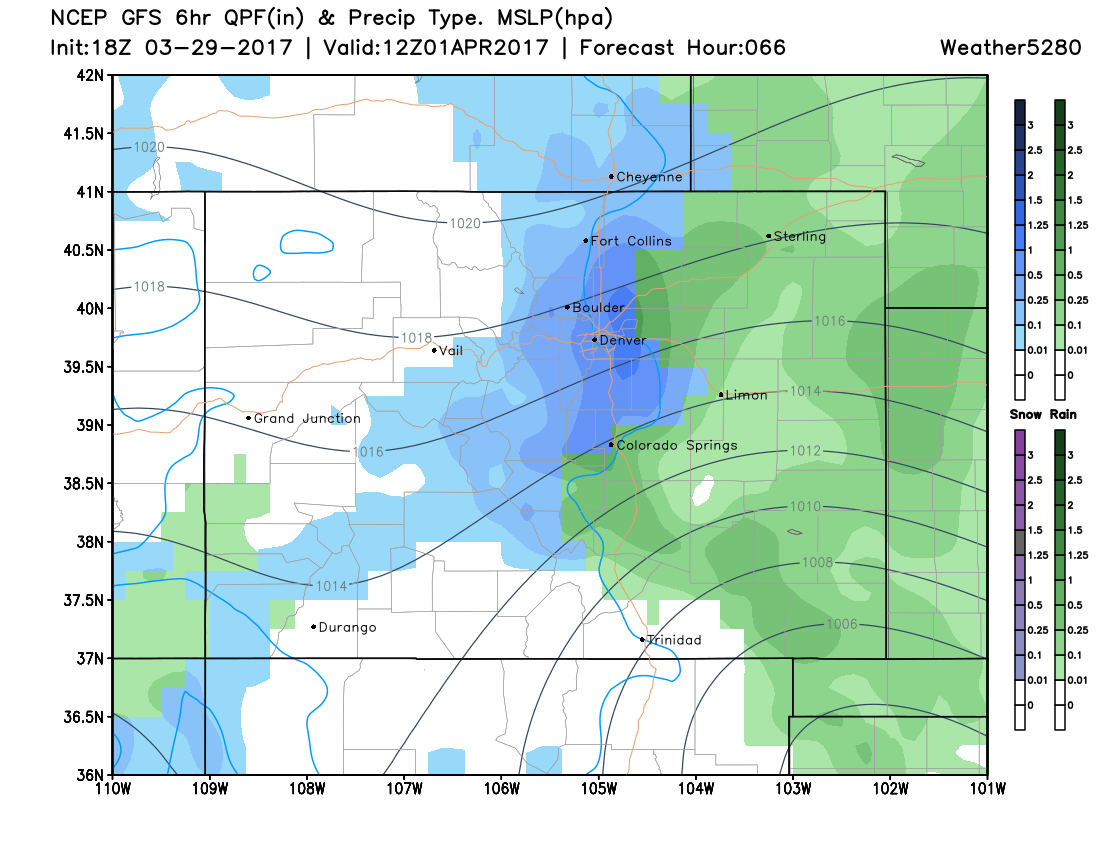 Saturday Evening: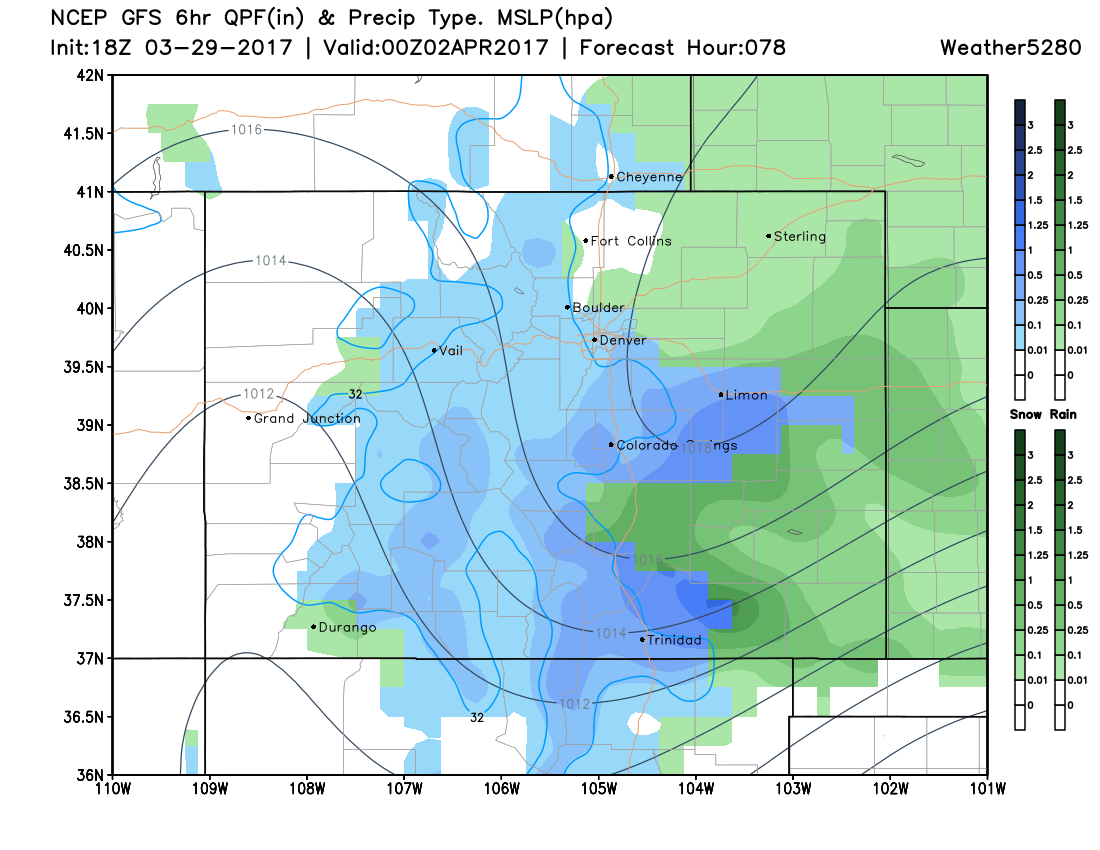 Sunday Morning: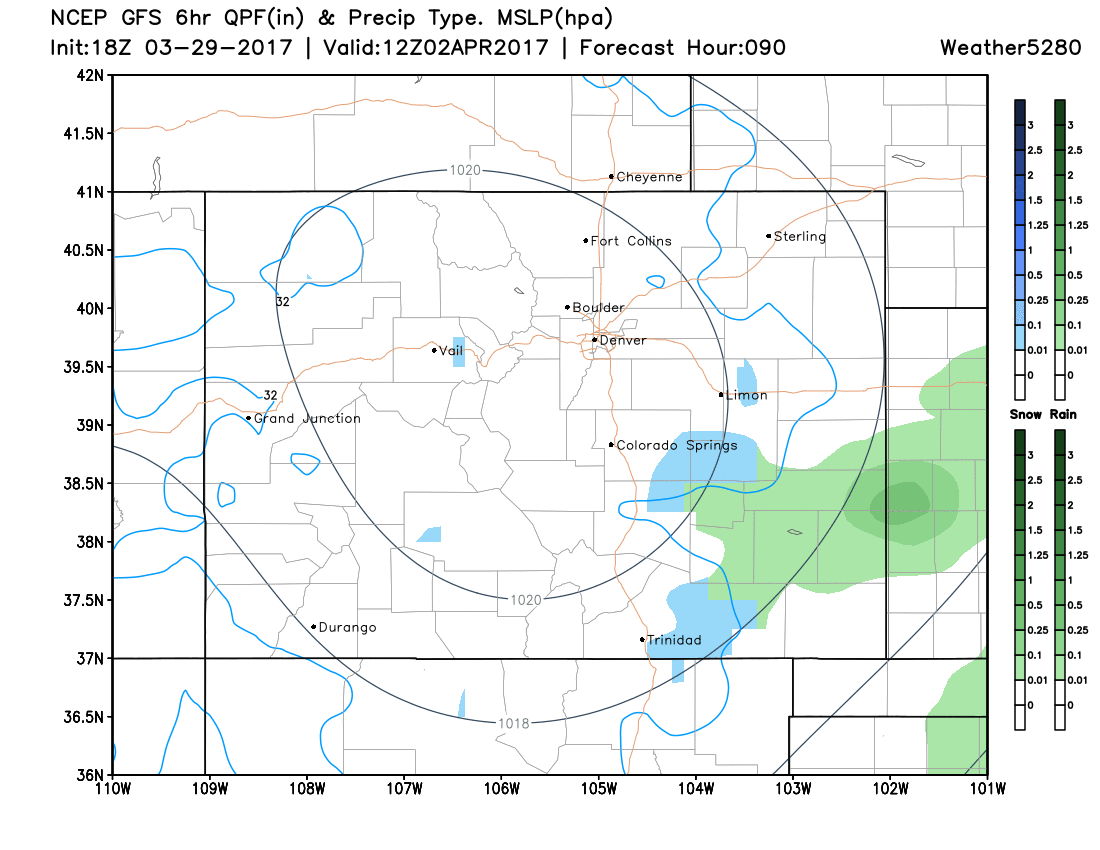 As you can see, the storm really sets in Friday afternoon and evening, and doesn't exit until Sunday morning. While the eventual details will continue to become more and more clear, the timeline doesn't look to change a great deal. Stay tuned and we'll keep you updated!