We're tracking another storm system due into the region late tonight, which will impact us across eastern Colorado mainly Friday afternoon through through Saturday. This storm has the potential to deliver snow up and down the I-25 urban corridor and across the Front Range. At lower elevations, precipitation will likely begin as rain, but transition to snow by Friday night and into Saturday.
As we discussed last night, there have been considerable differences in the modeling with this system, especially with the progression of the 500mb Low that will be responsible for delivering (or failing to deliver) the moisture over the next few days.
Last night we saw the GFS and NAM move north with the Low, while the EURO remains pretty far south/southwest with the evolution of the track. A GFS solution would be more favorable for the northern I-25 urban corridor and adjacent mountains (Denver, Boulder, Loveland, Estes Park) but it too has come south a bit today, while a EURO solution would still have impacts further north, but would keep heaviest snowfall south along the Palmer Divide (Monument), and into Colorado Springs.
Our forecast lands us somewhere in the middle. We do think Denver sees some snow, and perhaps several slushy inches of accumulation, but the greatest impacts (i.e. heaviest snow) may end up south of town, unless the trend heads north from where we currently see it going.
Heavy snow for some
If you live in the Foothills west of the Denver metro area, or south along the Palmer Divide between Denver and Colorado Springs (same areas of focus for last few storms), your odds of seeing heavy snow are looking pretty good. The National Weather Service has issued a Winter Storm Watch for Friday night and Saturday for these locales, with upwards of 6" looking likely.
In Denver, eventual storm track will likely be make or break. We do think it'll get cold enough for snow, especially Friday night, but how much moisture will we have to work with? Also, even if we do get 'cold enough', we'll be fighting temperatures early on, and latest profiles aren't exceptionally cold looking at that. The GFS is very bullish on QPF, with upwards of 2" of liquid across the entire area, while the NAM is considerably less. The EURO lands us somewhere in between, and like we said last night... that generally means lean on the EURO.
Here's the latest GFS 500mb forecast. Our storm (blues over northern Nevada at start of loop) will dig into the Great Basin tonight, and push into the Four Corners by early Friday. It then jogs across New Mexico Friday night on Saturday, with Denver's best potential to see snow right now looking like it'll come early on Saturday.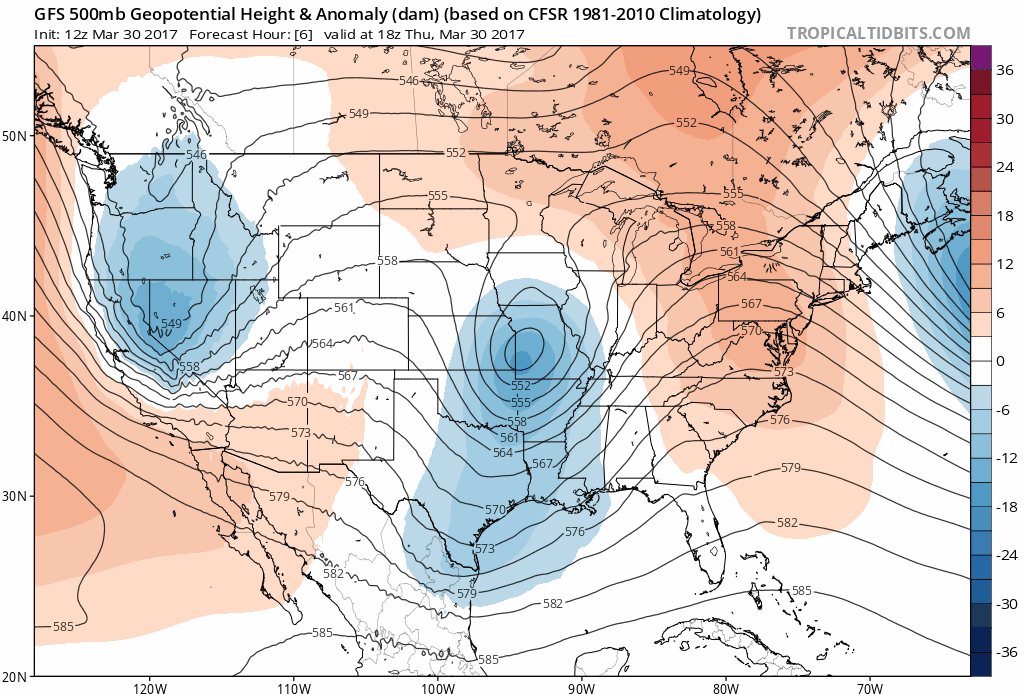 Any variation to this track will likely greatly impact odds of seeing snow, especially from Denver north to Fort Collins. Right now if you live south of Denver from say Castle Rock to Monument down into Colorado Springs, this track looks more favorable for you.
For precipitation, expect a similar story. A northerly jog would get more moisture up north, while current projections are much drier for the northern urban corridor (today's 12z EURO had about 0.5" for Fort Collins but 1.0" for Denver of liquid).
Significant snow for Denver?
The odds for this happening are lower today, but there's still a chance. Again, it comes back to track and cold air – and how favorable both shake out for us. At the moment will lean on lower totals in and around the city as latest soundings are all that supportive of a great snow event for us, and models too are showing a trend lower (SREF means are down across the board today).
For Denver's suburbs those odds are a bit better. Still seeing some impressive model forecasts for the south side of town, so certainly keep an eye on the forecast if you're at slightly higher elevations to the south of Denver, and west.
Down but not out for significant snowfall chances in the city, so stay tuned!
Snowfall Forecast
With all that said, below is our initial snowfall forecast. We'll tweak this Friday if things look to change one way or another tonight, so be sure to check back.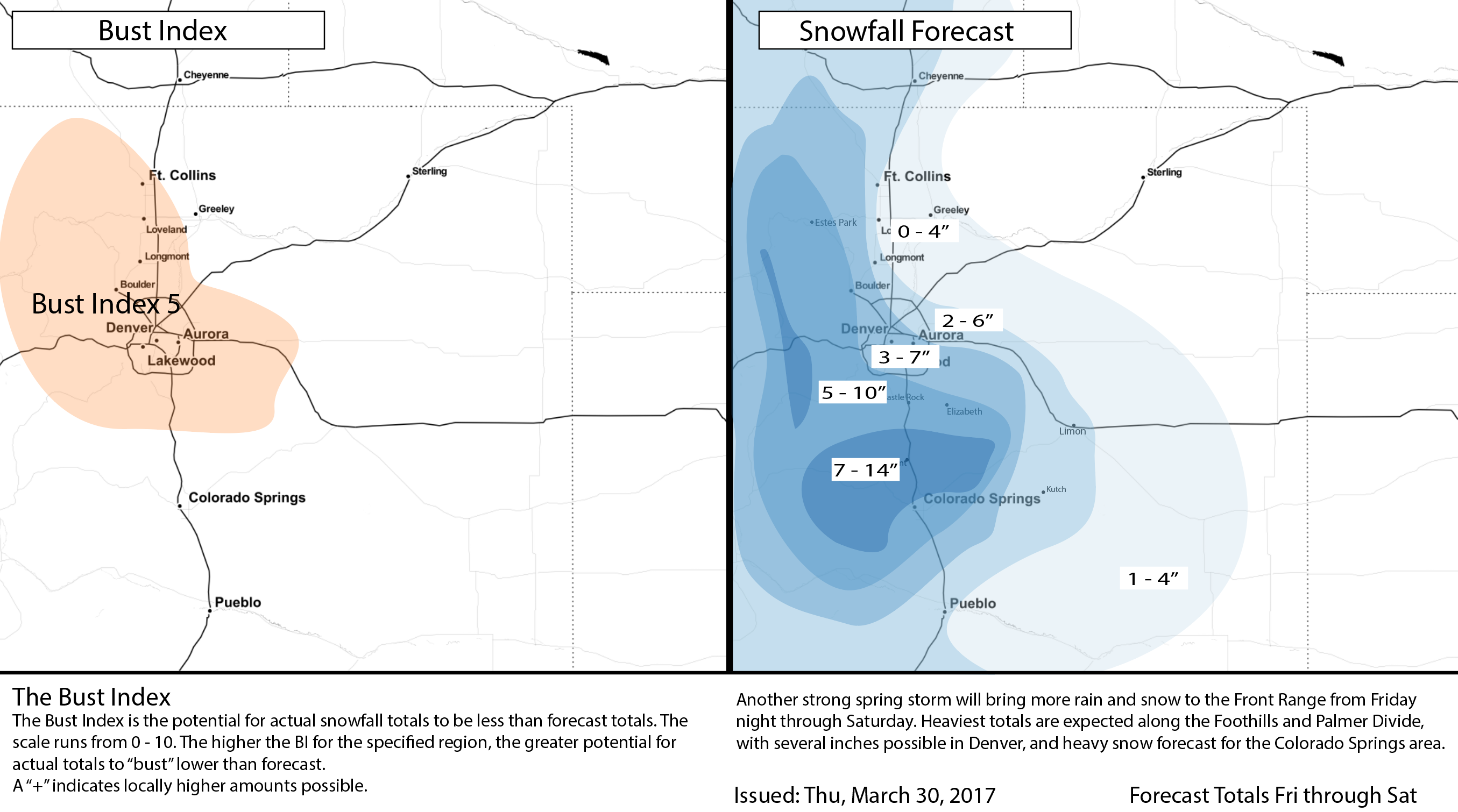 Bottom line
Another good soaking storm for the region is on the way, with the potential to bring areas of heavy snow from late Friday afternoon through Saturday. Expect travel conditions to be poor, mainly early Saturday, as the heaviest snow is pushing through. While still some questions in who sees the heaviest precipitation (and snow), it looks like generally speaking the further north you get of Denver the lower the odds, while further south the better.