As we said yesterday, still uncertainty with this storm even as its impacts are starting to be felt across the state. Trends over the last 12 hours or so have been to lower expected precipitation including snowfall, and shift the greatest impacts farther south. You'll see this reflected in our updated snowfall forecast map below.
Overview
We're still looking at a period of rain and snow across most of the state this afternoon through Saturday. We also continue to think that Denver sees some snow, though only a 1 - 4" range.
If you live in the foothills west of Denver and down across the western Palmer Divide this system still has the potential to produce some significant snowfall. We're forecasting 4 - 10" generally for these locales, but localized areas of greater snowfall are possible.
In a lot of ways, the latest modeled snowfall forecasts make a lot of sense – the center of the storm system is almost in a great spot for us, but not quite (touch south). Meanwhile, we've still got some models producing some impressive snowfall for the area – the SREF, for example, is still producing totals of upwards of 8" across the metro area. Even its probabilities for >3" of snow remain very bullish this morning for most of eastern Colorado: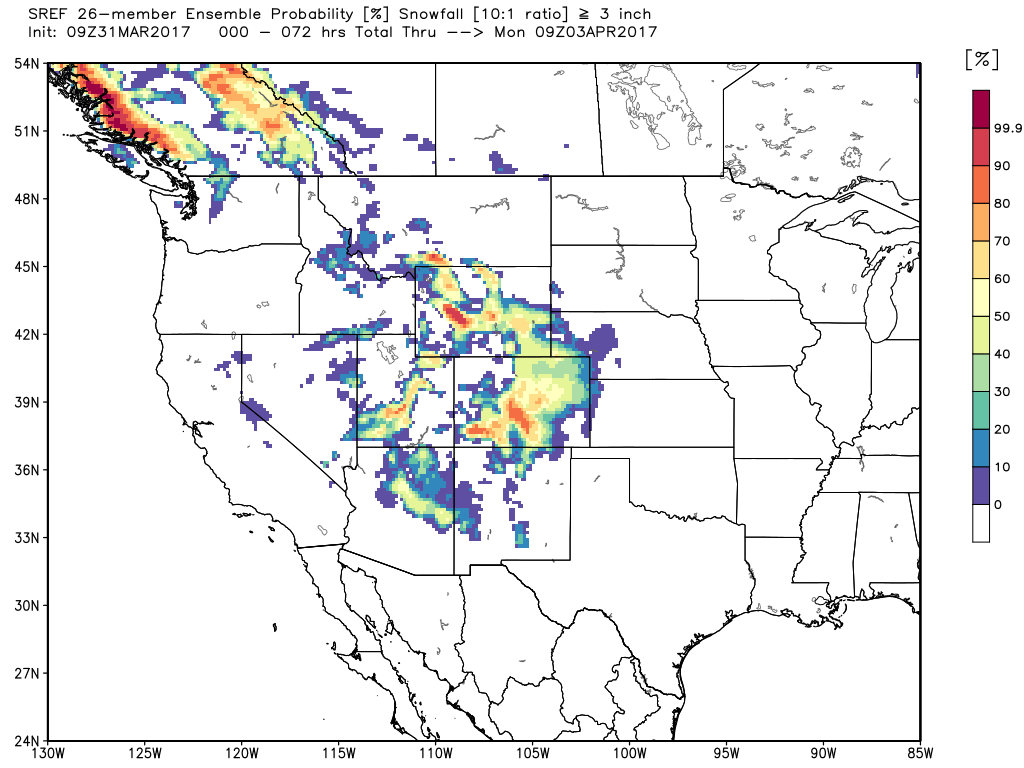 At the same time, the trusty EURO continues to tip lower and lower in totals and has shifted the heaviest precipitation well south of the Denver area across south-central Colorado. The latest EURO ensemble mean forecast only has about 2 - 3" in Denver, which with melting wouldn't be a big deal for us. While you see that same bias in the SREF probabilities above, the trend has been very evident in the EURO over the last day or two, and today we are finally seeing the GFS show the same thing. Look at this trend over the last five forecast from the GFS. The pause on the final forecast is from this morning, with a clear shift south with the heaviest precipitation: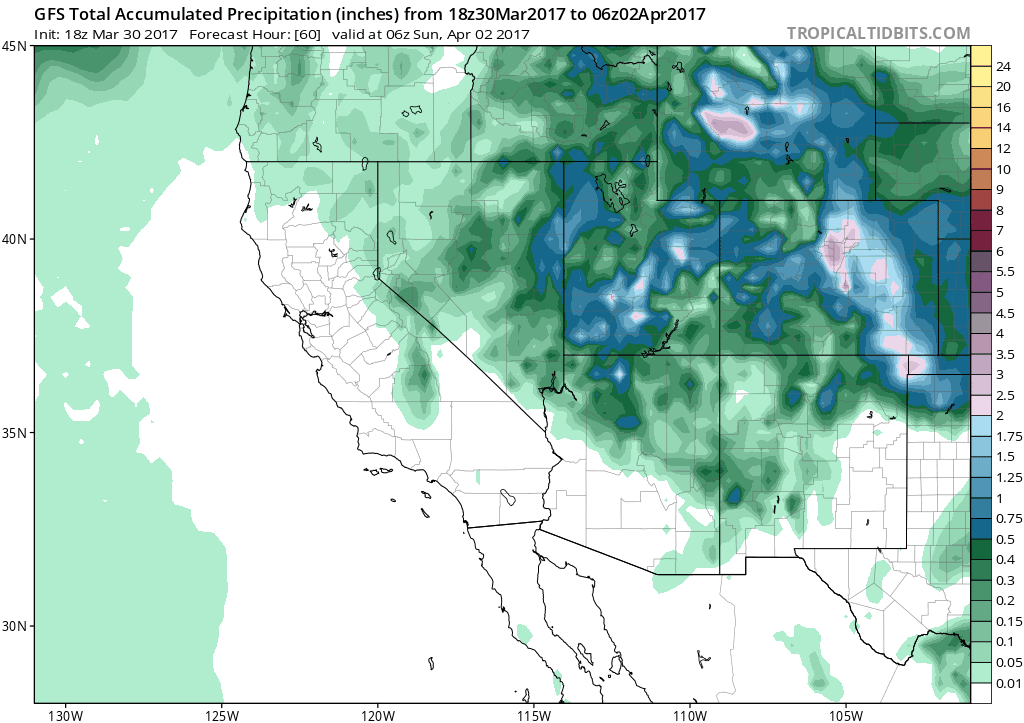 It's not just the EURO and GFS though. Take a look at the latest 3km NAM below. It has some pretty decent precipitation in the Front Range foothills, but the greatest coverage is well south of Denver, with much of what falls along and west of I-25 falling as snow: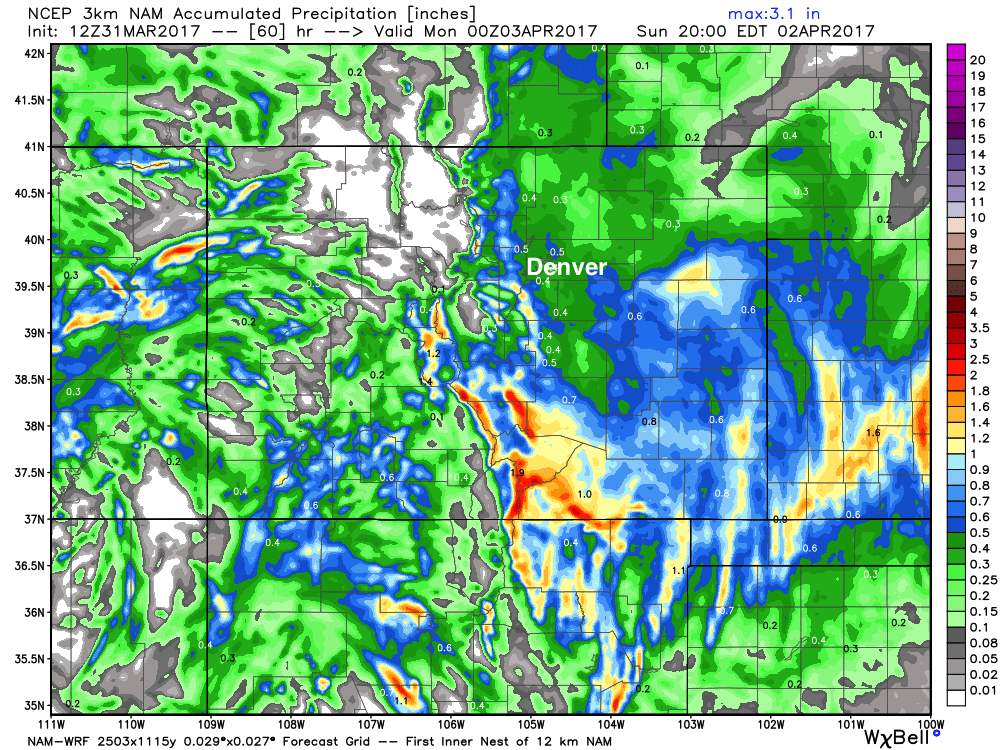 I don't really hate this map. And, while certainly a low impact event for Denver, not completely dry either, with 0.3 - 0.6" liquid (some snow) forecast for the Denver metro area. We'll take it. Also, just in case this model has a clue... that's some great moisture for southeast Colorado, which ALWAYS needs it.
Latest snowfall forecast
With that, below is our latest snowfall forecast map. Still looking at from 0.3 - 1.0" of liquid across the greater Denver area, but have lowered snowfall totals quite a bit from yesterday's forecast in some areas. The further north you are, the greater "bust" potential we see.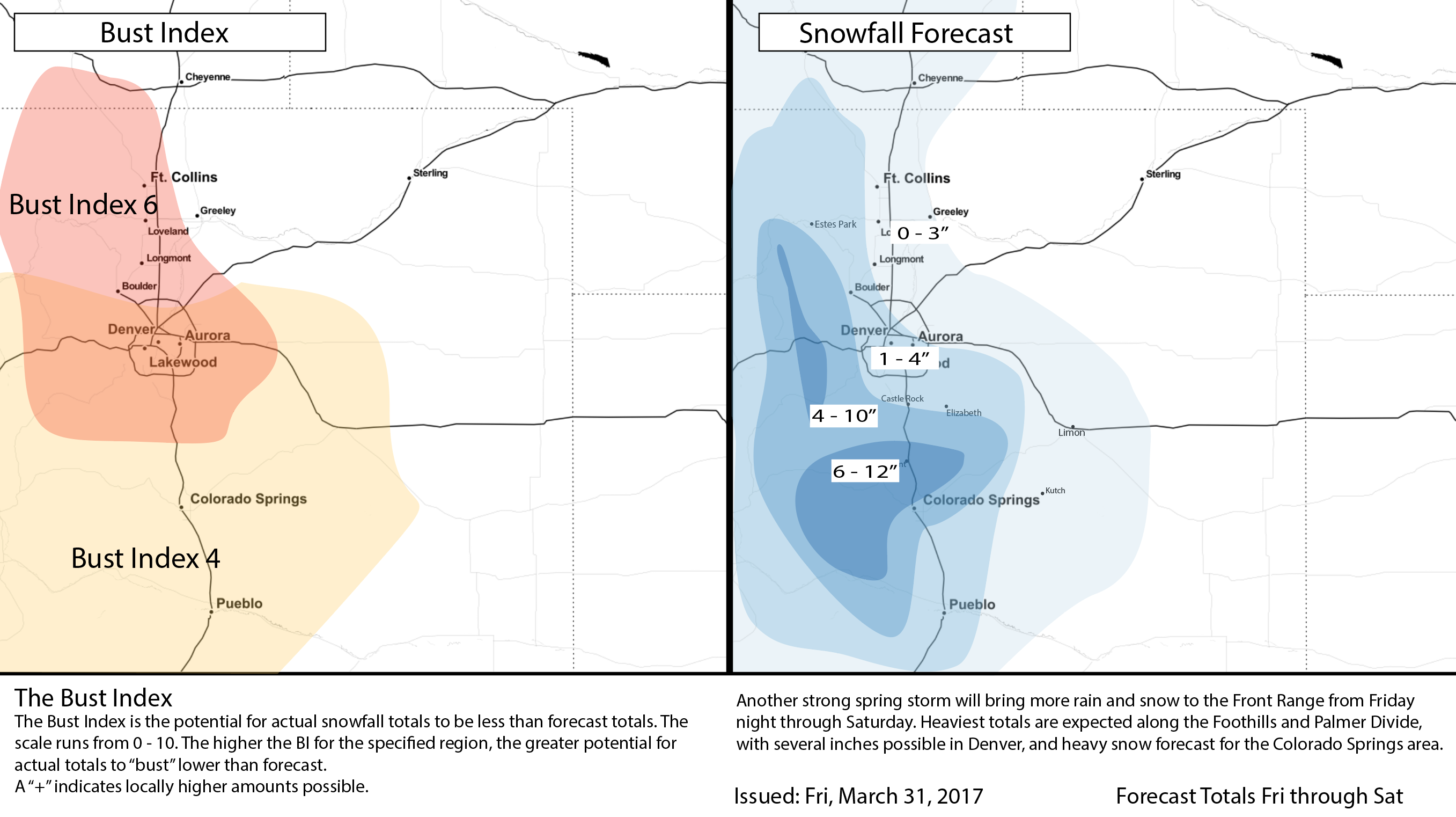 In yesterday's update we said about the potential for a significant snow in Denver that we were down, but not out... today we're a bit more down and a bit more out.
Stay warm and dry this weekend, and let us know how things pan our where you live!