As we discussed in yesterday's State of the Atmosphere, we've got another system on the way that will bring another round of rain and snow to the region for tonight through Tuesday night.
The greatest rain and snow chances with this system will be to Denver's west, and from Denver south across south-central and southeast Colorado. The northern urban corridor which has been robbed in several of the last events looks to have the lowest chance of seeing any precipitation with this event, let alone any snow.
Here is the latest GFS precipitation forecast through Wednesday: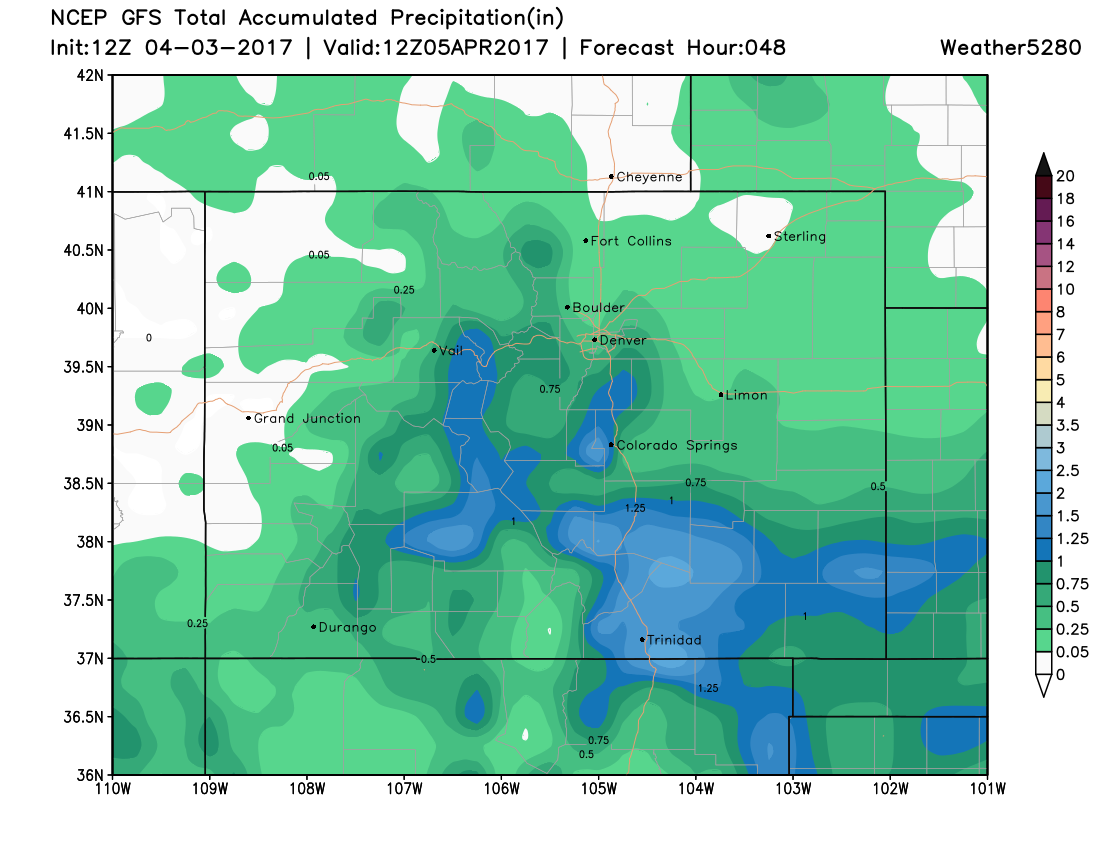 As you can see, some decent totals for the Front Range foothills, then again south of Denver. For northeast Colorado, totals are expected to generally be light. For Denver it looks like 0.2 - 0.7" liquid will be doable, unless things end up a bit too far south, in which case we'll be dealing more with a chilly/windy day Tuesday than a wet one.
The snowfall forecast will have a similar look to it as the precip map above. Winter Weather Advisories are already up for the higher terrain west of Denver, with the NWS calling for 6 - 12" here. Across the Palmer a Winter Storm Warning goes into effect Monday evening and extends through Tuesday night. Some snow-favored areas here may see upwards of 5" over the next 24 hours or so. We'll hedge our snowfall forecast a bit lower than those current numbers seen in the advisories, but the potential is there for a period of pretty good snow as the main circulation tracks across northern New Mexico Tuesday.
At the moment it looks like Denver's best chance of snow comes early Tuesday morning, so if we manage to changeover, it could mean some slick spots for your morning commute. The latest EURO 700mb circulation looks pretty good, so while we have some concerns about this storm... there could be a pretty good period of snow from this thing Tuesday morning mainly from I-70 in Denver and south.
Lastly, there will be more wind with this storm than there was with the last storm. For those that have to travel on the Palmer Divide, between Colorado Springs and Denver, and to the south of Pueblo, be prepared for periods of poor visibility. This won't be due to the snow blowing on the ground, but the wind in combination with the snow that is falling.
With that, here's our latest snowfall forecast through Wednesday morning: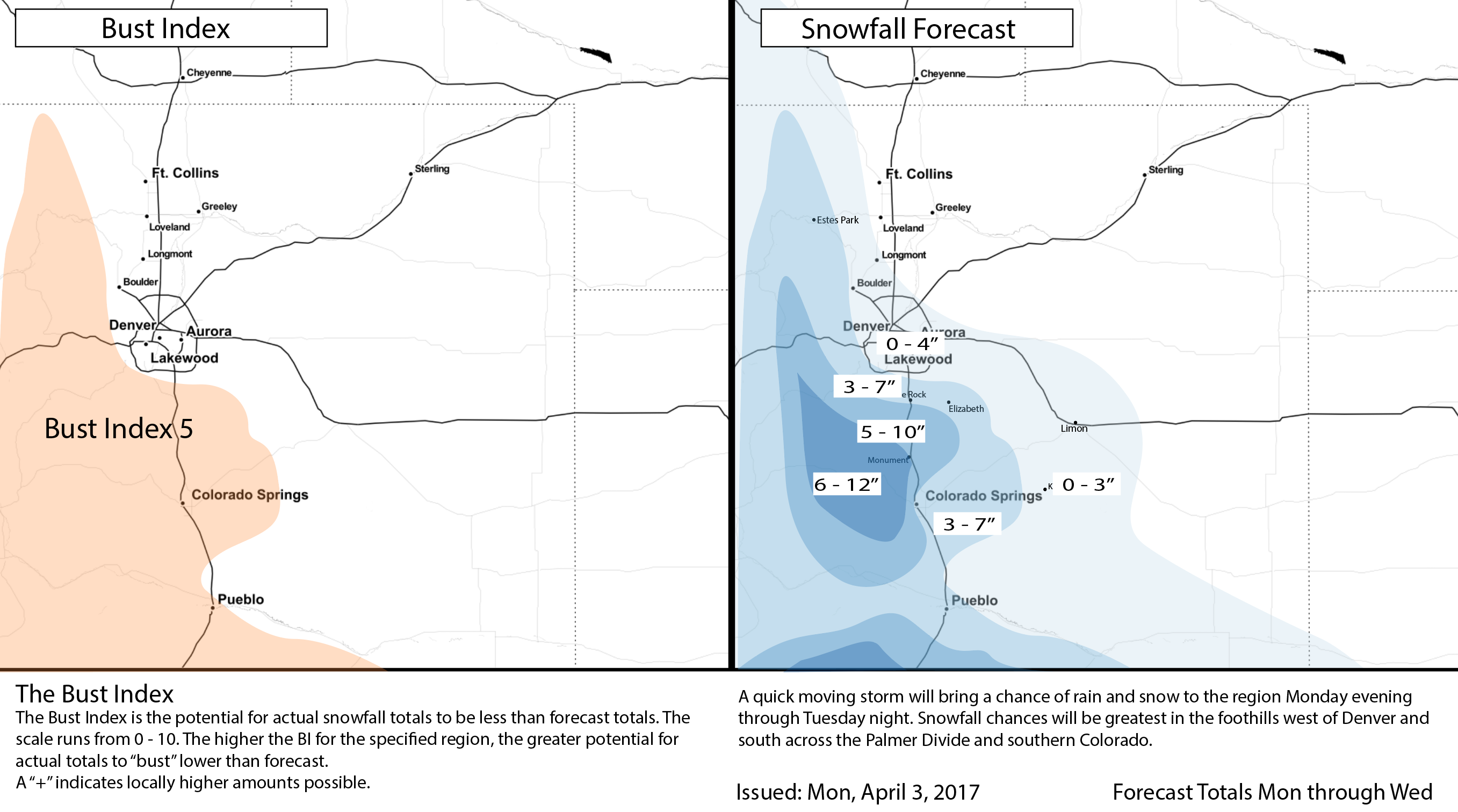 For Denver, we're hoping we can sneak out some more moisture from this storm, but don't have high hopes for any significant snowfall potential. Will go 0 - 4" for the city, with the best chance for rain to turn to snow in the southern and western suburbs. For Castle Rock and Colorado Springs we're thinking 3 - 7" should cover it, with higher totals possible along the Divide in between.
Once we get through Tuesday night our weather should begin improving, and will do so through the remainder of the week. Latest MOS guidance has highs just in the 30s for Denver on Tuesday, but back to near 60 for Thursday, and perhaps breaking the 70 degree mark by Friday!