Well, we did it. We finally managed a storm that was able to over-perform in few locations, and we finally saw some snow in Denver as well. Yesterday morning we went with 0 to 4" across Denver, and that generally worked out with about 2 to 3" being recorded around downtown.
Much of what fell (especially in Denver) is already gone. West of I-25 we've seen some better totals, with about 4" being recorded across Denver's northwest suburbs, and upwards of 6" up against the foothills west of Denver. As you go up in terrain (along I-70) many locations are reporting from 7 to 14" of snow – so fantastic news up there, especially as these were the areas that missed the snow in our last event.
A good easterly wind really paid off for us this go around.
Down south where we knew would generally do better we've also seen some pretty great totals, even as snow continues in spots this morning. Across Colorado Springs we've seen reports of 4 to 9" (above the 3 to 7" initially forecast), with GREAT moisture being reported across most of southern Colorado today.
Another burst of snow?
While this morning's snow has tapered off considerably along the Front Range, we're tracking another impulse that could bring another round of snow later today, especially across the Denver metro area.
Hi-res models are really keying on this. Here's the latest HRRR forecast. Note, spotty snow showers continuing into early afternoon, but then a burst of heavier snow (darker blues) moving from north to south this evening.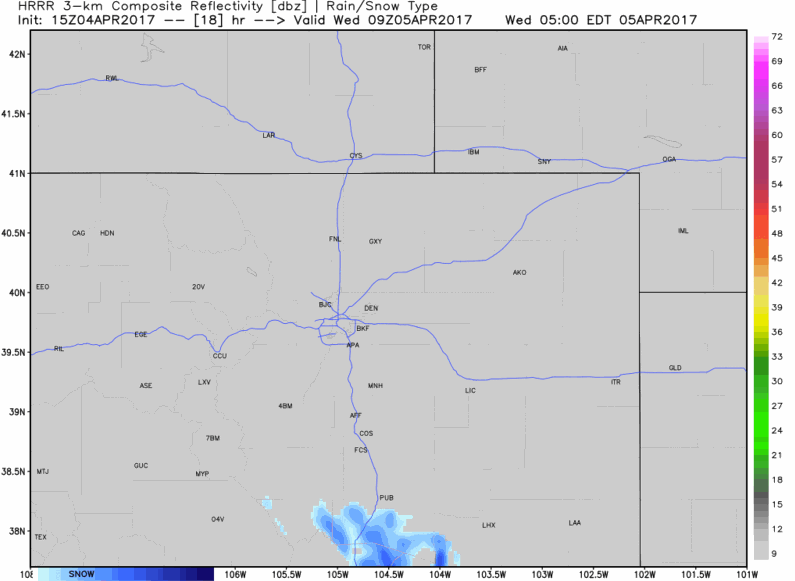 With this next round of snow the HRRR is producing some pretty impressive totals... which, while likely overdone, speak to the convective nature of this evening's snowfall potential. Should this pan out, we could see a period of very heavy snow along the I-25 urban corridor, with several inches of additional accumulation possible. In fact, the HRRR currently has quite a bit of accumulation for Denver this evening... which seems to be in largely in error (perhaps some issues with convection), but the main idea seems right: expect a period of snow this evening, tapering off from north to south overnight.
Looking at a forecast sounding from the 12Z NAM for just east of Denver, this lines up nicely with the past five runs of the HRRR: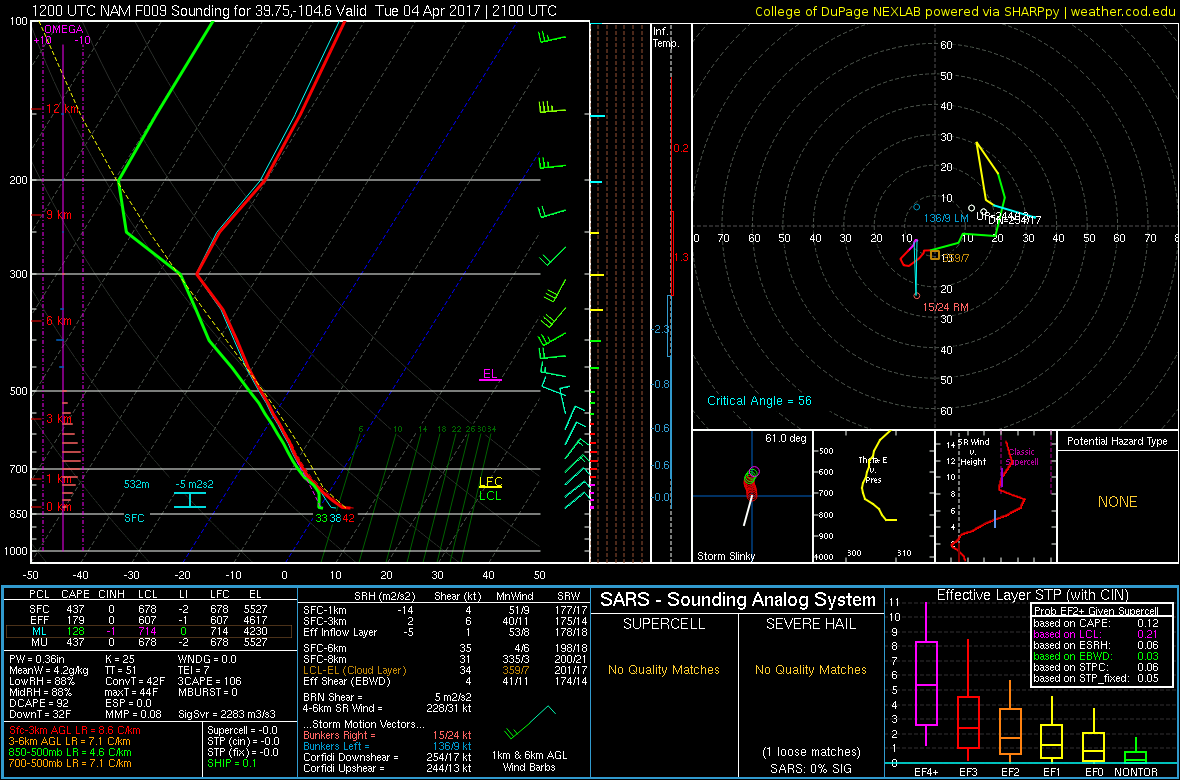 Notice how there is weak but deep 10 knot upslope up to about 550 mb and very steep lapse rates on the order of 8.5°/Km in the lowest 3 km of the atmosphere. There is even a sliver of CAPE, or buoyancy, which indicates that we have the potential to see a few convective snow showers with impressive snowfall rates.
Although this sounding shows a surface temperature in the low 40s, precipitation should still fall as snow given that there will be some evaporative cooling due to the relatively dry surface and steep lapse rates (sub-freezing temperatures are not located very high above the surface). Given that flow is mainly out of the east or northeast, this setup would favor areas on the west side of town. However, anyone that manages to see a convective snow shower could see a quick inch of snow.
A compromise between the models would suggest another Trace - 3" will be possible in town, with perhaps 2 - 5" at higher elevations to Denver's west and south. It should be a relatively brief window for snow, with things coming to an end overnight Tuesday into Wednesday.
Clearing Wednesday
Temperatures tonight will be very chilly, with lows in the mid twenties across the greater metro area. But, whatever happens with the remainder of today in the snow department, one thing is certain – this system moves well east of the area tomorrow, and while the day will remain cool (50s for highs), Wednesday is the start of a nice warming and drying trend to end the week. Friday and Saturday both look near perfect, with highs in the low 70s for Denver, under mostly sunny skies.