After an active start to the month, the last week has been anything but. Take a look at total precipitation recorded over the last seven days across Colorado – not much!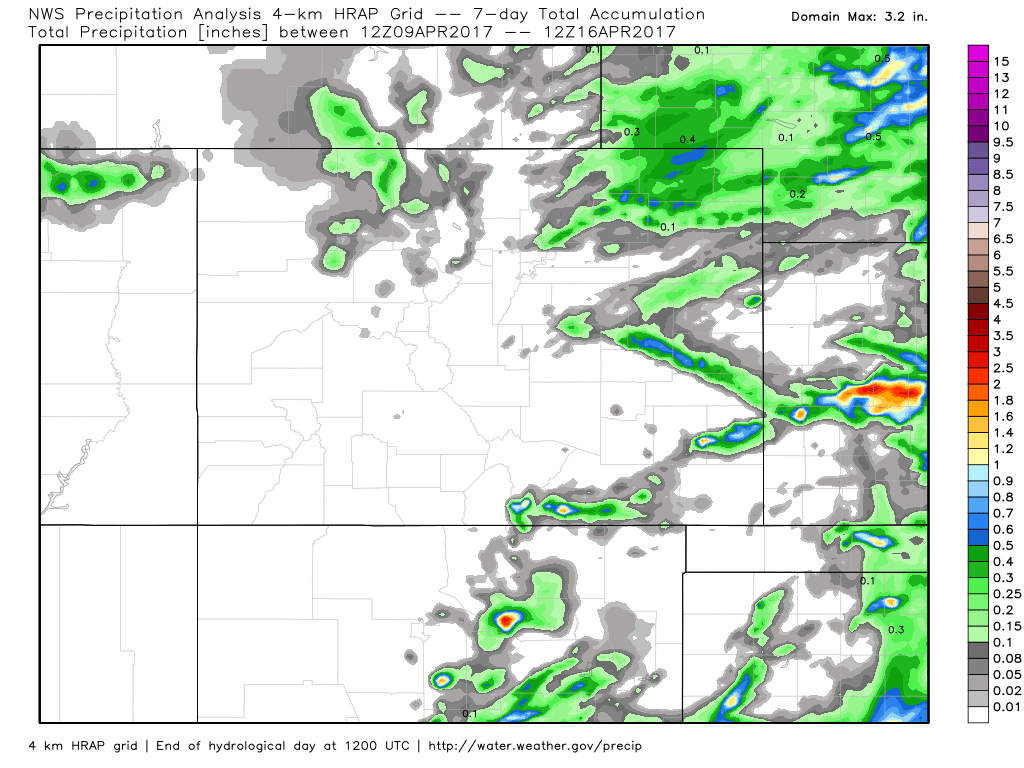 Temperatures have been very warm too, with first half of April running 3 - 4 degrees F warmer than average across eastern Colorado. Really, much of the country remains very warm (nothing new) with only parts of the west seeing below normal temperatures through the first half of the month: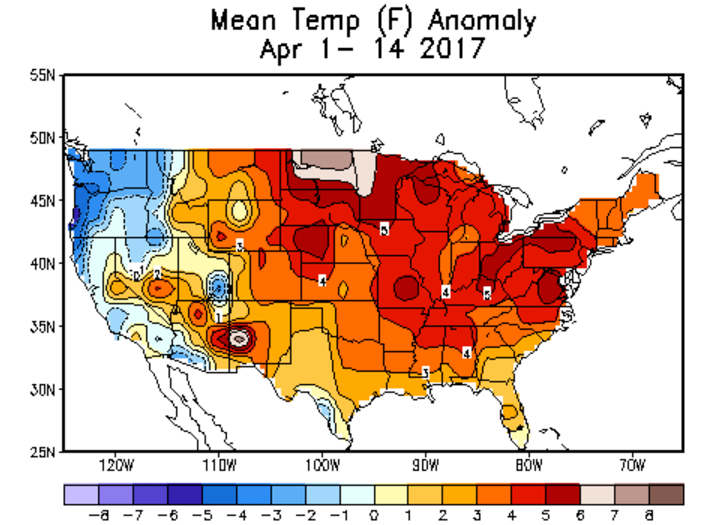 The week ahead
The week ahead starts out in similar fashion to last week: warm and dry across the region. In fact, look for a Fire Weather Watch to go into effect across portions of the plains on Monday as temperatures push 80 degrees and breezy conditions combine with low humidities to raise fire danger across the area.
It won't be until Wednesday that we start to see temperatures cool a little, and at least a slight chance for afternoon storms to return to the forecast. By Thursday we see temperatures return to near-average, with an approaching bigger storm system due in late Thursday and Friday.
This is where our focus will be in the coming days. Models have been very bullish with precipitation over northeast Colorado with this system, and while there are still considerable differences in how modeling is handling the eventual track of this low, it does look like someone should see some wet weather to end the week.
As you can see in the image below, the ridging forecast over the next several days (reds over much of the U.S. left), gets replaces with a closed low by Friday, focused over east/southeast Colorado (right). This will work to deliver some changes to our weather, and bring at least a chance of rain (and snow at elevation) to end the week.

As stated above, models continue to shift with the track of this low – but continue to keep it in the ballpark for a pretty favorable track for precipitation for us. Snow levels will begin quite high (it's been VERY warm and we're getting late in the season), but those living in the Front Range foothills should certainly keep an eye on the forecast for snow, and we'll see how low the rain/snow line gets through the duration of the storm as we track it this week.
So, while still a ways out, here's a look at the latest GFS precipitation outlook through Friday – great to see at least some moisture back in the forecast!