Since June of last year the moisture train hasn't been all that steady for us, so we need the rain that's on the way this week.
A system over the Pacific Northwest is moving into the region for Thursday and as it passes by Thursday night through Saturday we have some decent rain chances for the northern Front Range. The wind will be blowing and the temperatures dropping, too.
The timeline is shown here:

Following along with the blue line you'll see a peak early Friday at midnight, which is the point of heaviest potential rainfall. The chance of rain continues through Saturday, albeit less amount and lesser chances by then.
The peak of that rainfall may come into midday Friday. Regardless, rain chances will be climbing Thursday and staying with us Friday. Thursday may also have some rumbles of thunder and lightning which would be the first of the year for the city.
Some possible precipitation amounts are shown here: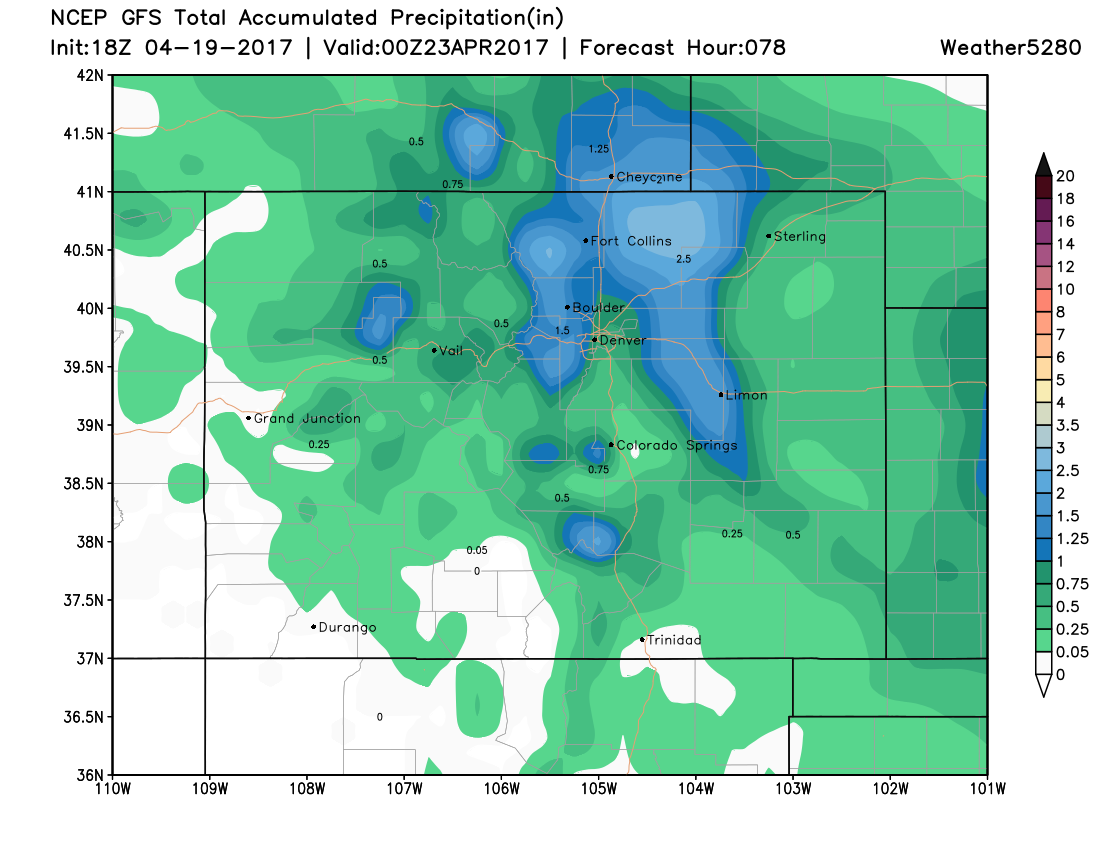 The consensus in all modeling, not just this one, is that the highest totals will be in NoCo and those totals may surpass 1" through Saturday. For Denver, a spread of totals from 1/4" to 1" is possible through the greater metro area.
This is some great news, particularly for NoCo. Let's say this storm doesn't change any between now and the time it clears. Assume over 1" of rain for Fort Collins and that will be the heaviest precipitation event since May 14 to 19, 2016!

For Denver, we have had 6.73" (11.42" is average) since the precipitation pattern dried last June.
Chilly temps and snow for some
The Denver area will cool into the 60s Thursday and will be limited to the 40s Friday with overnight lows in the middle and upper 30s. These temperatures aren't cold enough for snowfall.
Head to 6500 feet and above where temperatures will be some 10-degrees colder at least and you'll find some snow for those folks. This will be the higher portions of Boulder, Douglas, Elbert, Jefferson, and Larimer Counties. Totals will be minimal - a couple/few inches MAYBE.
We discussed our current drought situation and outlook with our insiders this week. Bottom line from that post, we NEED this moisture, and while above average moisture in the future is uncertain it's looking a bit more hopeful with a developing El Niño.
Enjoy the rain, send us your reports, and stay dry!