As most of you know, we almost always hug the EURO Mean when it doubt. Unfortunately for the snow lovers out there... we're just having a very hard time doing that this go around. While we do think there will be snow over the next 24 to 36 hours across the region, yes for Denver too, the kind of numbers it's producing just isn't quite adding up, at least for the city.
Here's a look at how the global models are currently handling this system. As you can see, there are still some pretty decent variations between the three, with the GFS furthest east at 72 and broad, the EURO pretty far southeast (especially its operational), and the CMC somewhere in between (far right). The GFS hasn't been producing huge snow amounts for us in recent runs, which would be expected looking at these maps. The EURO continues to hammer most of eastern Colorado with a significant late season snow... which is a bit more questionable given it's 500mb forecast.
As Matt gave his gut feeling last night on this one... I'd say our gut today says this one goes the way of many others this spring and is underwhelming for many, with our greatest concern for a significant shifting toward the eastern plains.
Model mess
Leading up to this event there remains a huge spread in forecast QPF/snow for the region. At 12z, the EURO mean ensemble forecast (mentioned above) produces about 6" of snow for Denver, mainly from Friday night through Saturday. Meanwhile, the SREF is even more bullish, with its mean plumes still producing close to 12" of snow for Denver (tonight that same SREF was up to about 20"!):

Now, while ensemble means are great, it does ignore the fact that both the bullish EURO and SREF have a huge spread between each of their members. In the case of the SREF, there's one member with 30" of snow for Denver, and another with about 0.01" of snow. If we look at the SREF ensemble probability for snowfall >=12", we see that it's far less convincing we'll see such numbers in Denver. To the west of the city and out across the Palmer? Probabilities remain a bit higher – but still in the 40 to 50% range, not 80% or anything.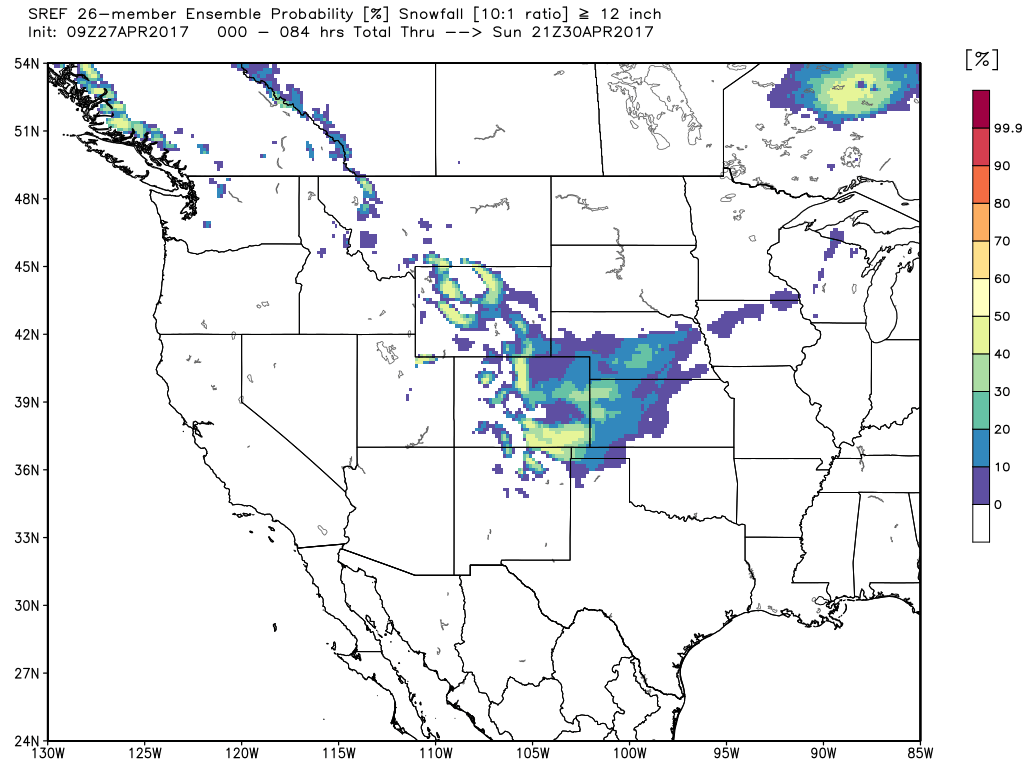 We're seeing these spreads in modeled QPF everywhere. The GFS, NAM and RPM continue to show much less impressive numbers for the city vs the EURO, Canadian, and SREF. The latest RPM shows about 1 - 2" for Denver, while the latest Canadian is closer to 7 - 8" across the city.
The National Weather Service products still remain pretty bullish. There is a Winter Storm Watch in effect for the Front Range foothills and western Palmer Ridge, where they say "* SNOW ACCUMULATIONS...Up to 1 foot possible.". This may be right. Someone at higher elevations surrounding Denver is likely to do pretty well, but how widespread these significant totals will be remains in question, as does how much of that makes it into Denver. Totals in and around Denver will be greatly reliant on snow associated with a cold front on Friday, as latest model trends suggest the low may be too far south to add much to those totals on Saturday.
The WPC product also remains very bullish...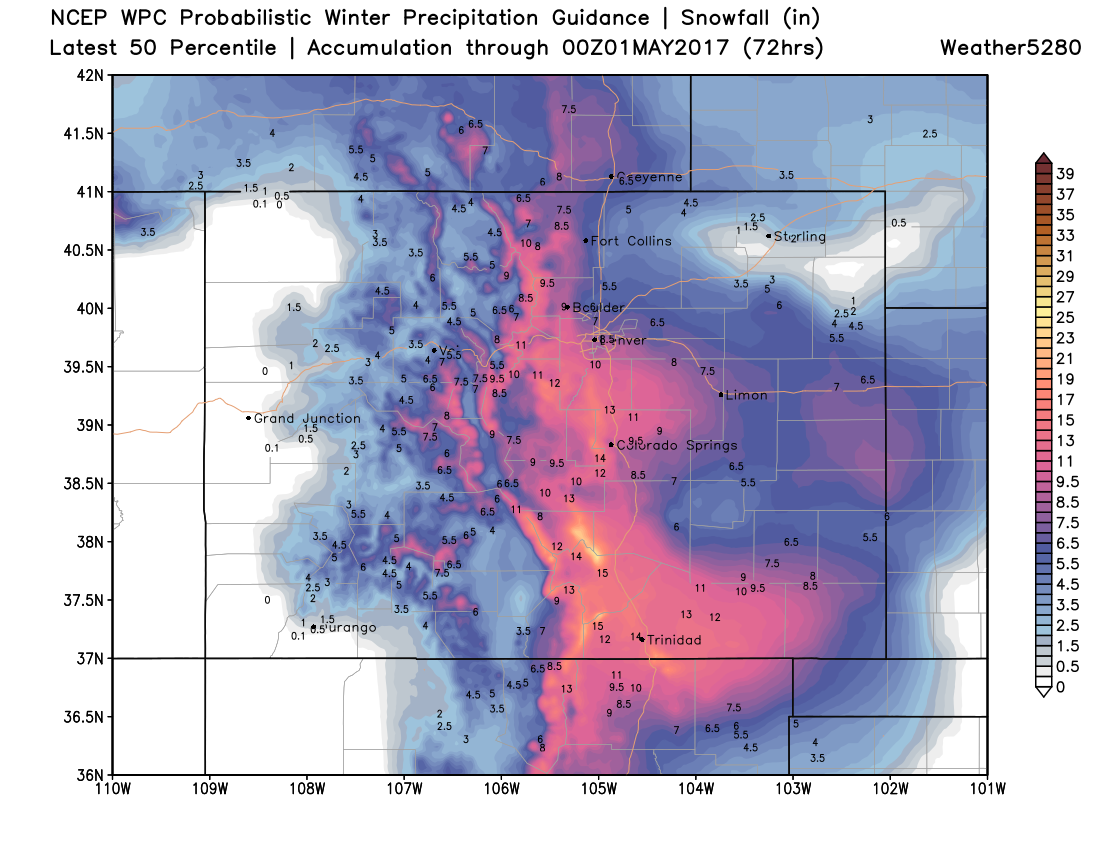 If we look at our snowfall probabilities, you'll notice a few things. Probabilities are pretty good that all these cities see some accumulating snow (does not account for melting!), but odds drop off pretty quick in most locations once you get to 3 - 4". For Castle Rock the probabilities look pretty good up to about 7", where elevation may help out there: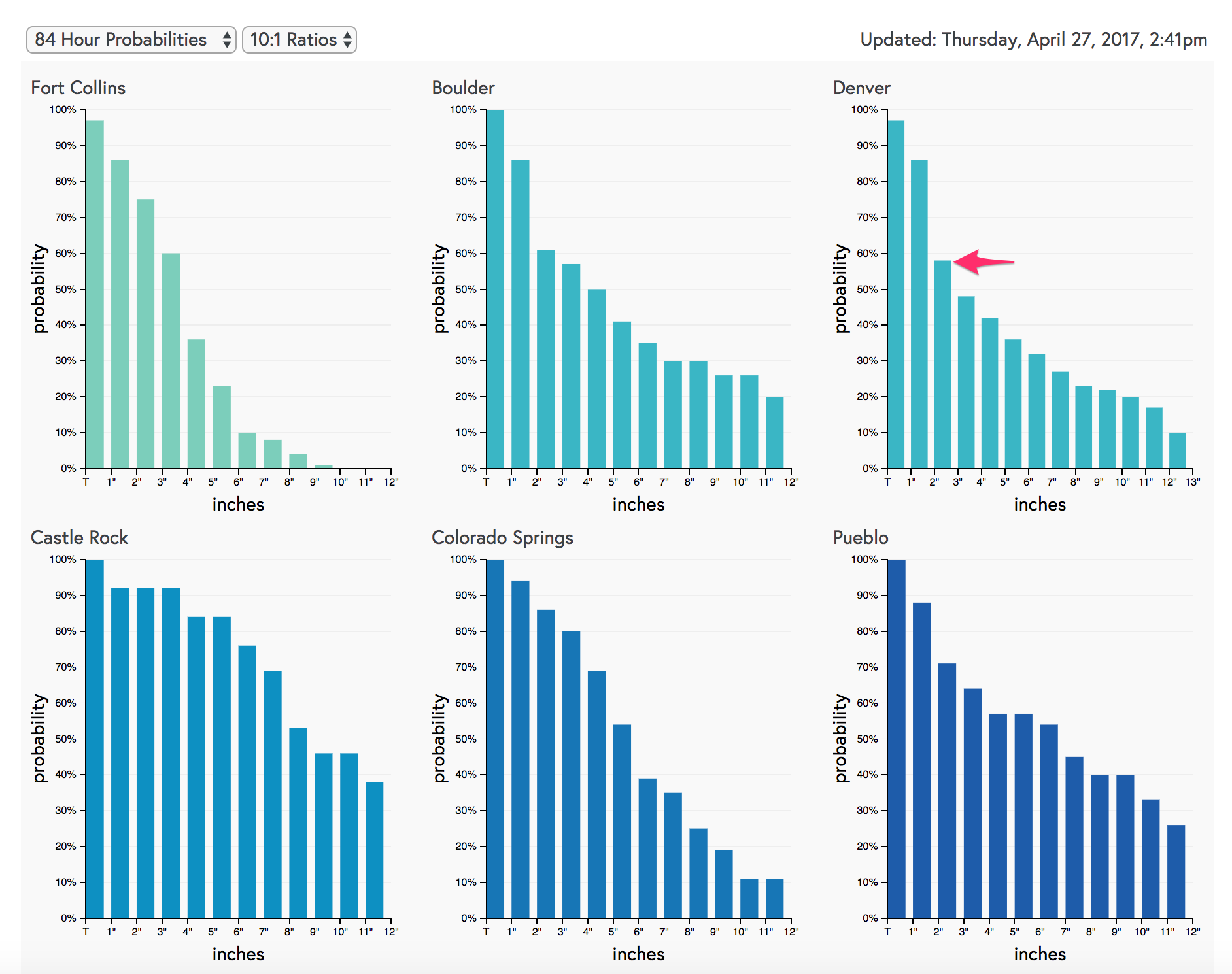 Again, trend with the storm track in recent runs leads us to believe the potential for a bust in Denver is higher today than it was yesterday (meaning less snow is more likely), while we are more concerned today about the far eastern Plains, from Limon east, and southeast getting hit with a period of heavy snow and wind, mainly on Saturday. You'll see this reflected in the forecast map below.
Our forecast
With that, below our current snowfall forecast. We'll see how data plays out tonight, and update on Friday if need be. Expect rain and snow to be scattered in nature through the remainder of today and Friday, with the best chance for accumulating snow coming Friday evening for the greater Denver area, lingering in to a very chilly Saturday.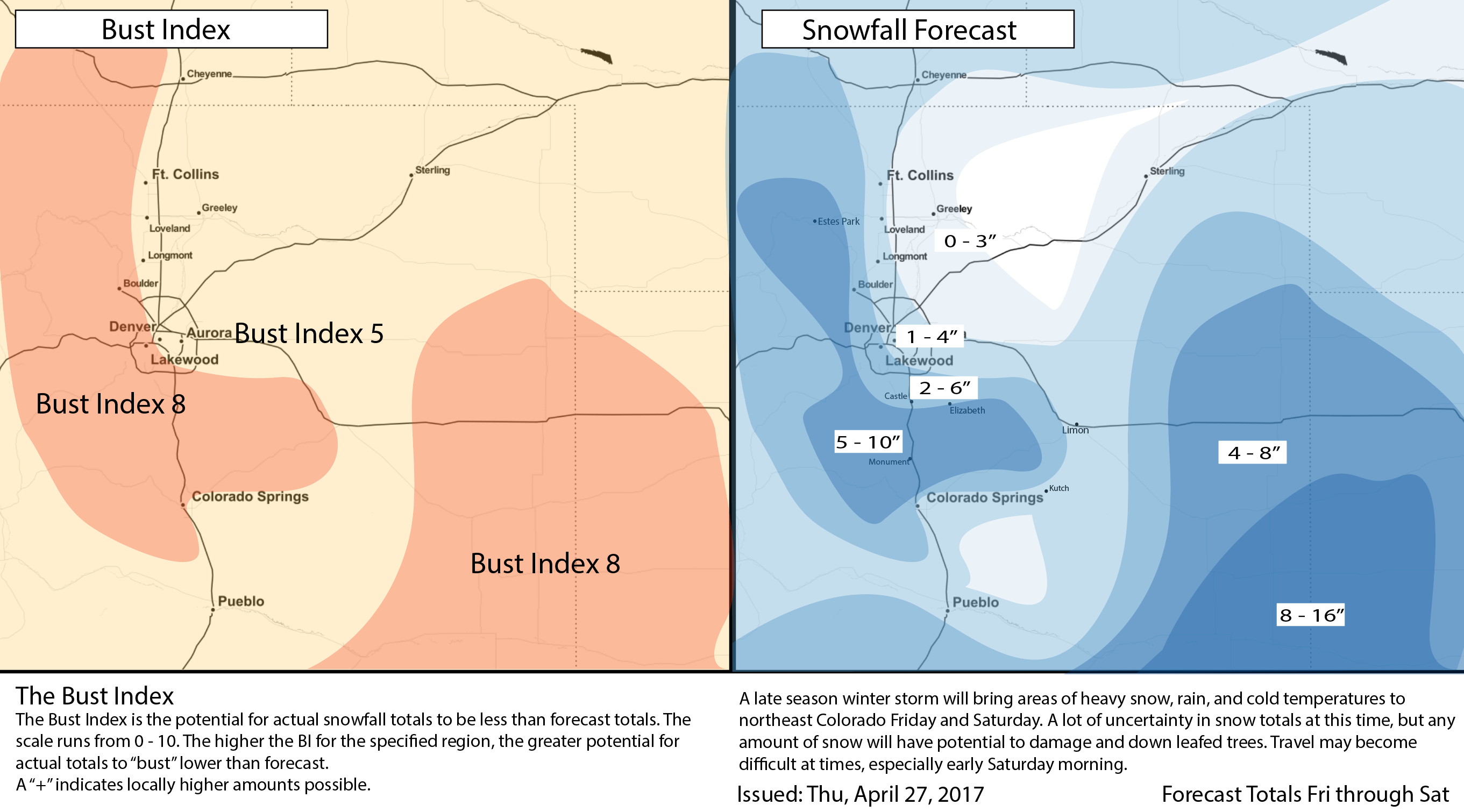 Concerns include: does the low track too far southeast and rob the Colorado Springs / Denver area of precipitation? How much snow will we get out of Friday evening with the FROPA, and how much makes it this far north on Saturday? Will the heaviest QPF end up east/southeast across the Plains? How much melting occurs - forecast maps show 10:1 snowfall, but this doesn't account for melting in most cases. And lastly, are we wrong to greatly discount the EURO?
TL;DR and Timeline
General theme is: chilly and unsettled remains the forecast through Saturday. Still watching the potential for some heavier snowfall across the area, but for now we think the likelihood of significant snowfall in Denver is low. That said, plan for some snow (perhaps a few inches) and much colder temperatures to begin the weekend. Overnight lows Saturday into Sunday will likely fall into the 20s for Denver.
For timing, look for the chance of snow to increase Friday afternoon and evening with the passing front, especially for the northern I-25 urban corridor. Friday evening could very well be the best chance for accumulating snow from Denver north. Snow along the front may be very intense at times, with great snowfall rates, albeit for a short duration. By Saturday the main low takes over, and the heaviest precipitation will be across the Palmer south and southeast across the plains, as it appears the low will likely end up too far south to be in a favorable location for Denver.
If snow does accumulate, keep an eye on those trees, it won't take much heavy wet snow to do a lot of damage around here given how leafed out everything is. We'll offer updates to the snowfall forecast tomorrow if need be.