With temperatures flirting with the 90°F mark yesterday across the metro area (our station hit 89°F Saturday), it's hard to believe that just a week ago we were digging out from heavy snow across the Front Range. So goes spring in Colorado!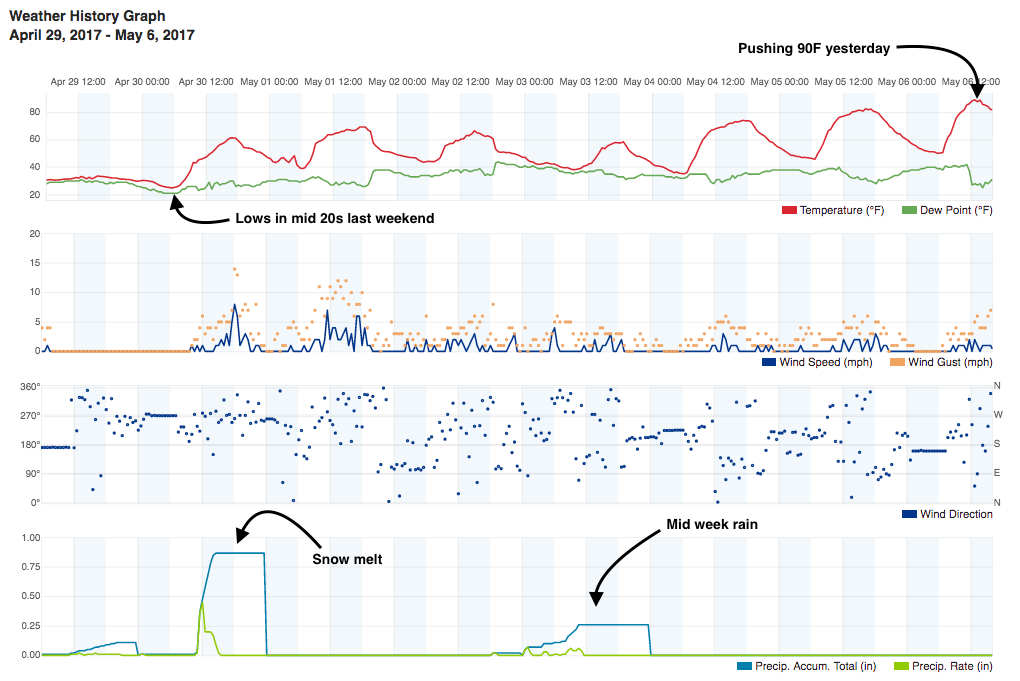 After this brief warming and drying trend, we're again tracking some wet weather for portions of eastern Colorado this coming week. Expect highs today to again be in the upper 70s and low 80s with a few strong storms pulling off the foothills this afternoon, but to cool by about 10 degrees for Monday behind a cold front with a better chance of storms across eastern Colorado as well.
The week ahead
The week ahead will feature very typical May weather. Not all that cold (though cooler than this weekend) with wet weather in the forecast from time to time through about Thursday night.
Monday and Tuesday our main focus will be thunderstorm activity across eastern Colorado, with the potential to see some of those become severe. Storm coverage will be decent – we'll go with about 40 to 50% chance of storms both days in Denver and the surrounding areas, but as is the case as we head into the warm season that means not everyone will see rain due to the convective/scattered nature of things.
The 3km NAM shows this. Areas of good precipitation through Tuesday afternoon, but it's sort of feast or famine. Under the heavier cells some good rainfall, where we don't see storms develop, mostly dry: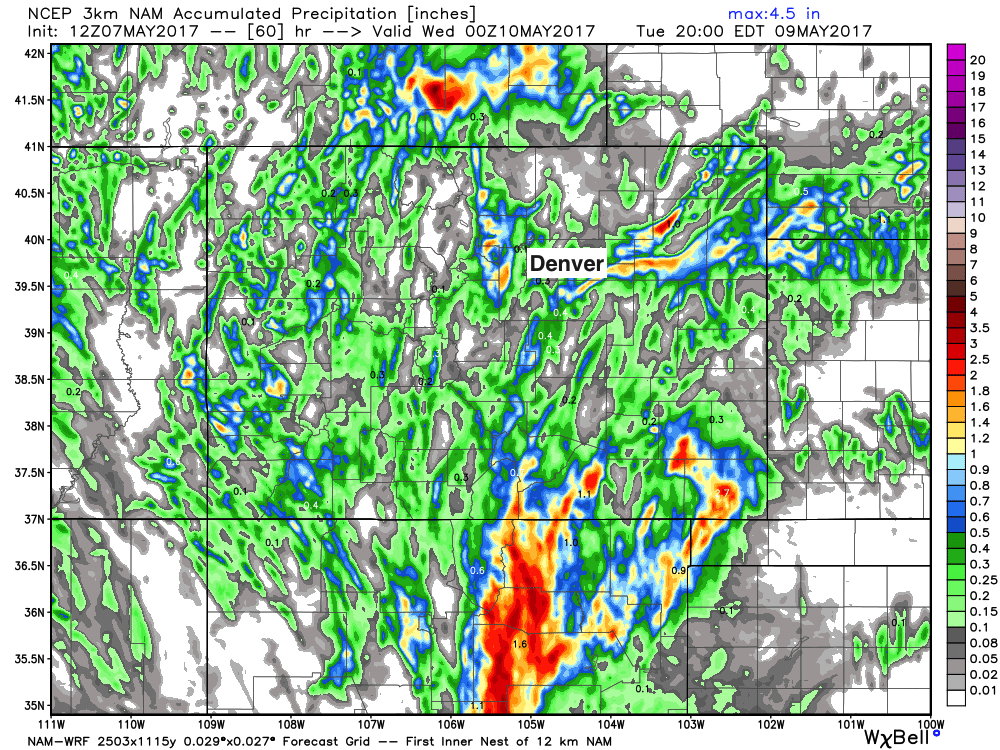 As for severe weather... The Storm Prediction Center currently has all of eastern Colorado under a Marginal to Slight Risk for severe storms on Monday. Latest guidance would suggest best ingredients may come together just east of Denver and southeast across the Palmer Divide for storms to become severe Monday, though Denver is included in the Slight Risk outlook at this time. The primary threat will be hail and damaging wind, though the possibility of a tornado cannot be ruled out.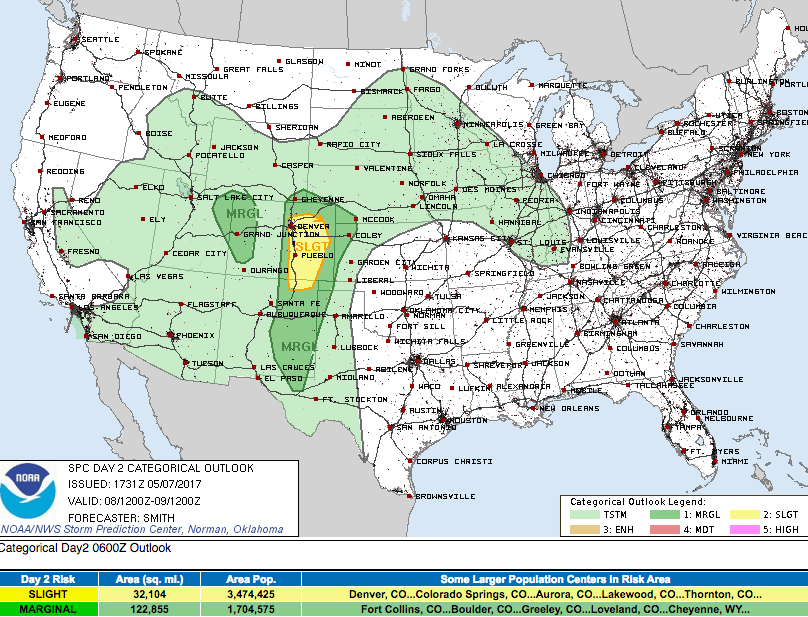 The cold front, and eventual stationary front forecast to move in Monday will again be a factor in producing the chance for strong storms across eastern Colorado into western Kansas again Tuesday. Dewpoints in the 40s and 50s and PWAT values >0.8" indicate good moisture flow into the eastern half of the state both days, with sufficient CAPE to indicate some of these storms will become strong.
By Wednesday we start to see more influence from a strong upper low that is drifting over the Baja today and Monday and should see an increase in precipitation coverage across eastern Colorado, as well as a lowered chance for severe storms for both Wednesday and Thursday.
The eventual track of this low will of course determine who sees the heaviest rainfall Wednesday and Thursday, but someone across eastern Colorado will see totals in excess of 2" – so quite a bit of moisture progged after we get through Monday and Tuesday's more scattered storm threats.
The GFS is the most bullish on precip for Wednesday and Thursday (bullseye of >4") but the EURO isn't exactly dry either, with its ensemble mean producing about 1.0" for KDEN during this period. The GFS forecast sounding for the northern Front Range Wednesday night would suggest very favorable conditions for rain: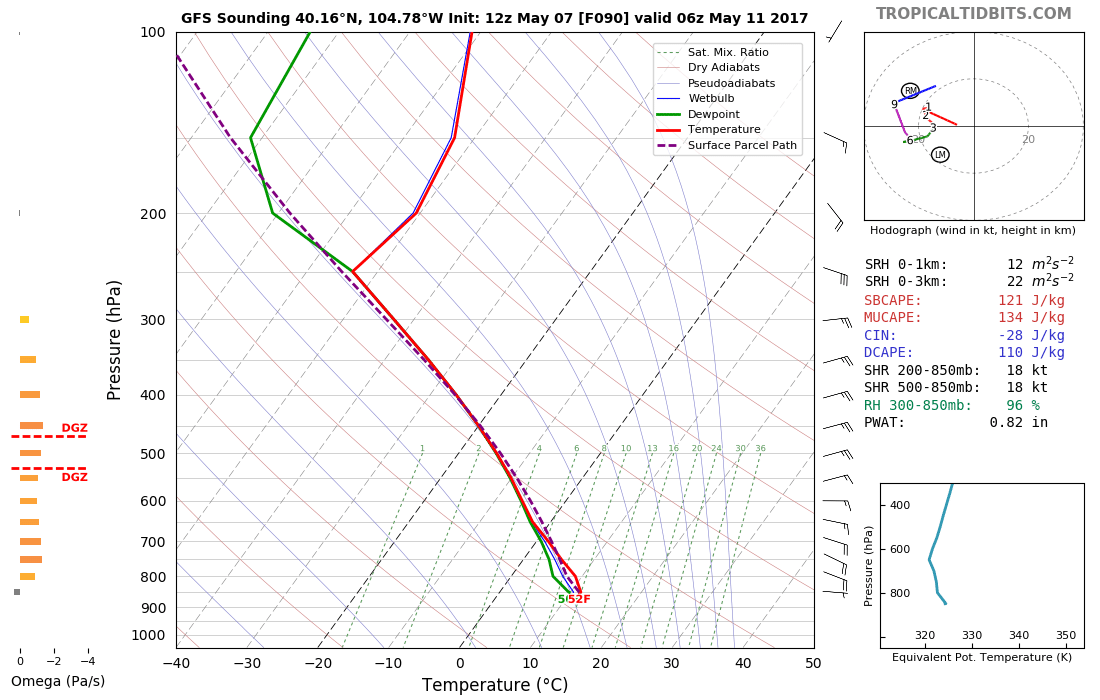 The latest GFS has the low lifting out of the desert southwest on Wednesday, with the heaviest rainfall across the Front Range and northeast Colorado coming Wednesday afternoon through Thursday morning: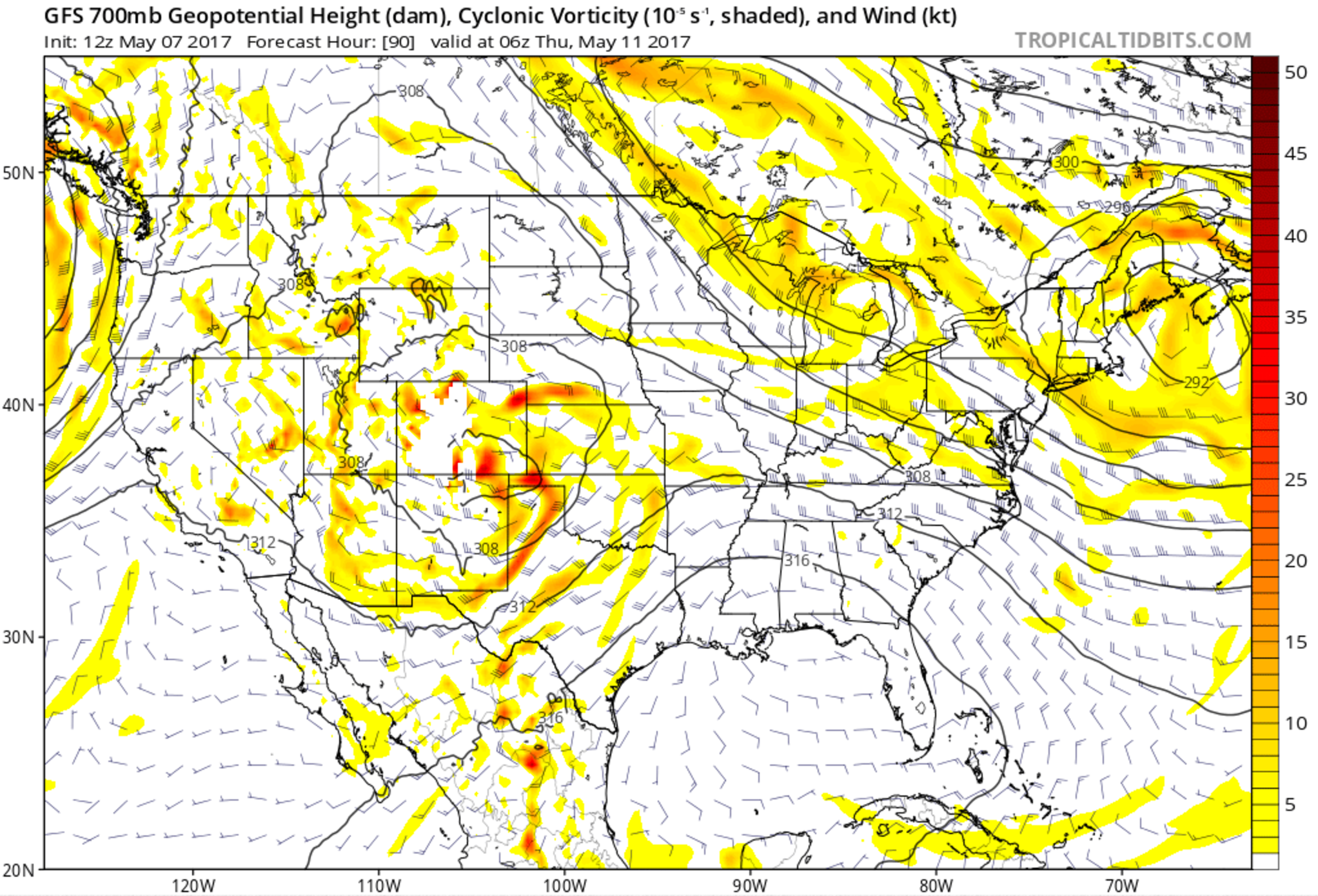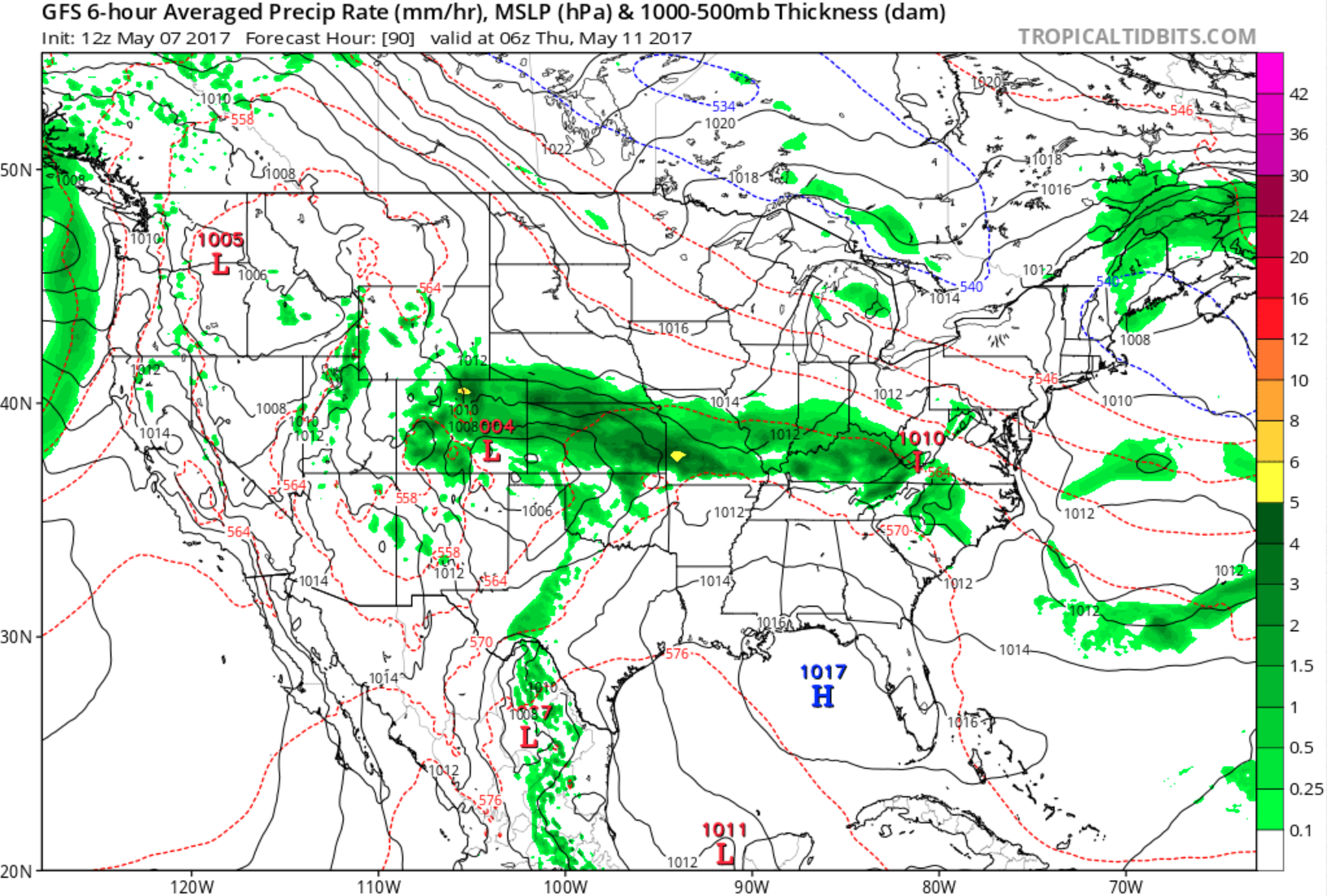 For now we'll focus on cooling things down a bit for this coming week, and also watch for an increased storm chance for on Monday and Tuesday. We'll need to keep an eye on how things shake out for Wednesday and Thursday, but plan on temperatures to cool into the low 60s and rain chances to likely increase for this period ahead of a drying and warming trend to end the week Friday.