We always tell people to wait until after Mother's Day to plant those delicate flowers... And, while we managed avoid a Mother's Day snow this year like we've seen several times in recent years, I think the recent snow, freeze and hail proved this rule a golden one once more. While the threat of a hard freeze in the city continues to drop rapidly through the end of the month, we aren't exactly in the clear either. In fact, Denver's latest freeze on record came on June 8, 2007.
While we're hoping nothing that cold is in the pipeline, we are tracking a chilly system due in for the latter half of the week. Some models are even trying to produce some snow at lower elevations if you can believe that. For now we'll hedge that rain/snow line a bit higher, but do plan on at least some chilly rain along the I-25 urban corridor for Thursday and Friday. So, while we'll be planting some this week, keep eye an eye on the forecast as some plants may need protecting depending on how things evolve over the coming days.
The week ahead
Much like the last several weeks, the week ahead starts out very summer-like, before changes arrive during the later periods of the work week.
Monday will likely be the pick day of the week, with highs in Denver in the low 80s, with perhaps some windy conditions to contend with at times. The chance for precipitation on Monday will be very low.
By Tuesday we see a better chance for storms across the area, but temperatures remain very warm – in the mid 70s or so for highs in Denver.
Wednesday will be about the same, with a better chance for showers and storms across the area, especially as we head into Wednesday night.
By Thursday things look quite a bit different, with highs in the upper 40s to low 50s for Denver and a pretty good chance for showers. This is thanks to a big upper trough set to swing through the four corners on Thursday, and bring widespread rain and snow to the state through Friday night. The severe threat for northeast Colorado looks lower at the moment, but we could certainly see some severe somewhere across eastern Colorado on Thursday, with the greatest severe threat being well east of the state into central Kansas, Oklahoma and north-central Texas.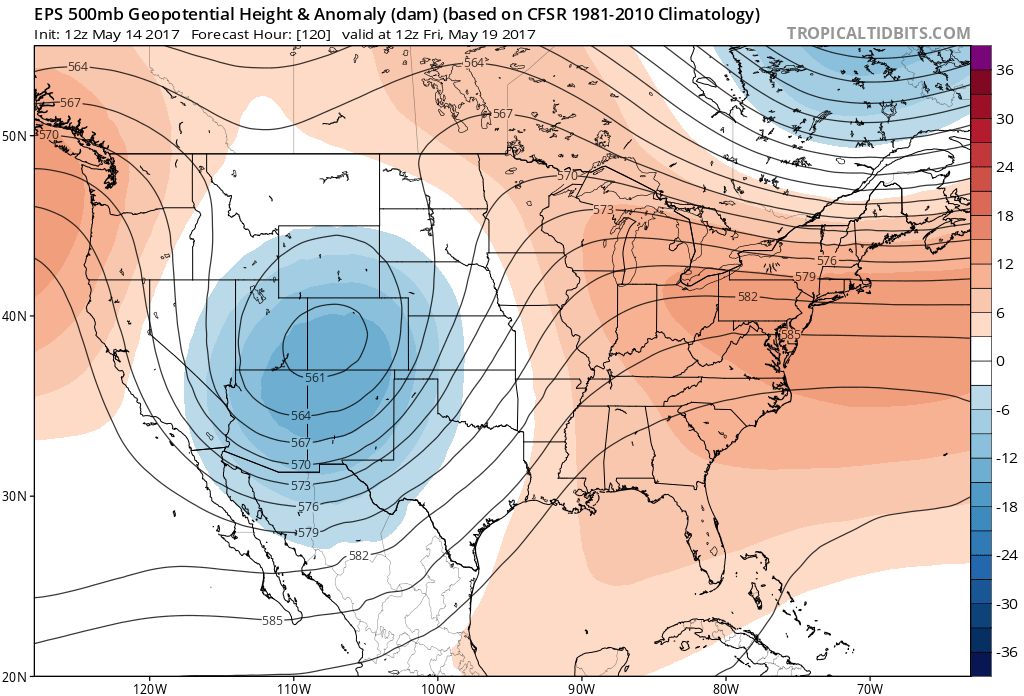 Details around this system are still a little fuzzy. Models have been sniffing this one out for a long time... but as is the case with all these types of big troughs that move through, questions around track and speed remain. For the sake of some important weekend plans on my end I'm hoping it moves through faster than some models have progged right now... While Saturday does look much drier, this system is pulling in quite a bit of chilly air with it, so we'll have to see how fast we can warm things up under a westerly flow that develops behind it this weekend.
Unfortunately, the warmup may be a slow go without very substantial ridging immediately following the trough. Global models keep Denver in the 50s for highs on Saturday, with low 60s by Sunday – but nowhere near the upper 70s and 80s we've enjoyed over recent days. The latest look at the EURO ensemble forecast shows the coldest day of the week being Thursday, but still quite cool for Friday and Saturday in Denver.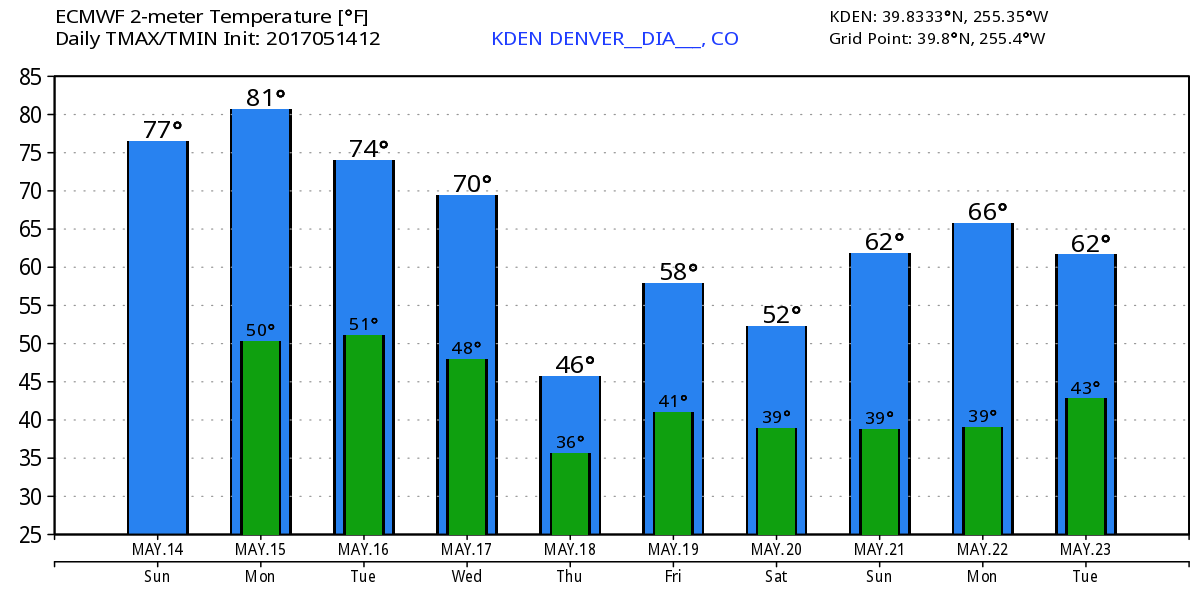 As for precipitation, models again are pretty bullish today after being drier overall in recent days. We'll have to see how things progress as we head into the week (they greatly over did precip the northern Front Range last week) and offer updates to the forecast as things become more clear. Generally speaking from a we-need-the-moisture perspective, another great looking 10 day forecast map from the GFS today for much of Colorado: