Thur 10:50am: Find an interactive map of snowfall totals as they come in here.
---
We continue to watch ingredients come together for a potent spring storm, set to deliver heavy rain, snow, and severe weather to Colorado from Wednesday afternoon through Friday. This will be a cold system for this time of year, with the potential to even see some snow along the I-25 urban corridor by Thursday night into Friday, and near record cold for Friday and Saturday mornings.
There have been two consistent(ish) trends over last 24 hours: greatest QPF (precipitation) has trended north a bit, which as we discussed yesterday makes sense given the forecast track, and temps are running slightly warmer, due mainly to the northern shift. Certainly good news for those in Denver with leafed trees and delicate vegetation, BUT the city is certainly not in the clear for some very cold temperatures and snow – so we continue to see how this storm evolves.
Setup
A strong upper level low currently spinning over the intermountain west will gradually move south/southeast tonight and Thursday, moving into western Colorado by Thursday morning. The low will track east across central Colorado before eventually ejecting northeast Friday night.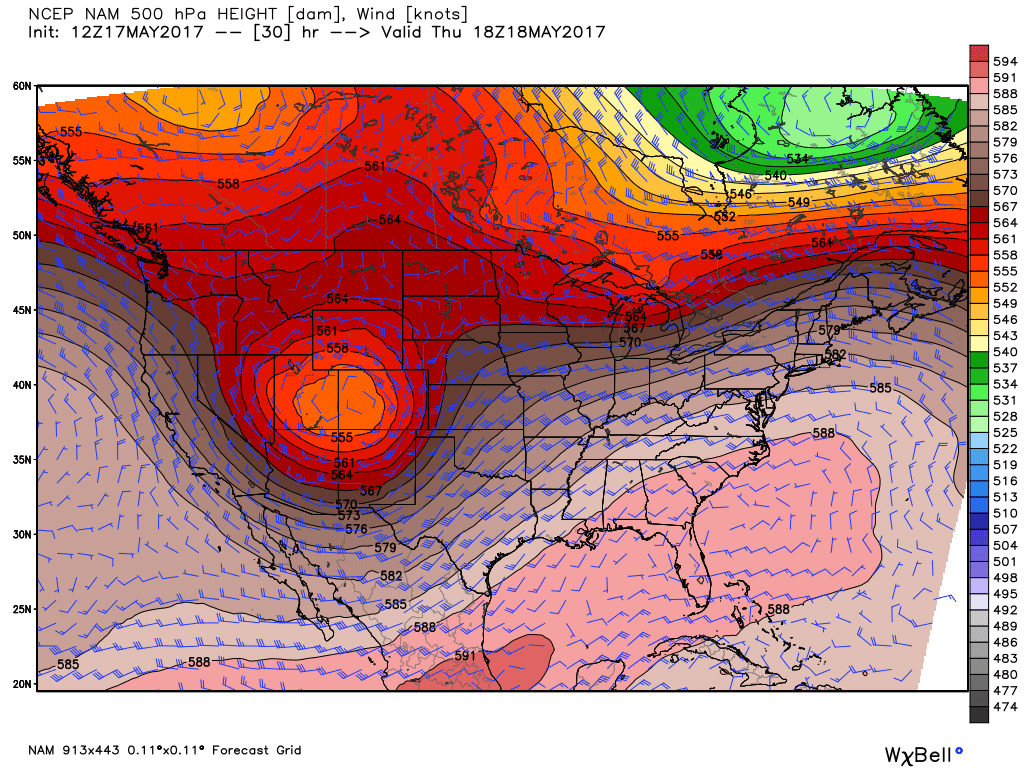 This is a favorable track for someone to get buried by heavy snow along the Front Range. Our latest thinking is that from I-70 north to Laramie Wyoming and west of I-25 sees the greatest threat for the heaviest snow. Those foothill locations west of Boulder, Loveland and Fort Collins are in a Winter Storm Warning, and will likely see 1 - 3 FEET of snow, with locally higher amounts possible by late Friday.
As one goes down in elevation – east to I-25 and out across the plains, snowfall totals will drop off dramatically. Where that rain/snow line ends up remains a bit of a question depending on your locale. We are inclined to believe lower elevations see some snow Thursday night, including Denver, but how much is a bit tricky to pin down. For now will hedge lower than some models suggest... but the gradient between not much snow (or all rain) and heavy snow will be TIGHT. It could very well be a case where DIA stays all or mostly rain, and somewhere like Broomfield gets several inches.
While we are pretty confident around the focus of the heaviest rain/snow being from Denver north and northwest, we're less confident about the city and south. Some models show a lot of snow over the Palmer, while others are hedging much lower do to the track of the upper low. We'll keep the Palmer in a high bust index for now, and see how things progress tonight. If the northern shift continues, areas like Fort Collins and points northwest may make out better with snow than those across Denver and south/southeast.
Severe weather
While our focus around Denver and across northeast Colorado will mainly be around heavy rain and snow, there will be some severe weather to contend with across portions of eastern Colorado on Thursday as well. Currently the SPC has the greatest risk just east of Colorado, but we suspect that could be pulled west a bit into southeast Colorado with future updates. Storms across southeast Colorado on Thursday could produce strong winds, hail, and a tornado. Areas around Lamar and to the north/northeast will likely have the greatest severe threat in Colorado. This is also where tornado potential will exist during the late afternoon and evening. Stay weather aware!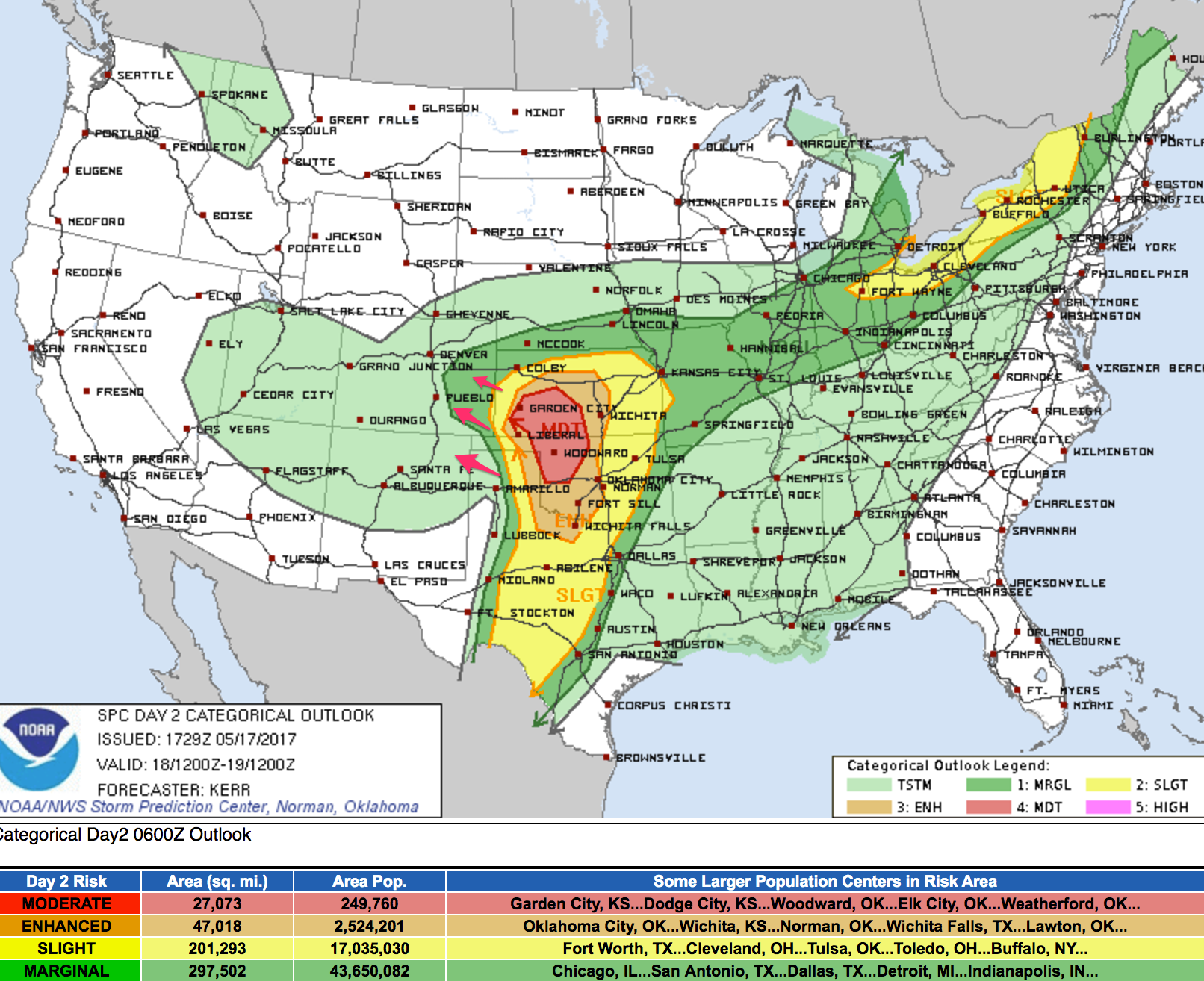 Snow forecast
A tricky snowfall forecast given the time of year and uncertainties remaining around eventual track and temperatures. We'll go with a very high Bust Index for the I-25 urban corridor and Palmer Divide for now, with greater confidence in snow totals for the Front Range mountains.
The National Weather Service has issued a Winter Storm Watch for Denver calling for "up to 12" of snow". The Watch goes into effect at 6pm Thursday and remains in effect through the day Friday.
For Denver we'll go with 1 - 5" of snow, again mainly from Thursday pm through Friday morning. If you live on the west side of town and on into the foothills those totals go up quickly, from 1 - 5" in the city to 5 - 10" west. Boulder is right on the edge of 6 - 12" and 1 - 3' – where those tucked up against the hills could certainly break a foot with this system. We'll be dealing with a similar split in Fort Collins, with greater potential for accumulating snow on the west side vs the east.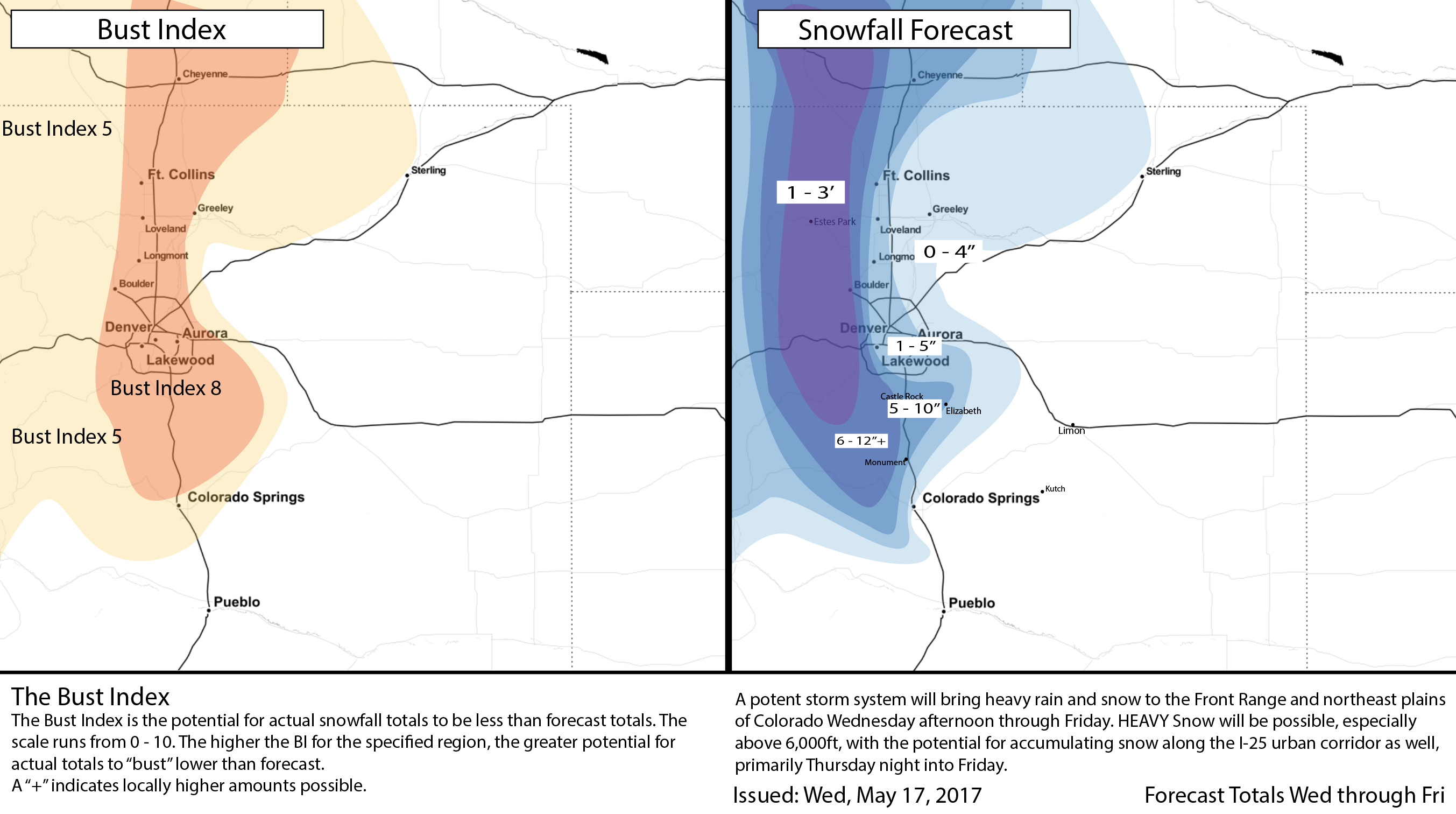 For those that don't see the heavy snow, you'll likely be dealing with quite a bit of cold rain. Modeled QPF has been maxing out at 6 - 7" of liquid somewhere between Denver and Wyoming, and while likely a bit high, we do think some areas will receive greater than 4" of liquid with this event, some in the form of rain, some as snow. The latest precipitation forecast from the WPC shows two things: 1) the northern bias of heaviest precipitation, and 2) widespread 2 - 4" of liquid across northeast Colorado: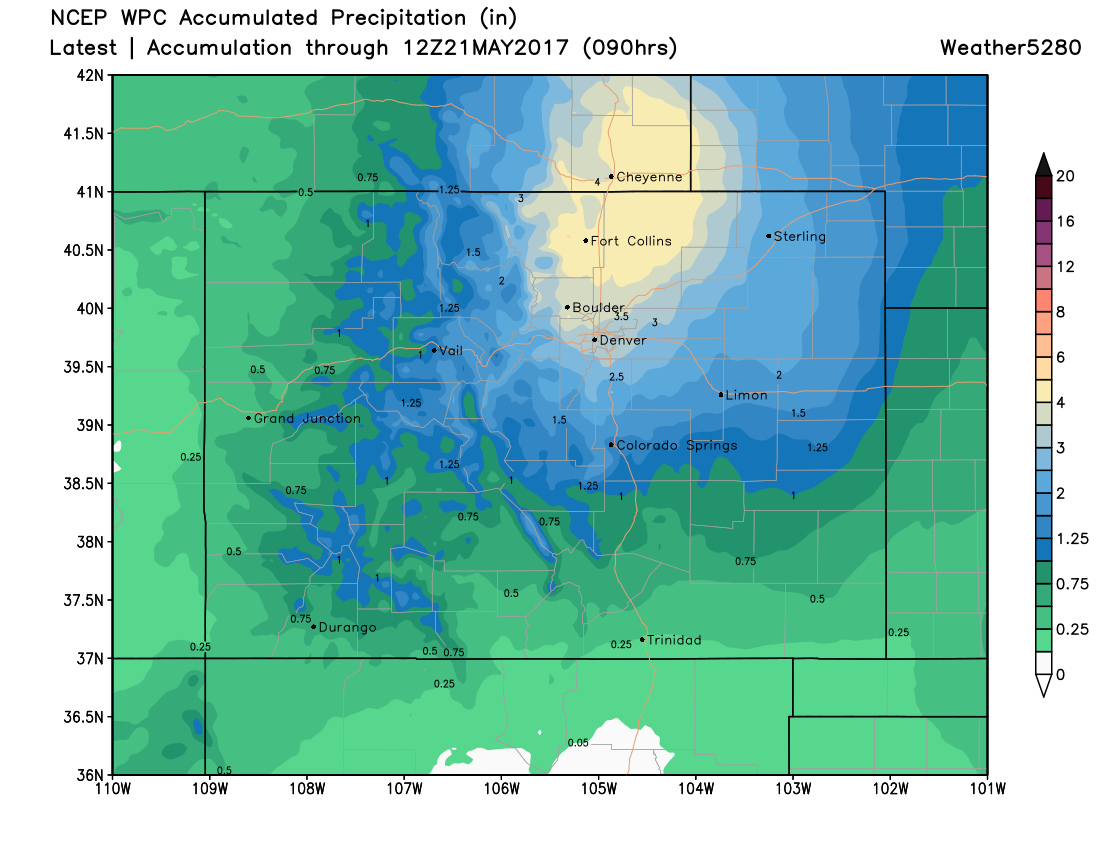 Temperatures
A big concern this time of year is temperatures. We realize a lot of folks have planted their gardens, and unfortunately, models still suggest some very cold temperatures at lower elevations both Thursday night and Friday night.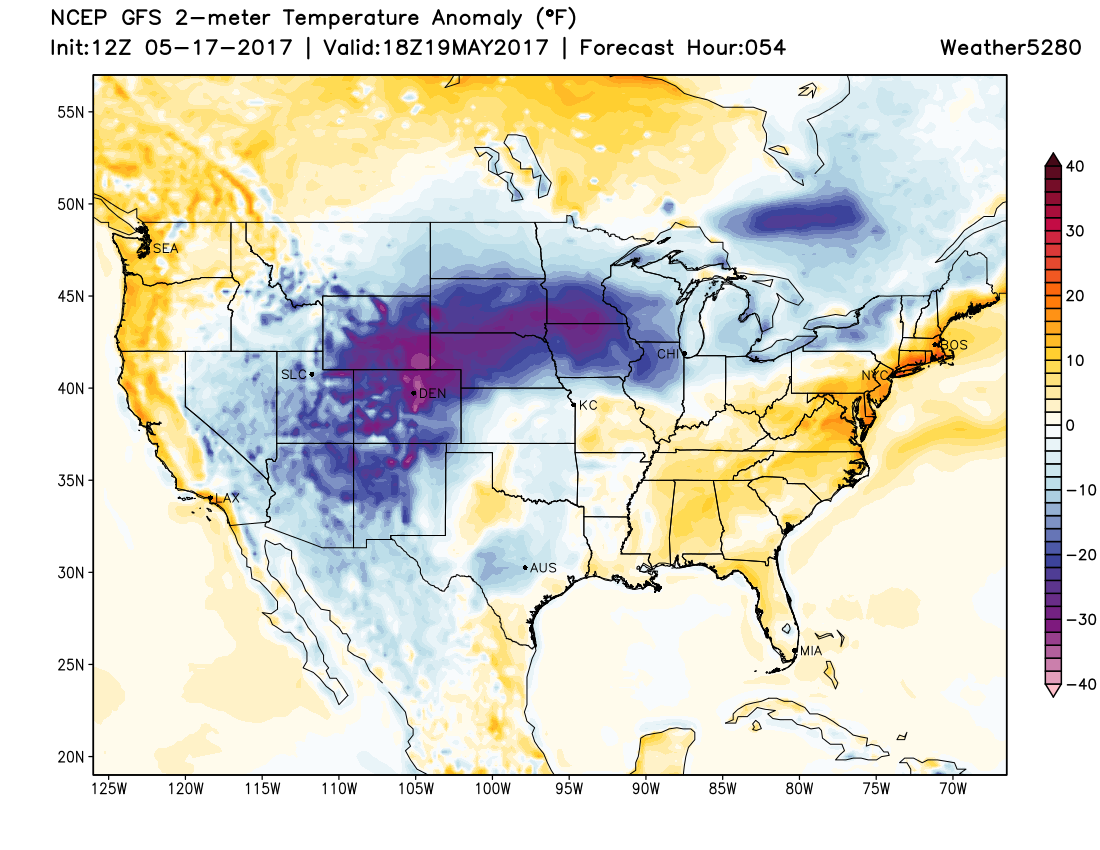 MOS guidance for Denver from the NAM and GFS suggest upper 20s will be possible both nights, but this will be greatly dependent on how much snow is around, and if we couple that with clearing Friday night. For now, we'll hedge our forecast a little warmer for the city (30 - 34 degrees for lows), and see if we need to adjust downward tomorrow. If the colder solutions pan out, we could be talking record or near record cold for the city. The record low for the 19th is 25°F and for the 20th is 30°F. We'll likely be close.
Do keep an eye on the forecast, and cover any plants to can (or bring inside) for the next several nights.
Timing
Look for rain and snow to develop in the high country this afternoon, with the chance of rain developing along the urban corridor later this afternoon and increasing overnight. The latest HRRR has heavy rain moving into the metro areas late tonight, with the snow level remaining pretty high through midnight.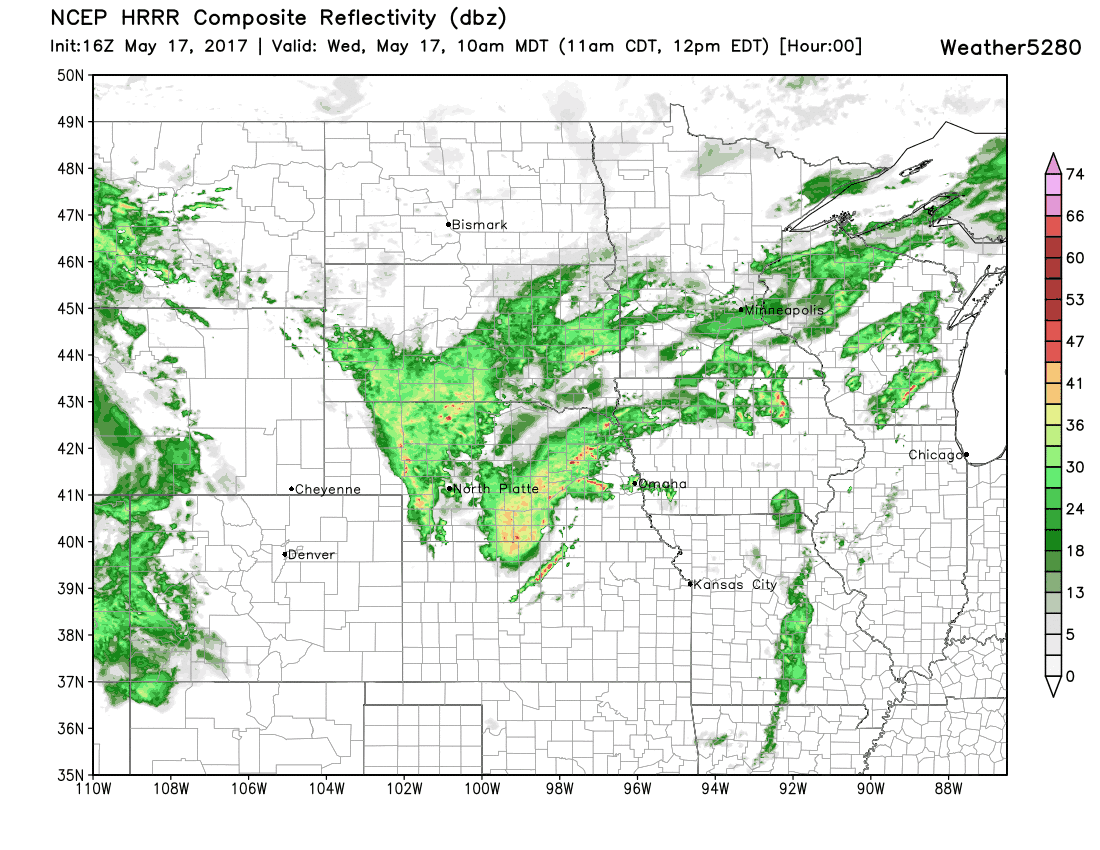 Rain will continue off and on at lower elevations Thursday, with snow for higher elevations to the west. Thursday will be quite chilly, with highs in the 40s for Denver.
By Thursday evening we start to see that snow level lower, with rain changing to snow even at lower elevations overnight Thursday into Friday morning. Latest guidance would suggest Denver's best chance at accumulating snow will come early Friday.
We'll continue to track this system and offer updates as needed. Let's see how latest data evolves through today and tonight, and if we need to adjust those snowfall forecast totals (up or down) look for us to do that Thursday morning sometime.
Stay tuned. Stay warm. Stay dry!