Spring in Colorado, I'll tell you what.
In case there was any question, our storm system we've been tracking all week has arrived, and has arrived in earnest. Heavy snow has been reported up and down the Front Range from northern Colorado Springs clear into southeast Wyoming. The Front Range foothills continue to get hit the hardest, but pockets of heavy snow have moved through Denver as well, with some decent accumulation along the Palmer Divide this morning too. We saw a quick inch of slush at our station this morning (it's since melted) with another round of snow late morning that didn't do much but look impressive falling.
The short update here is that we won't be making any changes to our forecast at this time. While some models continue to be very bullish for snow through the remainder of today and into Friday, we think they are likely overdone for the city. As we're already seeing, cloud tops will be fighting the sun through the remainder of the day which will lead to less effective snow production, and we should continue to struggle to see accumulation in the city.
A look at latest satellite imagery would suggest we'll see some dry slotting before too long as well. The HRRR picks up on this nicely, but may even be too slow with it. We're already seeing quite a bit of dry air over southern Colorado, and should see that push north with time. This will act to reduce snowfall, especially for Colorado Springs, the Palmer, and eventually Denver as we head into Thursday night. The majority of the action will gradually move into northern Colorado as the low moves northeast into Friday.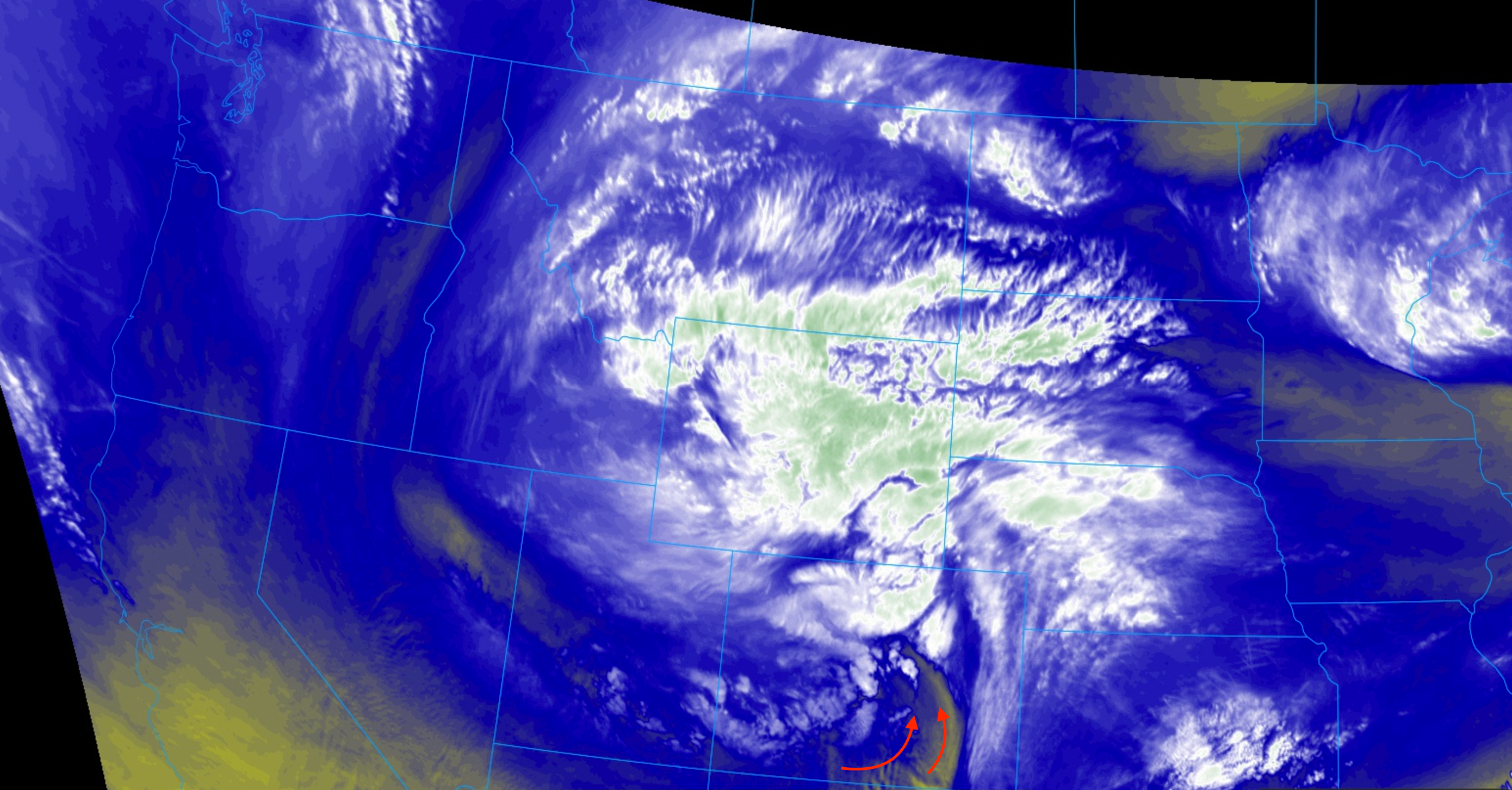 We'll continue to see rain and snow through the remainder of the day and overnight. The Palmer can expect a few more inches of accumulation before things are said and done, with the bulk of the heaviest accumulation being focused over the northern Front Range foothills – no change to the forecast here. Fort Collins, we'll need to keep an eye on you through Thursday night as there's potential for some good accumulation there if we can keep things going. Again, we split the city 'dot' with our 5 - 10" range west, so the going forecast should work there as well.
Snowfall Totals: Click here to see latest snowfall totals from around the region
Also...the dry slot that we have mentioned above will also aid in developing a strong or severe storm or two on the Southeast Plains. The latest severe storm potential graphic from The Storm Prediction Center still has far Southeast Colorado in a Slight Risk.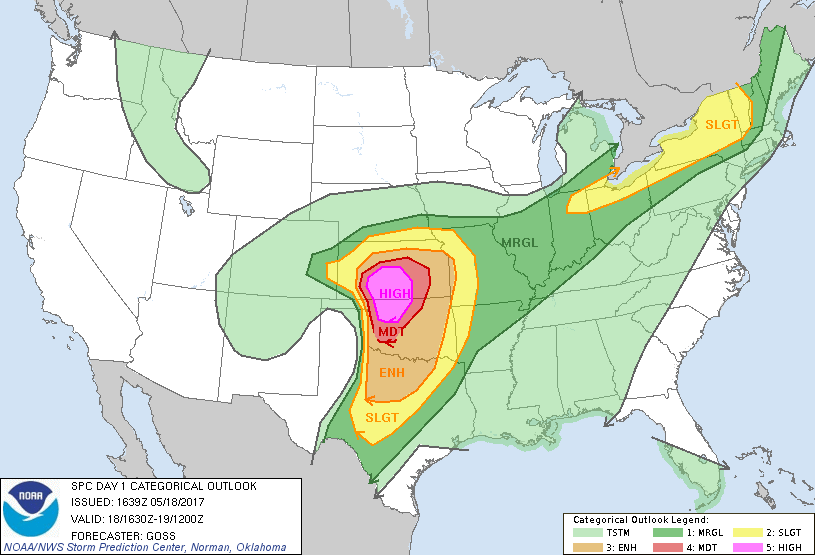 While the greatest risk for violent storms exists in Kansas, large hail, and a brief tornado remain possible with storms that develop near Lamar to Cheyenne Wells. Stay weather aware if you live in that area...
Concerns going forward
Our biggest concerns going forward will of course be the potential for a few inches of accumulation tonight in Denver if we can beat the dry air... but for many folks with gardens will be the cold temperatures.
Latest MOS guidances suggests Denver bottoms out in the 31 - 34° range tonight, with hopefully a bit of a breeze, low level moisture, and clouds to keep us above freezing tonight. Tomorrow night (early Saturday morning) MOS continues to drop the city into the upper 20s. So, even if the snow ends, keep those plants protected tomorrow night.
We're also concerned about some freezing on the roadways, especially down across the Palmer tonight and those at elevation to the west of Denver as well. Plan to give yourself extra time for the commute on Friday.
Forecast
Again, no change to our going forecast. Totals of several feet are forecast for the Front Range northern mountains (several reports of 15 - 20" already here) with generally 5 - 10" across the Palmer and western Denver suburbs, with just a few inches possible in the city and along / east of I-25 heading north.
Dry slotting should help taper snow tonight, especially from Denver south, but rain and snow showers will remain in the forecast through the day Friday.
Models suggest another round will be possible Friday, but this will likely be more convective in nature, and not as widespread as we've seen with the main system moving through.
By Saturday we see warming return. How warm will greatly depend on how much snow you see – where there's little/no snow on the ground 60 may be doable, with much cooler temperatures at higher elevations with snow cover in place.
Please pass along your reports in the comments below!