As we discussed in Friday's update, we'll have some clouds to contend with for tomorrow's total eclipse. We do think that for much of the northern urban corridor, Southeast Wyoming, and Western Nebraska, the thicker clouds should at least be scattered in nature, and hopefully the cloud deck moves east of these areas by late morning. Some high clouds for all regions outlined above will certainly be a concern, with little confidence anyone sees 100% clearing by mid-morning.
Here's the latest NWS sky cover (%) forecast for noon MDT tomorrow (shortly after the eclipse peak), showing from 40 - 60% coverage for these areas, with those percentages dropping off dramatically the further north/west you go along the line of totality: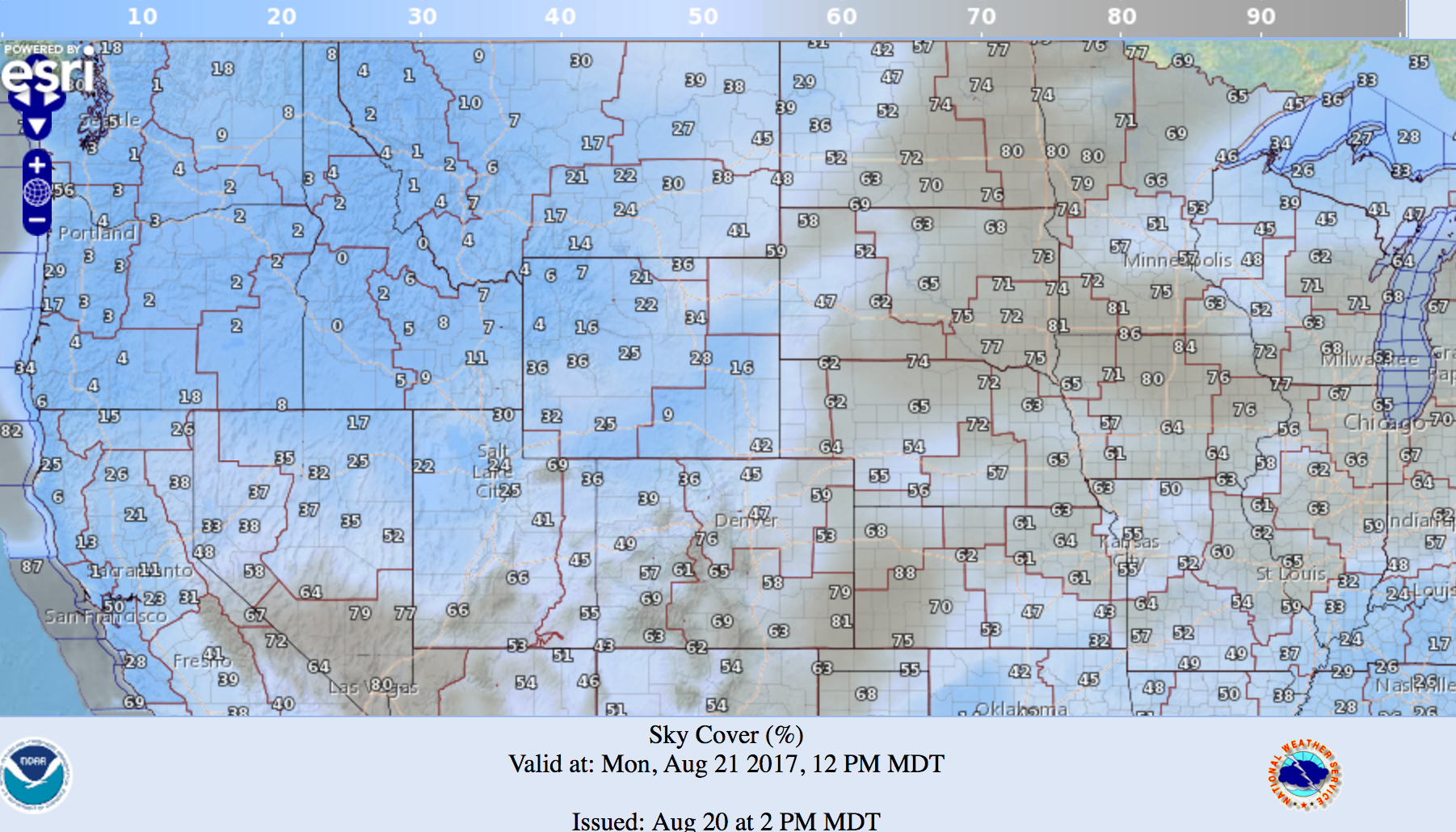 This forecast from the NWS fits pretty well with what latest guidance is showing as well. The GFS is the most concerning regarding cloud cover for the northern Colorado/Southeast Wyoming/Western Nebraska region, while the 3km NAM looks a lot like the NWS forecast, and the EURO continues to push most of the cloud cover east by mid morning for this region. A combo of them all would suggest partly cloudy skies (not ideal), but hopefully not a complete solar bust either. 🙏
Below are the latest cloud cover forecast as of Sunday afternoon from the various models.
3km NAM. Some clouds along the Front Range, pretty clear for the adjacent plains, with much cloudier conditions across western Kansas and central Nebraska. This scenario would equate to pretty good viewing for the northern urban corridor: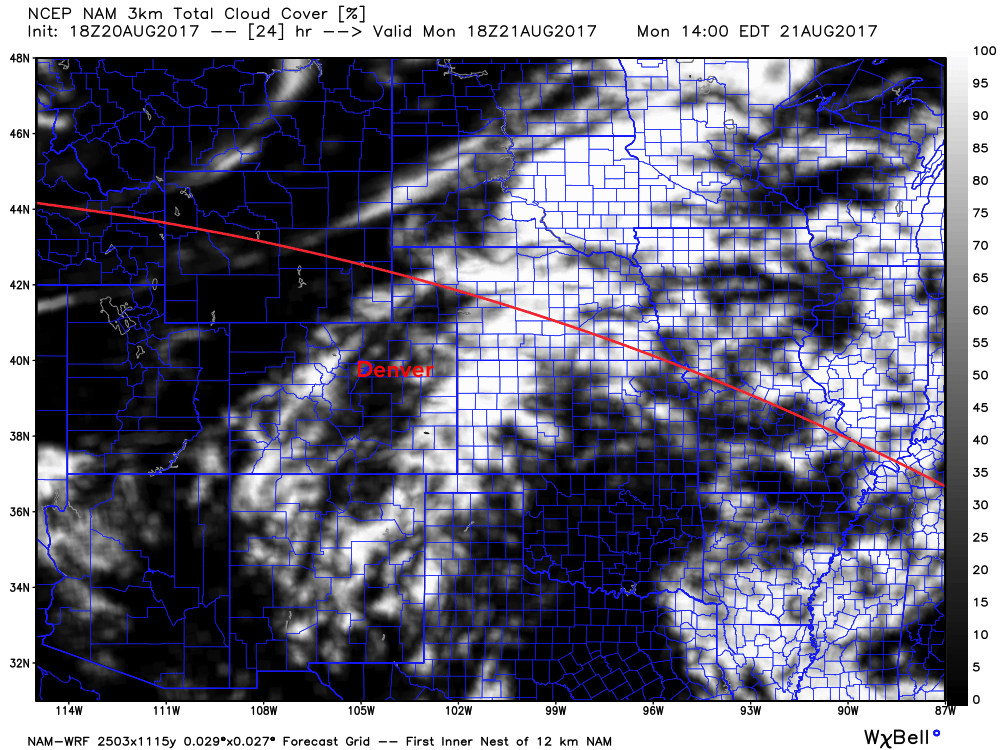 EURO simulated satellite. Looks pretty good across the region, with the cloud deck notably further east with its 12z run (below) than its previous run.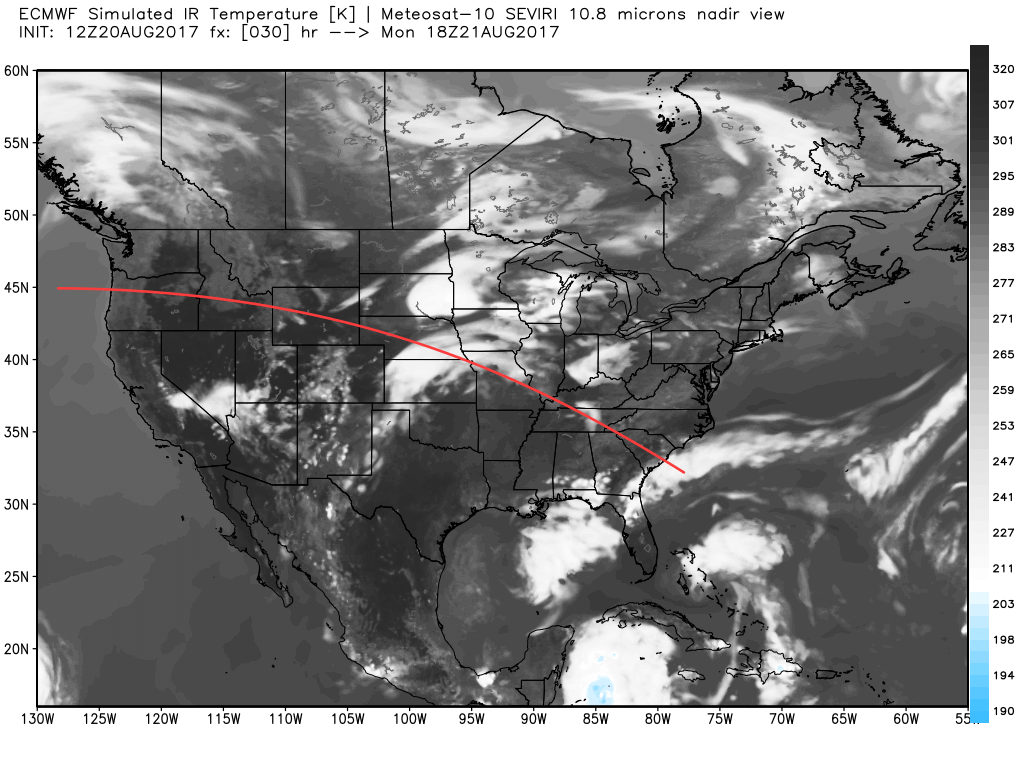 12km NAM. Looks very good for Wyoming, less so for eastern Colorado, however, with partly cloudy skies for areas in totality across western Nebraska: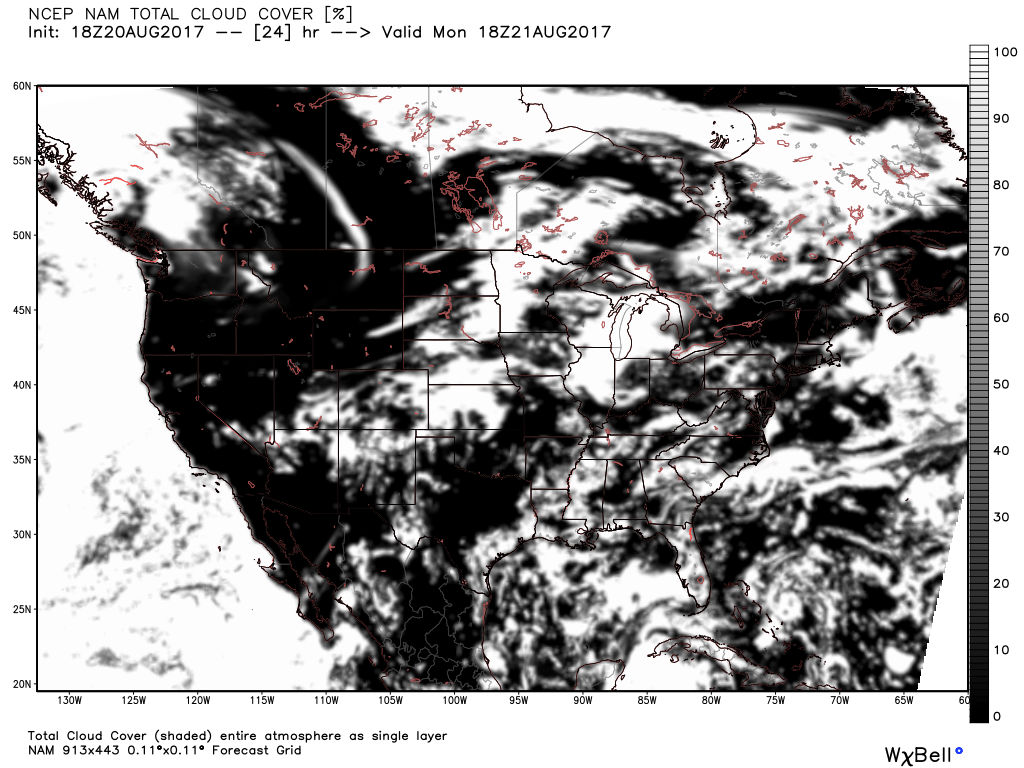 GFS. It shows from 25 - 60% cloud cover tomorrow morning across northeast Colorado, with lower percentages across southeast Wyoming and western Nebraska, but not convincingly all clear either. It's been consistently one of the scarier solutions for clouds in recent days as compared to other models... so here's to hoping it's doing something wrong as it's been wont to do.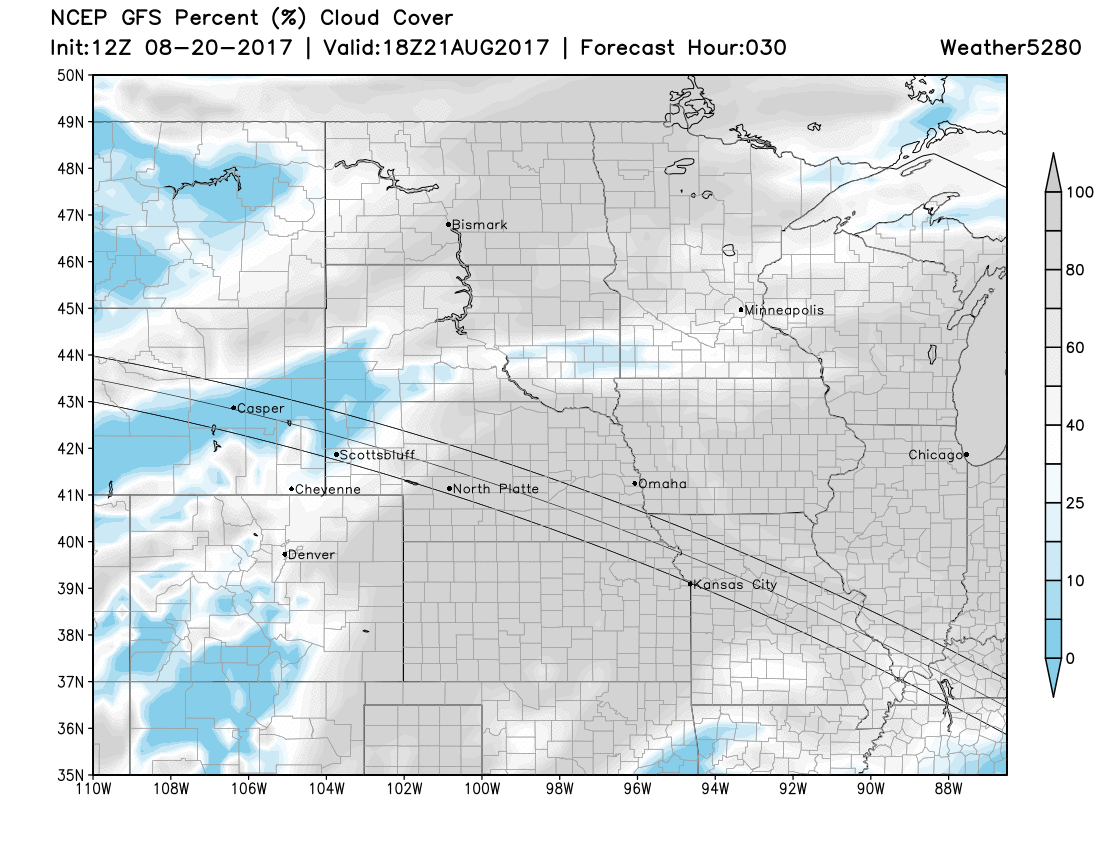 In short, plan for some pesky clouds, but hope for clear skies. A lot of how things shake out tomorrow morning around here will depend on convection across eastern Colorado and Nebraska later this afternoon and overnight. We'll have to see where eventual stratus forms later tonight across the plains, and how fast we can get some clearing in the morning. If you're still making up your mind on where to go – best bet is the further north/west you get the better. Eastern Wyoming/Western Nebraska may pan out ok, but odds for clouds are greater in these areas to be sure.
Visible satellite will be a useful tool tomorrow for pinpointing areas of little to no cloud cover. College of DuPage is a good source for looking at GOES-16 visible satellite, you can find it here.
Planning forecast
Behind a cold front on Monday, expect at least a slightly better chance for storms along the Front Range Monday afternoon and Tuesday, as well as temperatures to drop 5 - 7 degrees or so for Tuesday as well. MOS guidance for Tuesday has highs in the low to mid 80s, so still warm, but certainly more comfortable than the 90 - 95 degree readings this weekend.
Overall no big rain expected this week or temperatures of either extreme. Highs will be mostly in the 80s through the period, with overnight lows in the upper 50s to near 60 in Denver. The high/low outlook on today's 12z GFS looks nothing short of normal for this time of year in Denver: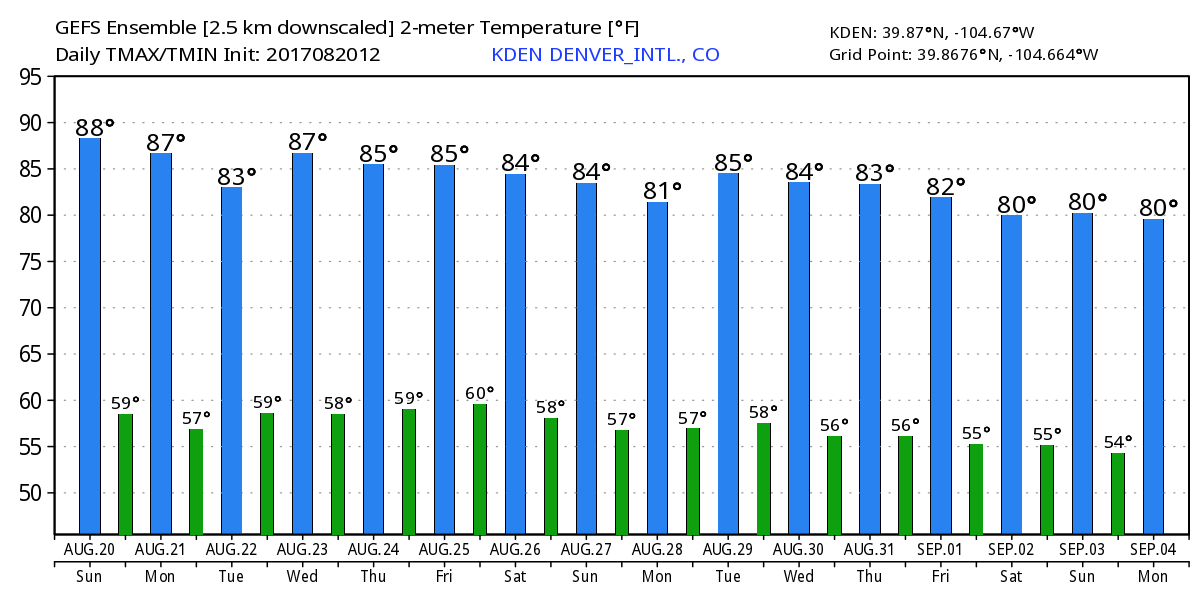 As for precipitation... not a lot of that on the horizon either. We'll continue to see storm chances most afternoons, with burst of better subtropical moisture supply, but no overwhelming signals for widespread shower activity either. If you end up under a storm this coming week great, but for many we'll see more dry than wet over the period instead. This too is reflected in today's 12z GFS, with the bottom chart (green squares) indicating various ensemble members precipitation forecasts for a given six hour period. Wet? Not really, but not totally dry either.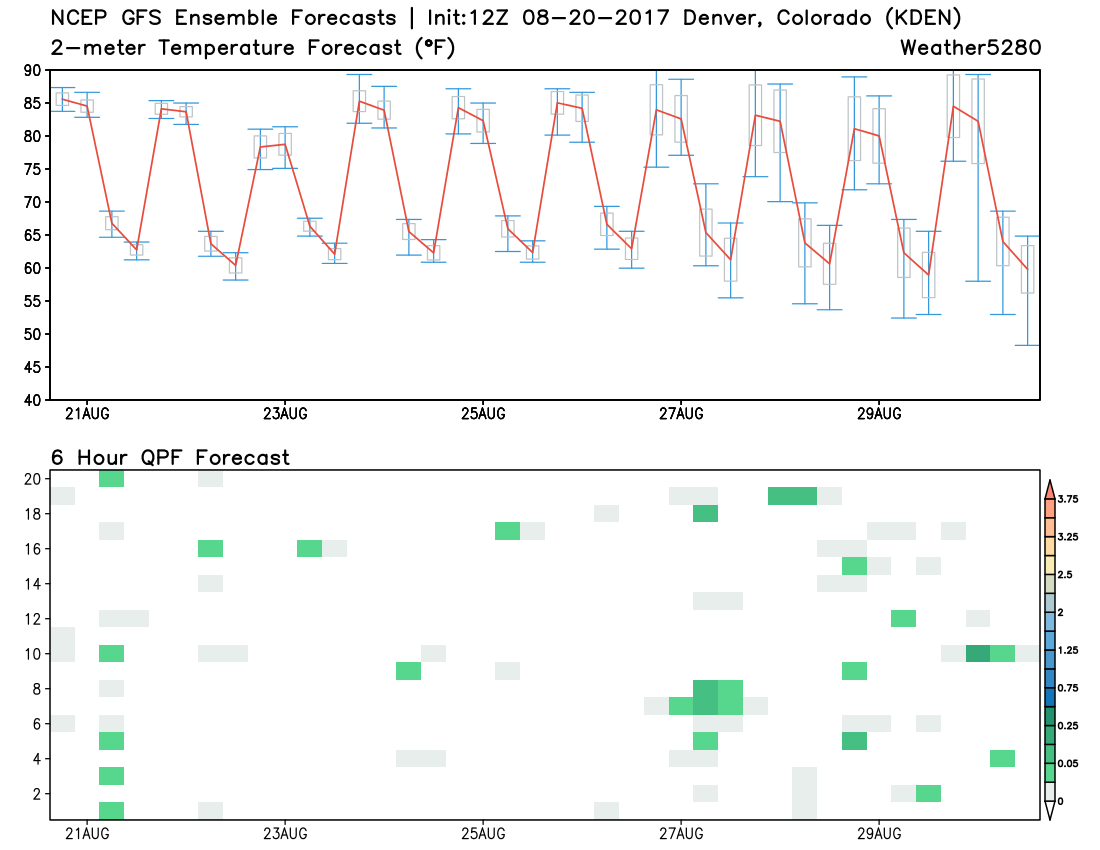 The operational GFS run from earlier today was a bit more bullish than this for storm activity late in the week, but the EURO looks mostly dry east of the foothills, so will wait and see if we need to boost precipitation chances or not as the week progresses.
Get out and (safely!) enjoy the eclipse tomorrow (no looking at the sun, without solar safe glasses!). Rooting for no clouds and an awesome experience for all with this rare event. Please share your eclipse stories with us!