The record high for Denver for today is 87°F, and while it should not be in jeopardy, it'll be very warm along the Front Range with highs near 80 degrees in the Mile High City.
Get out and enjoy that warmth as changes are quickly approaching. While Sunday is set to start warm, it'll end far different, as a wintry system is set to crash through the region Sunday PM through Monday.
This next system does look like it'll deliver Denver's first measurable snowfall of the season. In fact, the National Weather Service has already issued a Winter Storm Watch for much of the Front Range (including Denver) calling for 4 - 6" in the city, with upwards of 10" possible for the Front Range mountains. Our forecast will be a bit lower than this in most locales – see below.
Along with that chance for snow will come the coldest air of the season as well. Temperatures will be in the 30s Monday (some 45° colder than today!) with overnight lows Monday into Tuesday likely dropping into the low to mid 20s, delivering the region its first hard freeze of the season.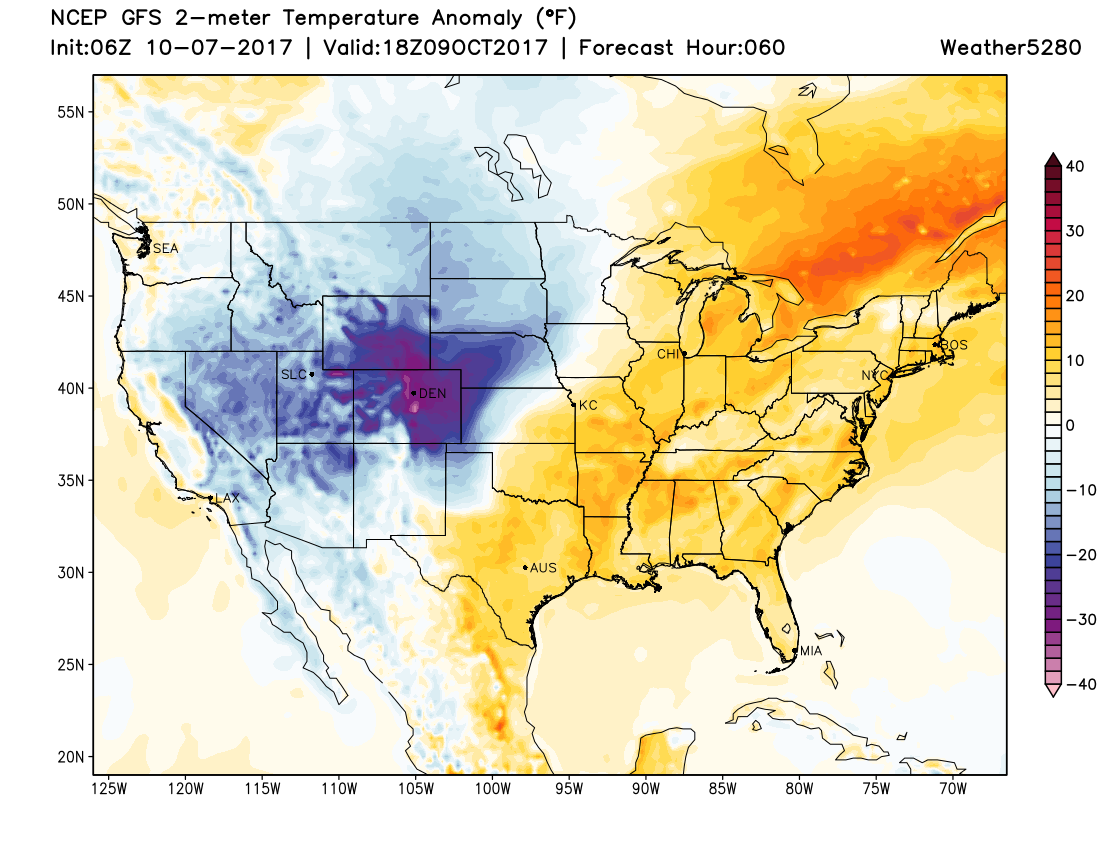 Planning
Biggest item to be sure to get done this weekend is prepping your garden for the cold temperatures. While it's been very warm recently and the ground isn't at any risk of freezing, exposed pipes certainly may – so you'll want to blow out those sprinkler systems this weekend if you haven't already.
Also be aware that trees are all still full with leaves, so heavy accumulating snow will be tough on branches. If you can safely knock snow from your trees through the duration of the storm, you may want to try. Of course depending on timing this will be more or less of an issue – if most snow holds off until daytime Monday, it'll have a harder time accumulating than if the heaviest stuff falls before daylight Monday.
Lastly, while most paved surfaces are quite warm and snow accumulation on these surfaces may not be too too bad, do allow yourself extra commute time Monday. The first snow of the season is always an adjustment, and it's possible we see some slushing/icing on roadways, especially as you go up in elevation outside of the city. This will be a classic example of what falls versus what sticks being two different things. That being said, trees, grass, and any surface elevated off of the ground will accumulate the most snow.
Timing
Today will be warm and beautiful statewide. By Sunday we start to see those changes, to the north first, then eventually down across the Denver area and southeast as we head into the overnight hours.
Denver should see highs again break the 70° mark on Sunday, before temperatures plummet with the chance of rain and snow developing late in the day and overnight into Monday. Be prepared for the strong wind when the cold front roars through Sunday evening. Gusts over 40 mph will be likely...
Rain should eventually change to all snow Sunday night, even at lower elevations, with the heaviest snowfall currently forecast between midnight Sunday and noon Monday. Timing of exactly when the snow moves through will be key for the forecast – as a delay would mean more daytime snow, and less accumulation.
The snow ends by late in the day Monday, with clearing skies Monday night. This should allow temperature to really drop – with a hard freeze likely Tuesday morning.
Tuesday remains chilly (highs in the upper 40s and low 50s) before we warm back into the 60s for Wednesday.
Snowfall Forecast
For our snowfall forecast we'll hug the EURO a bit, but account some for melting, warm ground temperatures, and compaction. The EURO has been very steady with its mean producing 5 - 6" for Denver, while the GFS has been all over the place. Here's a look at its ensemble forecast from last night for DIA, showing a rather bullish deterministic solution (~8") and just under 6" for a mean: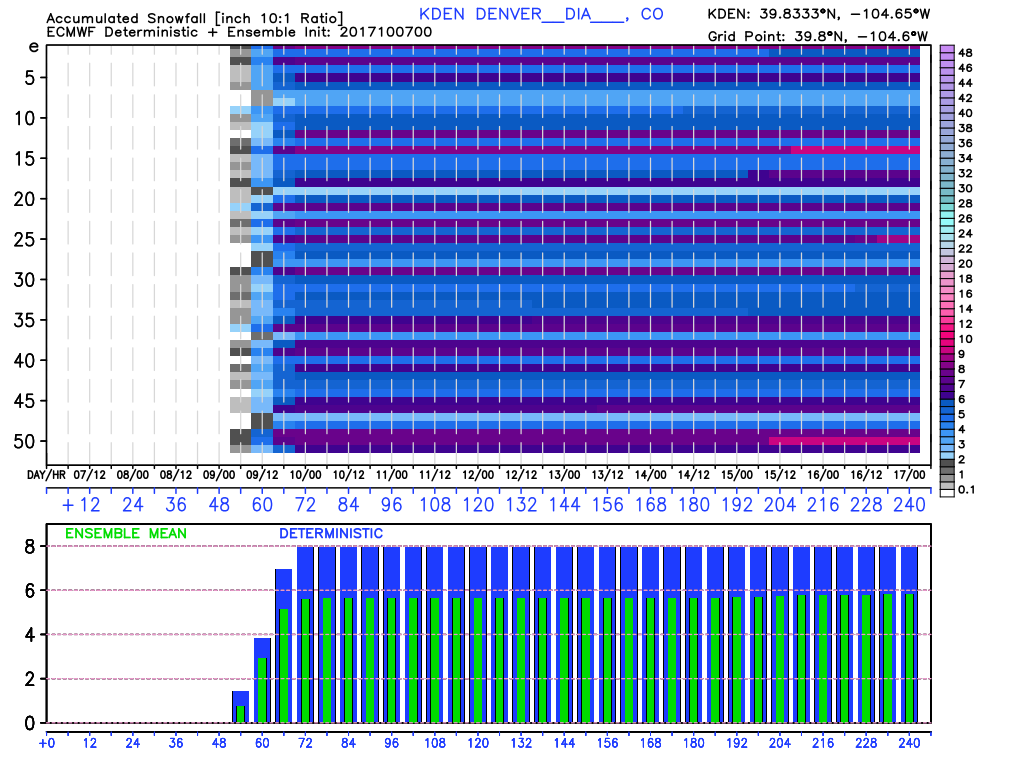 The EURO has a bit less for areas north of Denver where downsloping off the Cheyenne Ridge may be an issue. So cities like Greeley are more in the 1 - 3" range, with Fort Collins likely split a little between modest totals on the east side, and higher totals west. A similar situation to Denver's south, where Colorado Springs may see some downsloping as well, with models producing closer to 1 - 2" in the city down there.
The likely winners will be portions of the Front Range foothills and Palmer Divide. Monument could see some pretty good snow, as well as places like Rocky Mountain National Park northwest of Denver.
For Denver, we'll go 2 - 5" for now. Our snowfall probabilities are still less excited than the EURO, and accounting for warm surfaces and marginal temps (at least initially) hedging a little lower than the EURO seems prudent. We'll see how analysis and data in another 24 hours looks and if we need to adjust.
Below is out initial snowfall forecast, which takes us from Sunday PM through Monday evening (a high Bust Index for our first snow event of the season!):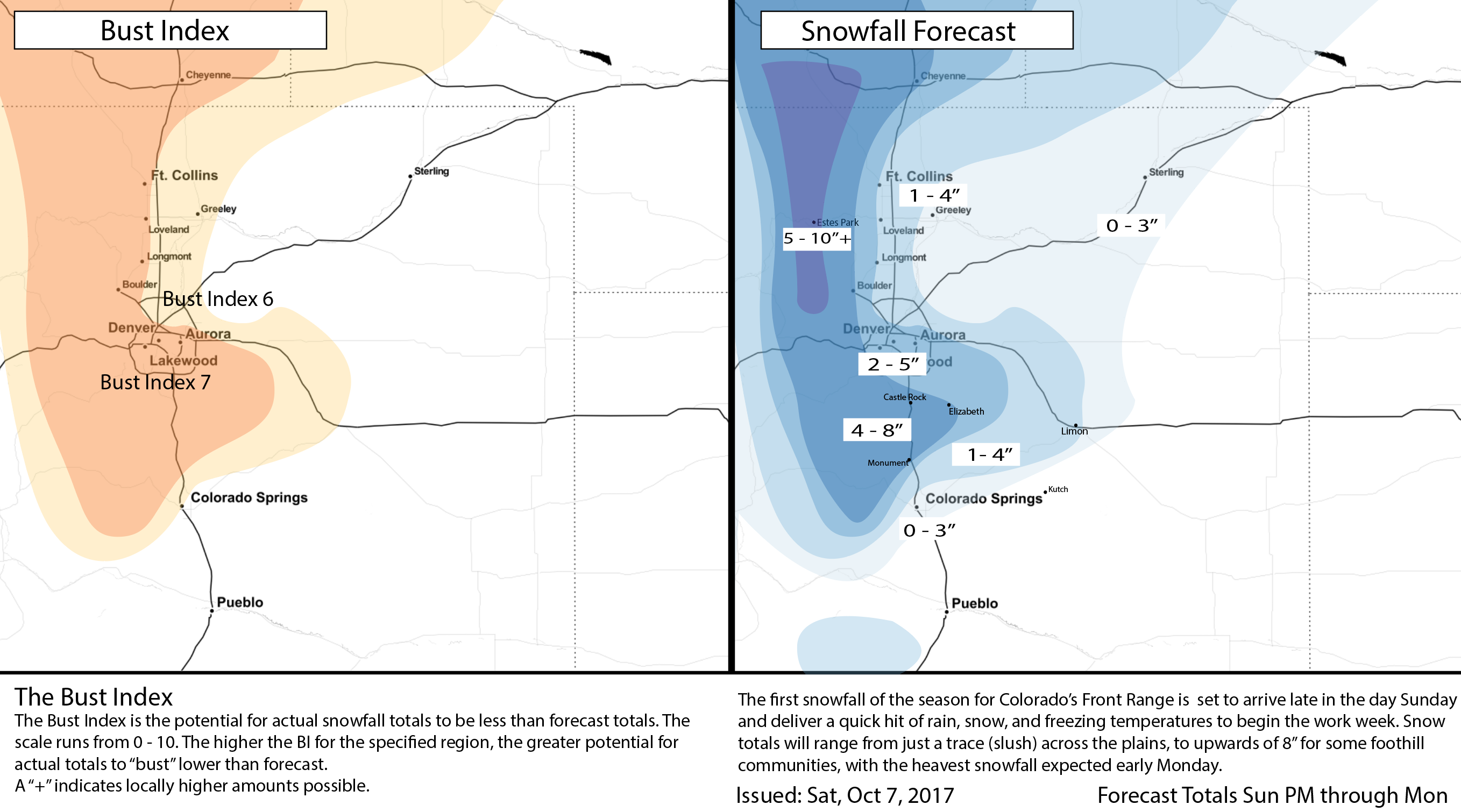 We'll post updates as needed, but barring any big changes to the forecast this should have to pretty well prepared! This system will be quick-hitting, so those of you not quite ready for snow won't have to wait long for those warm fall temperatures to return.