It's starting to look more and more like winter in the high country after another round of snow this weekend. At lower elevations, mild weather of late was replaced Saturday with a brisk autumn chill, but with little precipitation to speak of, the question of when we'll see our next snowfall remains.
On average, Denver sees 4.2" of snow during the month of October. With our snow a few weeks back we've already logged 2.8" this year, so we're doing pretty well in that department despite the warm weather since.
The week ahead
Yesterday's cold front was short-lived. Highs Saturday were in the 50s around Denver, with highs today topping out near the 70 degree mark.
The rather amplified pattern will feature a strong ridge to the west (reds below) to start the week, and a big trough to the east (blues) with Denver somewhere in between. The result will be several mild days in Denver to start the week, with mostly dry conditions across the region as well. MOS guidance has highs in Denver in the 60s and 70s through Wednesday, which seems reasonable.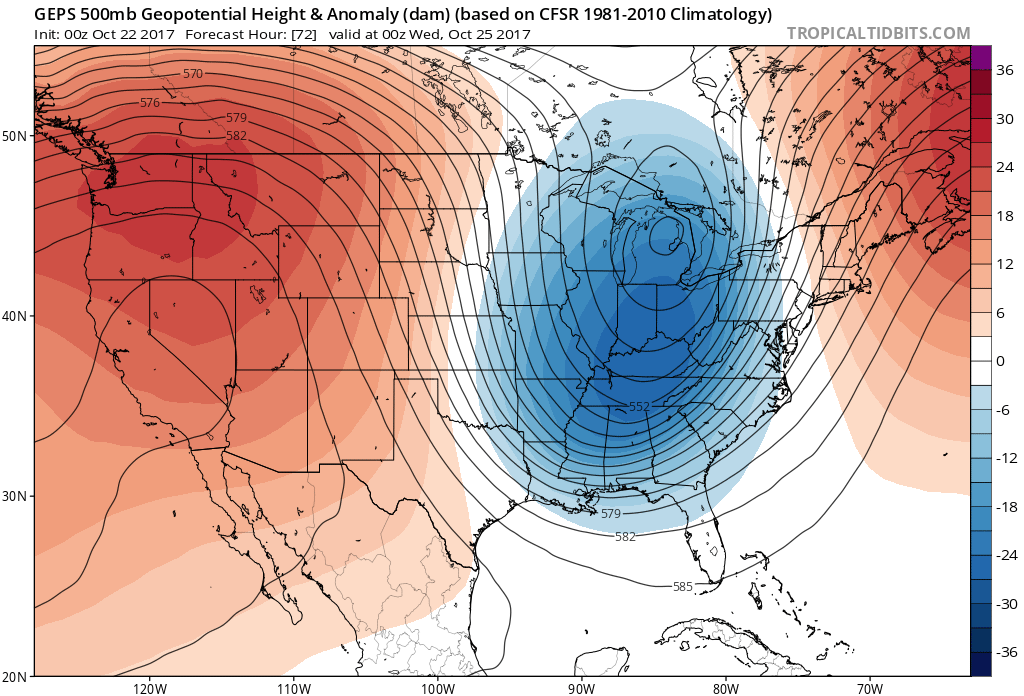 By late Wednesday into Thursday we start to see this pattern breaking down a bit. A strong cold front will take aim at the state for Thursday, with at least a small chance for rain and snow as it swings through likely Thursday PM into Friday.
If we look at the modal parameter as above but for early Thursday morning we see the ridging breaking down a bit with a trough digging in from the north: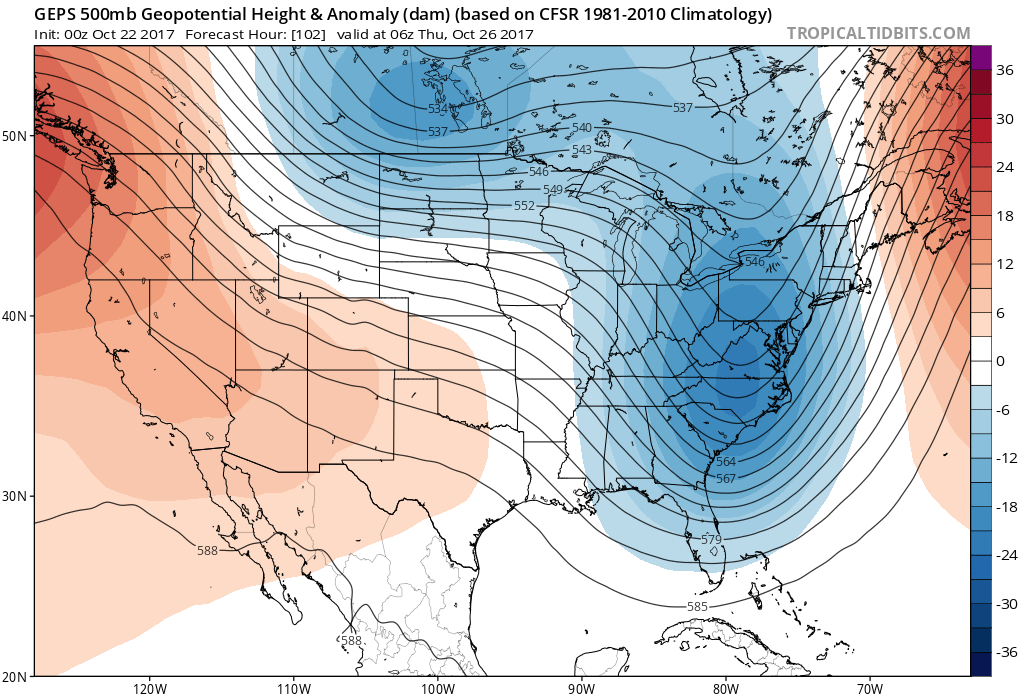 By Thursday evening we see the ridge much further west and more blues over Colorado: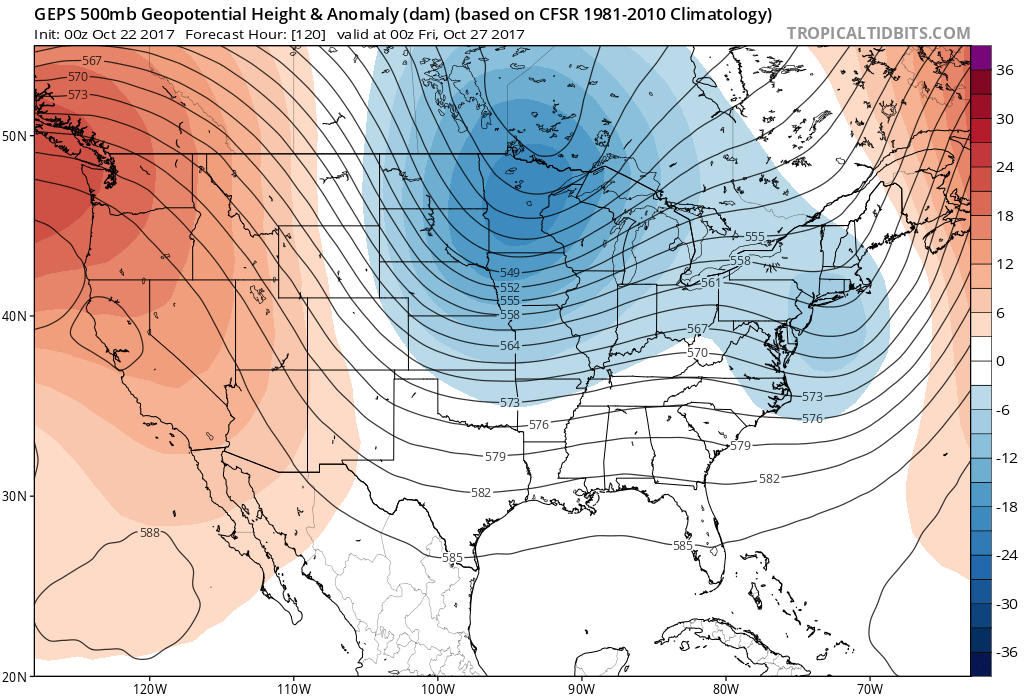 The result of which will be a blast of colder air to end the week, and likely some strong winds and a chance for rain and snow as well. If we look at the GFS forecast for midday Thursday we see that push of colder air moving into northeast Colorado (blues indicate temperature below average, oranges/reds temperatures above average):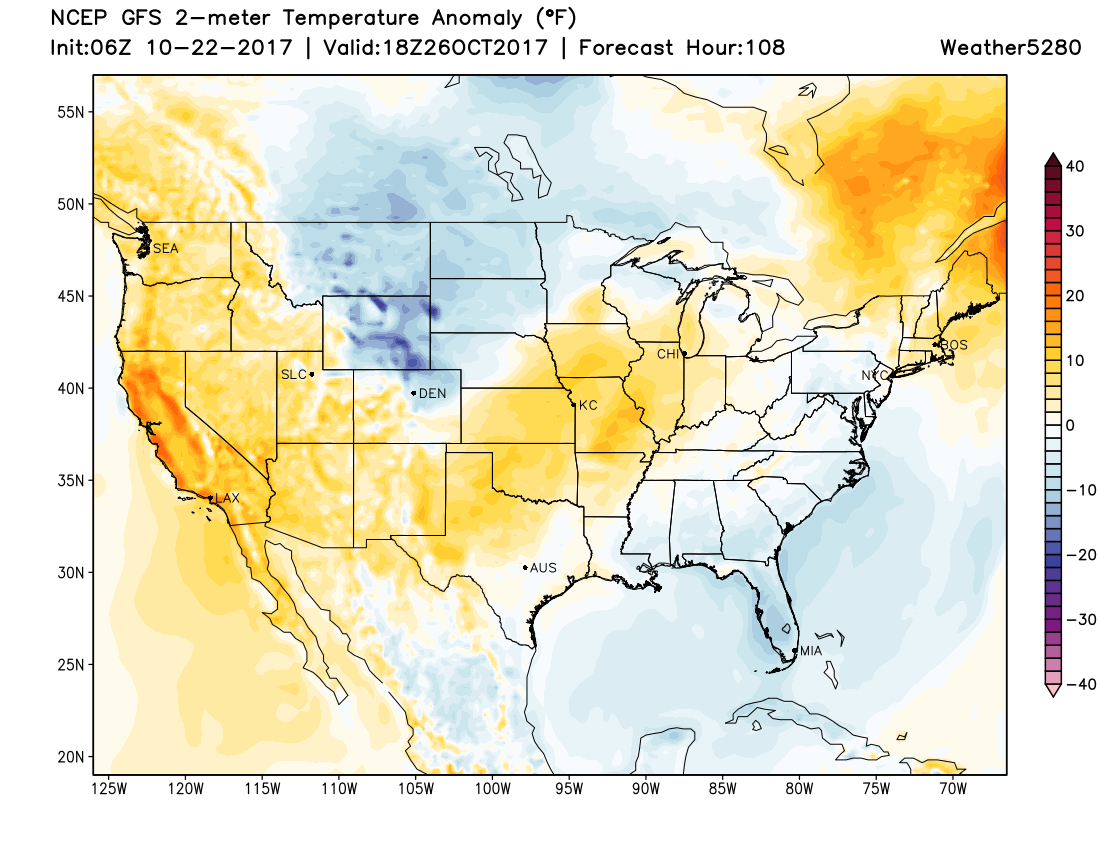 And by Friday very chilly air is in place across the region: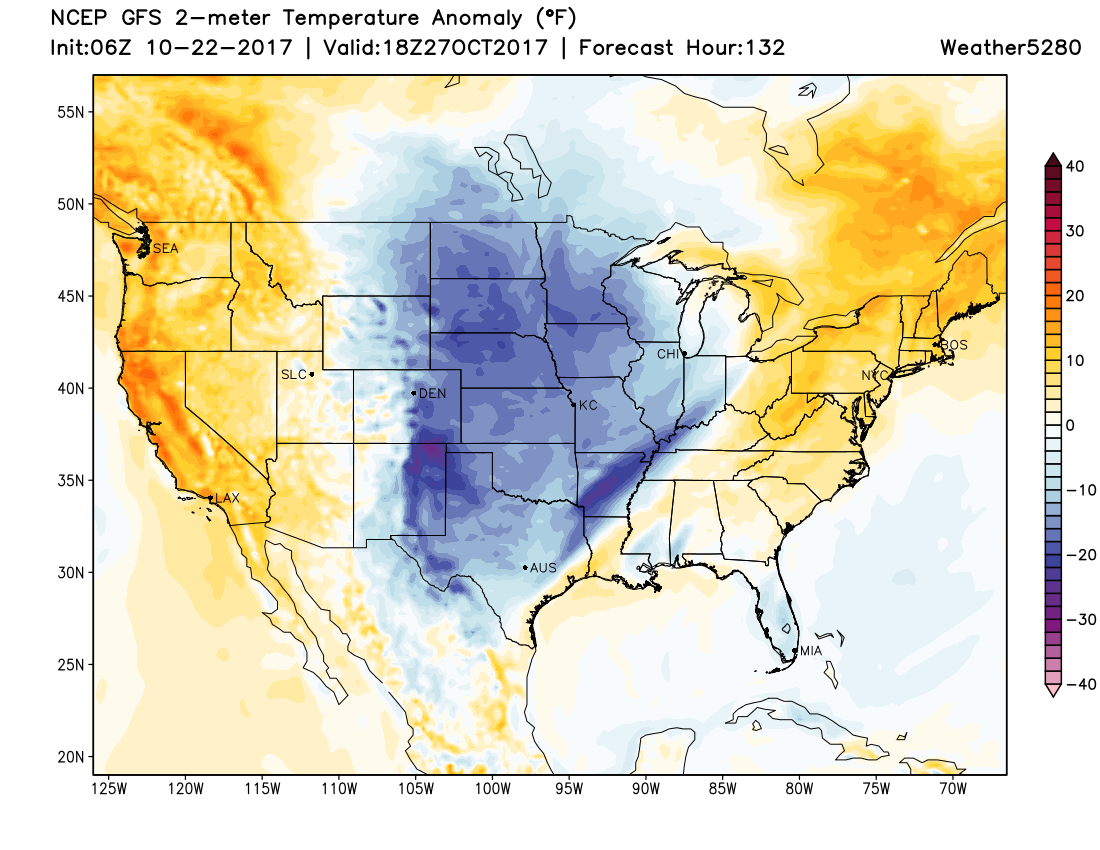 Considerations
We're still a few days out, so a lot of details yet to come. Key takeaways today are, plan on a mild start to the week and chilly finish.
The timing of the cold front Thursday still has to be worked out, but it looks like the colder air could arrive as early as Thursday morning if the GFS is to be believed. Models indicate upslope kicking in behind the passage of the front, which would delay precipitation a few hours behind the initial push of cold air. Best chance right now appears to be Thursday afternoon/evening for rain and snow, with drier (but colder) conditions for your Friday.
As far as how much snow we may see? It's still too early to say. These types of systems aren't typically great snowfall producers for the urban corridor, but certainly some accumulation will be possible in and along the Front Range. The GFS remains pretty timid on moisture (its 12z run showing virtually nothing for Denver), while the EURO has been a bit more bullish in recent runs with a few inches to Denver's west by Friday. Our latest snowfall gambler charts are also all showing pretty low probabilities for snow for cities along the urban corridor – something to keep an eye on at the very least.
The important thing for now is to plan on at least a quick hit of colder air to end the week and perhaps a bit of moisture to boot.