I can't believe the weekend is almost over. It's time to prepare for the week ahead, ho-hum.
There will be ups-and-downs this week, but at least Monday will be very warm. Much warmer than the weekend.
Speaking of the weekend, particularly Sunday, we had some high cloud cover from the Tropical Pacific. This is one piece of the puzzle for the week ahead.
Mother Nature now
The broad view of the satellite picture looks like this: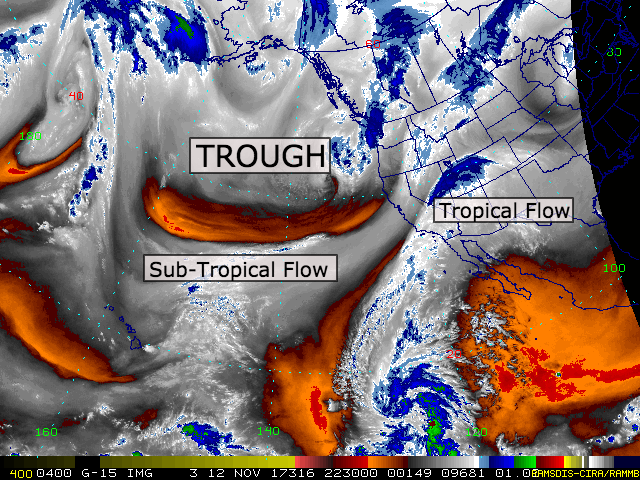 This is the water vapor product which is a good representation of the mid-level of the atmosphere. There are three features with impact on our region.
First, the tropical flow that had increased the high-level cloudiness you saw Sunday. This stems from a tropical disturbance that has a 70% chance of developing into a tropical depression - or stronger - this week. This flow of moisture will continue to spread high clouds over the region but will not be enough to create chances of precipitation for Colorado.
Second, the sub-tropical flow has increase cloud cover over the northern Rockies. This cloudiness was seen over Idaho Sunday. This flow is steered by a developing trough.
Third, the mentioned trough is attempting to dig (develop) over the Northern Pacific.
All three will impact Colorado's weather for the coming days. The first two with increased cloudiness, similar to what we saw Sunday. The third, a chance of rain and snow later this week.
Since the third will bring us the notable change, let's take a closer look at it now.
I sea what you are doing
I love watching sea surface temperatures. They offer a great perspective on the source of the weather we may have roll through our area. This is always critical before looking into the modeling - it helps a bad model run jump out to me.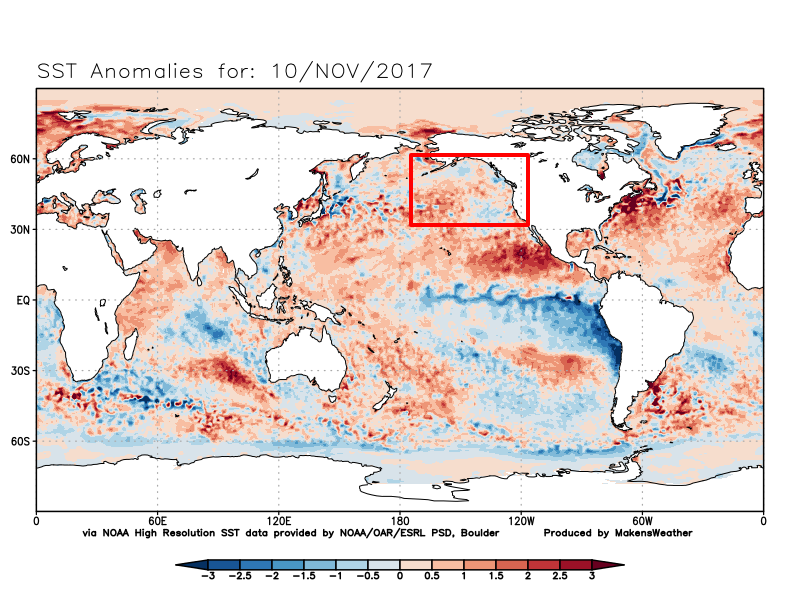 I've highlighted the region of ocean that the mentioned trough is moving over now. A warm ocean, as we have with the red (warmer than average conditions), indicates to me a trough that doesn't have a sustainable source of cold that is needed for a trough to develop into much more than it is now.
In a second region of the ocean, there is a much warmer signal: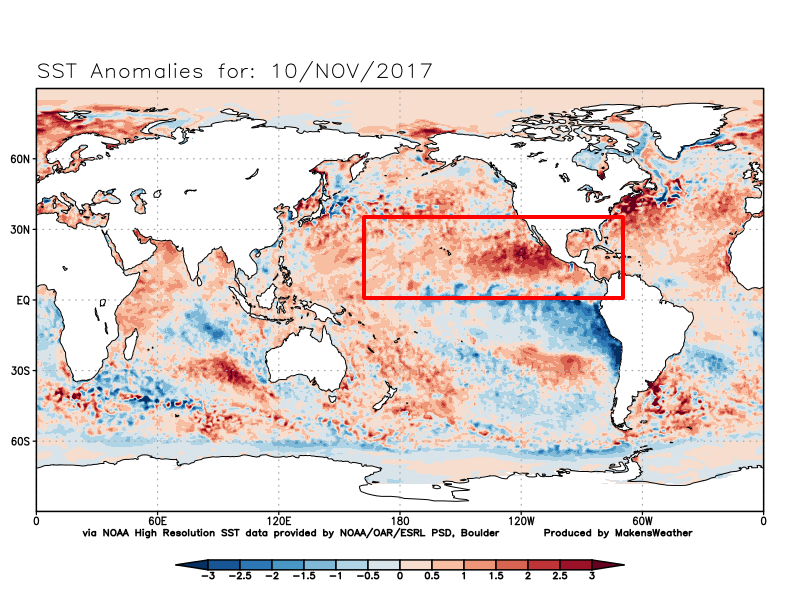 That area of the Pacific west of Mexico is incredibly warm right now. So, that tropical system has plenty of heat to fuel itself with and that region will be able to provide some moisture for us. We already have the flow established, look out your windows, and with a region that hot we can expect the flow to continue for a time.
Just using sea surface temperatures alone, we can estimate that the approaching trough likely won't grow but ahead of it, we do see moisture streaming in, which in combination may present a precipitation chance in our future.
Projections for the week
Let's see how the models handle this pattern. I'll use GFS, which has handled this fall season with greater accuracy than any other long-range model (I can't believe I'm saying that - for those that know me, and modeling, will side with me).
Here's a loop of the week across the US. You can see the active weather that is generated by the trough: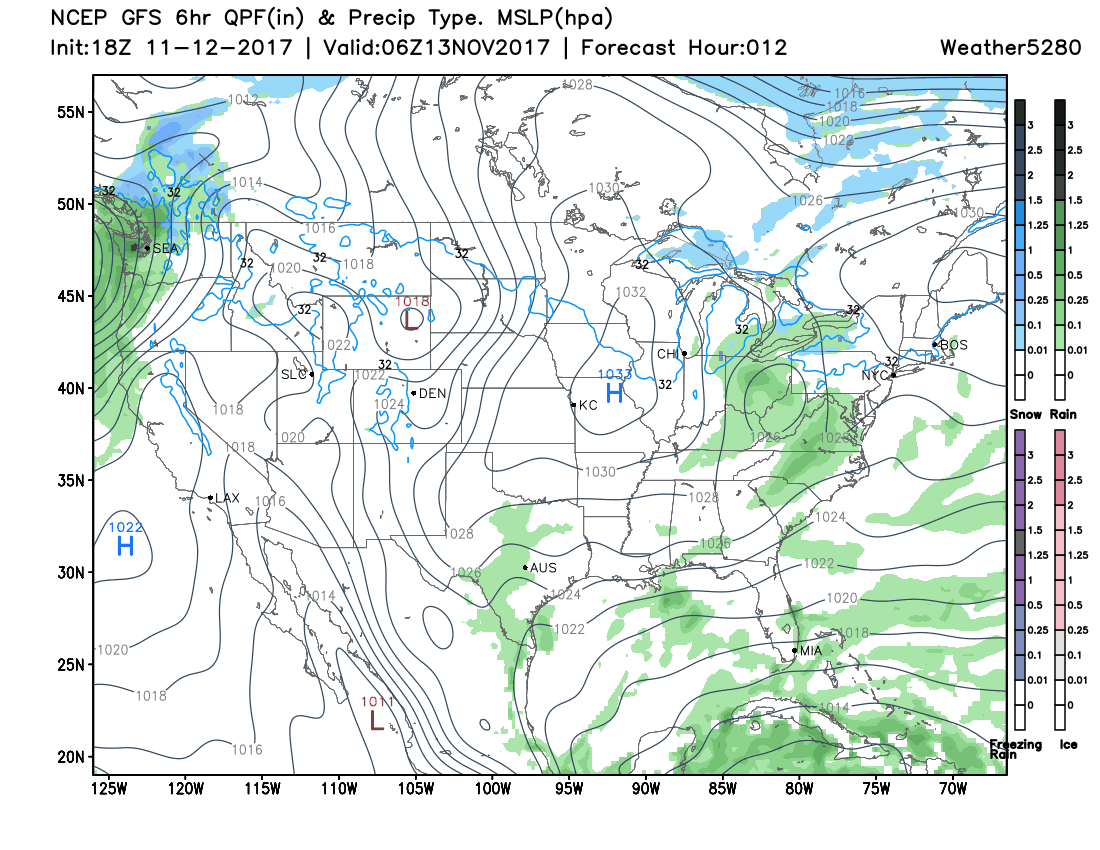 Note the snow (blue) and rain (green) that spread from the Pacific Northwest and southwestern Canada across the northern US. Further, note how the amount of both decreases as they pass over our area, the Rockies, and then grow again east of us.
You can also take away that for the next week we only have this one system to watch.
Just looking at one 6-hour timestamp representing Friday morning we see areas of interest (rain and snow) in Colorado: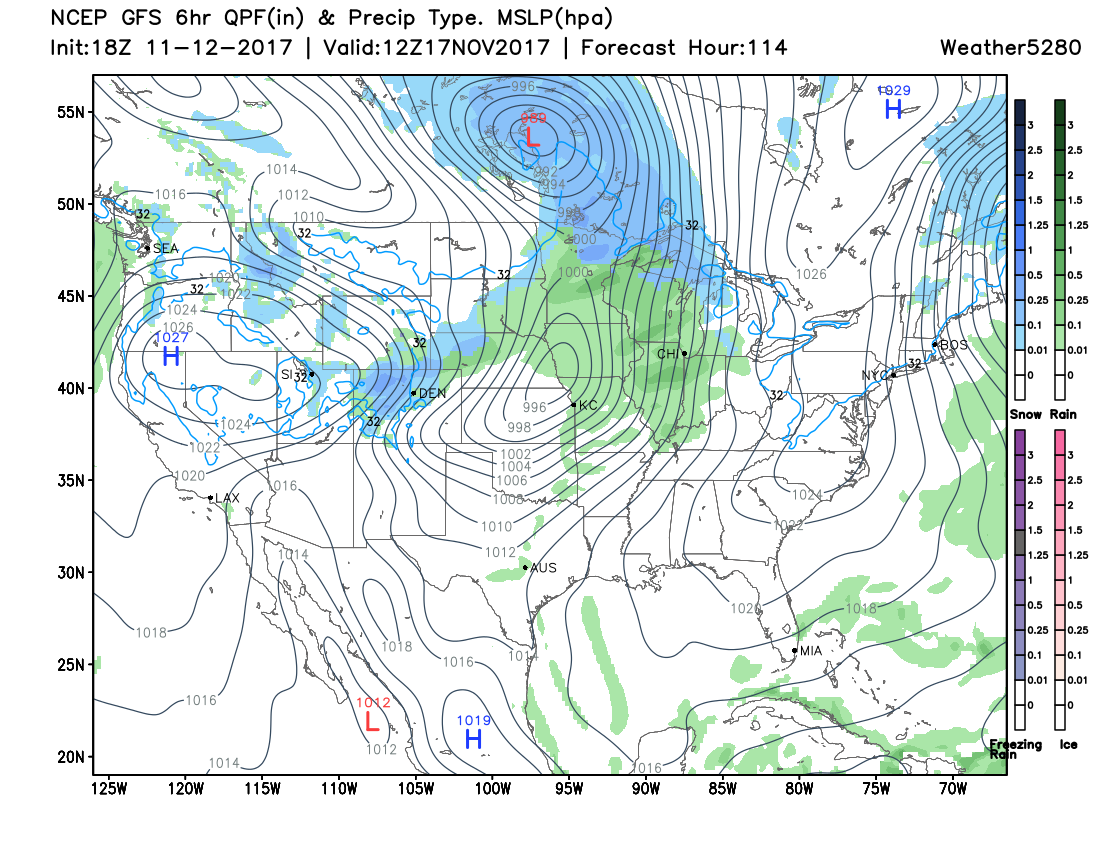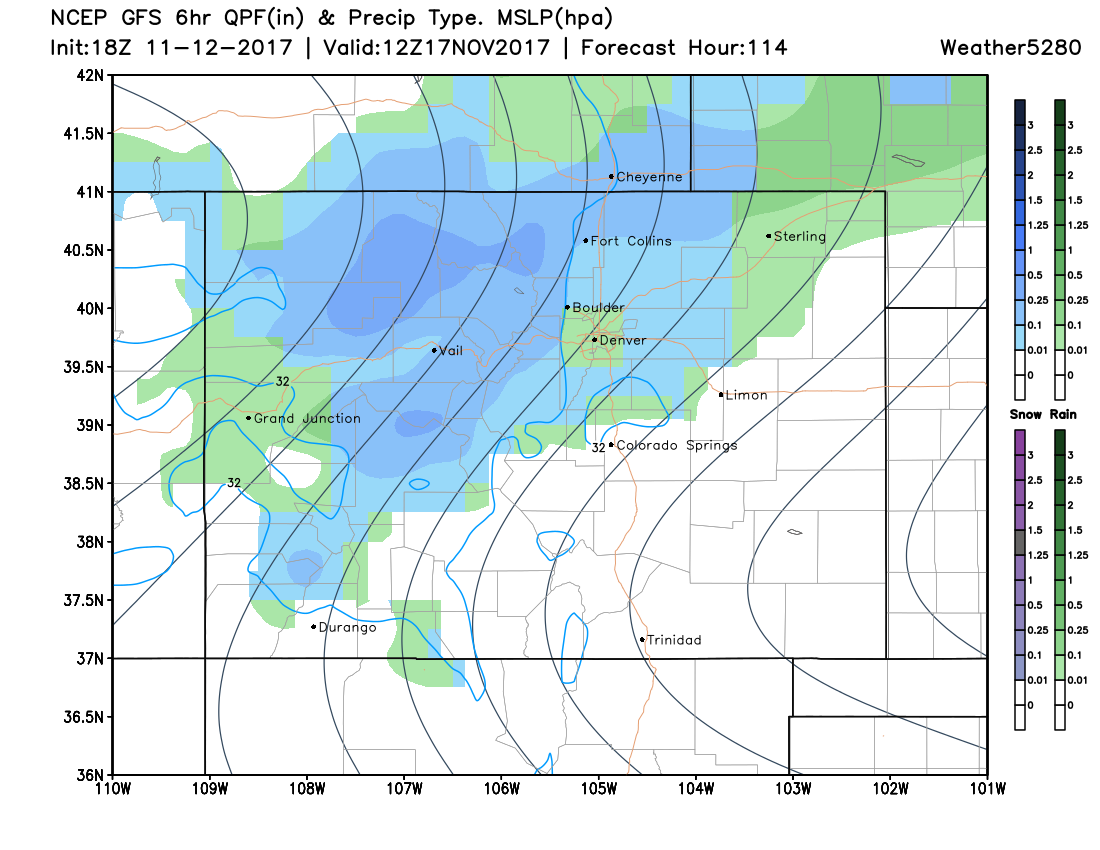 Yes, we see a chance of rain and snow toward the end of the week, which makes sense considering a system is passing through and will have humidity to work with from the tropics.
Haves and have nots
At this point, you are probably saying, "okay, Matt, how much?!".
I did discuss with you that the trough isn't really able to develop much because it doesn't have much cold air, so with a weakly developed trough we shouldn't expect anything gangbusters around the metro area. And, we are five days away so to talk about quantities is irresponsible because we always will have changes between now and day 2-3 when I give quantity forecasts. I will simply say, Denver shouldn't expect much AND that's assuming we see something at all. The weakness of the approaching system means the chance of wet weather remains low.
The tropical flow of moisture will likely be disrupted and absorbed into the potentially to-be-named tropical system, as previously mentioned. If that system does not develop for some reason, that flow will not be shut off and we could stand a better chance of seeing some precipitation. Something to watch.
I've already made suggestions that the approaching system doesn't have cold air to work with. Here's a look at the temperature forecast for the week (cooler than average areas are blue, and warmer than average areas are in the yellows and oranges: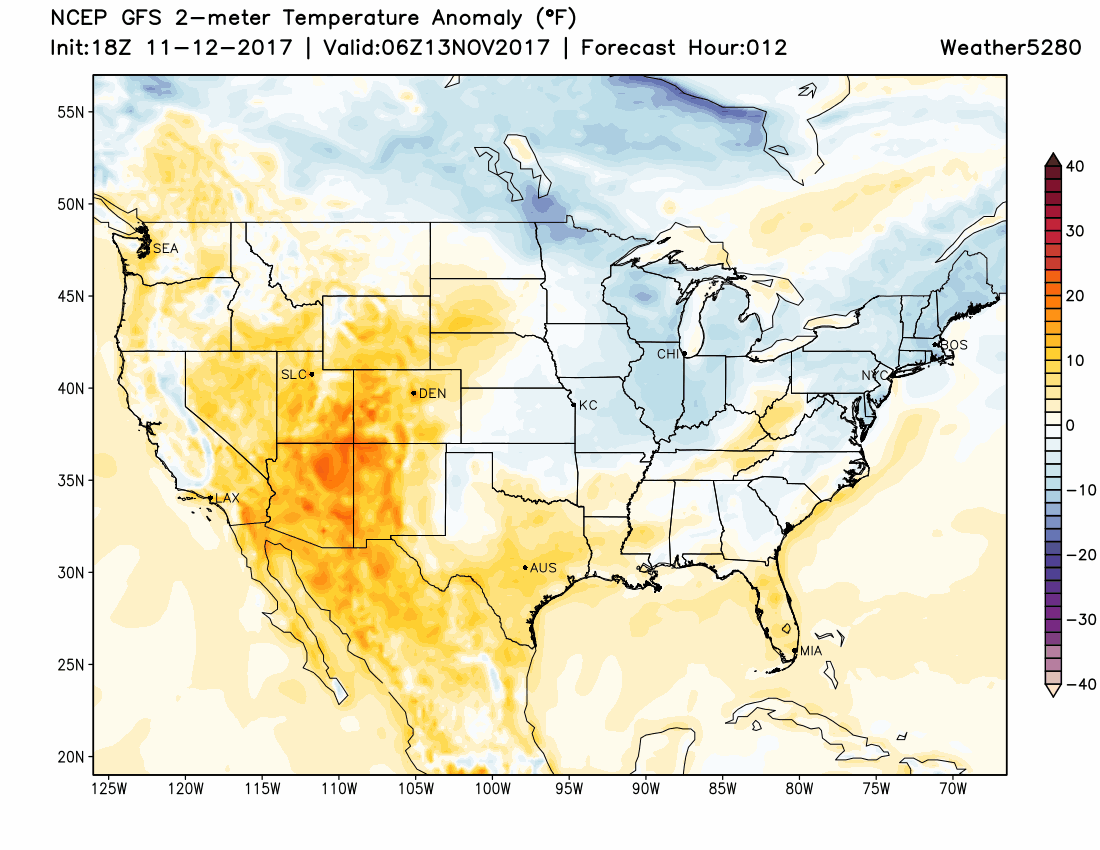 You will be able to see the imagery show, beautifully, the passing of the system with the slice of cooler air moving over Colorado and to the east.
Prior to the system, we have a lot of bright colors over our area, indicating warmer than average conditions. As that system passes, very little cold air shows up (blue areas). As a matter of fact, notice how there is hardly any cold air moving into the Continental US this week.
How to plan the week
We have a system approaching but with little support to become a significant system for Colorado.
For Monday and Tuesday plan on very warm (we are in the tropical flow), with 60s and low 70s.
For Wednesday through Friday, plan on some pieces of that trough to pass through creating some temperatures changes and that chance of moisture.
Later this week we will have updates on mountain snowfall totals and what may actually fall over the Front Range - if anything.