The state of the atmosphere remains alarmingly quiet across the west this week. High pressure will continue to dominate our weather, as the cold and snow remains a locked up in the east for another week.
The latest hazard map shows only Red Flag and High Wind Warnings across the western two thirds of the country today, with winter weather highlights in effect for the Great Lakes and up into New England.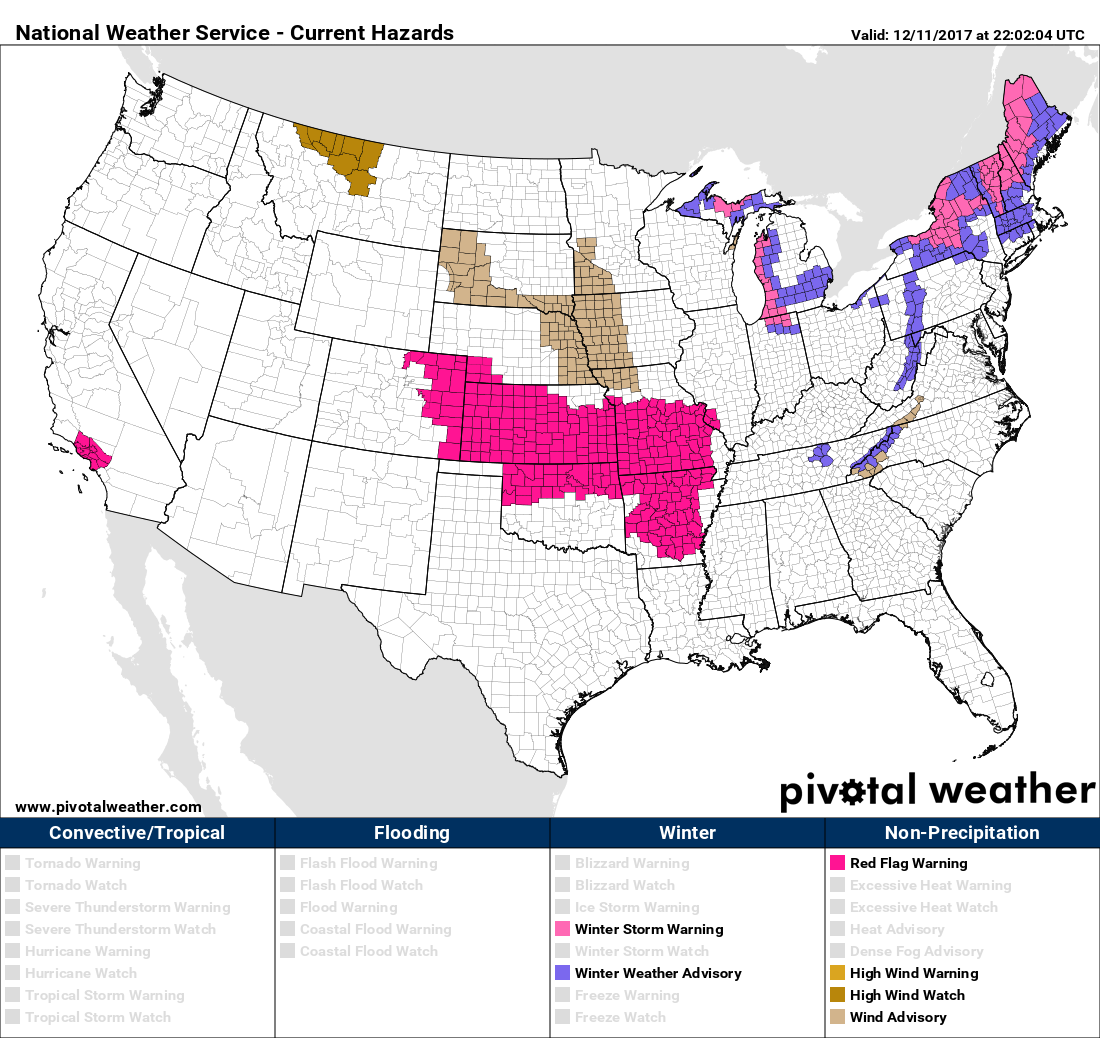 One shouldn't expect to see much change over the coming week, with only a little moisture managing to work its way back into the Pacific Northwest and northern Rockies through Friday: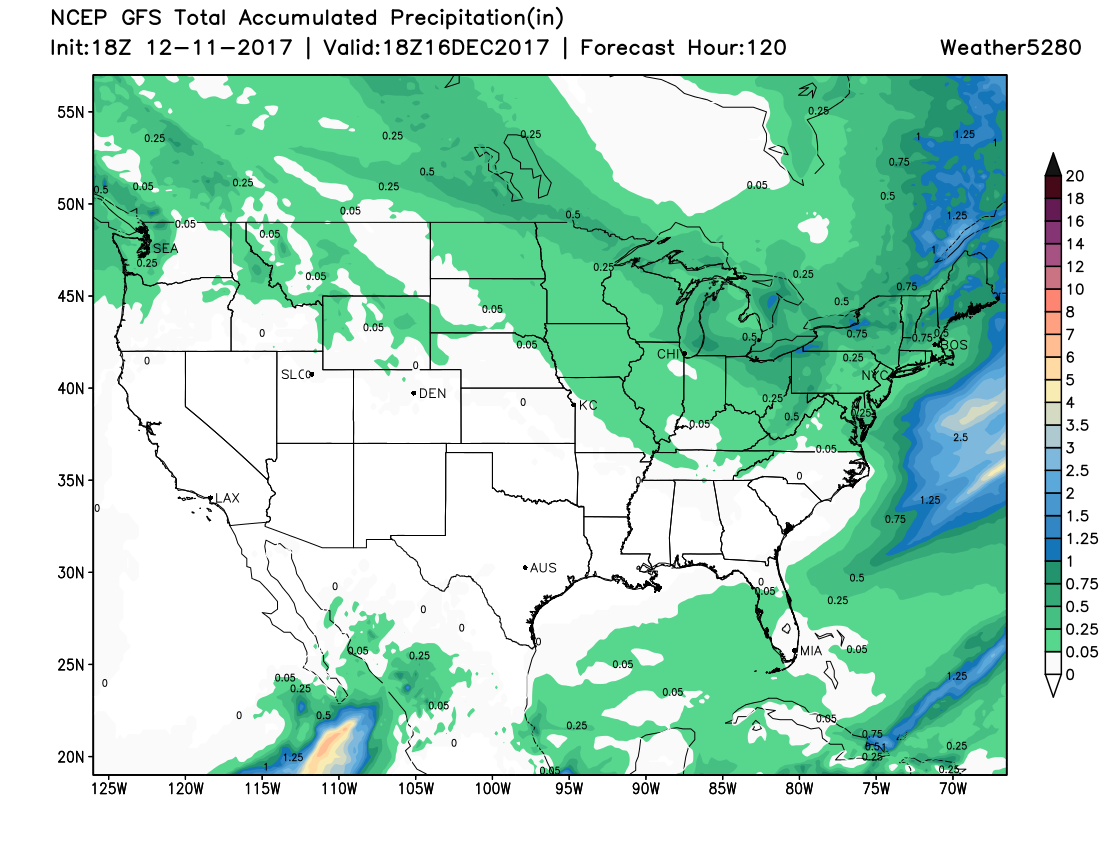 Across California, the Great Basin, and most of Colorado moisture will be in short supply through the end of the work week, with our northern mountains standing the best chance to see some light snowfall with a passing disturbance Wednesday, and again by the latter half of next weekend. Denver only looks to see about a 10% chance for any rain or snow showers Wednesday, with the biggest "impacts" again being that of a slight cool down for your Thursday.
Otherwise expect another quiet, uneventful weather week around the region, with our biggest concern continuing to be the elevated fire danger from time to time as gusty winds mix with our ever-drying landscape.
Lack of snow not a record... yet
Nope, it's not just you, it's pretty weird to go so long without snow around here between October and May. In fact, at 62 days since our last measurable snow in Denver the National Weather Service in Boulder has calculated this as the fourth longest snowless streak on record, behind 1962 (67 days), 1905 (68 days), and 2003 (69 days ... but we also know how 2003 ended 😬). Rare company indeed, and of course even worse news given the fact the mountains aren't getting any snow either. Below is a graphic put together by the NWS of Denver's longest snowless streaks on record: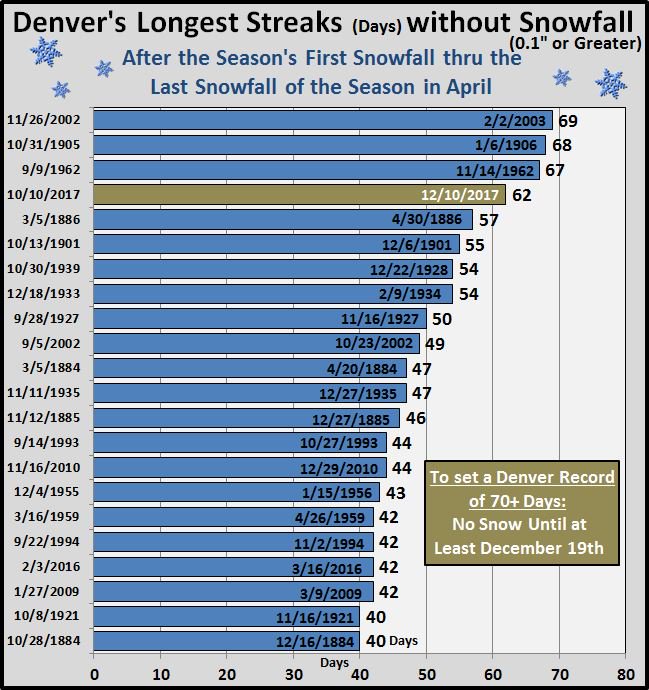 In order not to set the new record for days without measurable snowfall, we'll need to see something accumulate by the 19th. How likely is it that we'll see snow before the 19th? Well, that the moment... it doesn't look impossible, but also doesn't look probable.
This morning's run of our probability charts show about a 20% chance we see 1" of snow in Denver over the next 10 days...

So, if you're looking for any kind of appreciable snow either for the mountains or here across the urban the short answer is: not this week. As we head into next week and eventually toward Christmas, models do try and pull the eastern trough west a bit which could at least lead to a period of much colder weather around here, and at least a fighting chance to see some snow around here.