The mild temperatures we enjoyed this afternoon will stick with us for one more day before much colder air begins working its way into the state by late Wednesday night and Thursday. Colorado will see a chance for snow Thursday and again this weekend, as a pattern shifts toward a colder and more unsettled one to end the year.
Yesterday we posted an early look at the snowfall potential with these two systems for our Weather5280 Insiders. Today, things remain in pretty good agreement with what we were looking at yesterday – it looks like a good chance of snow on the way, though perhaps not the big storm many snow lovers crave.
Forecast
Look for another mild day across most of the state Wednesday, with those changes starting to be felt late in the day across northern Colorado. For the greater Denver metro area, we expect any precip (rain or snow) to hold off until overnight Wednesday into Thursday, with highs Wednesday afternoon near 60 in the city.
Behind the front we will see rain changing quickly to snow, with the best chance of snow for the urban corridor looking to come between midnight Wednesday and noon Thursday. Snow will generally be light, but do plan on giving yourself extra time on the roadways for Thursday morning at least.
Friday will be a dry, but chilly day across northeast Colorado. Highs will likely top out in the 30s for Denver, with breezy conditions at times.
By Saturday we'll be watching for the arrival of another blast of arctic air, which will work to keep the region very cold for both Saturday and Sunday. Highs in Denver Saturday will top out in the teens, with 20s possible for highs Sunday, depending on how things progress.
Christmas looks chilly, but mostly dry across the area. Lows Christmas morning could very easily be below zero if the cold air lingers.
Snowfall Forecast
The upcoming snow will come in two main waves, as discussed above. Both will feature generally light snowfall, but in combination could put down some nice totals in some locales – especially if you end up under a heavier band of fluffy snow on Saturday. The graphic below is the EURO forecast for Denver from today's morning run. The bottom chart shows those two snow chances with the break on Friday, with the above chart showing the step down in temperatures from 60 on Wednesday to teens this weekend. It could be a bit cold for Sunday, but the message remains the same: cold is coming!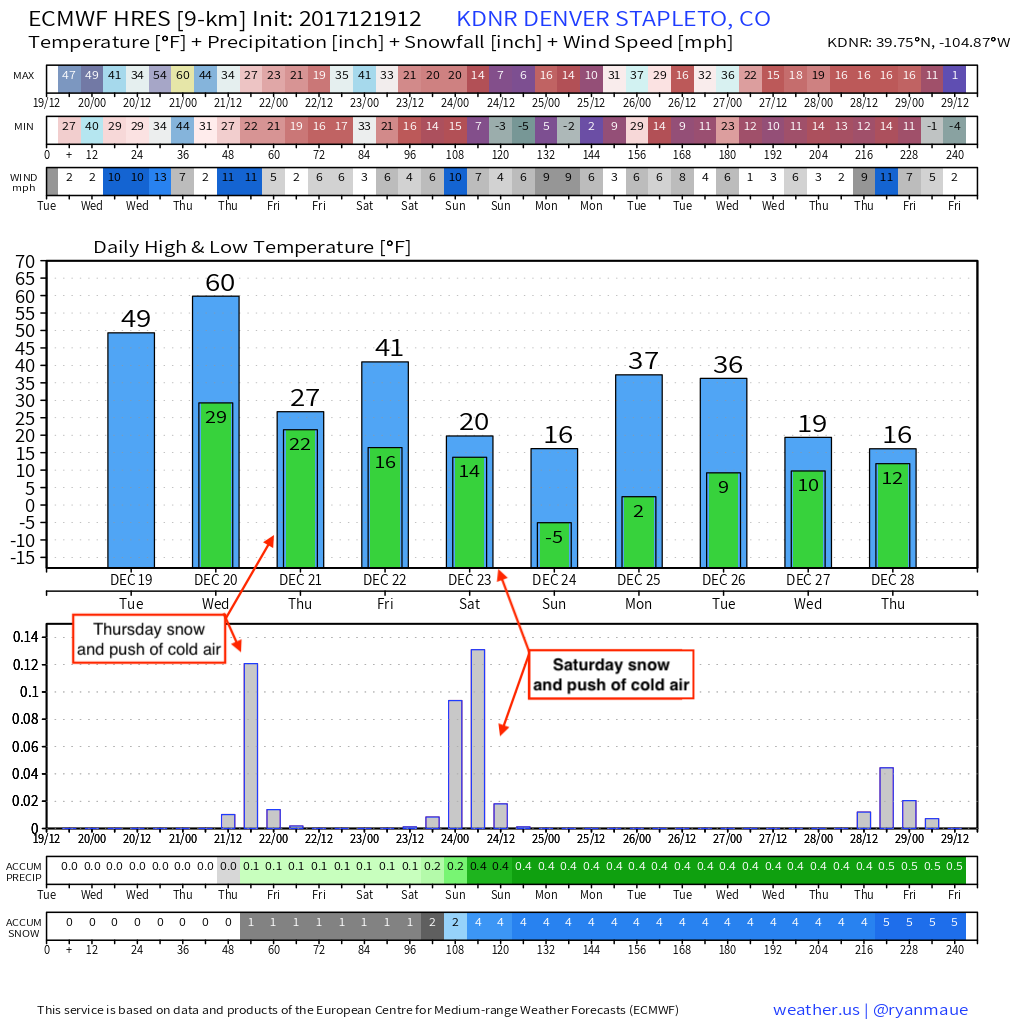 You'll also note in the graphic above it's showing a mean snowfall accumulation in Denver of 4" when considering both storms together. This is assuming a 10:1 snowfall/liquid ratio, which means if accurate, totals would likely be a bit higher than this. It's liquid forecast has been remarkably consistent in recent days and matches its ensemble mean as well, so hard to argue with it too much.
If we look at Colorado Springs we see a similar look, with slightly lower totals likely down that way: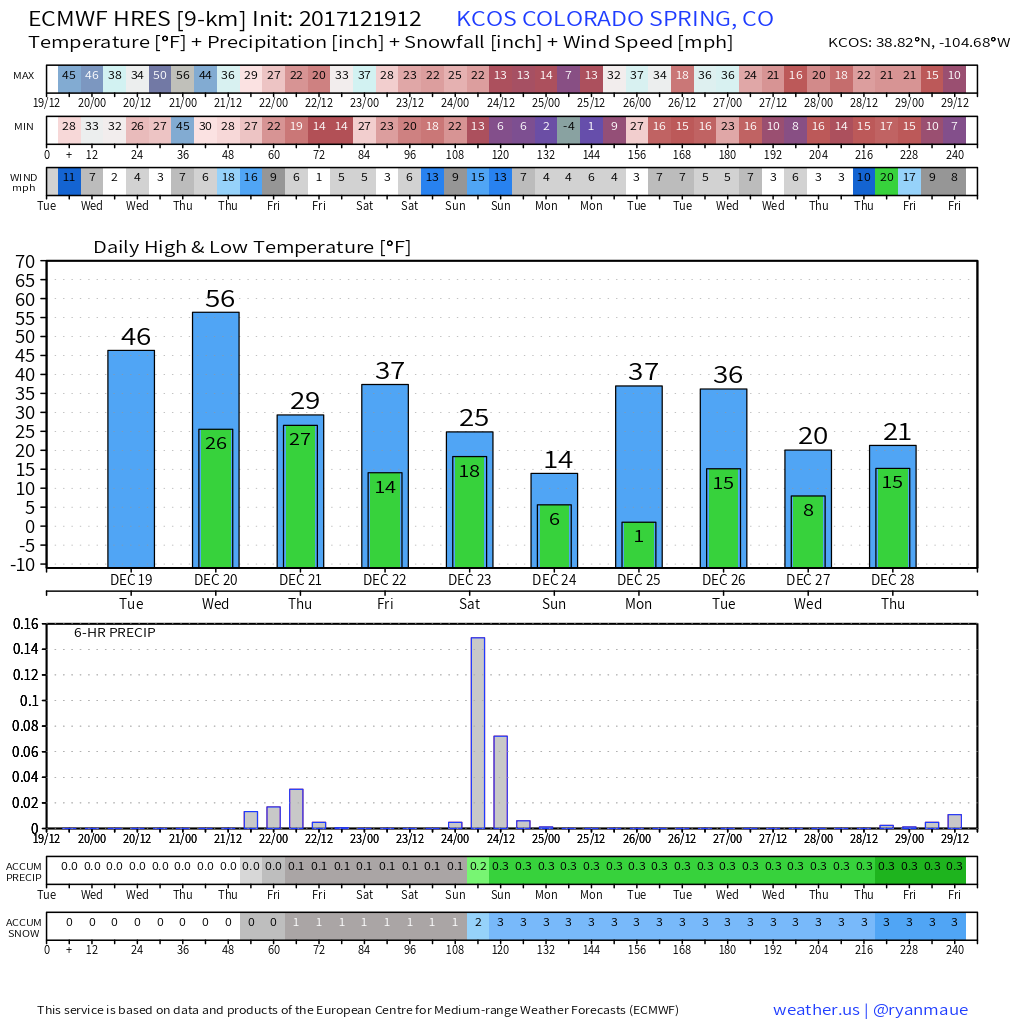 Lastly, if we look at the EURO ensemble probability forecast for more than 3" of snow over the next seven days, we see Denver, Boulder, and Fort Collins all >60%, with Colorado Springs and areas southeast at lower probabilities. This is again based on 10:1 ratios, so look for those probabilities to be a bit higher in all areas than are shown below: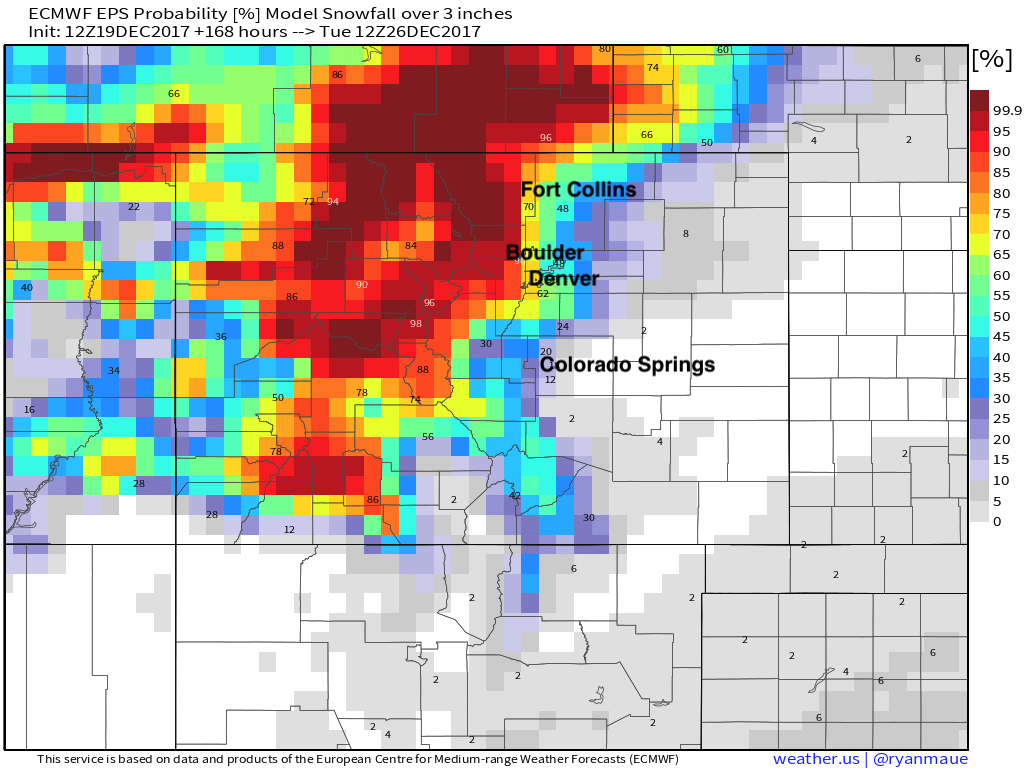 The operational GFS remains more bullish with snow, and consistently so. We'll hedge a bit lower for now, as there's still time to adjust numbers, and these aren't typically favorable setups for over-producers for us. The caveat to that I think will be Saturday, where jet induced snowfall will need to be watched for and considered, in that we could see a few areas end up some decent banded snowfall.
Our initial snowfall forecast is below. We'll make any adjustments that are needed for Thursday's system, and likely need to tweak numbers for Saturday a touch if things change between now and then.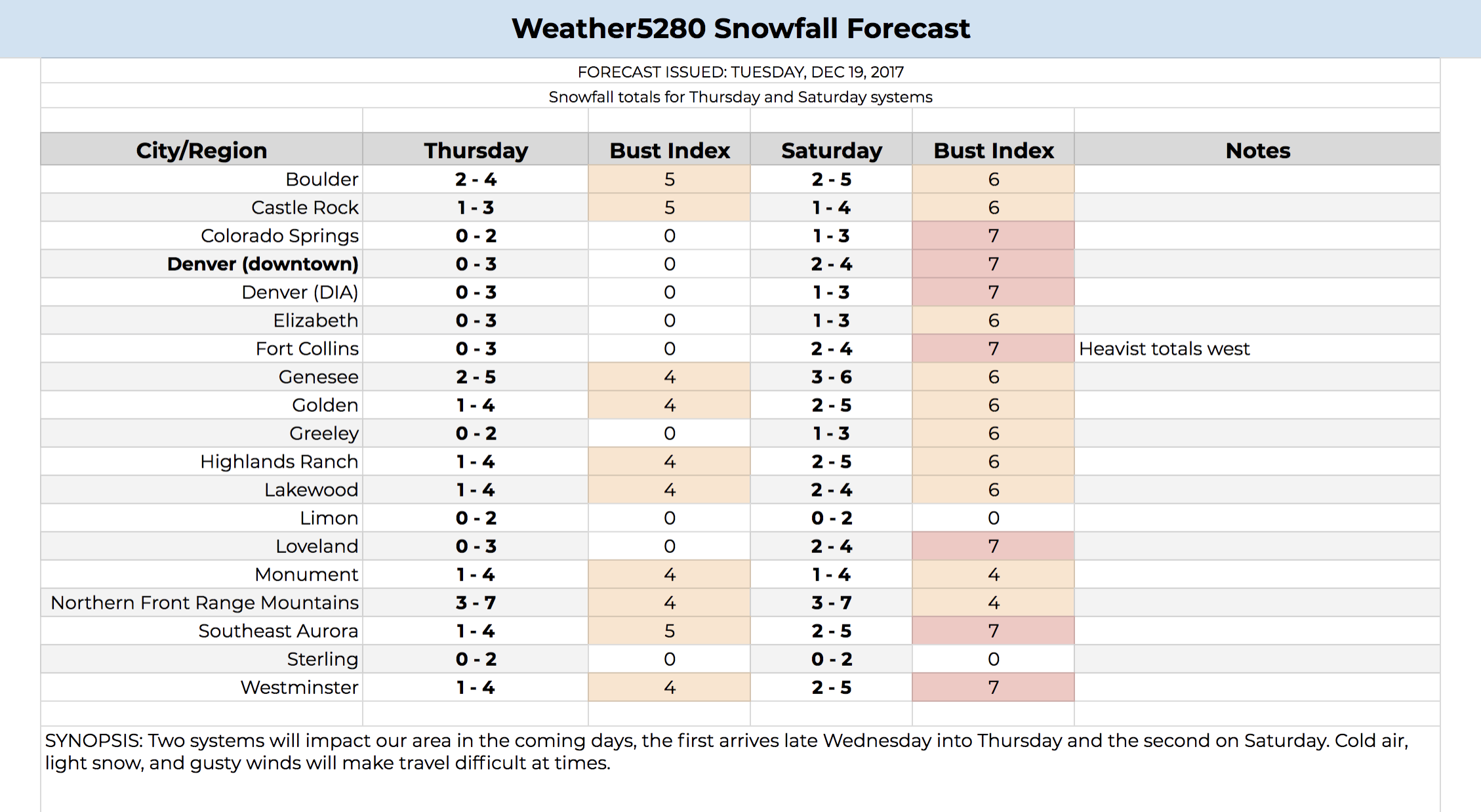 TL;DR
One more warm day before the cold and snow arrive. Light snow is forecast for both Thursday and Saturday, with very cold air moving into the region for your weekend. Look for daytime highs on Saturday to struggle to make it out of the teens, with overnight lows near zero.
While snow will generally be light, expect impacts to your commute on Thursday, and with any last minute shopping you are planning Saturday. With the cold temperature, roads will become snow packed and icy quite quickly.
The snow moves out but cold lingers for Christmas day. Nothing's for sure until that first flake starts to fly, but looks like we may see a white Christmas after all!