We are tracking two systems to impact the week ahead. The first will arrive Monday with cold and some snow. The second will be next weekend. For now, we'll focus on the first.
Monday's weather change will be from a push of colder air from Canada along with cloud cover and some areas of snow.
You can see extensive coverage of cloud cover as indicated here: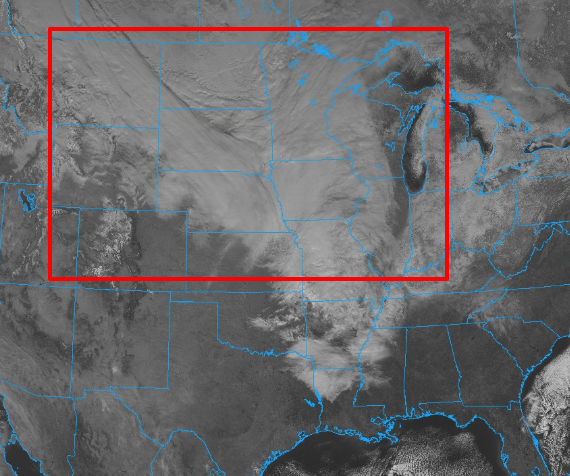 Within that cloud cover there are some areas of snowfall, although only higher intensity in a few areas: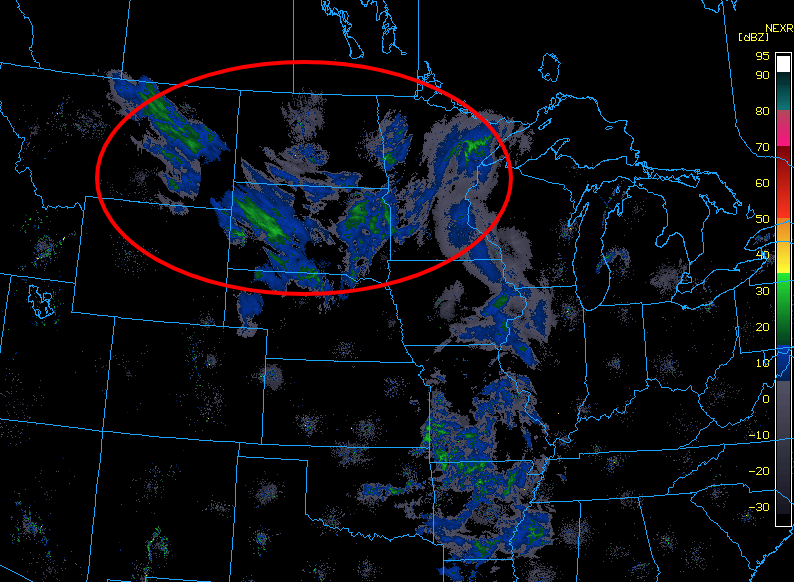 Even the higher intensity areas of snowfall are not expected to produce much accumulation, mostly travel issues from icing over the roadways. The same will be said for what arrives in Denver and the metro areas Monday.
Here is a look at one model's idea of snowfall that is on the way. This is a consistent and similar with other models' ideas too – generally a Trace to 2.5" across eastern Colorado: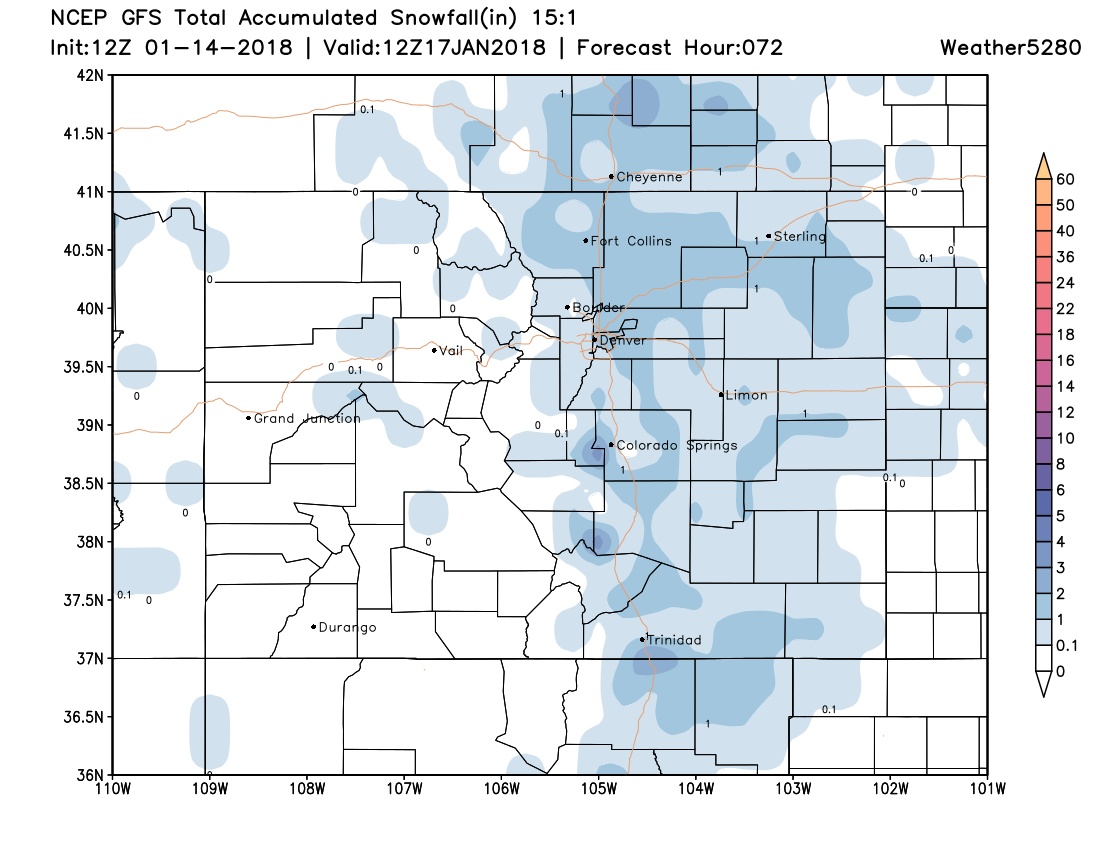 The biggest impact will be the colder air. Here we have an animation of temperatures through 72 hours starting Sunday morning. The cold dives south out of Canada and hits the northern to central plains. You can also see here that the coldest air misses Colorado to the east.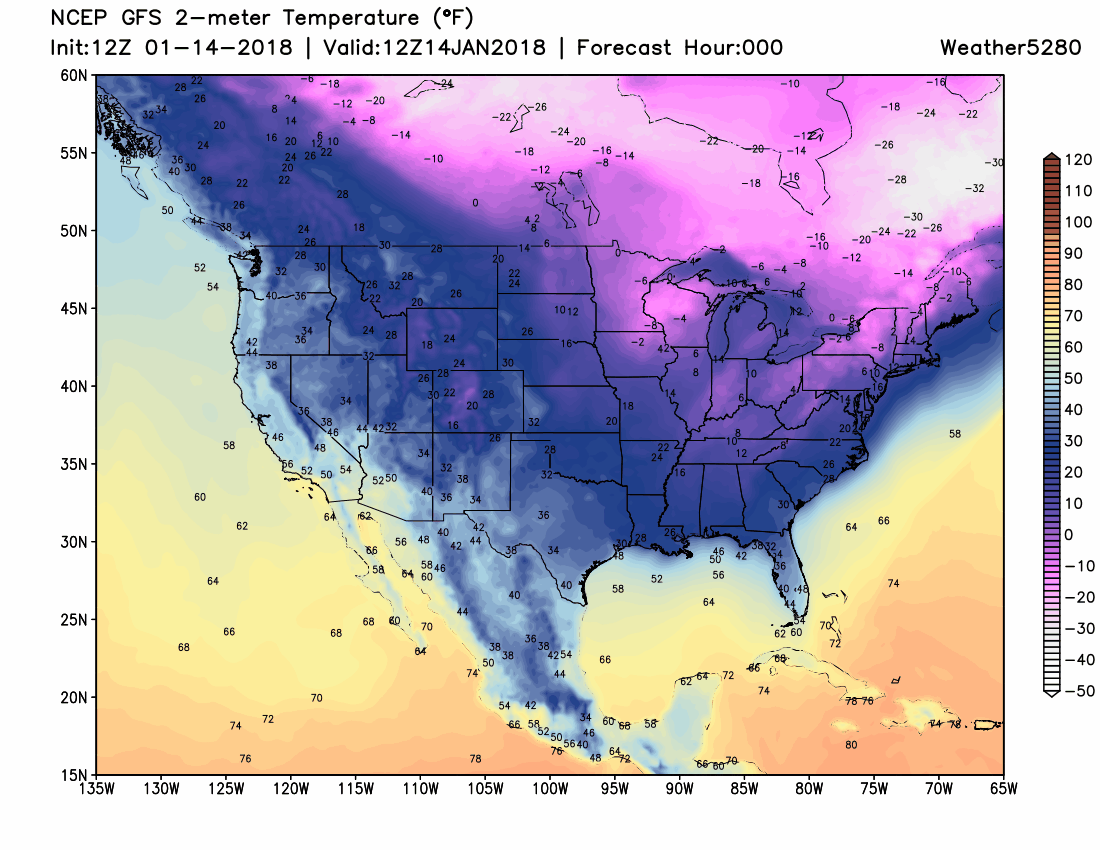 Even still, temperatures will drop to the 20s for highs Monday and will remain near freezing Tuesday for the foothills and metro areas. This is a 30-degree drop coming from Sunday's 50s to Monday's chill.
Here's a handy tool from the NWS showing hourly temperatures, wind, and snow chances. You can see the steady drop in temperatures as the wind blows from the northeast and snow chances begin to climb while you sleep tonight and the chance of snow continues with tomorrow's cloud cover.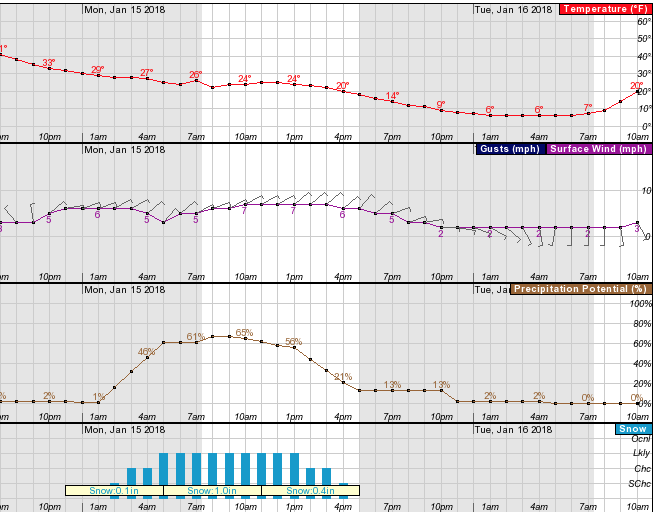 We aren't looking at a significant amount of snowfall, yet we do need to be cautious about icing on the roadways.
Seemingly of late, even the most trivial amount of snowfall has created very dangerous roads with thin layers of ice. So, depending on road crews in your area you may or may not have slick roads for your drive Monday.
As the snow chance ends later Monday and the sky clears we will feel the temperatures drop to the coldest of this system, which will be Monday night through Tuesday morning. Lows that night are likely to drop into the single digits.
Tuesday does warm back to freezing and above, however, despite the frigid start.
By midweek, the temperatures begin warming back to the 50s and 60s, possibly, before another push of cold arrives next weekend. As we discussed in yesterday's Insider update next weekend's system will likely be a bit more impactful across the region, but whether or not we feel any of that along the Front Range urban corridor remains to be seen. Look for further updates on next weekend as the week progresses.