---
Saturday, 9:40pm Insider Update: One last check on the latest data ahead of approaching storm
---
The National Weather Service has issued a Winter Storm Warning for all of northeast Colorado. It goes into effect at midnight tonight and extends through 5pm Sunday. In addition to the snowfall expected during this time, wind and cold temperatures will make travel very difficult Sunday across the region. From the Warning:
As the storm intensifies northerly winds will increase to 25 to
40 mph by Sunday afternoon across the eastern plains. The gusty
winds will produce areas of blowing snow which may reduce
visibilities to less than a mile at times. Snowfall is expected to
decrease from west to east Sunday afternoon and evening.
Our storm right now is moving into the Great Basin, and will eventually move into the Four Corners region tonight, before tracking into southeast Colorado/Western Kansas on Sunday.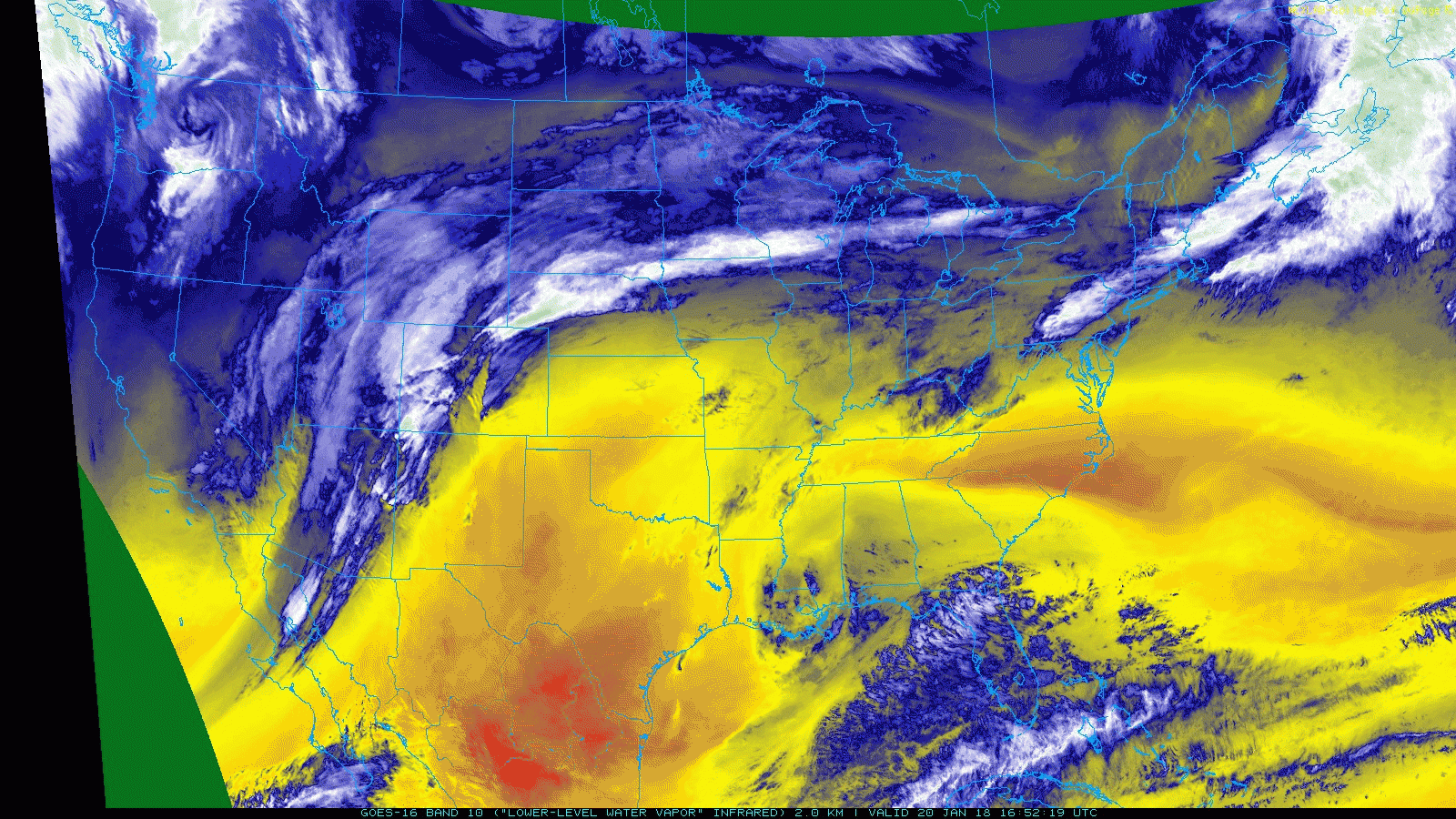 Everything we've been speaking to all week remains true this morning, despite some (expected) wiggling in the models around QPF/snowfall totals. This is a good storm track for snow across northeast Colorado, and with that the boom scenario is certainly in play. However, speed remains a concern of ours, and we see that reflected from time to time in the models as well. IF the storm gets east too quickly before strengthening, it'll be a big-time bust for some of the higher-end snowfall forecasts being issued today. On the other hand, a slightly slower solution would equate to some impressive totals in and around the Denver area, and likely bust our forecast in a few locations.
Latest data
Latest data is a mixed bag, largely due to how each model is handling the speed and timing of intensification of the low. The NAM and GFS products came in drier this morning (the 3km NAM is especially dry for the urban corridor), while the EURO remained very steady. All in all, no big indicator to us that we need to make huge snowfall forecast adjustments one way or another despite moments of blank stares. We've bumped a few locations that were 3 - 7" yesterday to 4 - 9" today, while leaving others unchanged.
While we're leaving Denver at 3 - 7", we aren't blind to the boom high scenario (i.e. the 5 - 10" NWS is going with). While it is possible Denver ends up with 10" of snow from this system, we continue to think it's not the most probable.
Even at 15:1 ratios, our snowfall gambler charts have Denver at 60% for 5" of snow, but dropping to 35% for 6" or more: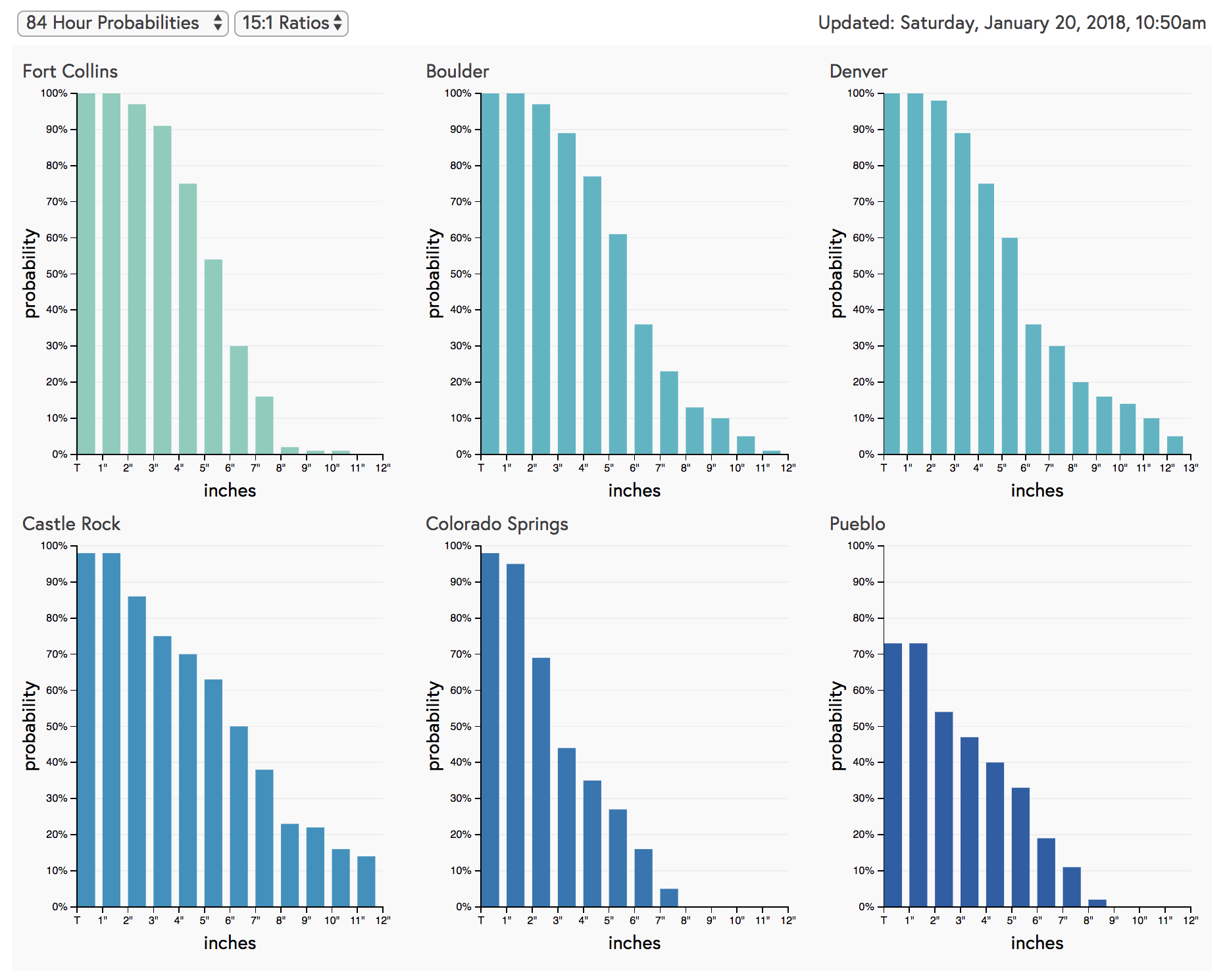 Similarly, (assuming no change this morning) the EURO probabilities have Denver around 98% probability of seeing more than 3" of snow: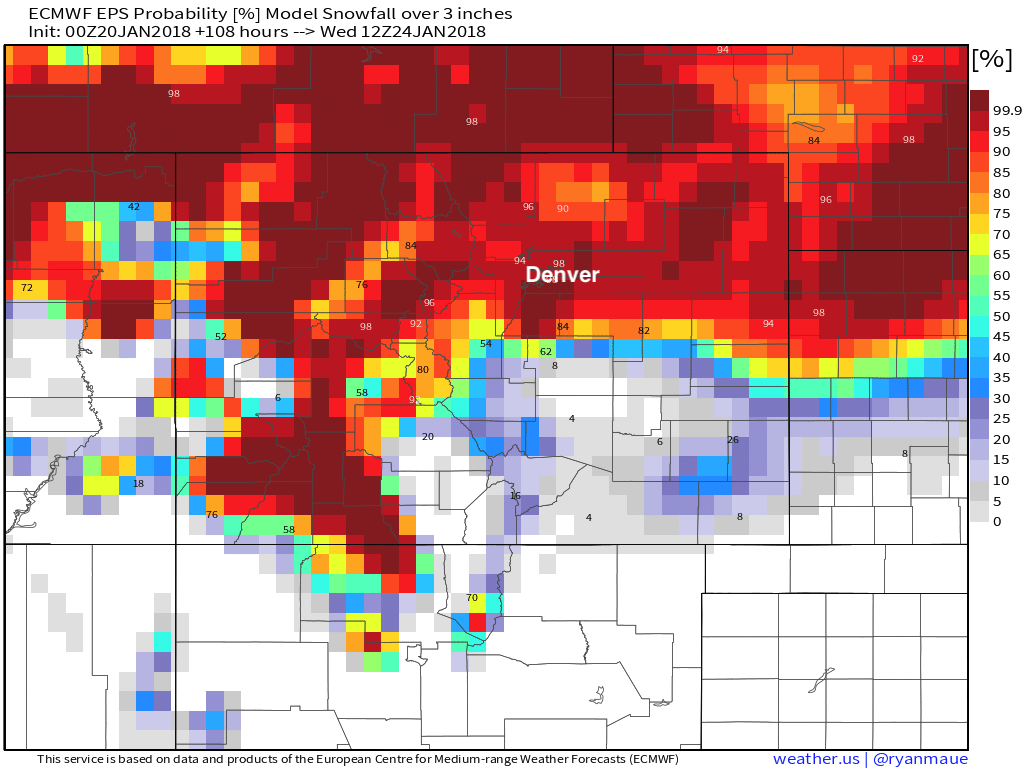 But drops considerably for more than 6" of snow: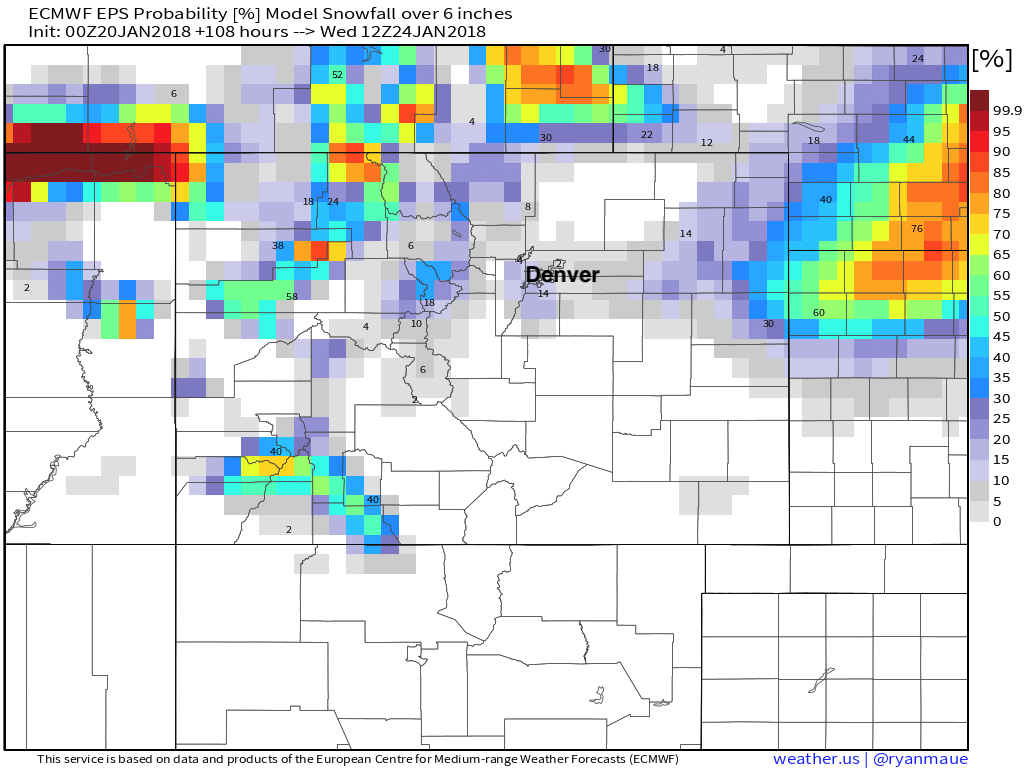 My gut right now is that most areas end up in the 4 - 6" range, with snow-favored locales in the 5 - 10" range. Unless the 3km NAM has a clue, in which case we all see an inch of snow and carry on with our non-winter. It's happened before.
Here are our latest snowfall forecast numbers: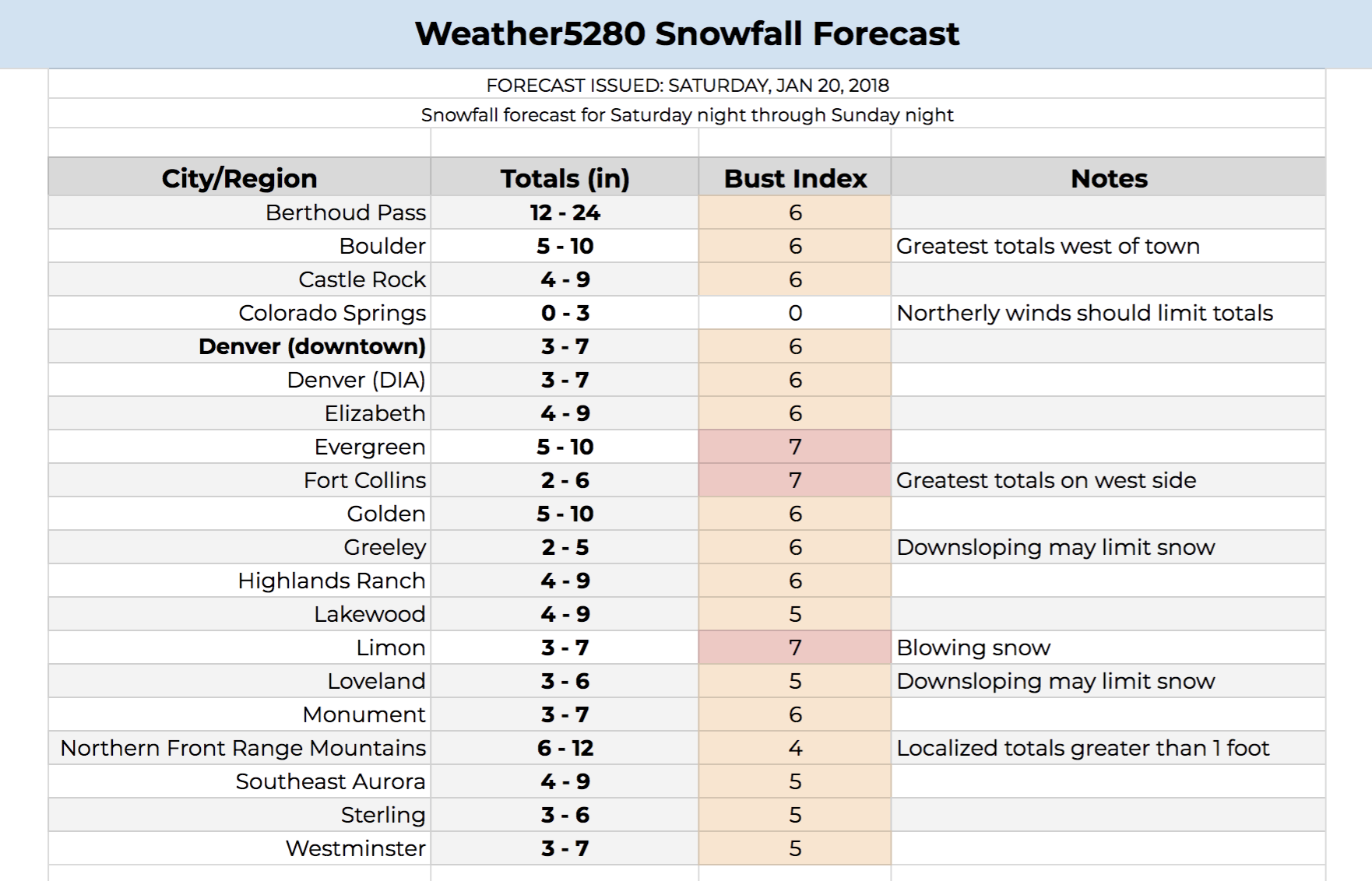 Timing and impacts
It still looks like most of the rain and snow holds off at lower elevations until sometime after midnight tonight. Snow will really get cranking in the high country through the remainder of the day, with a few rain showers possible across lower elevations by this evening as well. The latest HRRR models show snow spilling off the mountains around midnight, which aligns nicely with the timing of the Winter Storm Warning going into effect as well: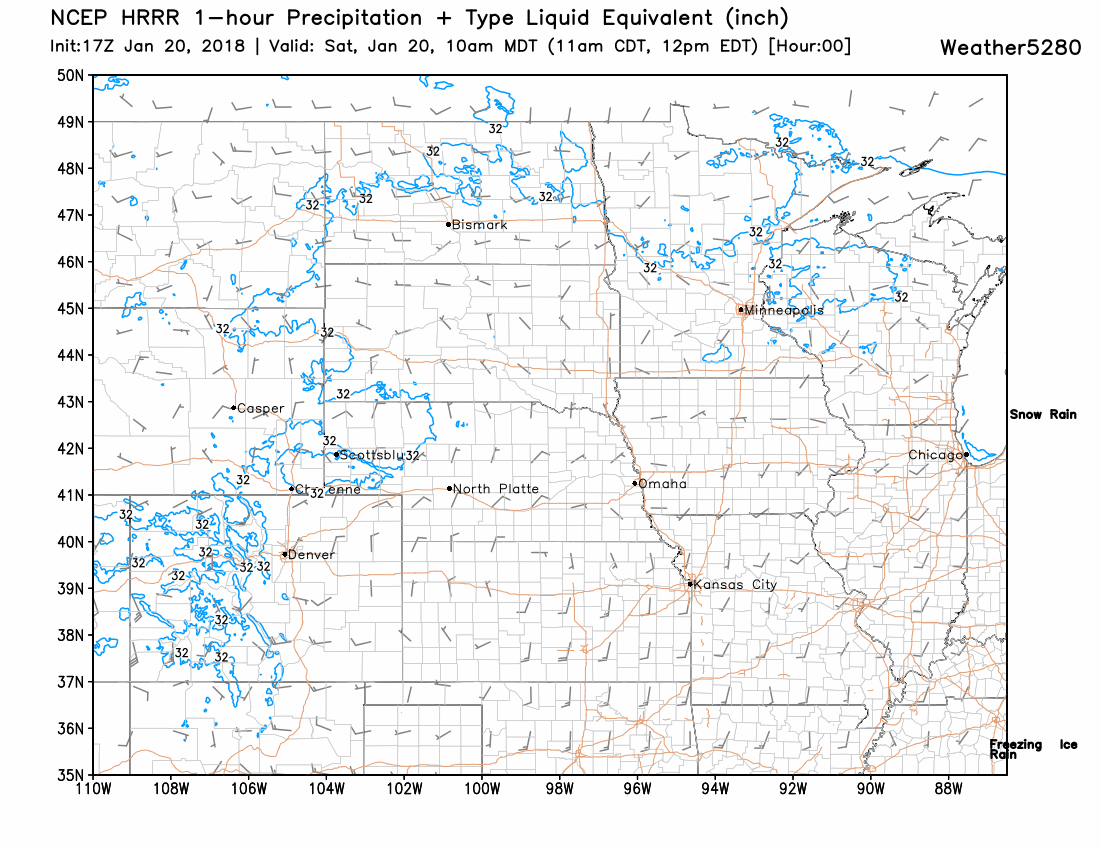 For the urban corridor the heaviest snowfall is expected to fall between midnight tonight and noon Sunday, though lingering light snow will be possible into Sunday evening if upslope continues. Across the plains the heaviest snow and WIND will come during the day Sunday, winding down Sunday night across eastern Colorado.
Whether or not totals come in on the lower end or we end up with a bust forecast and high-end totals regionally, the impacts will remain the same. This is the best setup for widespread accumulating snow that we've seen in a year or so, and this, in addition to the wind, will make travel difficult Sunday. If you don't need to be out on the roads, please don't be.
As always, we love to get your reports. Please comment with how things shake out at your house, and share some pictures as too! We've been talking about this being our "window for winter" for a month now, and it's been far too long – let's make this happen!