The last time Denver received more than 3.0" of snow (officially) from a single storm before yesterday was January 5th, 2017, an eye-popping span of 380 days. The city finally broke the streak on Sunday: Denver International Airport recorded 5.7" of snow, nearly doubling its season to date snowfall total.
At our station (a mile south of downtown) we recorded 5.0" of snow, fitting very comfortably in the 3 - 7" forecast range, and even more comfortably in the 4 - 6" "gut" range from yesterday's post:
My gut right now is that most areas end up in the 4 - 6" range, with snow-favored locales in the 5 - 10" range.
Sure enough most of our forecast areas came in around 4 - 6", with snow-favored locales like Boulder, Golden, and points southeast of Denver ending up more in the 5 - 10" range. In all, a very good storm, and it's about damn time. Here are other totals from around the region, along with our forecasts: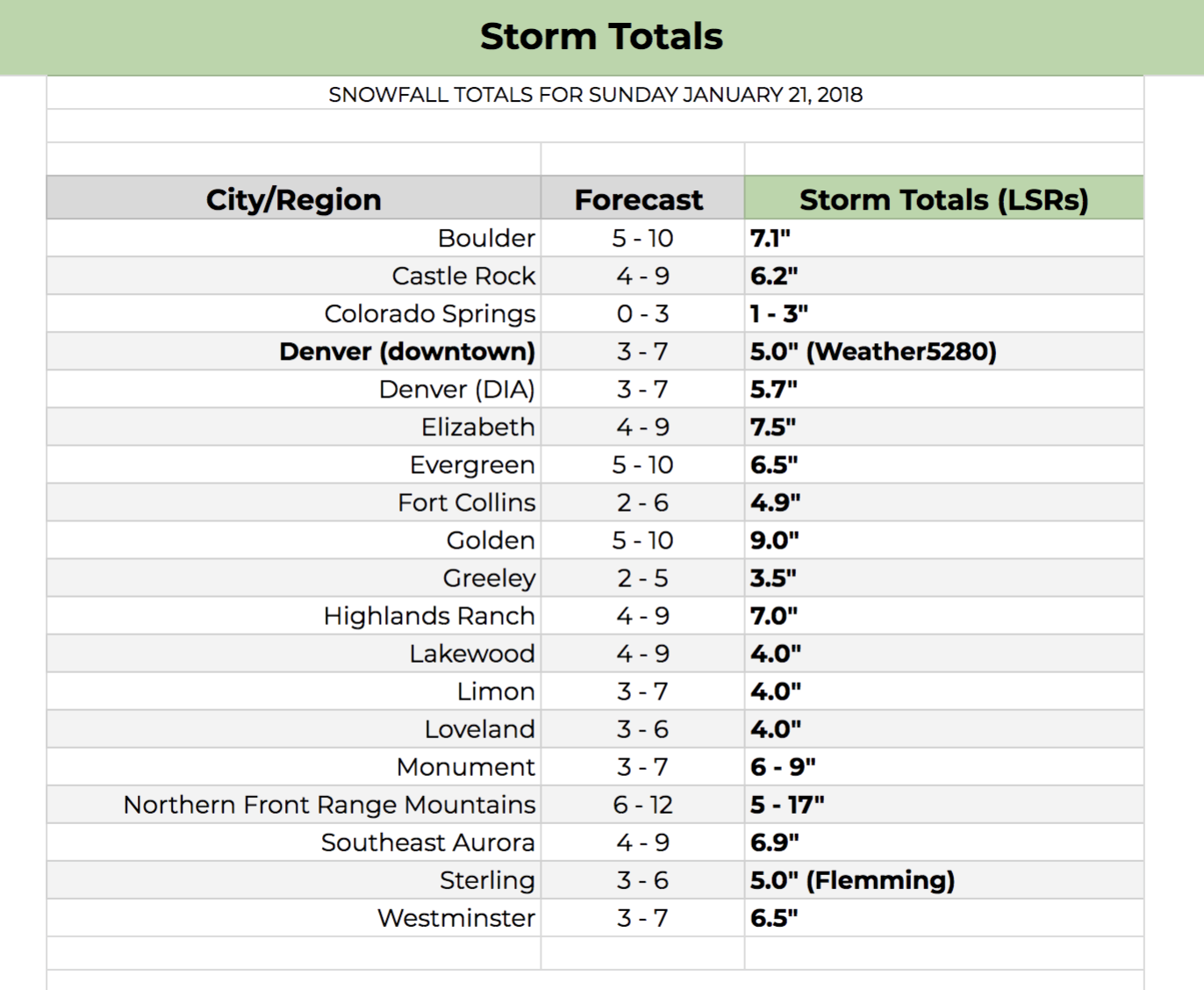 A couple of other snowfall totals include 15" in Conifer, and 17" in Pinecliffe, two areas that almost always do very well in upslope snows. Out across the far eastern plains we also saw some great totals, 8 - 9" being reported in eastern Colorado, with upwards of a foot in western Kansas and Nebraska.
Below are two maps of interpolated snowfall totals over the last 48 hours. The first zoomed out map shows how much great snow we got across the state and the entire region with the heavy snowfall totals we see in Nebraska now spreading into Iowa and Minnesota today:
The second is zoomed on northeast Colorado. Note the areas that saw the best upslope did very well, as well as the extreme eastern plains as the storm strengthened and moved east of Colorado: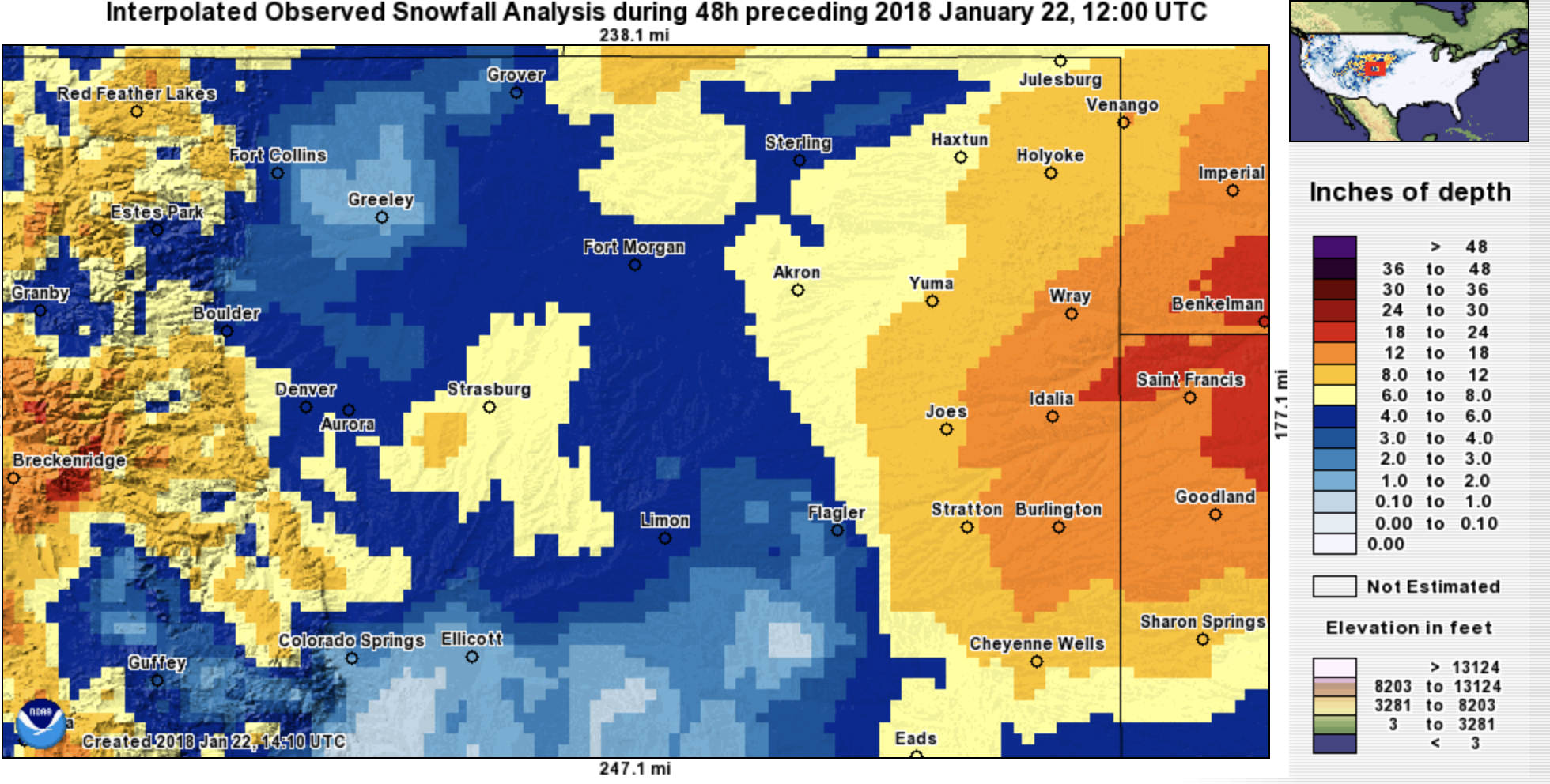 The storm also delivered some much needed snow for the high country, though obviously they need more. It was by no means an epic snow up there, but several inches fell at most resorts, and we continue to see the statewide snowpack inch up, though remain WELL behind where we should be this time of year: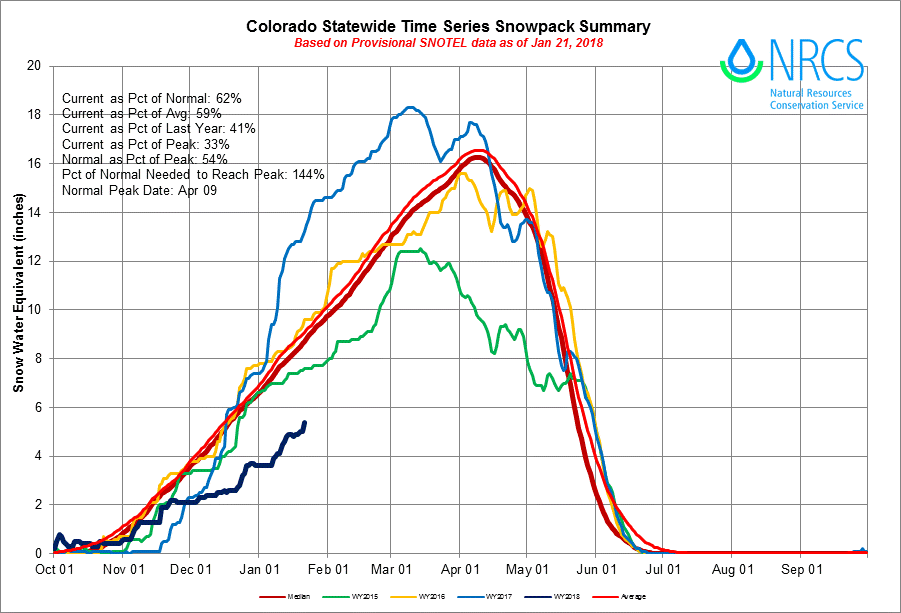 A quick look at the rest of the week shows a mostly quiet weather patterned returning to eastern Colorado, at least through Thursday. Highs will be in the 40s for Denver on Monday and Tuesday before warming into the 50s by Wednesday.
We'll need to keep one eye on a system due to move through on Friday, but for now this looks like mainly a northern mountain event, with just a slight chance for showers across northern Colorado on Friday.