You know the old saying... "northwesterly flow aloft, means precipitation stays north more often than not 🎶"...
Well, this appears to be a textbook case of just this. Our next two systems set to impact the state will have their greatest impacts felt across the northern mountains, and northern plains, leaving most of the greater Denver metro area and southern Colorado in the dust.
In the latest EURO snowfall map you can really see the dominant flow over the next ten days. This will lead to some pretty great snowfall for the mountains of Montana, Wyoming, and northern Colorado – but otherwise the focus will shift east with the wintry weather filling back in across the midwest and on into New England.
Responsible of this mess is the return of the ridge (reds) off the west coast, and a large vortex parked over Canada. This will keep the west dry and move that storm track too far north for Denver, at least for a time.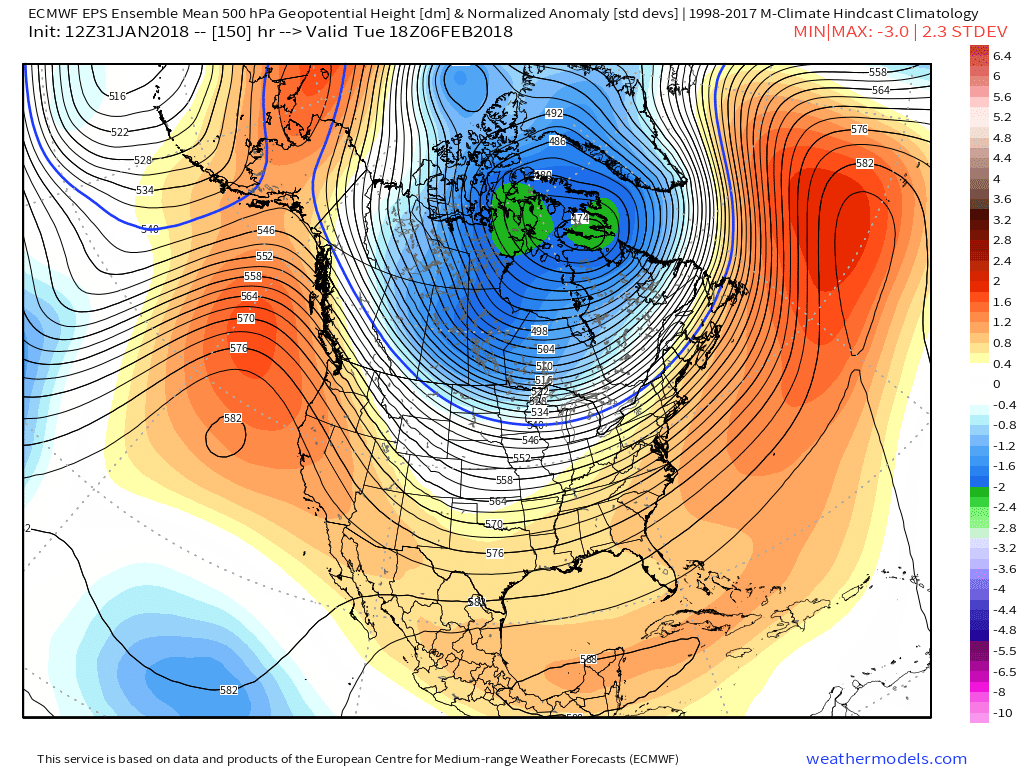 A better snow still on the table for Denver? Perhaps, but it looks increasing doubtful with either tonight/Thursday's system or Sunday's. Both look to deliver some colder air to the Mile High City, perhaps some freezing drizzle and light snow as well, but little in the way off accumulation unless things change in a hurry for Sunday.
Planning forecast
We could see some light precipitation move through Denver tonight and Thursday, but any accumulations of any kind will be light or non-existent. Biggest impact perhaps could come overnight tonight if we happen to see some freezing drizzle – this would lead to some icy spots for your morning commute. Otherwise, look for the main threat for a few snow bands to set up to be north of the Denver area (Loveland, Fort Collins, Greeley, Sterling), with perhaps 1 - 4" of accumulation possible IF you end up under one of these bands: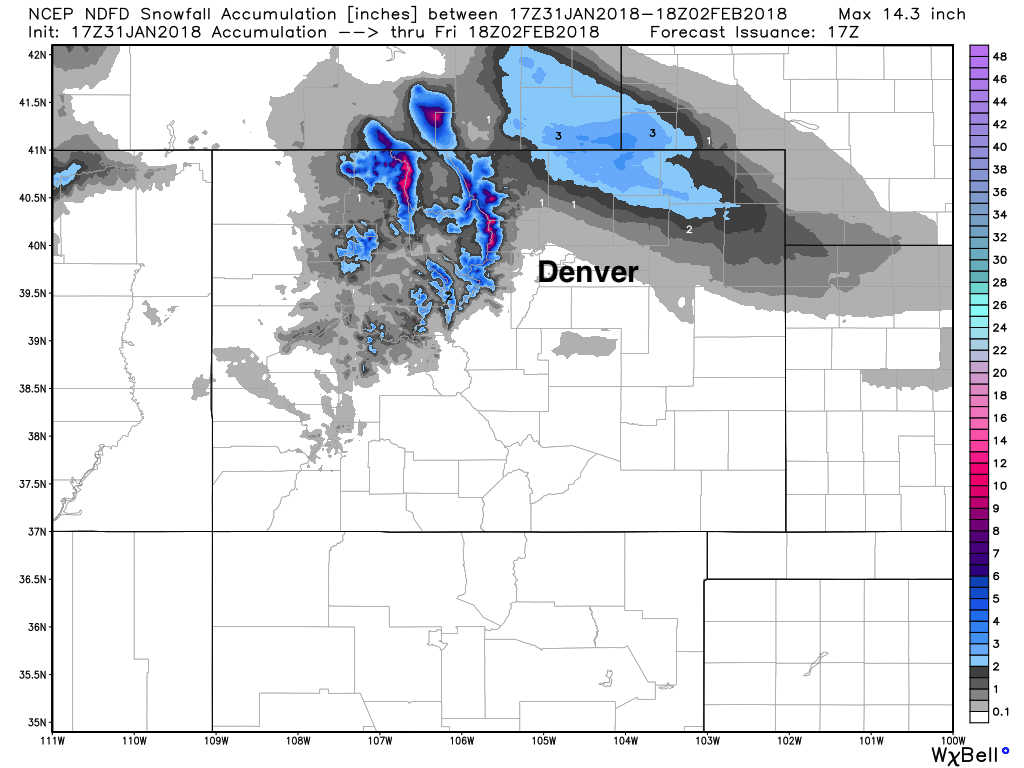 For temperatures, look for highs to cool for your Thursday as well, with MOS guidance showing highs in the 30s for Denver on Thursday.
Friday and Saturday we dry things out and warm up a bit as well. Highs will be in the 50s both days.
Still a bit of a wait and see for the Saturday night Sunday system, but no real indication as of now that it'll be any more impactful than this first system. The GFS has snow on going for the northern mountains through the weekend, with perhaps a few showers drifting across the plains by Saturday. Best "chance" for rain/snow in Denver comes Saturday night and Sunday, but as you can see below... even the GFS keeps us mostly dry, with perhaps a bit better snow shower activity north and east of the city:
Early Sunday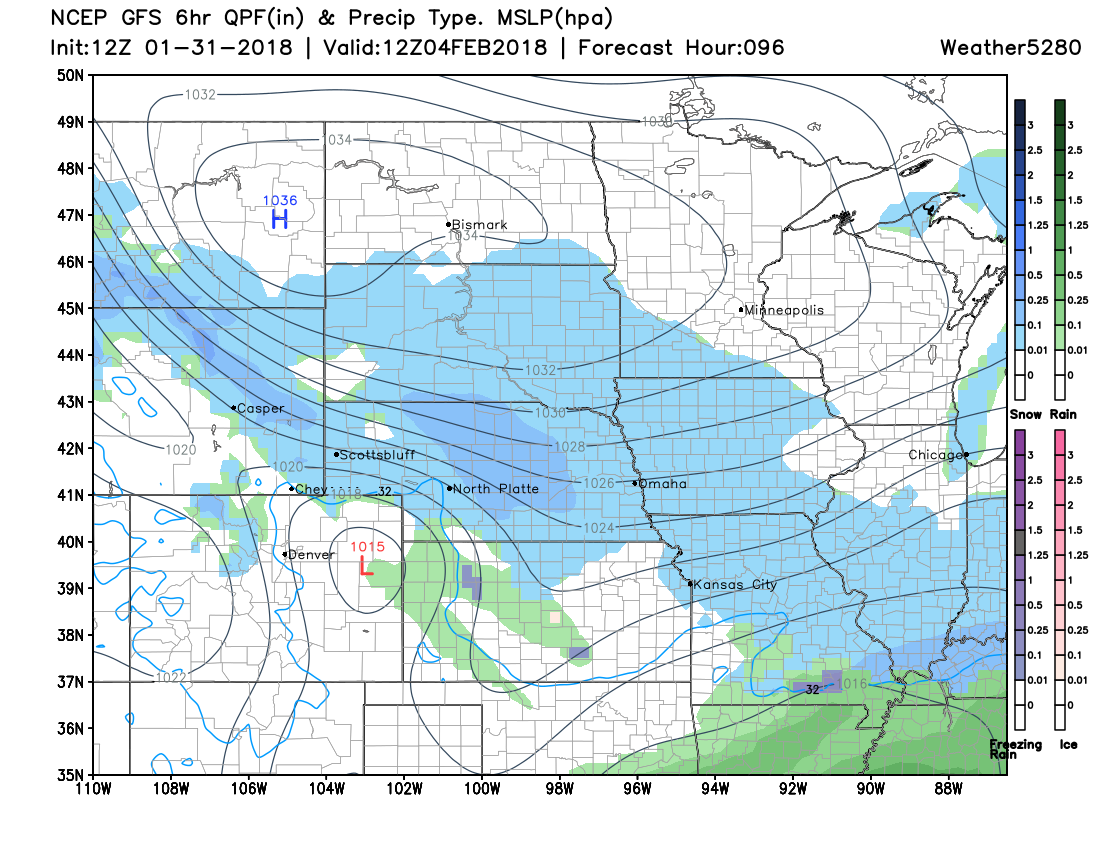 Sunday midday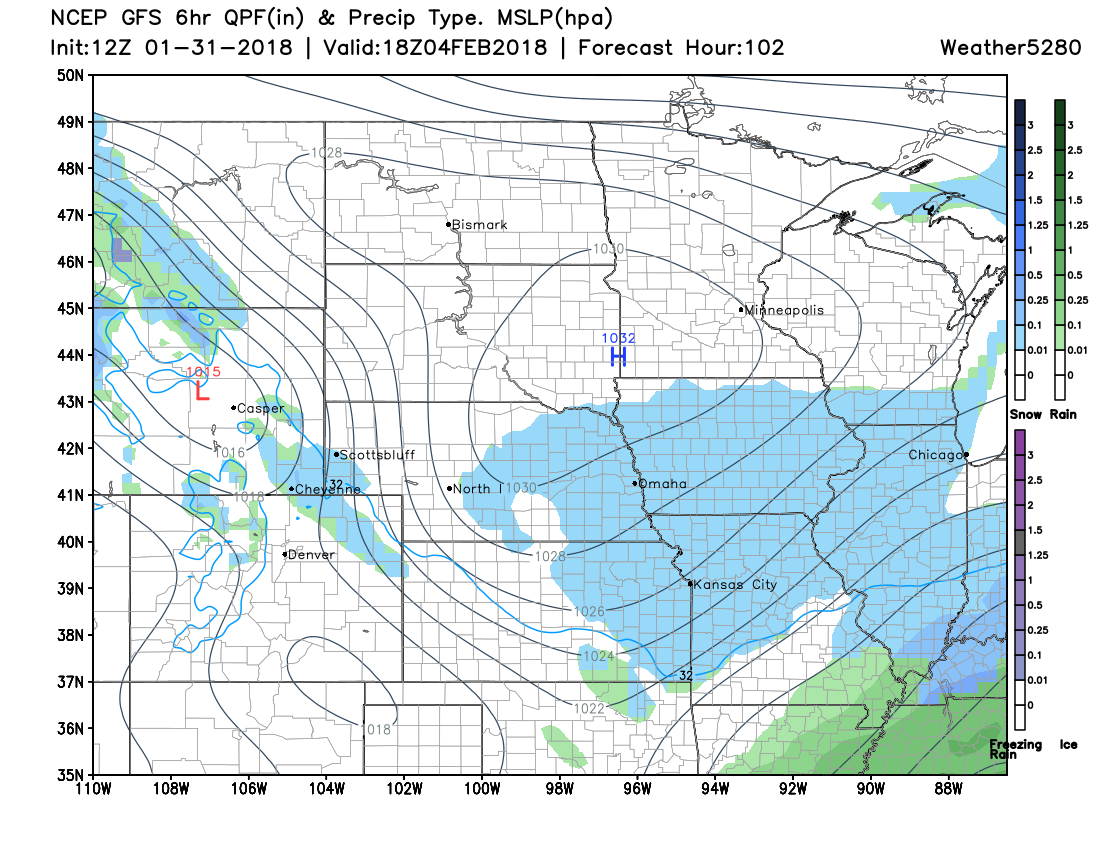 If we can get the jet to sag a bit further south on Sunday perhaps we'll see a better chance of snow back in the forecast. But for now, this seems possible, but not probable.
Yet another similar system could roll through be early/mid next week... but no need to address that one just yet.
In short, plan on a few chillier days as these systems roll through, but if you're looking for snow best to head into the northern mountains or perhaps the northeast plains.