A week ago the GFS was forecasting a beautiful snowstorm and bitterly cold air across the urban corridor for today:

Turns out it wasn't all wrong (just mostly), as shallow cold air did spread across northeast Colorado overnight. Folks woke up with temperatures in the single digits across northeast Colorado, and very shallow upslope (northeasterly wind) squeezing out a dusting or so of snow and some freezing drizzle.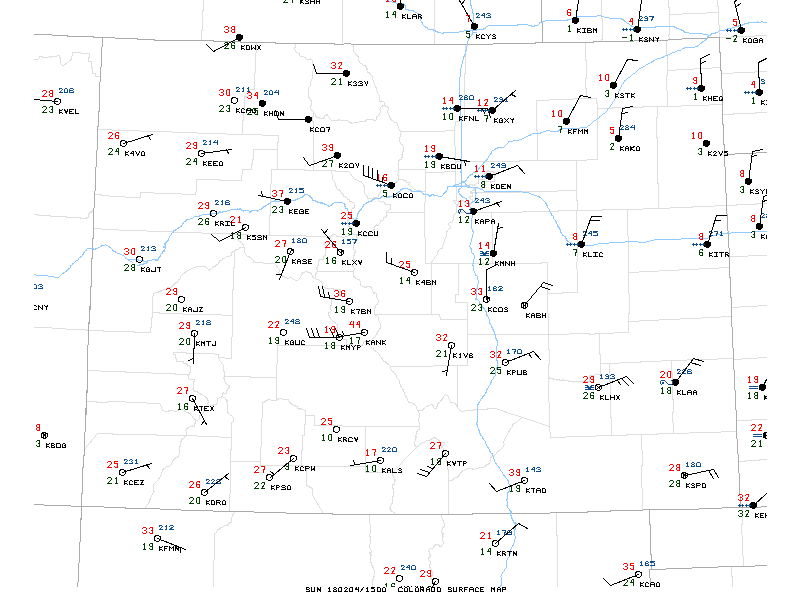 The light precipitation barely registered on radar, but you could see some light snow and ice (reds) pushing into the metro area early this morning: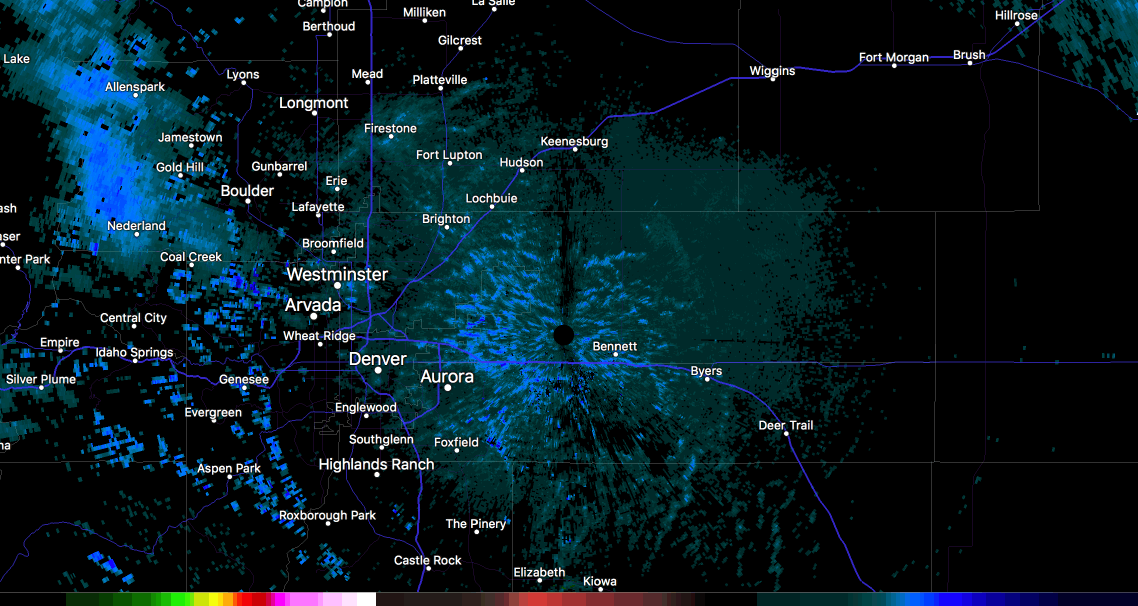 Anyway, we managed about 107 flakes more than I thought we would this morning, as I wasn't all that convinced it'd make it all the way to the city. In a winter of non-winter, these are the kinds of 'busts' I am okay with.
The week ahead
The pattern doesn't change much for the week ahead. That northwesterly flow that continues to bring these shots of snow and cold air will continue to flirt with the state for the foreseeable future. With that, we'll see several more chances for cold air and snow along the Front Range through the middle of the month – the question is if any of them will get their act together a bit more than what we've seen for most of the winter.
Our next chance for that wintry weather comes tomorrow. Another cold front will push into northeast Colorado, as yet another wave rides the northwest flow over Colorado. The combination should bring a chance of rain/snow for most of eastern Colorado from Monday afternoon through Monday night.
As we discussed in our most recent Insider update, this one looks at least a smidge better for the Denver area as compared to last week's system that delivered nice snows for the northern urban corridor but little anywhere else. But as data rolls in this morning, a smidge might even be a generous forecast.
Unfortunately, this next system doesn't look as snowy as it once did – but I probably don't need to tell you that. Still, it looks like at least a chance of light snow for most along the urban corridor, with somewhere in the Trace to 3" range for snow totals through Tuesday. I think most areas will end up in the dusting to 1" range, with outliers seeing the 2 - 3" totals. So, not a huge deal, but enough to make your commutes icy again late Monday and Tuesday.
Here's the EURO forecast for south Denver, showing just over an inch of snow, with a pretty good agreement between its control (blue bars) and ensemble mean (green bars) forecast: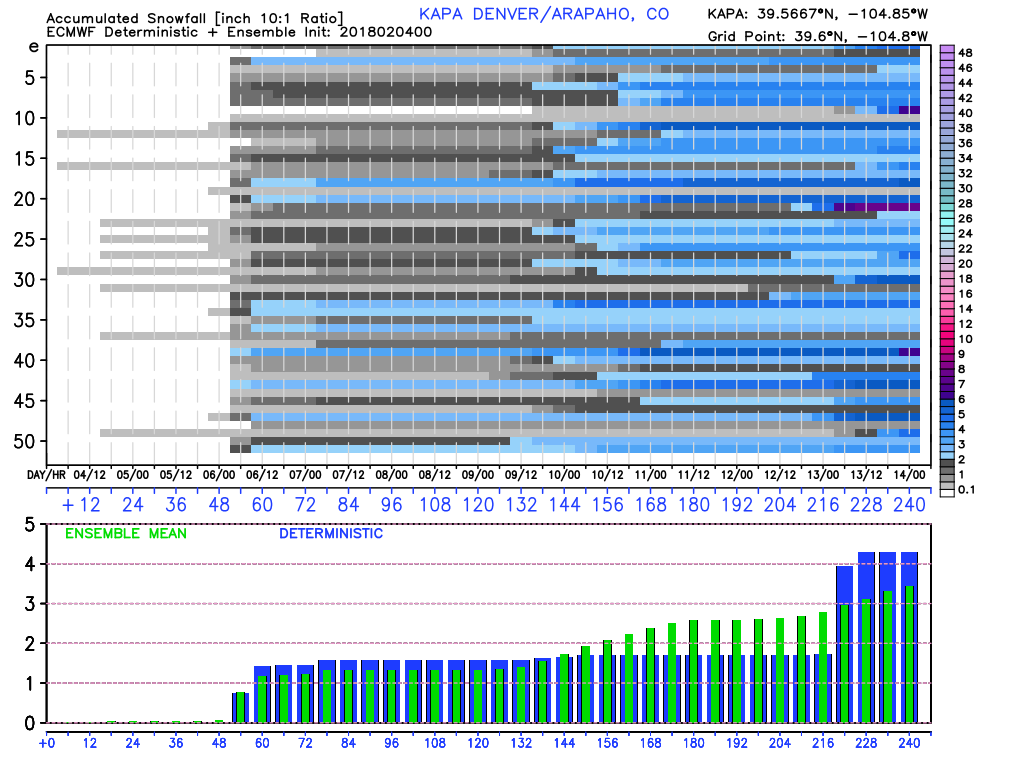 Similarly, we see okay agreement for Colorado Springs, with perhaps just a slightly higher total potential favored here (the GFS shows this too). Both would fit okay into the Trace - 3" range.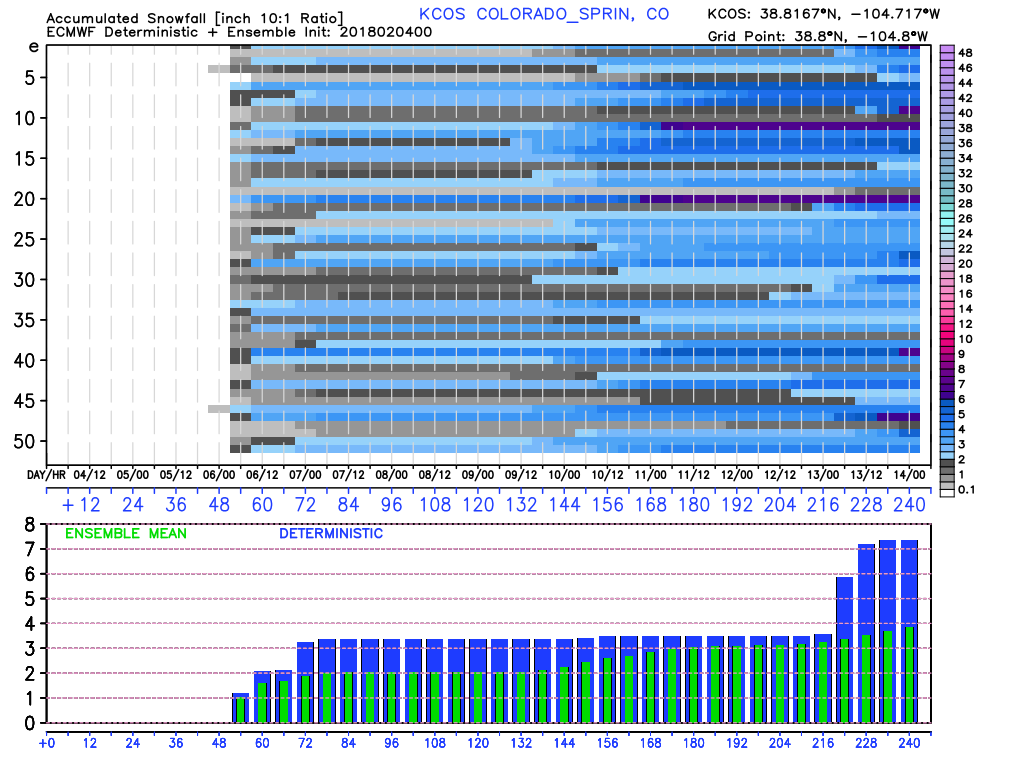 This is reflected in our gambler charts as well. With COS seeing some of the best odds at breaking the 1" mark, but most areas should manage at least a Trace of snow.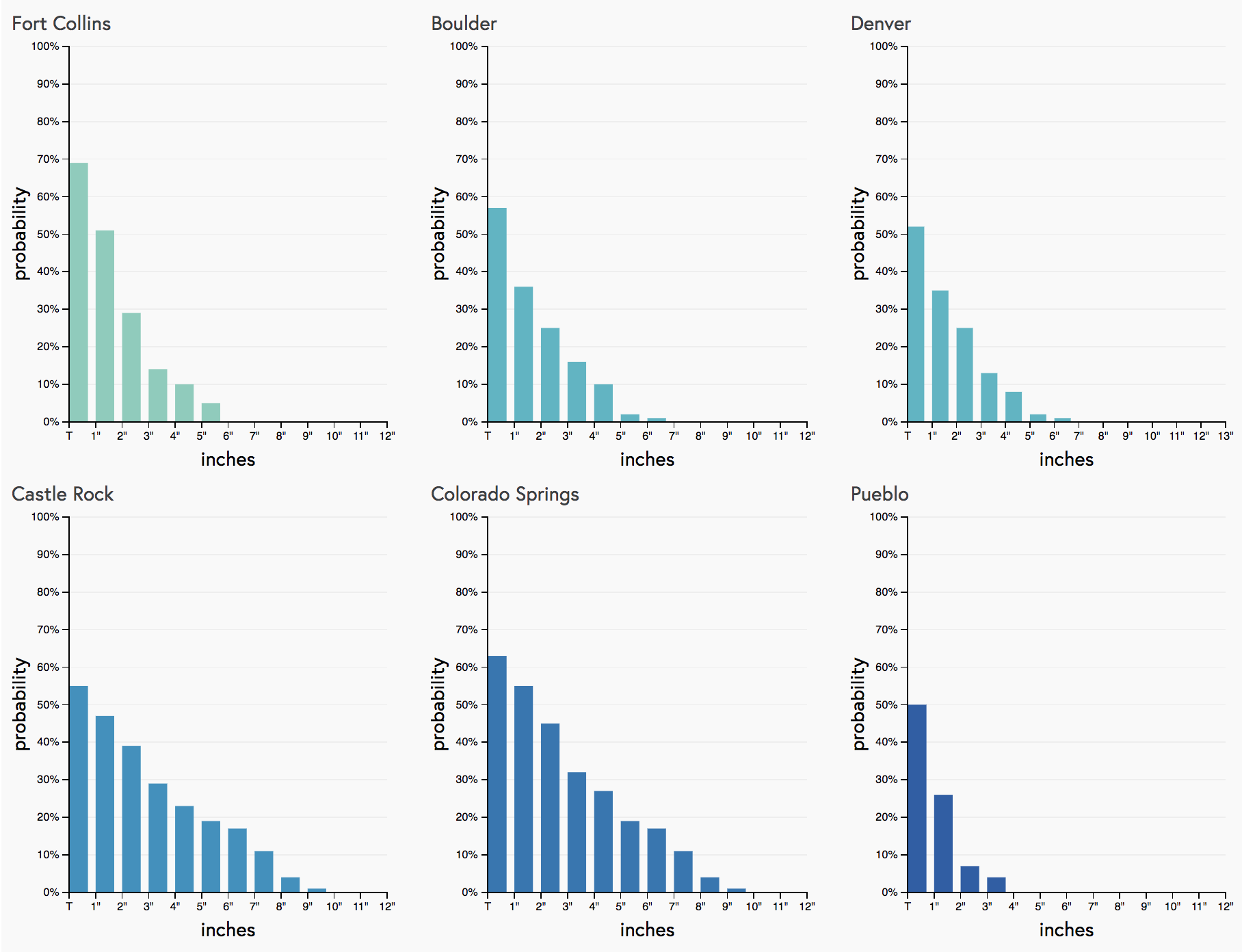 If we look at the 25th percentile (below top) forecast from the WPC and the 50th percentile forecast (below bottom), I think we end up somewhere in between. Again, the northern and central mountains will see the best snowfall over the next several days, with lesser totals east: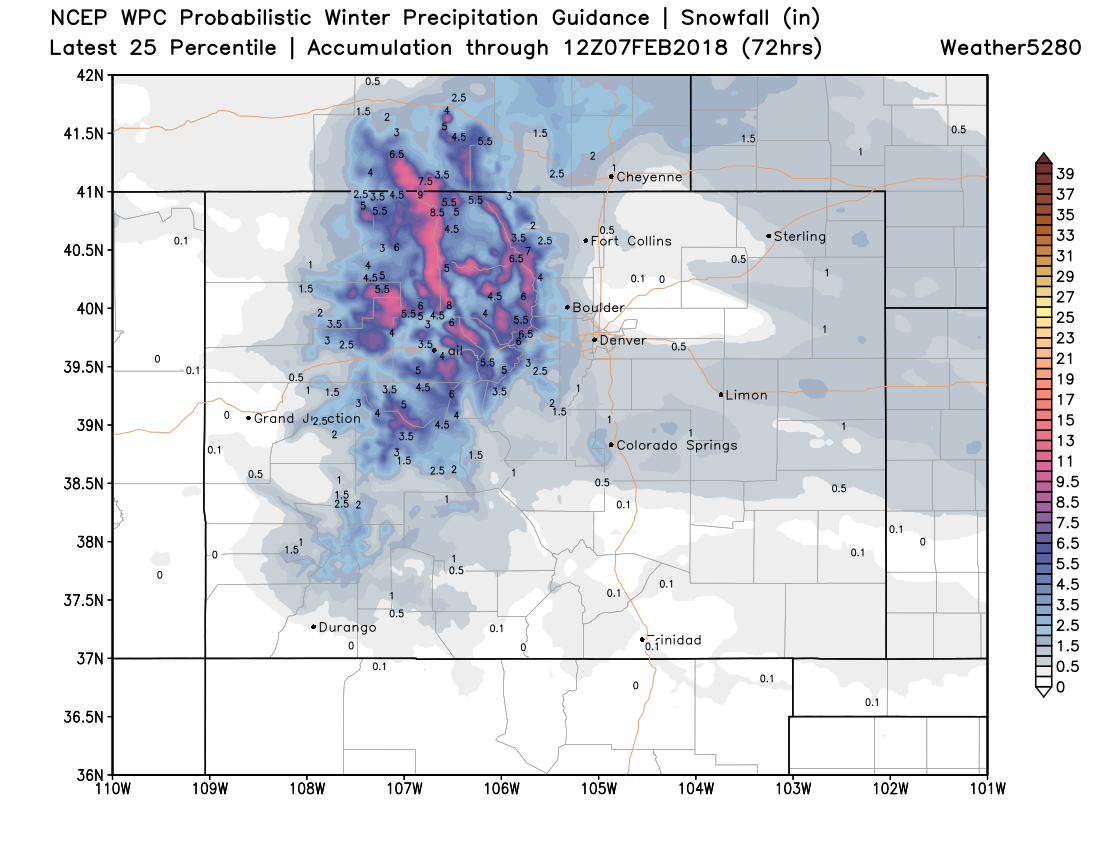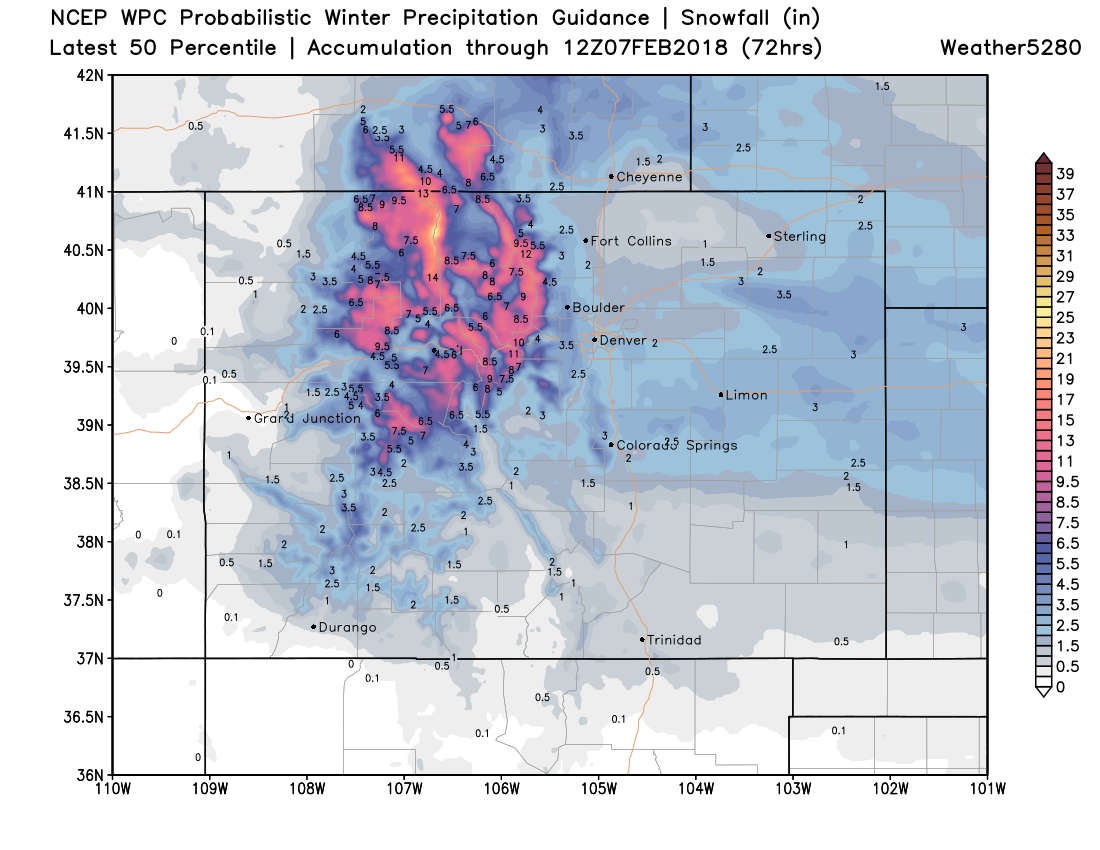 The rest of the week will feature more of the same. We'll see a warm-up for your Wednesday and Thursday (50s likely), then a cooler day Friday with perhaps another quick shot of rain and snow as well. This system also does not look that impressive right now, but we'll keep an eye on it.
By next weekend models drop a large cutoff low into the Great Basin but never really progress it east. We see the flow split over Colorado which typically isn't indicative of a great setup east of the Rockies... but models are trying to pull yet another round of snow down the Front Range along with another blast of cold air, so we'll keep an eye on things. Overall an unsettled pattern, but we have yet to key in on any one of these systems managing to deliver any significant snow. For now we focus on Monday/Tuesday, then see how things progress as the week continues.