In a good mood all around today, as our forecast worked out pretty well yesterday for the most part, and where it didn't we were perhaps a bit low – not high – which is very much welcome given the lack of snow this season.
We received 3.0" on the nose at our station yesterday, bringing our season to date snowfall to 16.1". Denver International Airport logged the city's official total for this storm at 2.2" – nicely within the forecast range.
If we look at interpolated snowfall reports for the last 48 hours from the National Weather Service, our forecast actually holds up very well. There were a few 6 - 7" reports from Denver's southern suburbs that aren't reflected here it appears... and if true, we were a bit low in our graphical forecast, though did mention the potential for 6" totals on Friday if you ended up under a heavier band. It could be that not all of the data has been aggregated yet for this storm.
First, here's a look at 48 hour snowfall totals from across the entire state. Great to see so much of the high country reporting 6 - 12"+ inches of fresh snow this weekend.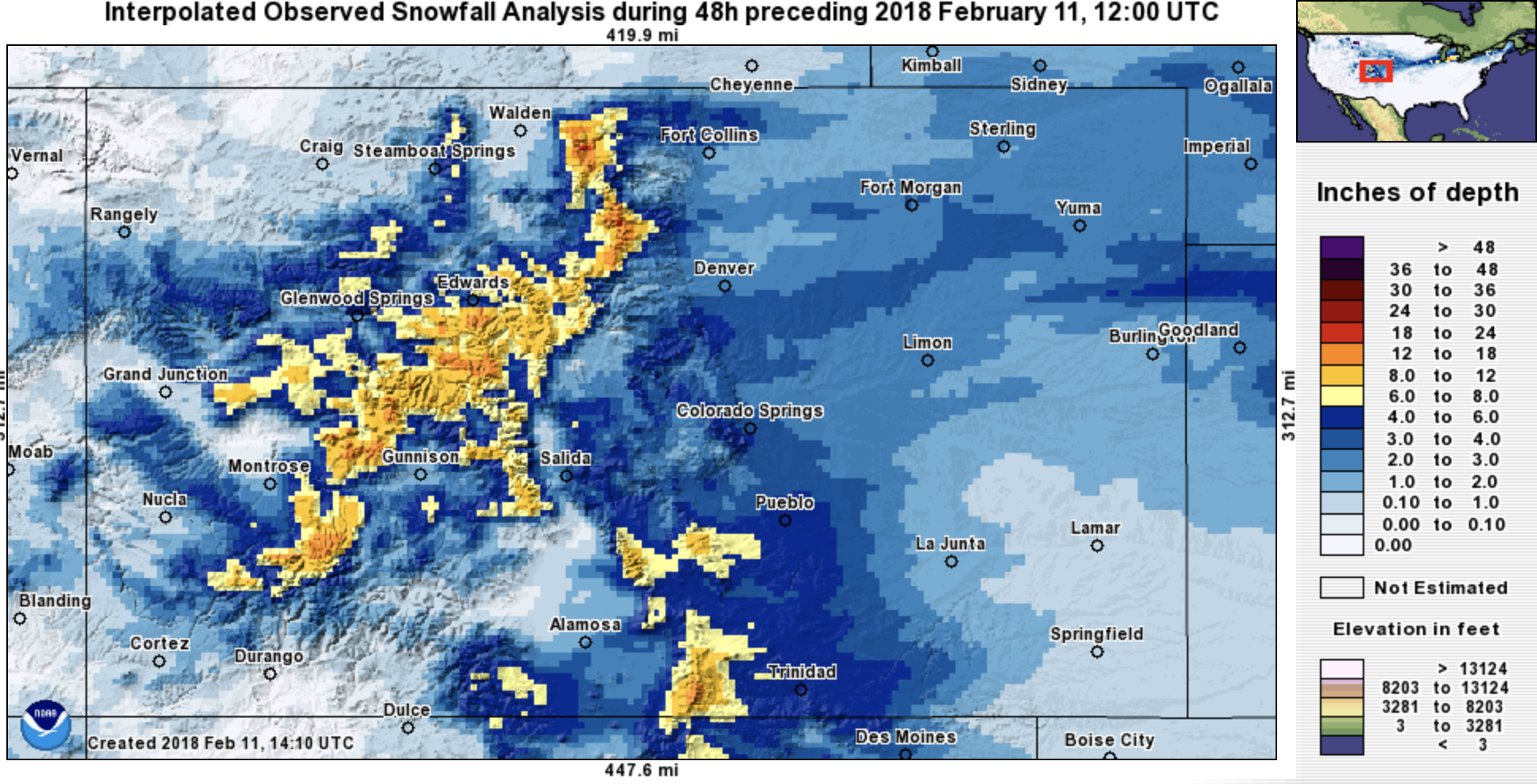 If we zoom in on our forecast region... you should see a map that looks very similar to the forecast we put out on Friday. Of note, that main band we talked about did end up setting up on the Denver's south side, with widespread 3 - 4" totals (though I think there were probably more 5 - 6" totals in here than indicated), with also some pretty nice snowfall totals in the Colorado Springs area, with 3 - 4" over much of the city: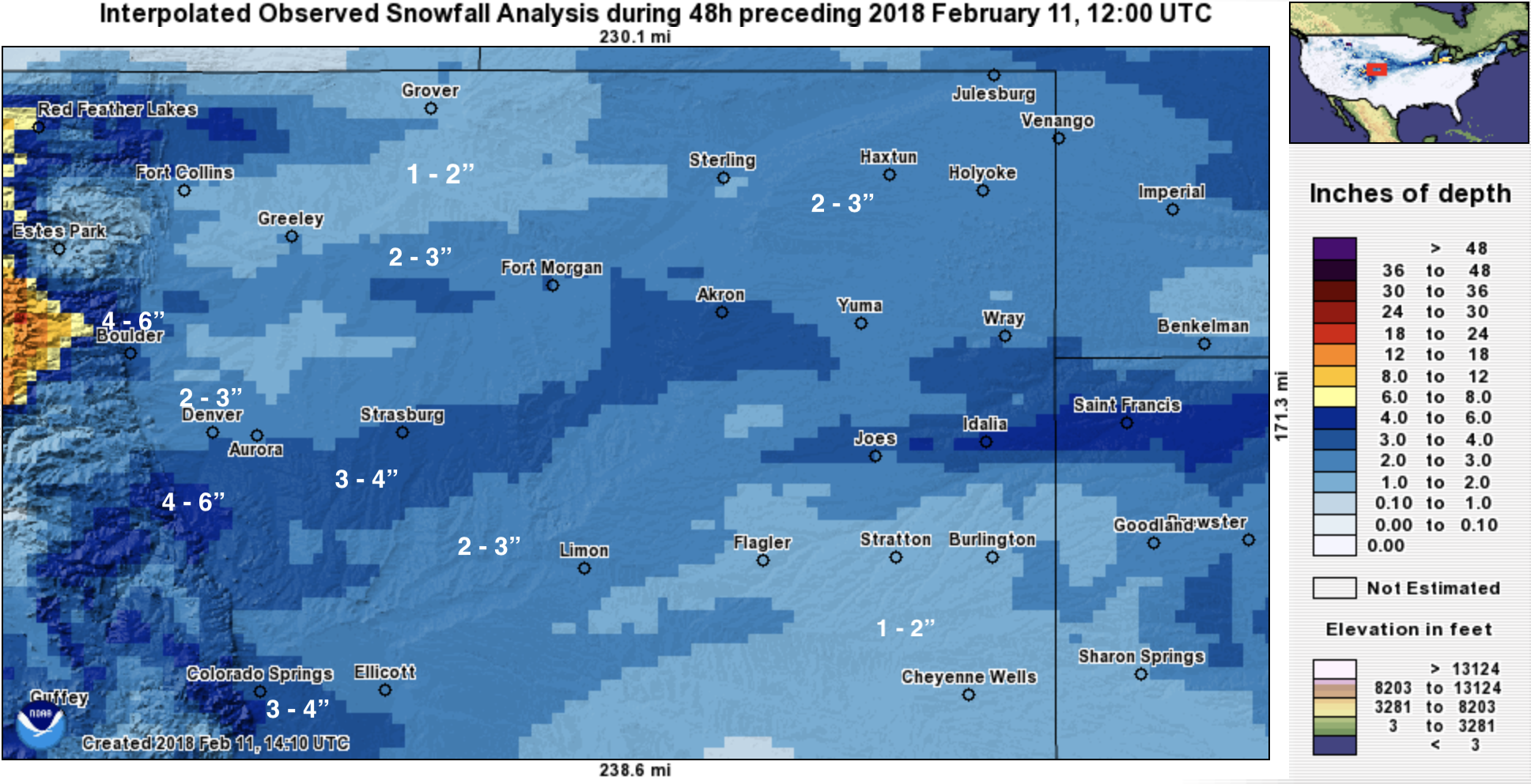 Today, the sun has returned though temperatures remain chilly. We'll slowly warm as we start the work week, with highs Monday still chilly (30s for Denver), but warming into the 50s by Tuesday.
Another week, another cold front, another chance for snow
The coming week looks much like the last several weeks. We'll see a chilly start, then a few days of warm temperatures ahead of the next cold front set to arrive later this coming week.
As noted above, Monday will remain pretty cold across northeast Colorado. Look for a slight chance of rain and snow as well, especially north of Denver. Most modeling keeps the city proper dry. The latest 3km NAM shows a bit of rain/snow around Monday morning north of Denver: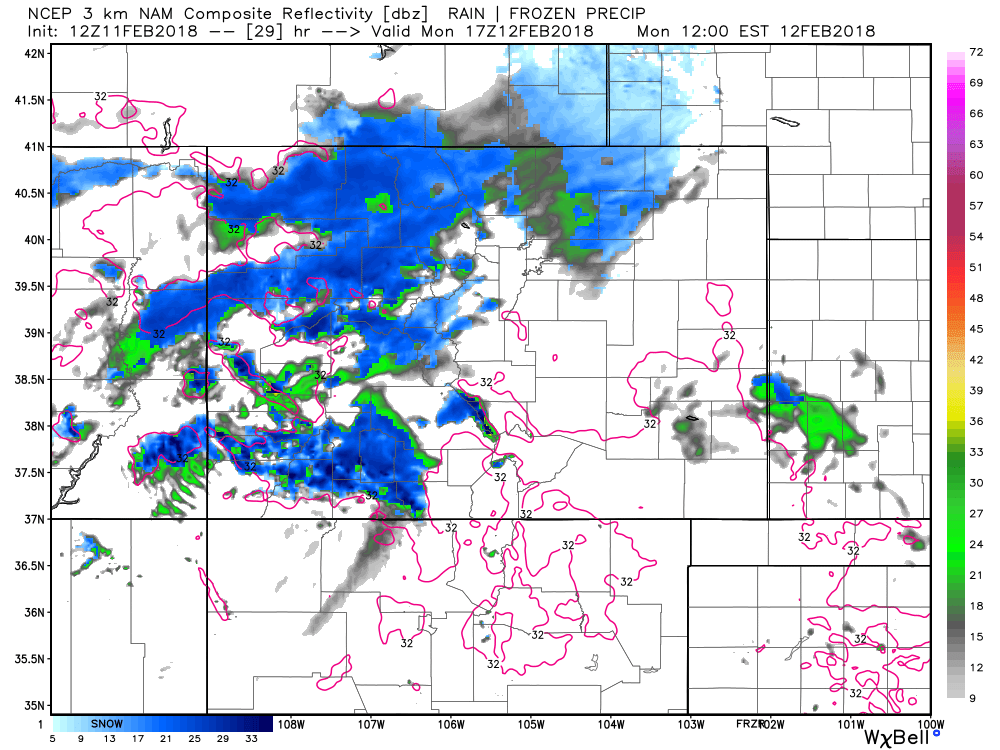 But any totals should remain light east of the mountains:
In the mountains, look for another good round of snow to start the week... a pattern that looks to continue as we move into the second half of February.
By Tuesday we dry things out and warm things up east of the mountains. Highs should climb back into the 50s and remain pleasant until our next potential cold front which arrives on Thursday.
The EURO daily chart shows this nicely. It has a high of 28°F on Monday, followed by 50s for Tuesday and Wednesday, before dropping highs back into the 30s and 40s for Thursday and Friday. You can see in the second chart the precipitation chance for Thursday PM into Friday, with this particular model showing about 0.2" QPF at this time.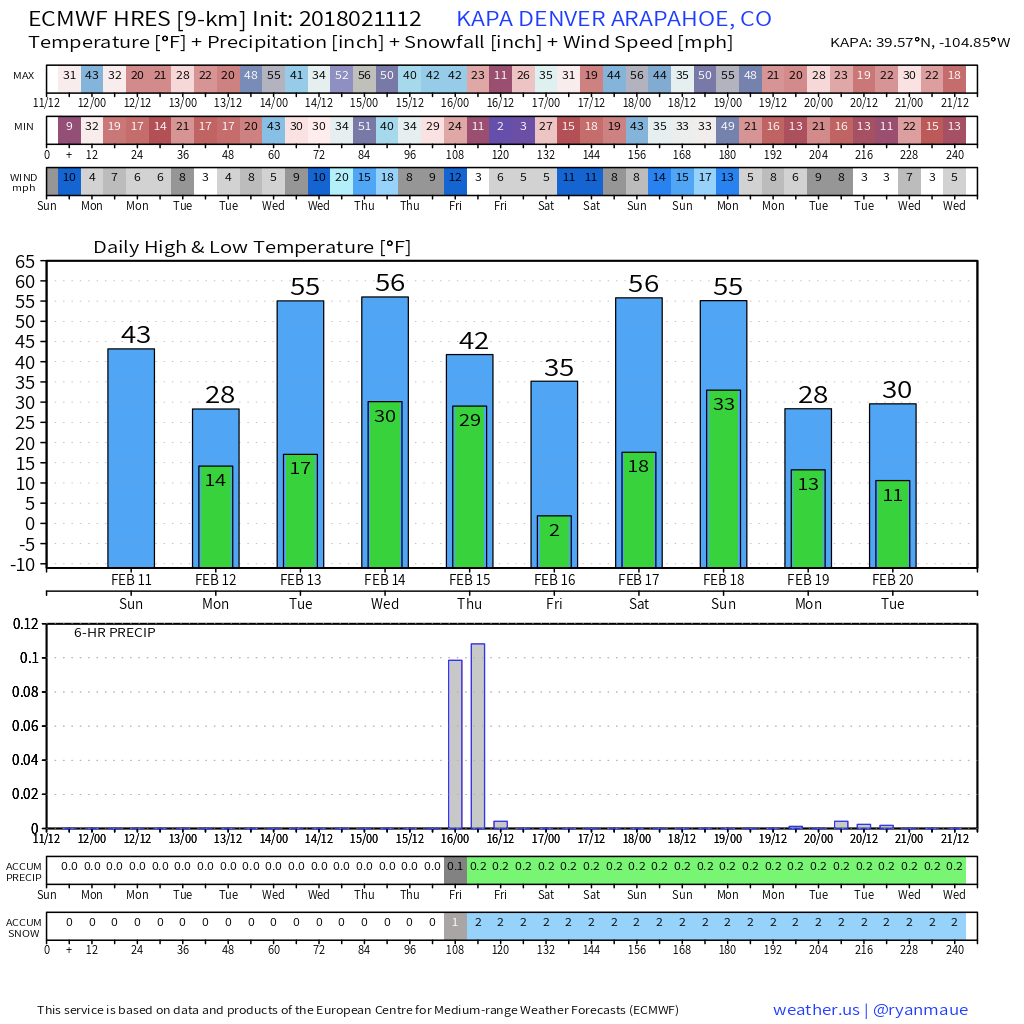 While the GFS and EURO are both in pretty good agreement with regard to this Thursday system today... they haven't been overall. The GFS has generally been warmer/drier, keeping the cold front east. Today it digs a bit more, and thus shows a bit more of a chance for snow along the I-25 urban corridor to end the week.
A lot of time here... so something to watch, but certainly nothing to write in stone just yet.
Snowpack comment
While this weekend helped, snowpack in the high country remains well below average statewide. As you can see, in recent weeks the trajectory has been about right – but we need to be recording above average snowfall if we're going to try and make up lost ground.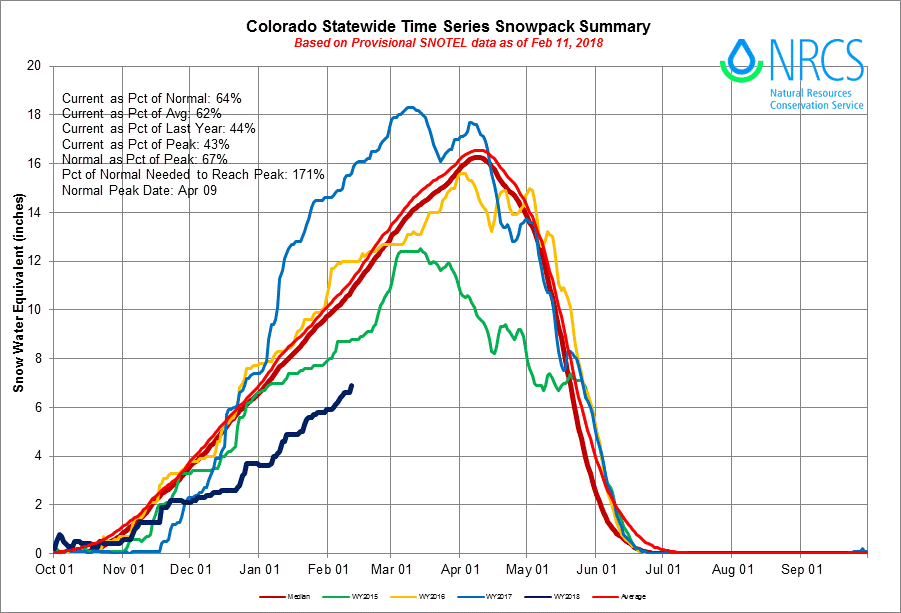 Some indication we'll see a good period of mountain snow as we head into the next 10 - 15 days. The PNA looks to remain negative and the MJO is stuck (for now) in phase 7, both of which support troughing in the west, and a good setup for our mountains to see snow. This is reflected in the latest EURO ensemble forecast, showing the potential for above average snowfall across western Colorado over the next two weeks. One can hope!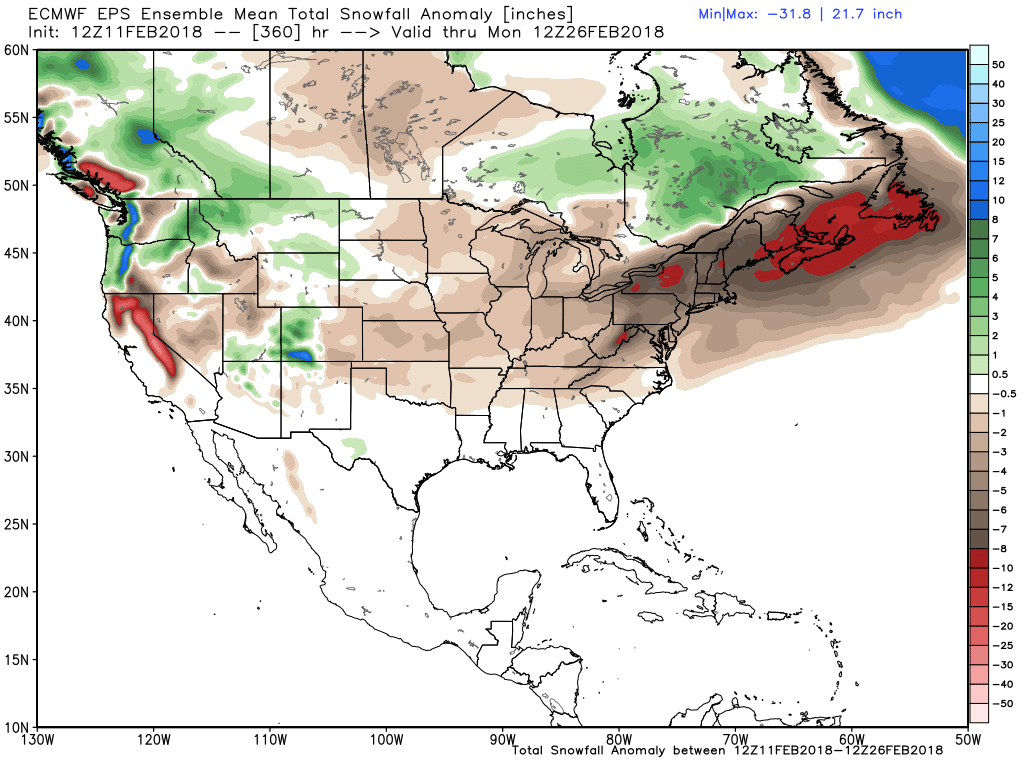 The mean 15 day snowfall forecast looks like this for the state, with great snowfall potential for the southwest mountains – right where we see the greatest snowpack deficits to date: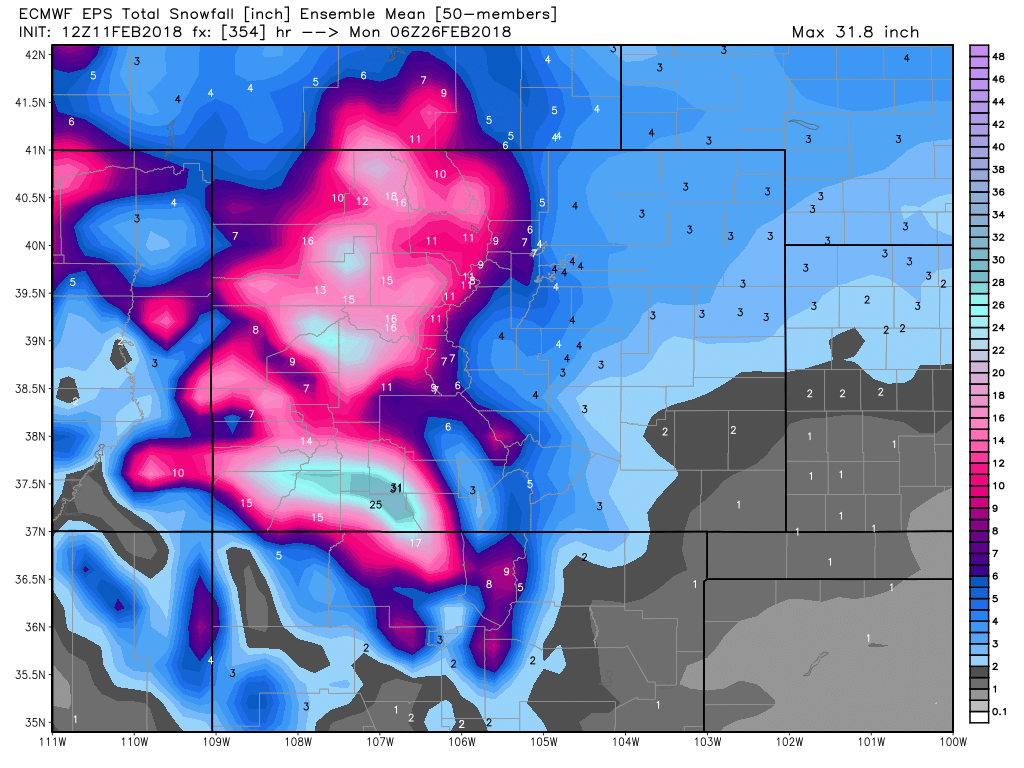 And yes, a bit of snow across eastern Colorado as well (don't focus on the numbers, it's an ensemble mean forecast at range!). Let's make it so.