Yesterday our station topped out at 69°F, this morning we bottomed out at 10°F, a drop of 59° in about 12 hours, and certainly a jarring reality check.
The cold front has worked its way through Colorado now and is marching its way across the southern plains states. Take a look at the impressive temperature gradient across eastern Kansas, Oklahoma, and now northern Texas this morning!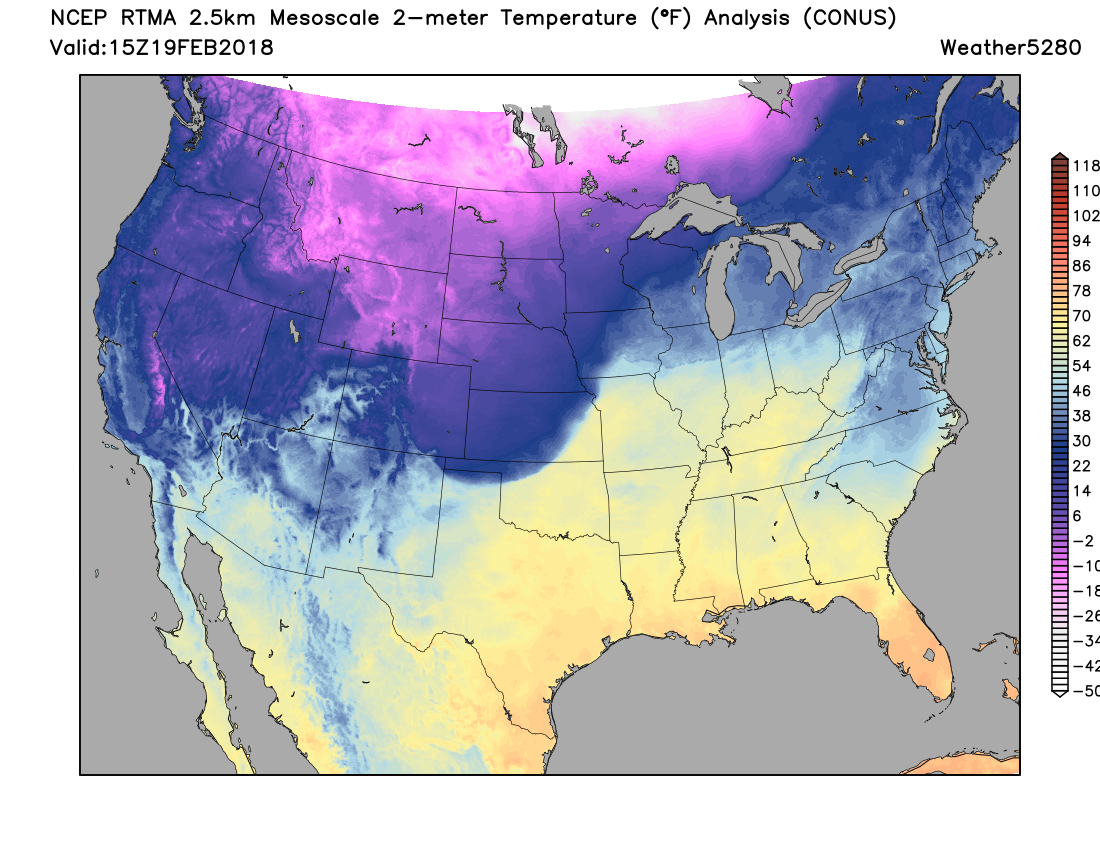 If we zoom closer to home, we see latest surface observations showing temperatures from 10 to 14°F across northeast Colorado this morning and those easterly/northeasterly winds providing some light upslope and thus the light snowfall we've seen across much of the urban corridor this morning: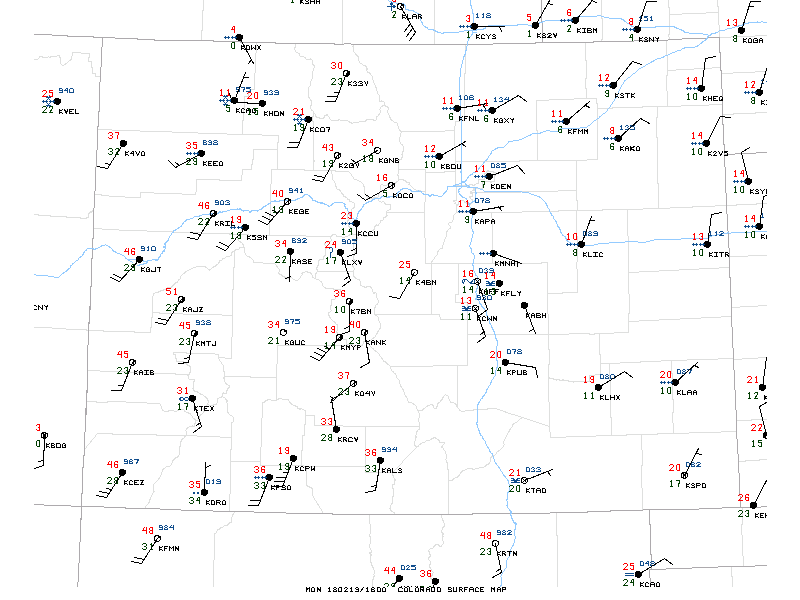 While many of us have already received a coating or so of fluffy snow this morning, the chance of snow sticks with us for the remainder of the day and overnight.
In general, this still looks like a largely 0 - 3" or 1 - 4" event for most of the northern urban corridor. The exception being wherever we see the heavier band set up... under this band I'd expect some 6 - 8" totals (heck, even a bit more?), especially with the very high snowfall ratios we have in place.
So where will that band end up? That remains a bit hard to say until it does... but the favored local continues to look like it'll be from west Denver extending north/northeast through Westminster, Broomfield, Longmont then east toward Greeley. We're talking about a pretty narrow band of snow in the larger scale, so a shift north or south continues to hold pretty big impact on how much snow you'll see at your house. It's the difference between a non-event, and a pretty good snow event really.
A look at some of the latest modeling shows where this potential sets up this afternoon and this evening.
First, the HRRR which shows the band ending up a bit further south than other models, and thus brings the heavier snowfall totals right over the city of Denver proper, and extends them up north and northeast of the city (blues):
When we compare that to the latest 3km NAM model we see it has a very similar look, but the band is north of Denver, with greater impacts for Boulder, Loveland, Fort Collins, and Greeley, with generally very light snow totals in Denver: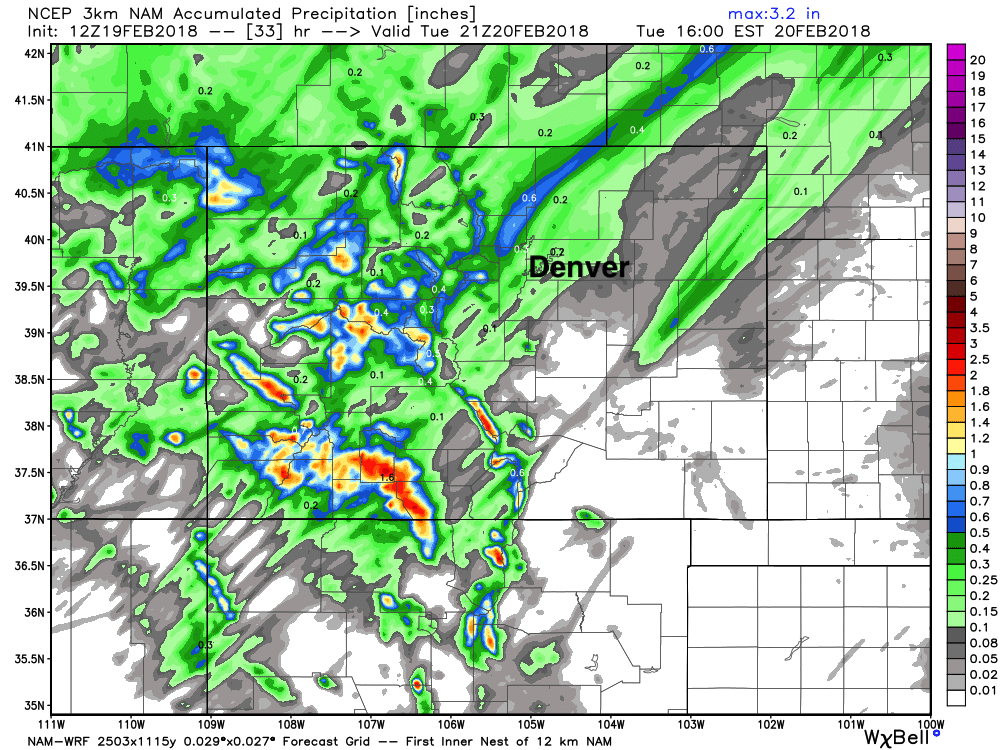 And finally, a look at the latest GFS (lower resolution) shows the band setting up north of Denver as well, but again, a very similar look: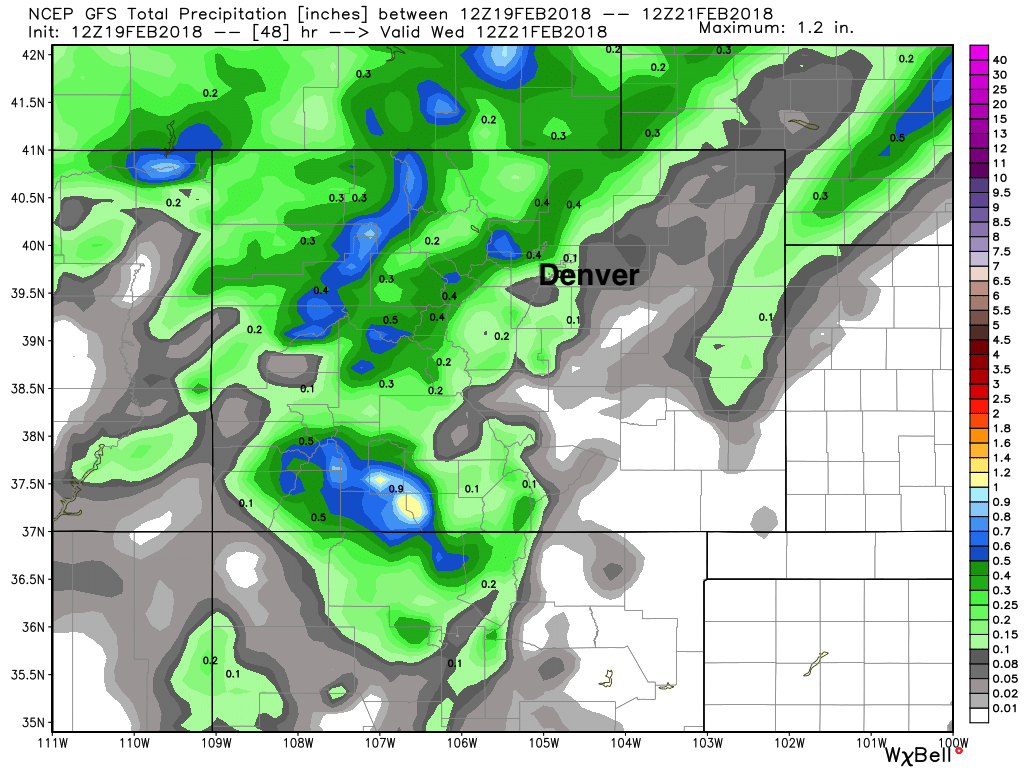 So, good agreement overall, but still some question as to exactly where that axis of heavier snow ends up. Again, most folks see light snowfall totals (0 - 3"), but if you end up under this band we're talking likely some pretty good snowfall totals, likely in excess of 6" in spots. As you can see in the modeling above... it'll be a matter of miles between lower totals and higher totals, so really a luck of the draw at this point – but the favored area would have a northern metro bias.
The other big story of course is the cold. Temperatures are in the teens this morning and really won't do much better than that until Wednesday. Overnight lows tonight and Tuesday night look to be in the single digits, with highs Tuesday in the teens. A look at the temperature departure from average map for tomorrow afternoon shows all of Colorado well below average, with warmth overtaking the east: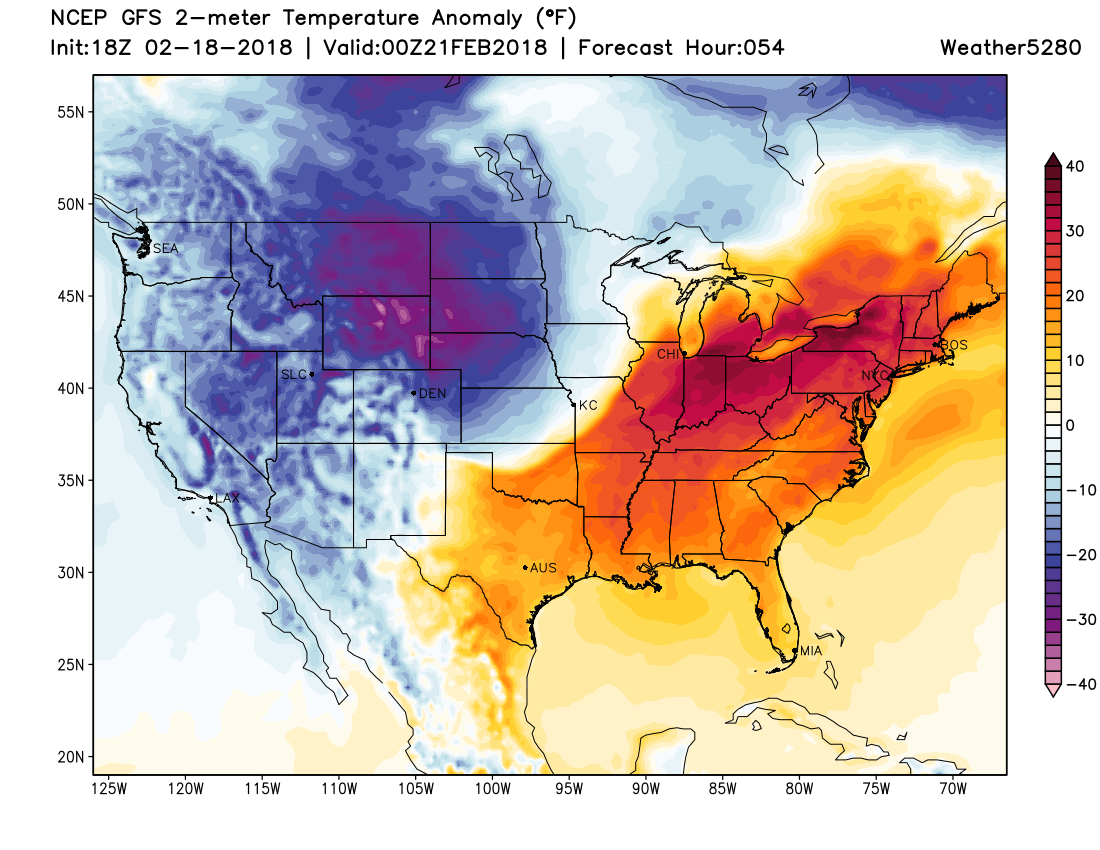 Stay warm! Let us know how much snow you see!