Best chance for rain and snow comes Sunday afternoon and night
The next system set to impact eastern Colorado is parked over the western United States today, and is set to progress eastward impacting Colorado over the next 24 to 48 hours. This has been our system to watch for several weeks now, but, while it looks like it may produce several inches of snowfall for some, the geographic extent of that snowfall may not be all that impressive.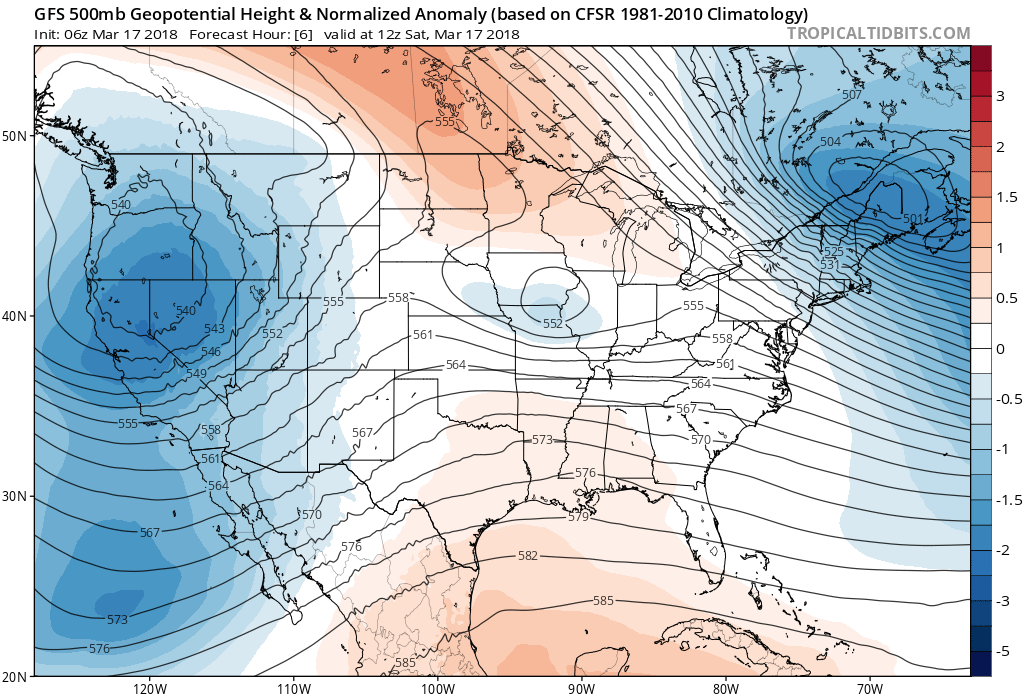 It has at times looked like a good setup for heavy snow across parts of the Front Range and Palmer Divide. Today the trend is lower with totals as the storms speed and track are slightly less favorable. Overall model consensus is that the low will track a bit too fast and too south for a sustained upslope event, so the window for rain and snow may be relatively narrow.
There will be a number of things to watch with this system, and frankly they aren't all looking all that resolved today:
Rain/snow changeover. How fast will rain change to snow at varying elevations. Right now it looks like most of the precipitation that falls in Denver will be in the form or rain and or a rain/snow mix – but a quicker changeover means a greater chance for some accumulation in the city. Across the higher terrain west, south, and southeast of Denver look for that changeover to occur quicker, thus a greater potential for accumulating snow.
Speed. How fast does the low get east... right now it looks like this could happen quickly, leading to a pretty narrow window for rain and snow along the Front Range (6 - 12 hours or so) from Sunday afternoon through Sunday night. A quicker progression of the low will limit rain and snowfall totals.
Convection! Like our last storm, there will be a convective element to this event, which will likely lead to greatly varying conditions across the region. Heavy rain and snow some places... much less so other places.
TROWAL All models are showing an area of heavier snow setting up Sunday evening but where this area (TROWAL) ends up is still in question. Most guidance suggests this ends up east/southeast of Denver, and could lead to several inches of snow/a period of heavy rain.
Bust potential. Greatest BUST-low potential may be the Front Range foothills, where a quick-moving low could greatly limit upslope snow here. The 3km NAM, in fact, showed virtually no snow for the foothills. Greatest BUST-high potential is likely east Denver and points east, where the TROWAL could setup Sunday evening and provide a few hours of very heavy snow – think Watkins, Bennet, The Pinery, etc.
With all that considered, it's a pretty low confidence forecast, despite being a day out or so. For impacts, plan for a period of rain and snow in the mid Sunday to early Monday timeframe. If you live west, south, or southeast of Denver proper your odds of seeing accumulating snow will be higher –– but should changeover occur earlier than expected, areas in and around Denver could even see a couple of inches of wet snow.
Our forecast shakes out like this: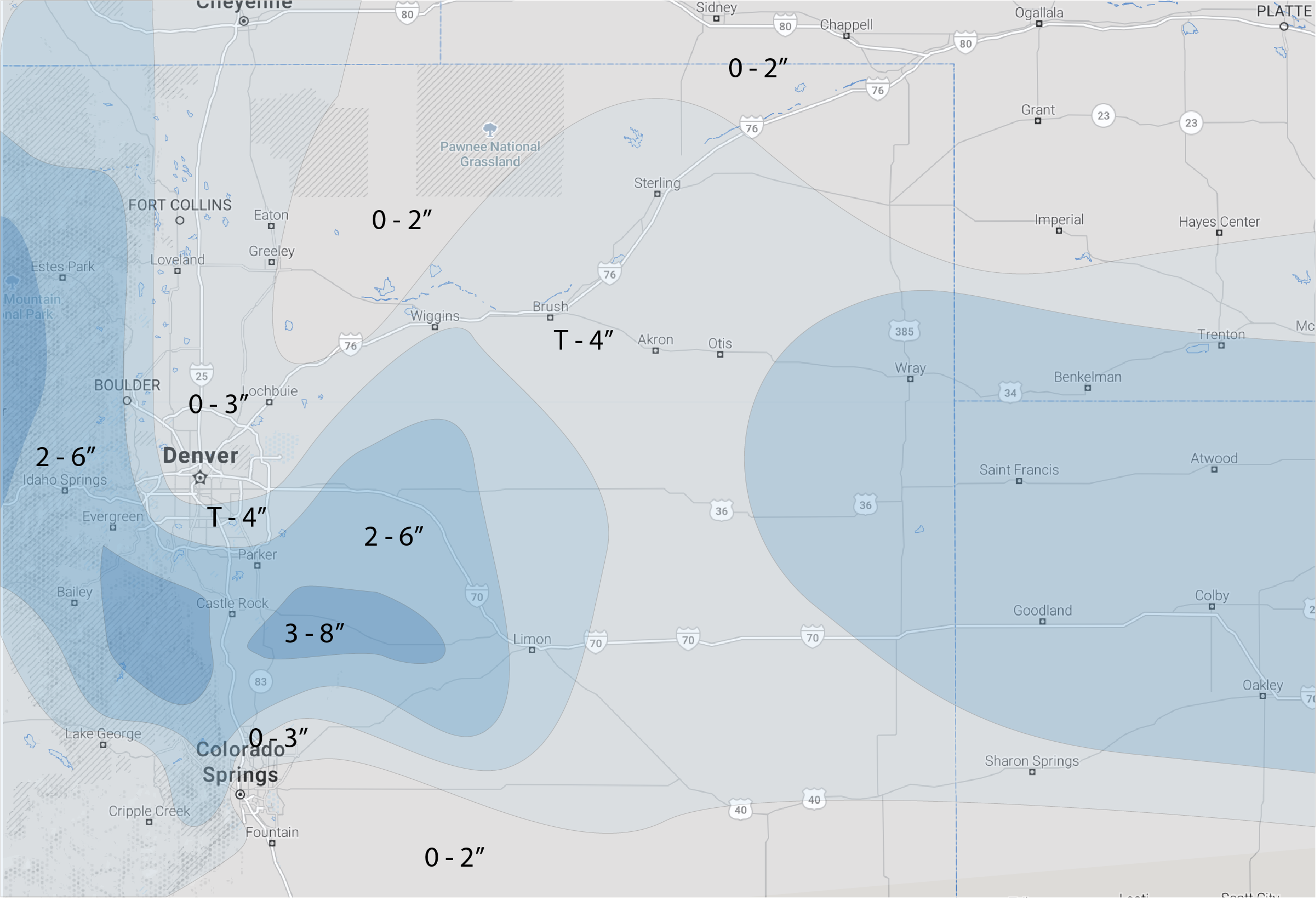 Denver is very much in the grey area... may stay all rain, may see a quick turnover and a few inches of snow. Downsloping should limit rain and snowfall potential north of Denver, with the greatest potential for overachieving appearing to be south Denver, and across the Palmer Divide.
And, if we look at the latest probabilities from the EURO, we see some good confidence in most of the metro area seeing at least a tenth of an inch of precipitation through Sunday night: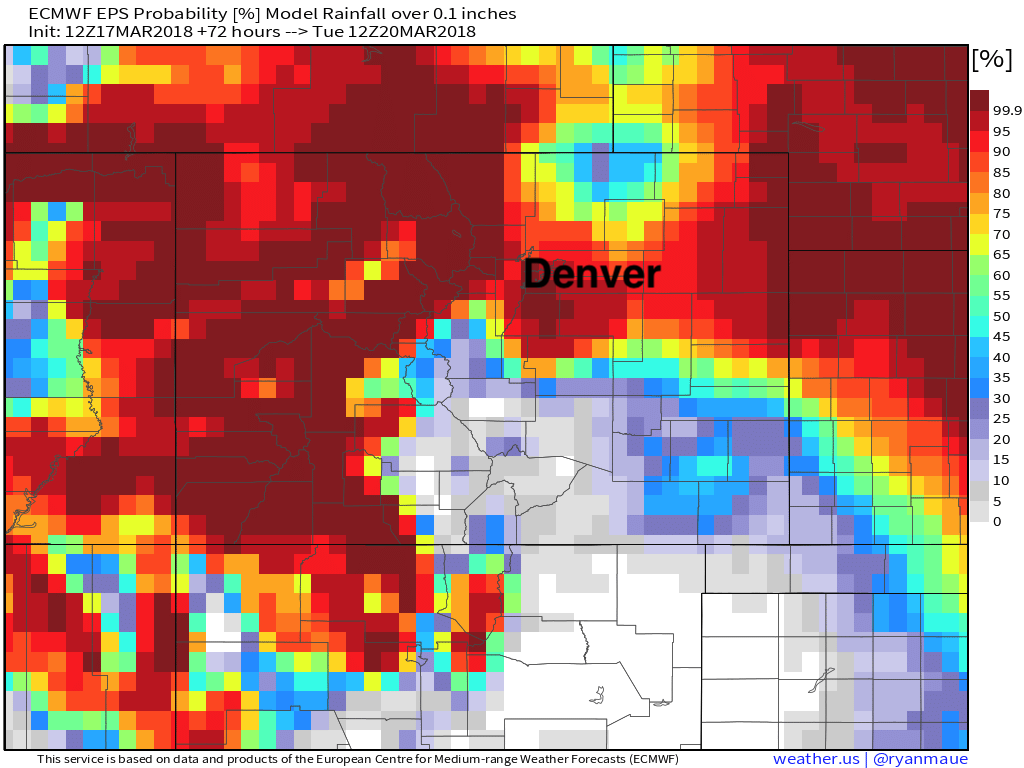 But probabilities drop dramatically for seeing more than 0.5" of liquid, with the greatest chance for that happening showing up on the south side of Denver, and then again across the far eastern plains: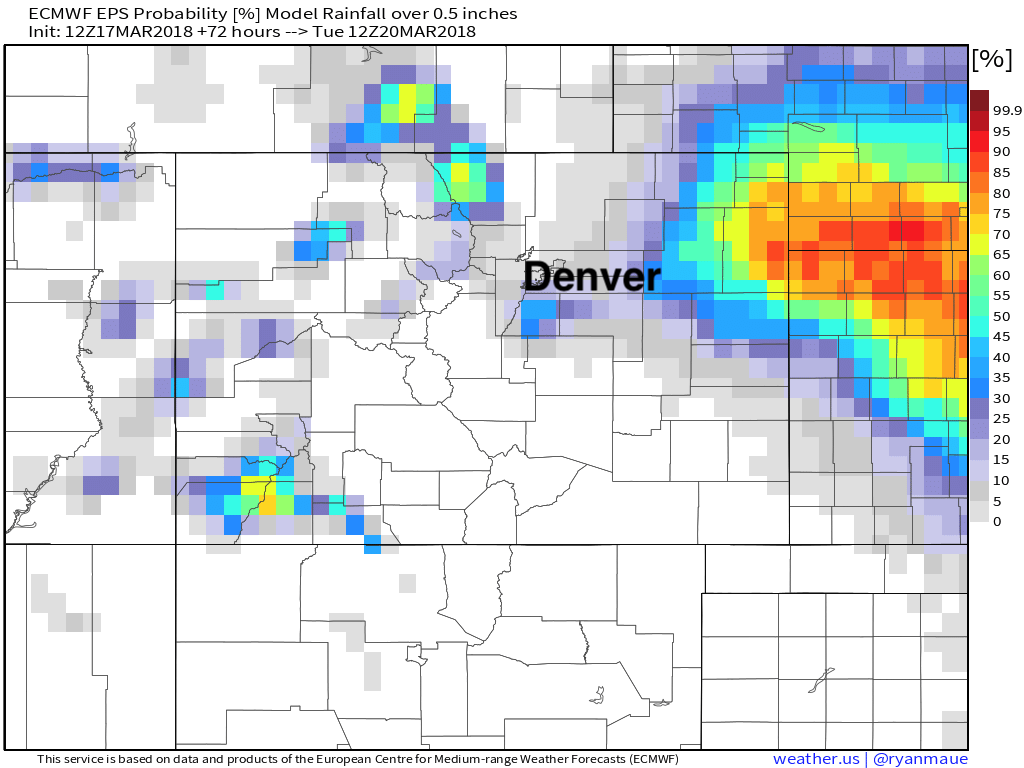 And finally, here are the probabilities for seeing more than 3" of snow (at 10:1 ratios) – quite low for Denver, but some 60 and 70% probabilities showing up on the south side over the Palmer: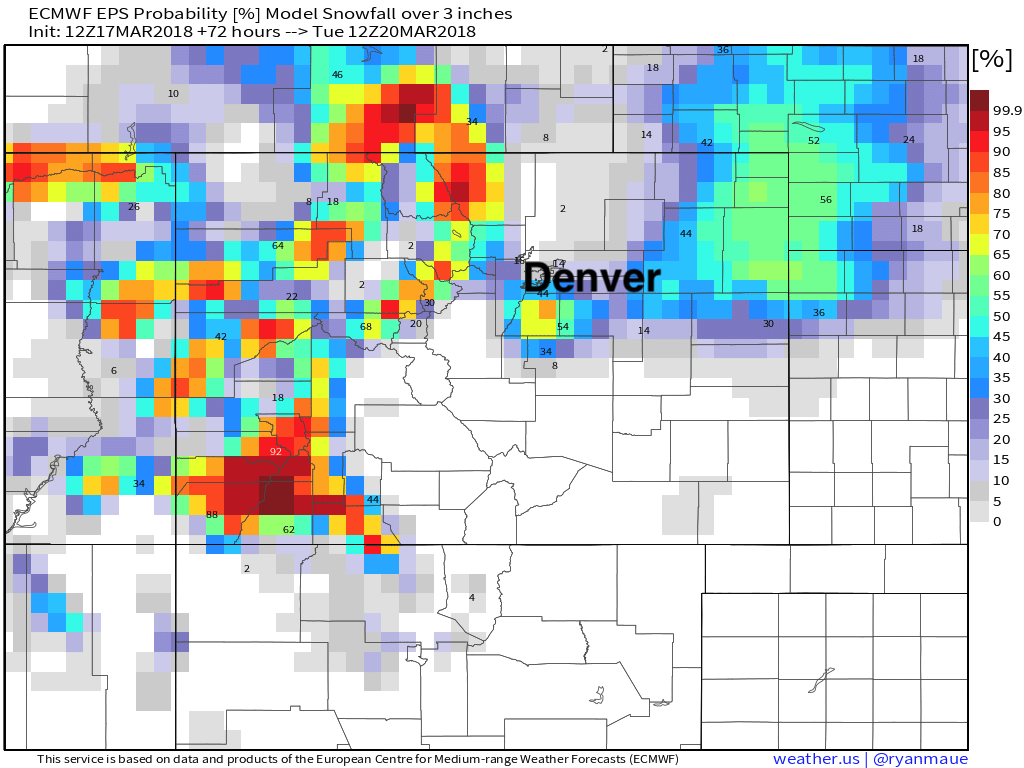 We'll see if trends continue tonight with lowering rain/snowfall potential and adjust tomorrow if needed. Low-end totals in our forecast above should be covered just fine (0 - 1" across the urban corridor, 2 - 3" west/south), the question is if the higher end totals remain attainable. No matter how you cut it, great to see another chance of moisture on the way! Please avoid travel Sunday evening if possible, as roads will become treacherous where we do see snow, especially Sunday evening as strong northerly winds accompany the rain and snow across northeast Colorado.
Once again not a particularly cold system, but you will feel the change! Lows Sunday night will dip into the upper 20s, with highs in the 40s for Monday with rain and snow clearing. 50s are back in the forecast by Tuesday.