Very little change in how things look this morning as compared to yesterday. Rain and snow chances will increase through the day, and stick with us overnight Monday into Tuesday. Greatest precipitation (and snow) totals will likely be found west of Denver and again south/southwest of Denver. Very similar to our last event, with perhaps slightly less eastward bias of rain/snow along the Palmer.
As for precipitation, it looks like most areas still see from 0.2 to 0.5", with a few pockets of 0.6 - 1.0" certainly possible, though more isolated. Great moisture, indeed, as we continue to lag our averages across the region. Here's the latest precipitation forecast from the EURO ensemble, showing best moisture focused along and west of I25 (and across the Palmer) from Denver/Boulder south to the state line: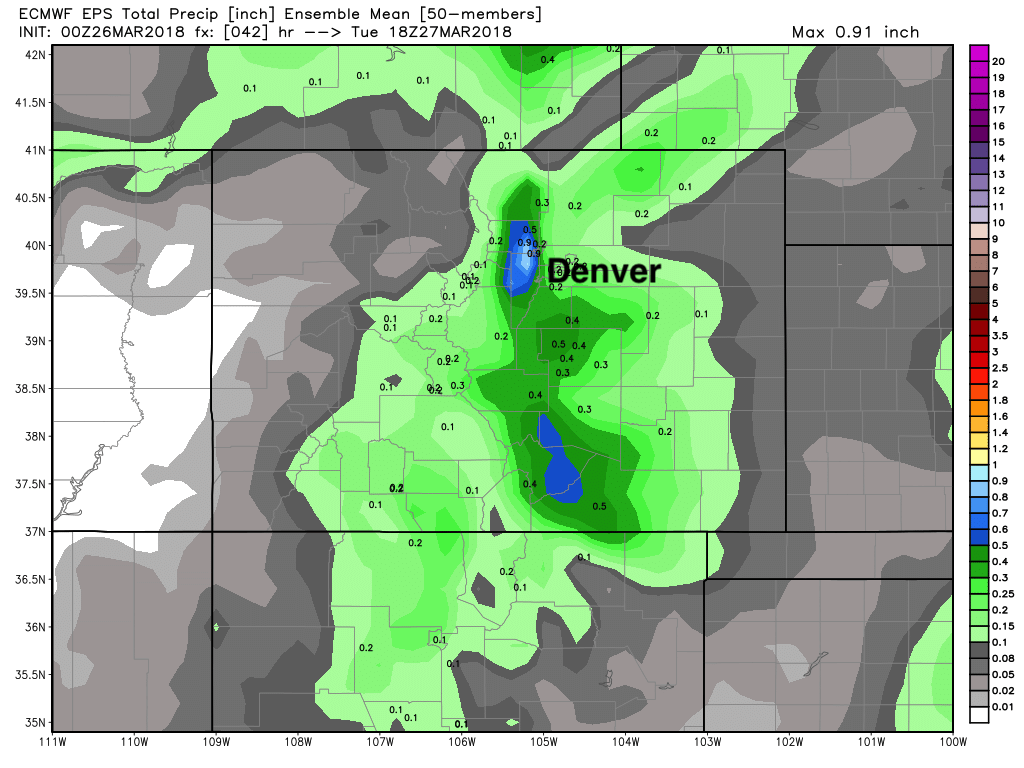 Determining how much of that falls in the form of accumulating snow remains a tricky task this morning. Elevation will play a huge roll in this, as those at greater elevation surrounding Denver will see rain change to snow much quicker than those of us in the city.
Roughly speaking, it looks like 0 - 3" should cover Denver, 3 - 6" the Palmer Divide and immediate foothills west of Denver, with 6"+ possible for areas west of Boulder, and along (north/south of I-70) heading up to the tunnel. IF some of the model data is correct, totals in excess of 1 foot should not come as a surprise in some of those snow-favored mountain communities in Boulder and Jefferson counties.
With that said, here is our forecast map for this afternoon through Tuesday morning:
Snowfall forecast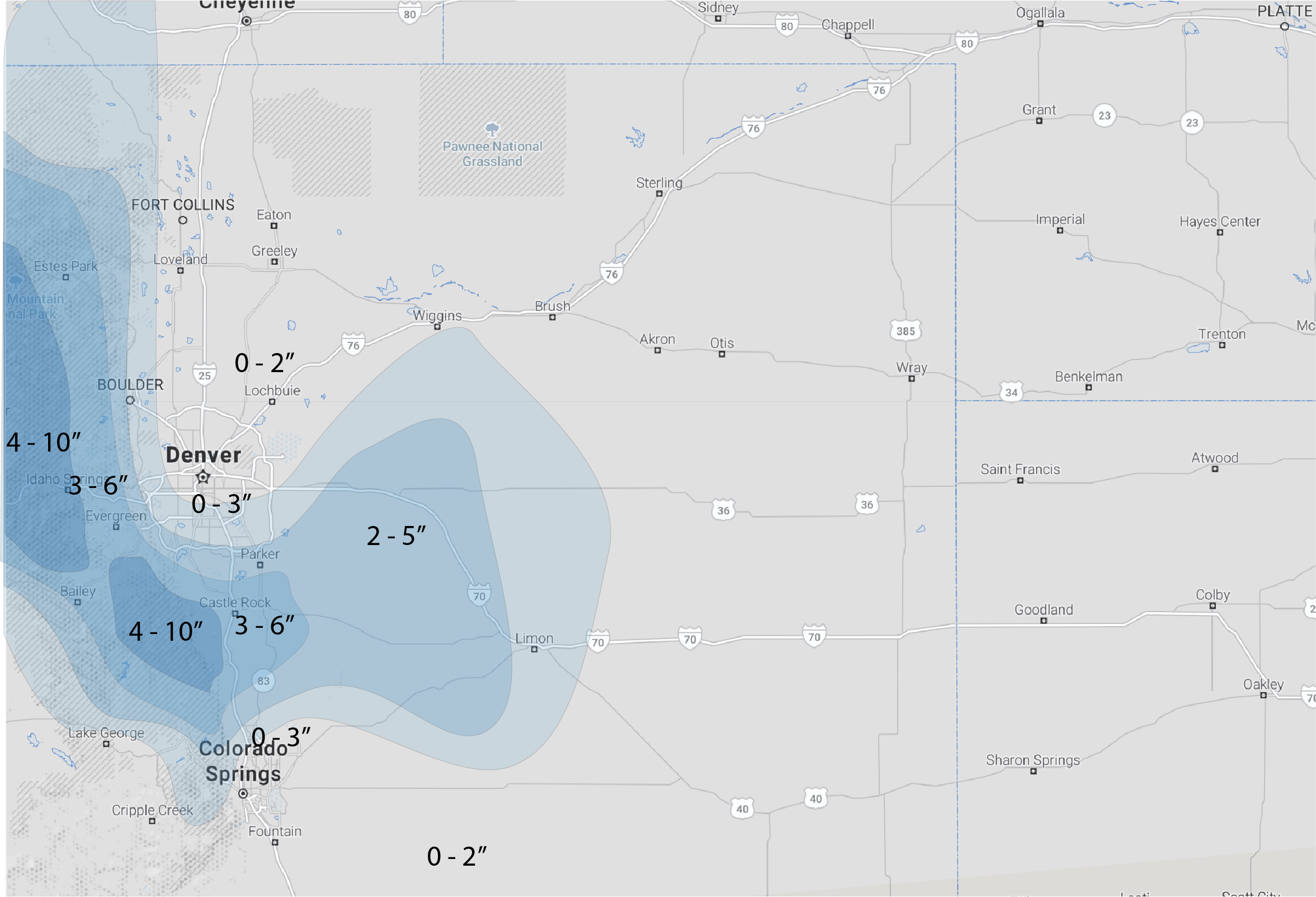 Timing
Look for the chance for rain showers to increase by midday across the region, though best chances for precipitation should hold off until this evening.
The latest HRRR shows a few showers around, but not all that active by early evening, but models are often slow in catching onset around here: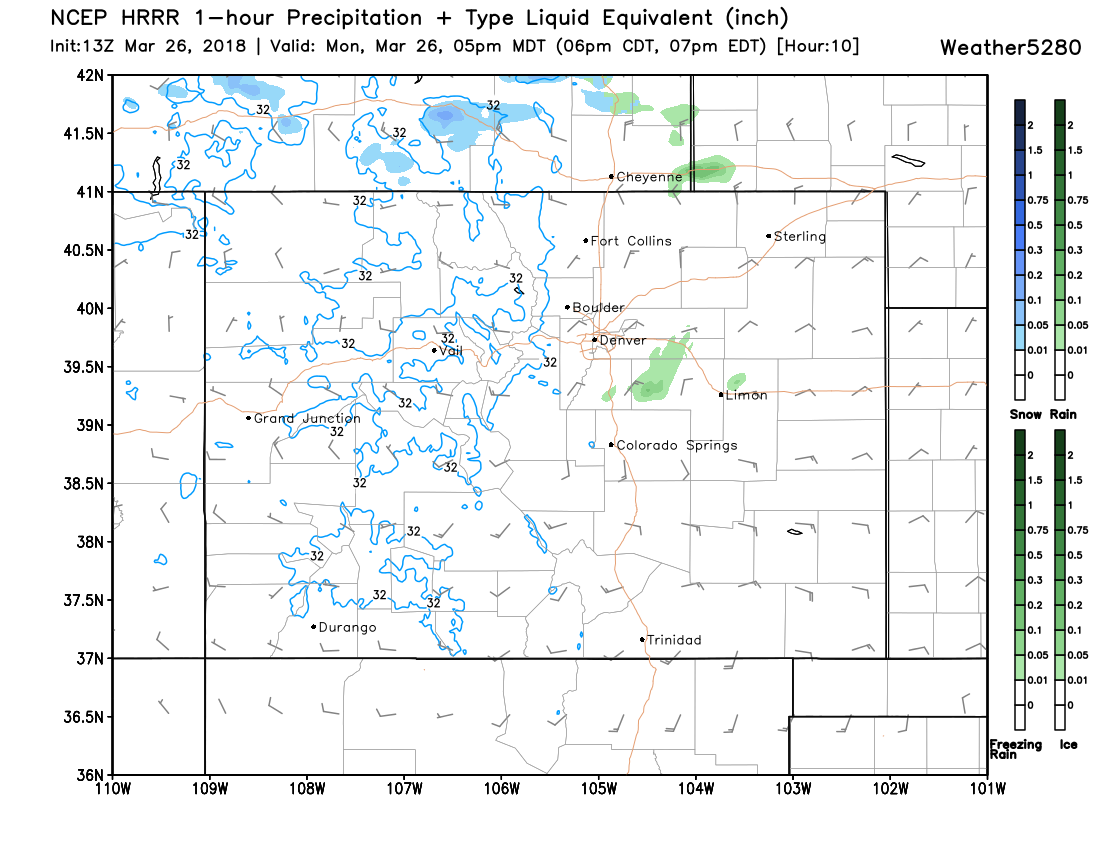 Best rain and snow chances should end up between 3pm and say 3am tonight, with the HRRR showing good rain and snow falling across the greater Denver area at 10pm tonight: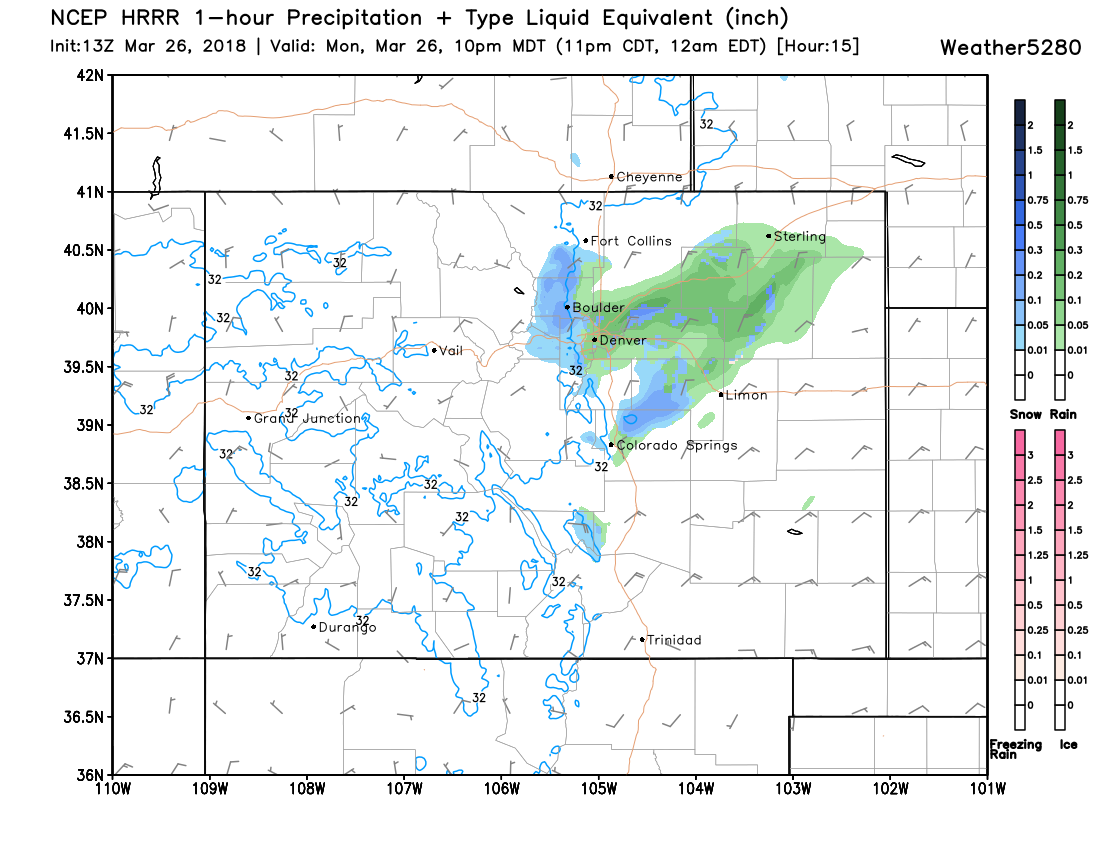 Note it has mostly snow west and south of Denver, but mixed rain and snow at lower elevations. It's likely a bit slow with changeover in Denver (we saw how fast that occurred last time) but when exactly that takes place is a tricky call. A quicker changeover means greater chance we see some accumulation in Denver... a slower, a lower chance of that happening.
As for travel, expect tough travel conditions in the foothills west of Denver this afternoon and overnight. Similarly we could see some tough travel between Denver and Colorado Springs later this afternoon and overnight. Best bet is to delay until Tuesday, if possible.