Monday's system is well clear of the area now, but not before delivering another round of much-needed rain and snow to the region.
The focus of the precipitation, and snow for that matter, was in and around the greater Denver metro area and Palmer Divide. Very little precipitation was recorded over the last day across the state outside of this region: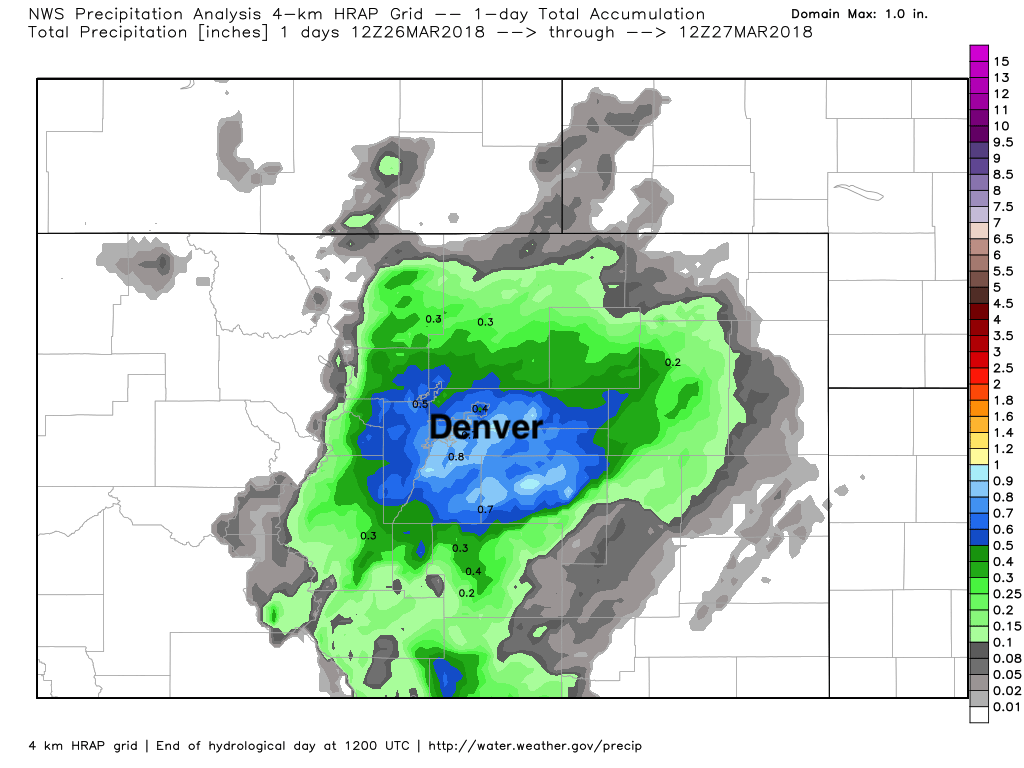 As you can see, totals ranged from about 0.2" to 0.8" in the core of the event. Some of that fell in the form of rain, some in the form of snow. All in all, a great event, albeit localized.
As for snow totals... A difficult forecast with elevation doing its work this time of year, but a great upslope flow for a few hours really delivered some great snowfall totals to Denver's west and South.
We recorded 2.5" (forecast 0 - 3") at our station in Denver, with Denver International Airport recording 1.5" of snow (it was in the 0 - 2" range).
On the south side we saw a good number of 6"+ snowfall totals, with even a few 1 foot totals coming in as we suspected may happen. Our 4 - 10" range proved a bit low here, but nicely captured the potential, I think.
Here's a look at snowfall totals over the last 25 hours: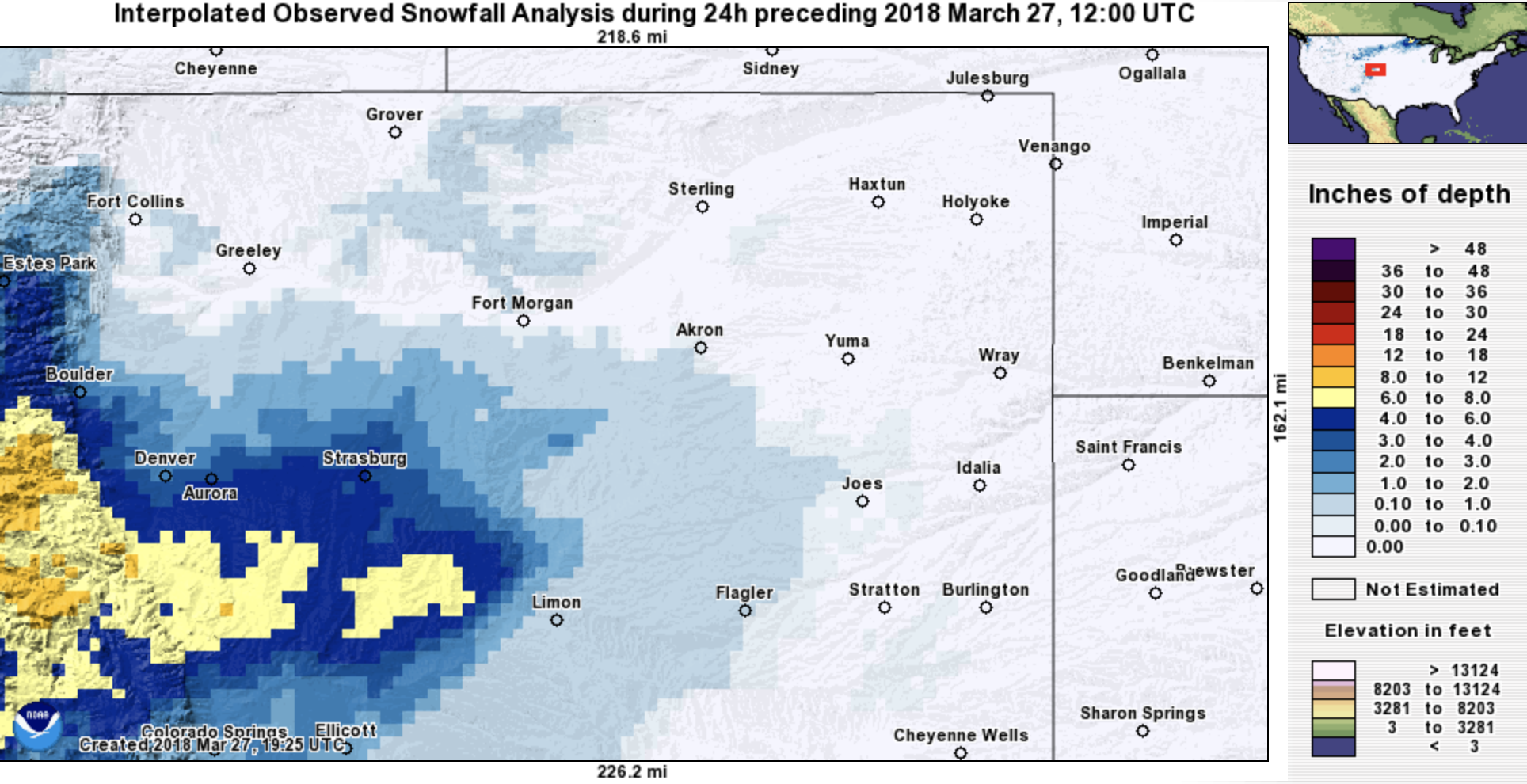 We've warmed up nicely today (upper 40s at our station) considering the recent snowfall. Tomorrow we'll likely warm into the 50s across northeast Colorado before our next disturbance brings another chance for rain and snow to the state.
The best chance for rain and snow around here looks to come Wednesday afternoon and overnight into Thursday. This next event will be more spotty in coverage... but a couple of bands of heavier rain and snow will be possible between Denver and Fort Collins, and should that come after dark Wednesday, could deliver a few inches of snow. A quick look at the latest EURO ensemble mean forecast for precipitation shows it favoring the northern Front Range and northern urban corridor for heaviest precipitation, but a from 0.1 - 0.3" of precipitation showing across most of Colorado over the next 48 hours: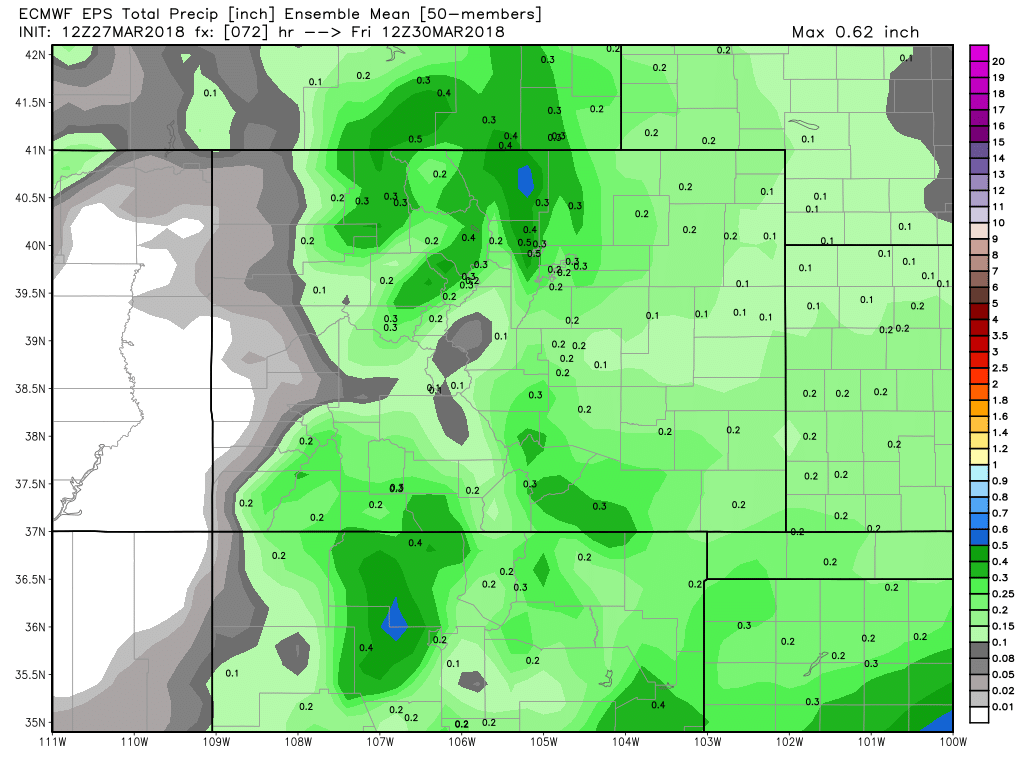 This should be a 0 - 2" snowfall event for most of eastern Colorado, barring any changes to data tonight. A few isolated higher totals will be possible, perhaps southeast of Denver (Elbert County) and again somewhere north of Denver along the urban corridor... but pretty hard to pin down exactly where that might end up being. Both the EURO (top) and NAM (bottom) are in pretty good agreement here, where a spotty 2" here and there, but most of the heavier totals confined to higher elevations northwest of Fort Collins: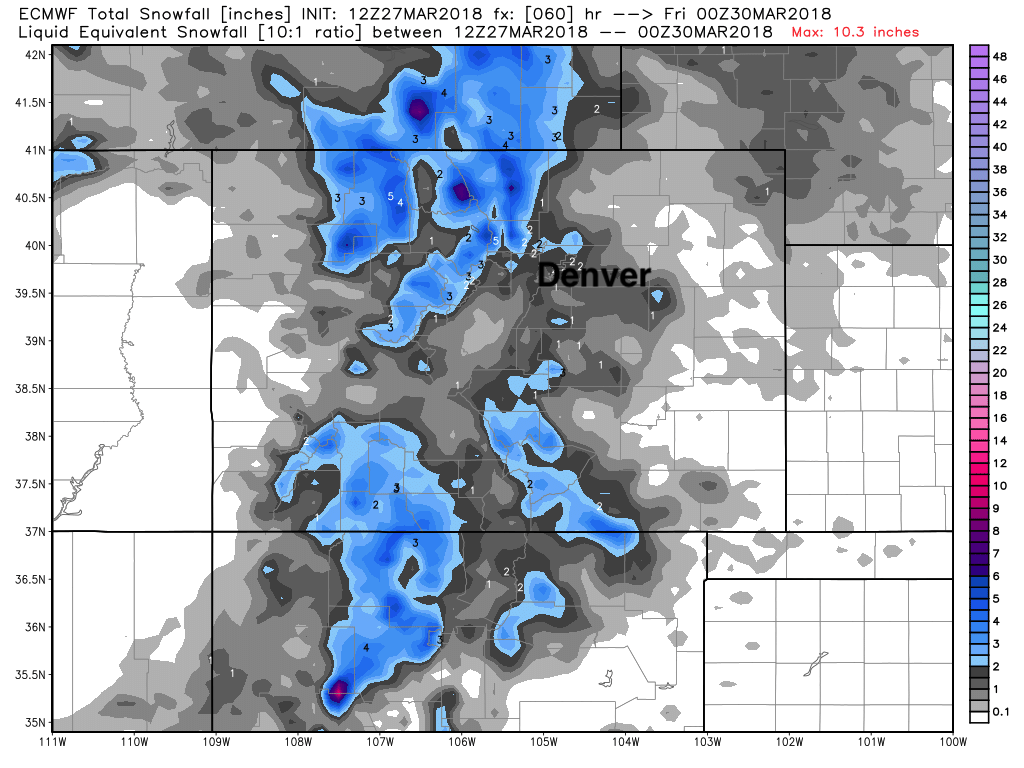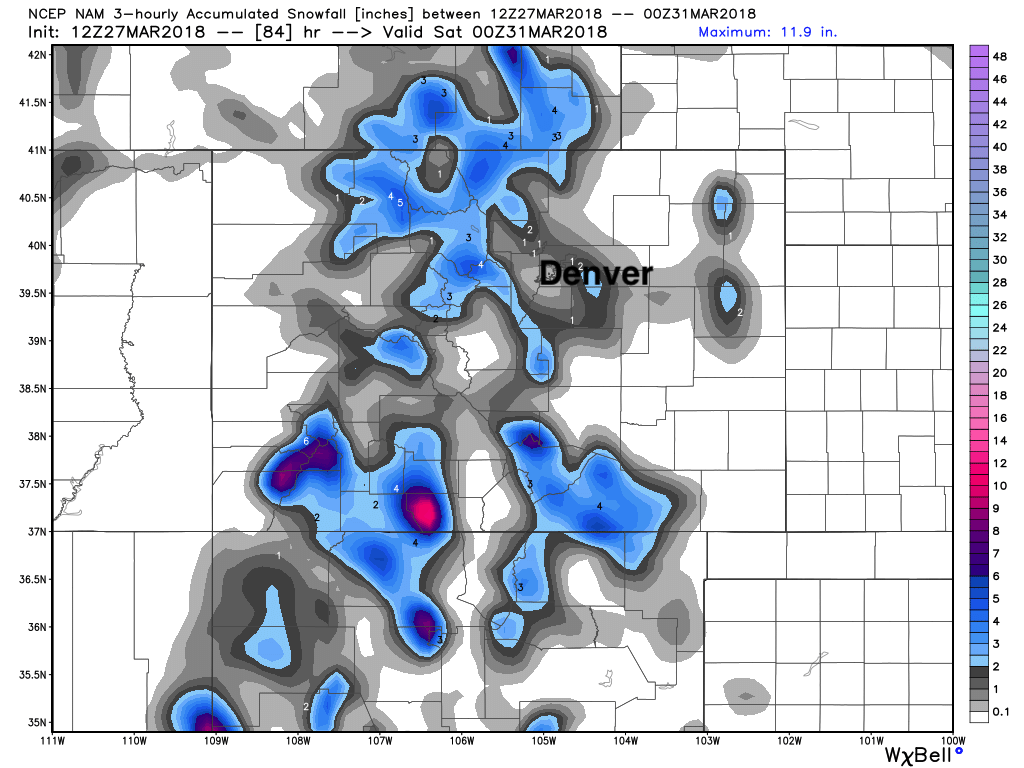 Temperatures may be a bit cooler than this last storm, so there may be some slick spots to contend with late Wednesday night and Thursday morning. This is especially true away from city warmth... However, it shouldn't be a big deal.
Friday and Saturday look warmer for now, with highs near 60 in Denver. Our next disturbance moves in late in the weekend.