The big story of the last week was the rather impressive late-season blizzard that buried portions of northeast Colorado Thursday night and Friday. Snowfall totals ranged from 4 - 12" across the northeast corner of the state, with snow drifts measuring FEET deep thanks to the extreme wind associated with this storm. While the snow (totals map top below) is less welcome this time of year out east, the moisture was superb (bottom map):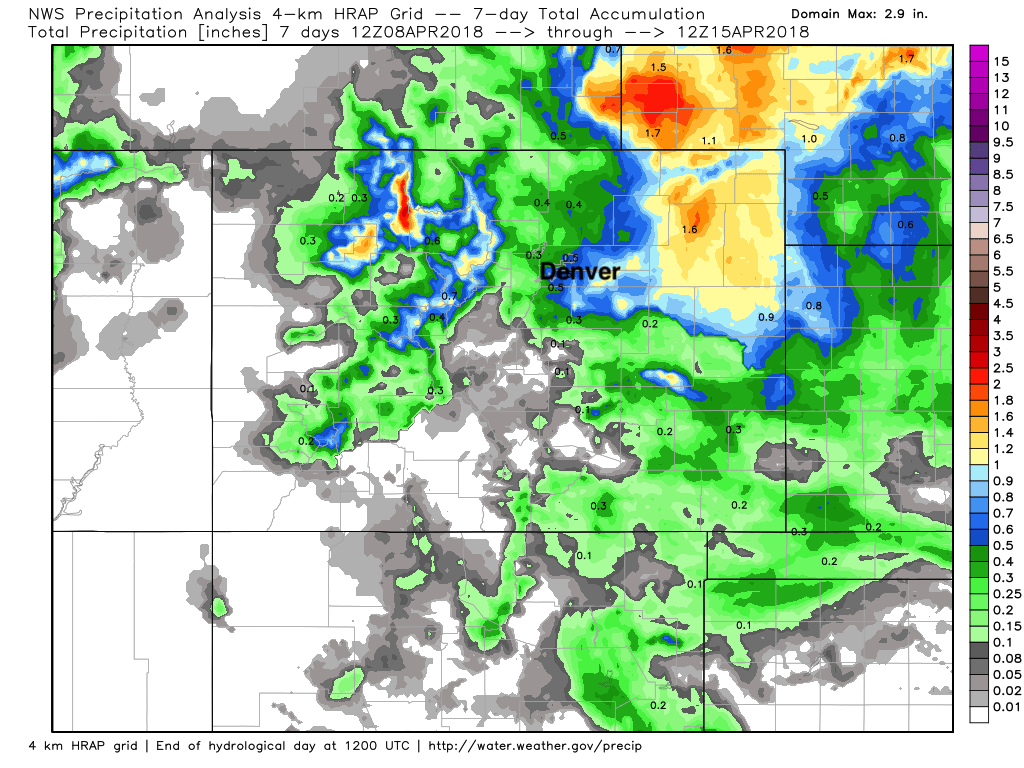 As forecast, this last system didn't do much for the northern urban corridor. Parts of the metro area saw some snow early Friday morning (we managed about 3/4 of an inch), with those living south of Denver seeing the greatest snowfall totals (upwards of 4" in a few locations). From Denver north, a whole lot of not much.
The week ahead
The week ahead, much like the last several weeks, will feature a wide variety of weather. The week starts quite warm with MOS guidances showing highs in the mid to upper 70s on Monday for Denver, but may very well end cold as the second of two systems to impact our weather this week will bring the threat for rain and snow across portions of eastern Colorado to round out the week.
The first system will fly by quite quickly, and shouldn't have too much of an impact east of the mountains. This system will be quick-hitting and cruise through pretty far north, which should equate to a cooler day on Tuesday than Monday, but mainly wind east of the mountains. While I wouldn't rule out any showers as this system moves through, it certainly doesn't look likely at this point.
So, while ridging (reds) are in place for your Monday: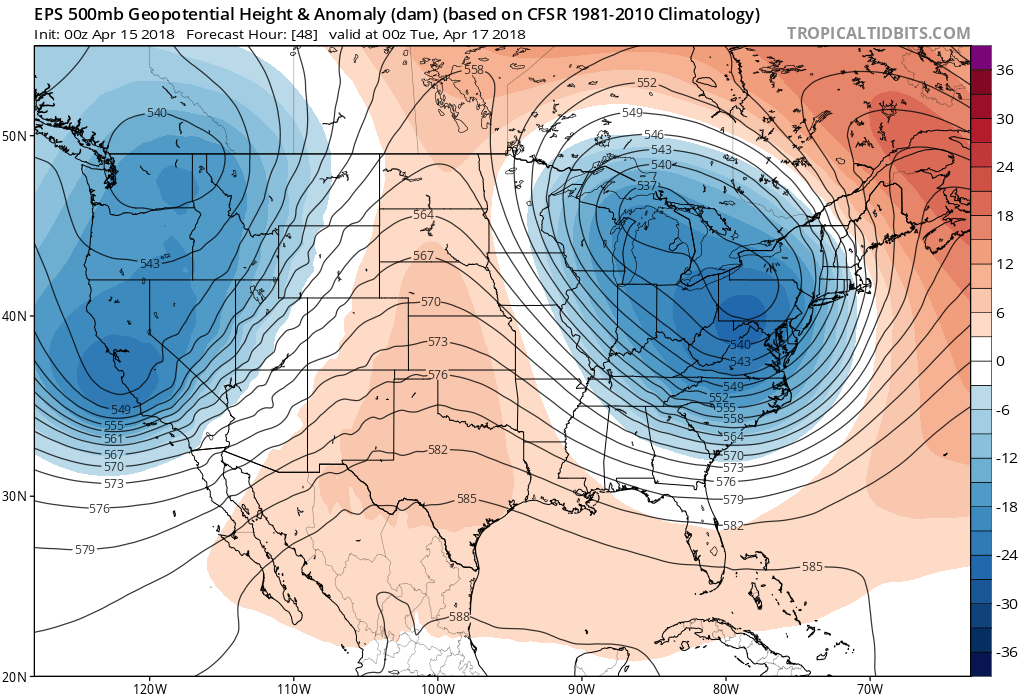 The trough to the west quickly pushes through on Tuesday: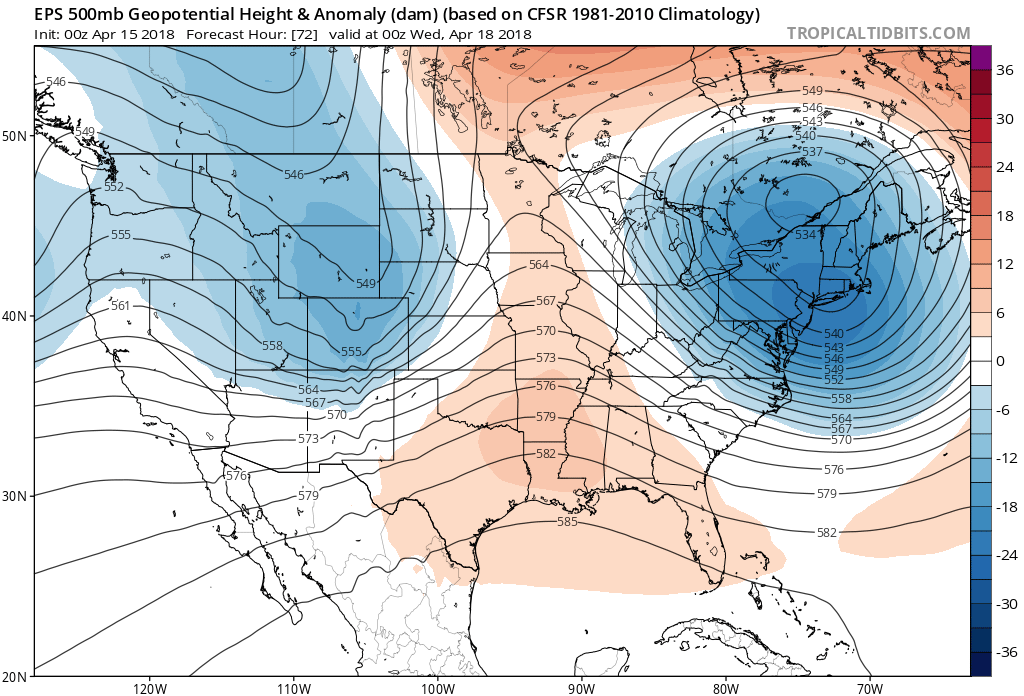 With highs in the 50s and low 60s for your Tuesday and Wednesday with increased wind as well.
An eye on late week storm
It's the next system, due in sometime late Thursday or Friday that will have our attention over the coming days. This one has shown a better track for rain and snow along the Front Range for some time now, and despite varying solutions out there... overall continues to show some potential to bring some much needed moisture to the region.
The PNA is now negative, which supports the troughing we see in the west. As the PNA goes from positive to negative or vise versa, we often see our best storm potential around here. We saw that last week as the PNA dipped negative, and we see that to end this week/next weekend as it tries to climb positive: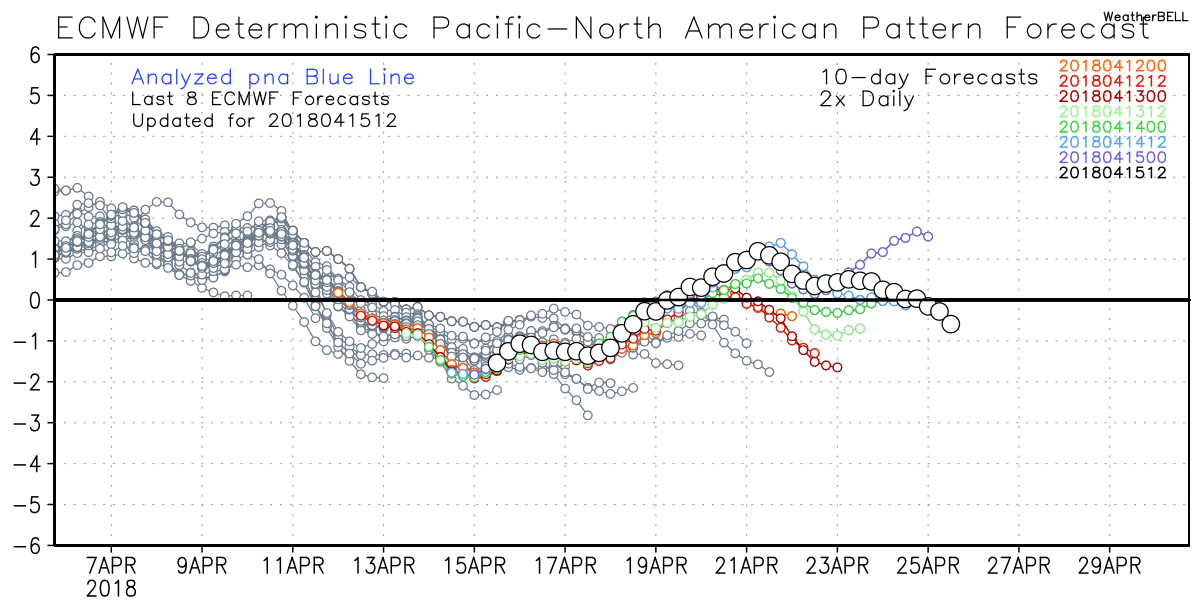 Models are showing a large upper level low moving into the western United States by the middle of this week, then dropping into the Great Basin Thursday and becoming cutoff from the main flow: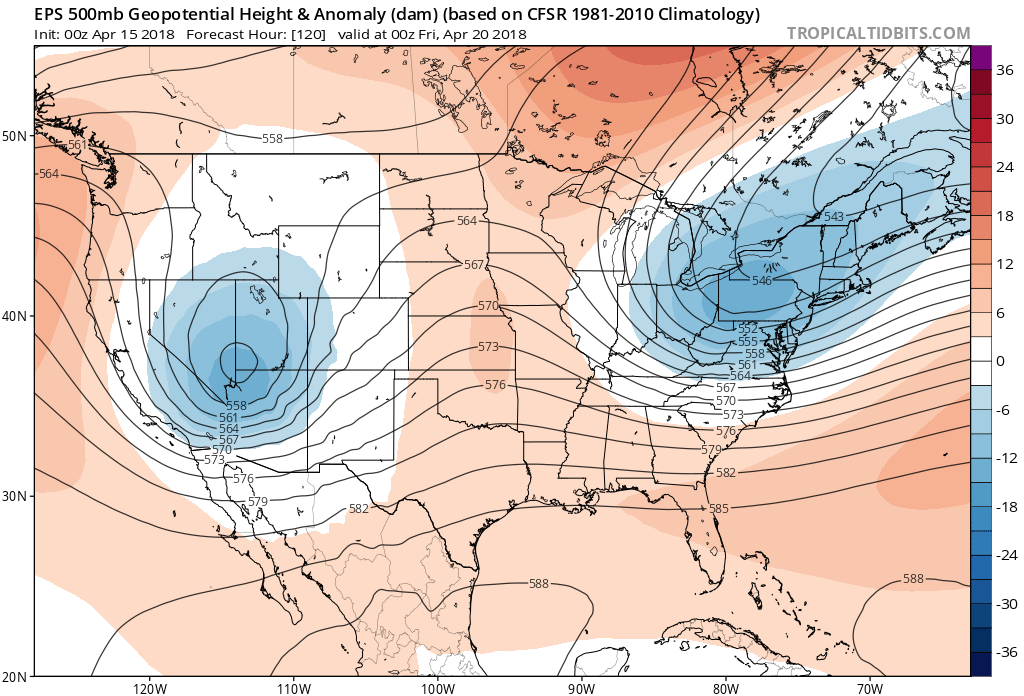 The system will then track into the Four Corners region by early Friday, before moving east of the Rockies Friday into Saturday.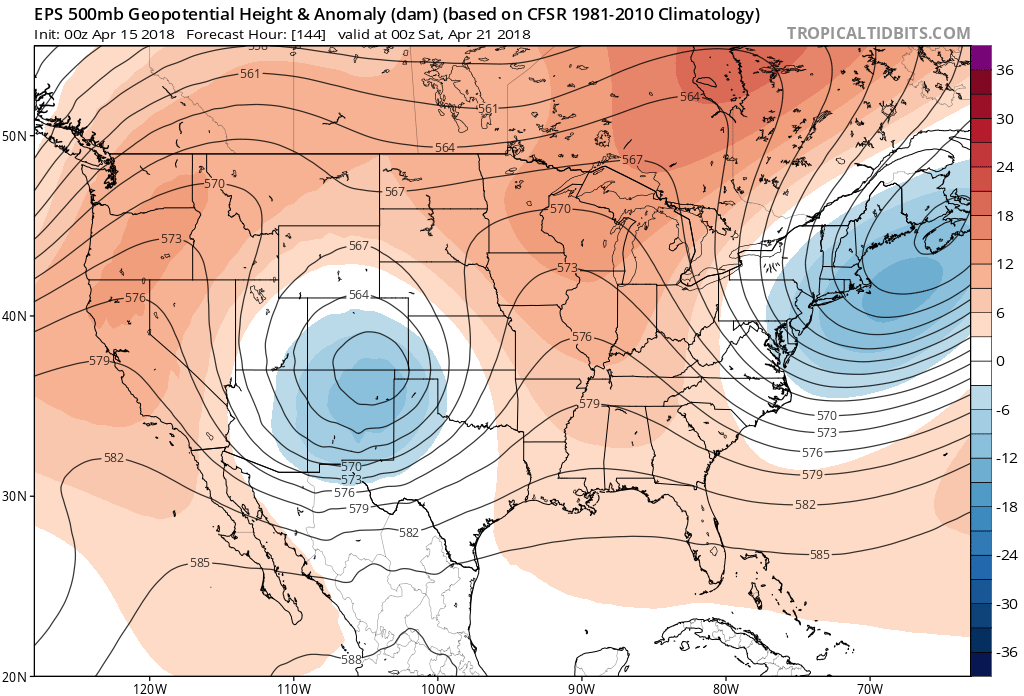 As of right now this is much more favorable track to produce rain and snow along the Front Range as compared to our recent string of storms. You can see how much further south the low (focus of blues) is centered in the image above compared to the Tuesday's system we showed. It's also a much better location for us than last week's storm which was pretty far north/east before it strengthened on Friday: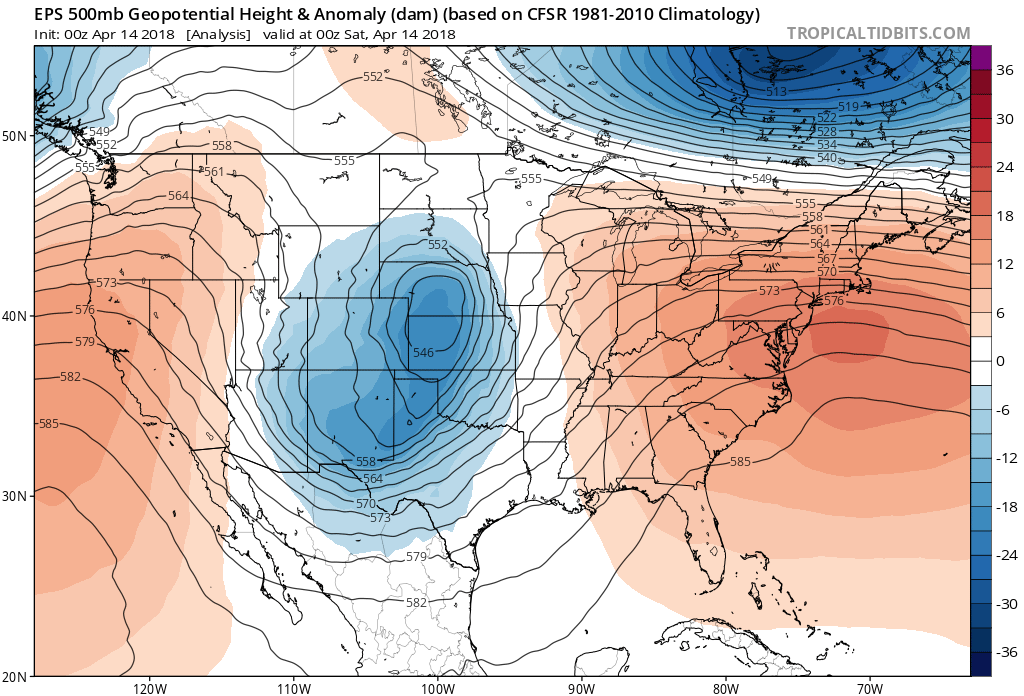 There are no doubt some disagreements in the modeling, both in how strong this system will be and its track, but that's to be expected so many days out. While some operational runs have come in with a significant snow for the Front Range, other runs come in warmer (more rain less snow) and yet others move the low too far north, too far south, or simply too fast to be all that impactful at all. In a nutshell: a lot of uncertainty, but certainly a system that needs to be watched as we head into the work week. It does look like someone sees a soggy system in the Thursday - Saturday timeframe, with likely some severe weather out in front of it.
As for snow potential this late in April... well, April IS Denver's second snowiest month so storms that end up in the right place can certainly be interesting. In fact, the biggest April snowfall on record came on April 20 - 22nd, 1993, and the date this Friday is the 20th! In recent years we've had some pretty big snowfalls late in April and even on into May, we shall see.
Just for fun, this is perhaps the first time this entire winter season that I've seen the EURO ensemble mean forecasting an above average 10 days for precipitation east of the mountains. A lot riding on the position of that low late this week... but certainly would be GREAT to see!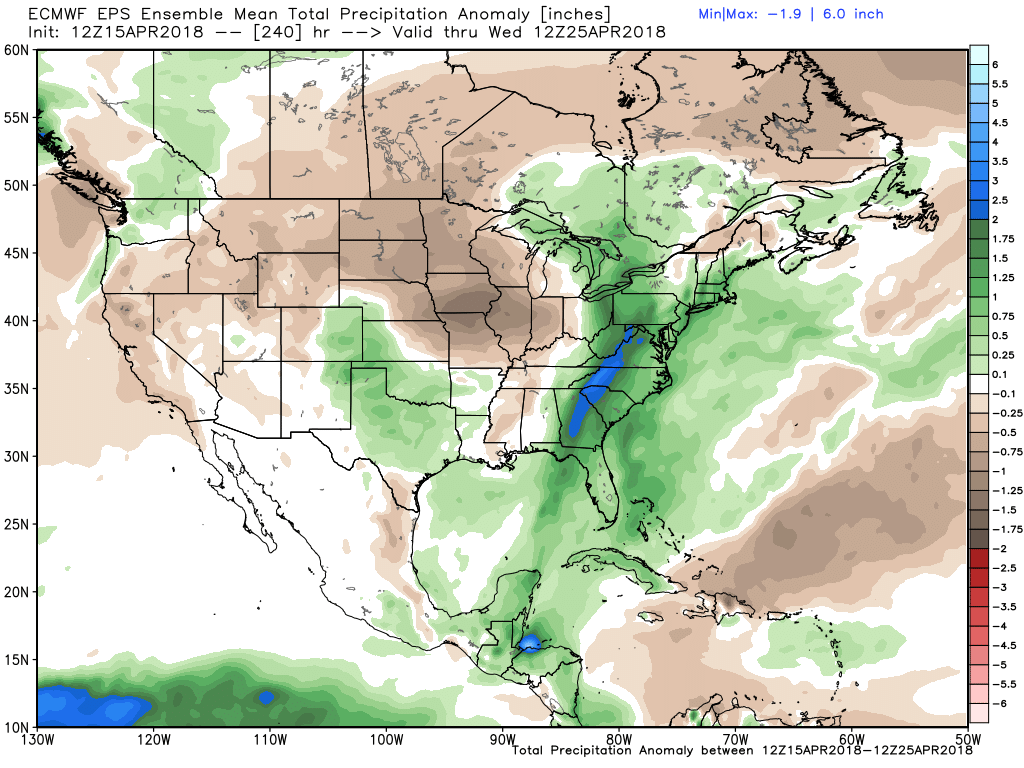 Especially given this: