Let us begin by giving you an early heads up of heavy rain, and snow, returning to the state this weekend. If you had Mother's Day plans for the outdoors, you may want to have a serious plan change. Here is a look at the total rainfall and snowfall that appears possible as of today's data: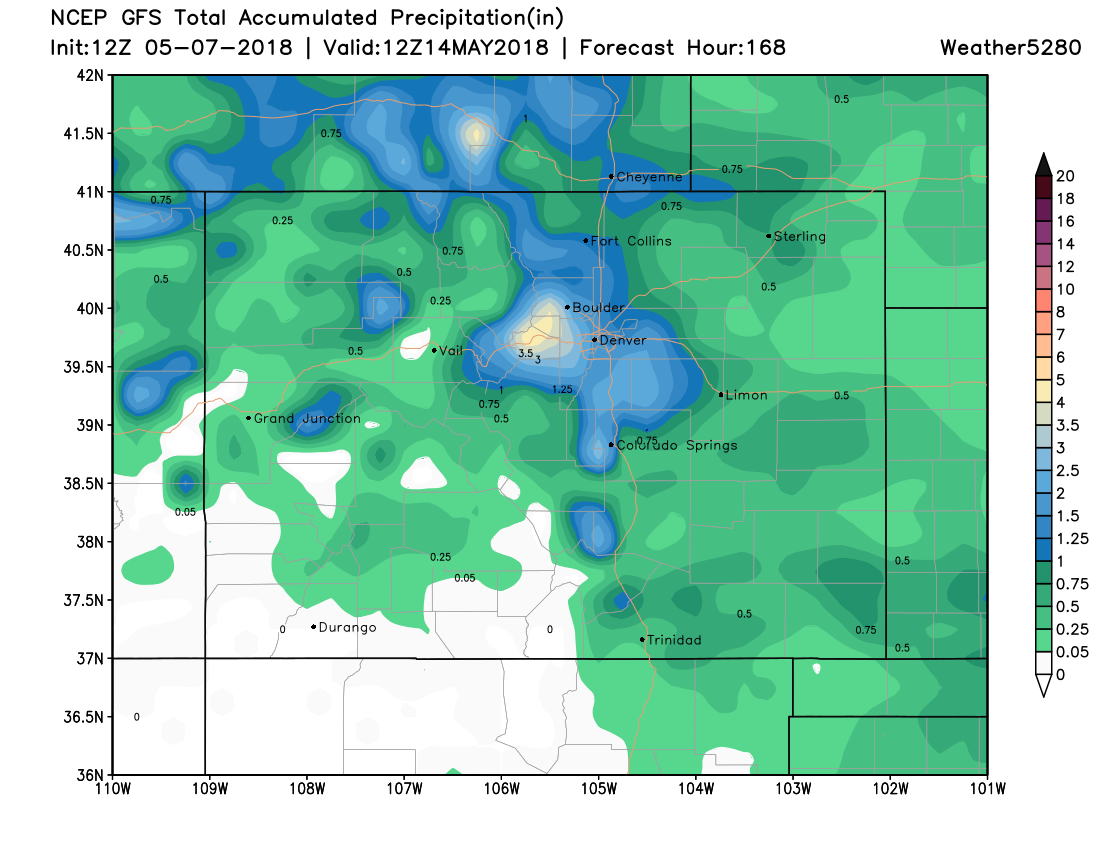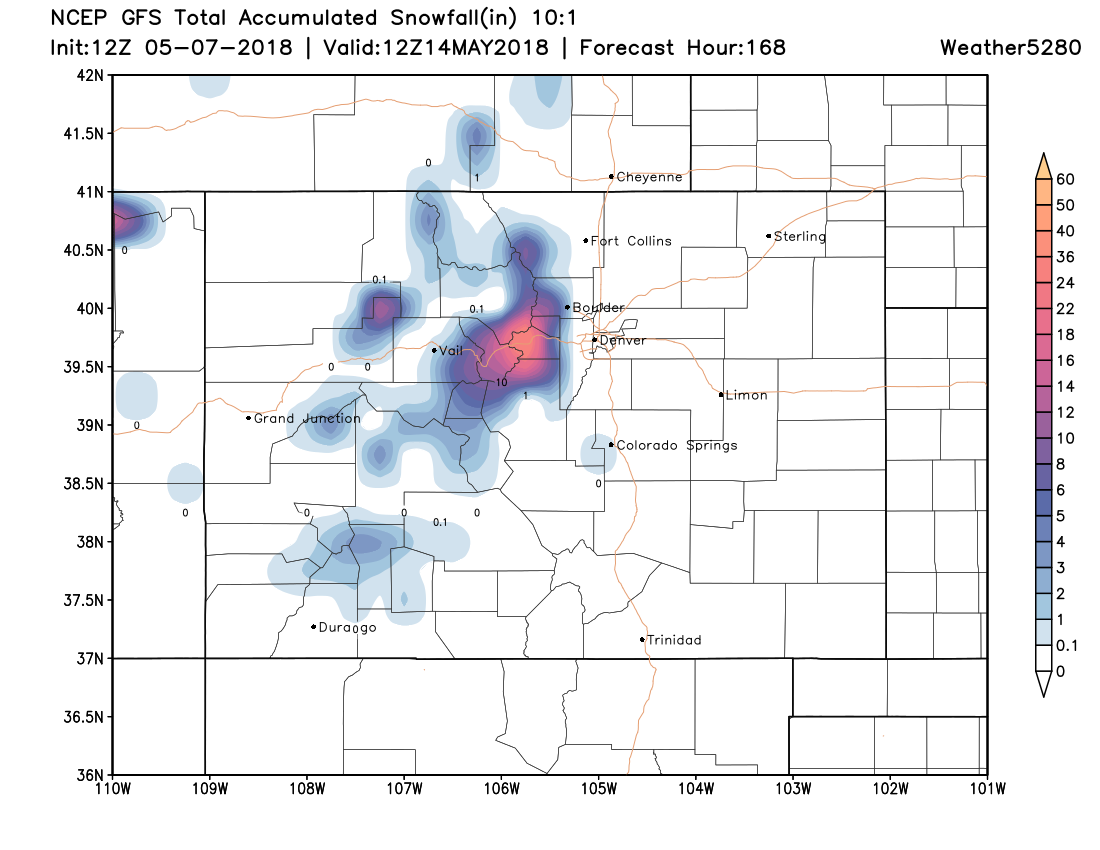 Okay, consider yourself warned. We will provide you with updates later this week as the storm picture comes together.
Wetter Weather Pattern of Late
The forecast matches the past few weeks of a wetter storm pattern. Snow lovers, imagine your fun if this pattern shift was a couple months ago. Anyway, it is moisture and nice to see it. We need to spread the moisture out across Southern Colorado, however.
In the past week, Northern Colorado and the Denver area have had average to well above average precipitation: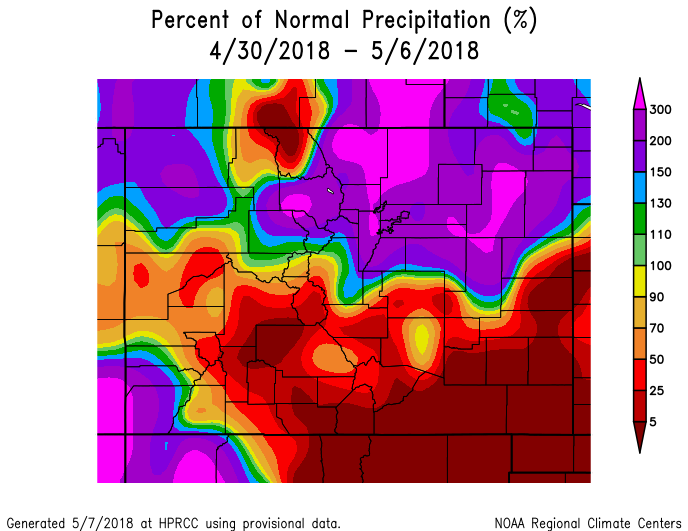 In the past month, a similar indication, but things have looked a bit better for the southern areas: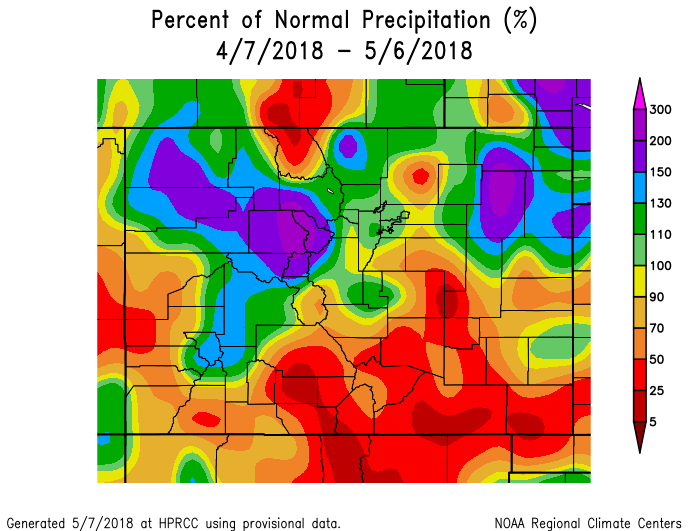 In Denver, the month-to-date precipitation is now 0.94" which is 0.45" wetter than average. Since March 1st, however, we are drier than average by 0.30"...more than easily made up for if this weekend's system makes no changes.
Conditions dried out over the past weekend from that wet end to last week and we obviously started to warm-up, too. This recent trend will last through the week, until Friday. Then, we see that soggy return - likely for the aforementioned favored areas of Northern Colorado.
Monday hit 80° with extensive cloud cover, but very few showers developed from that cloud cover. The little impulse of energy that had created the clouds will clear overnight leaving mostly sunshine and only very rogue thunderstorms through Thursday.
During the next several days, 70s and 80s are expected around Denver. Meanwhile, 60s to 70s in the mountains and 90s for the southeastern plains.
Late Thursday through late Friday we will begin to notice an unsettledness to the weather. Clouds come back, temperatures begin to drop, the wind picks up, and we will see many more thunderstorms, then cold rain showers this weekend with some areas picking up snow - as mentioned.
Don't be surprised to hear that the west and south sides of the greater metro area could see a brief hit of snow Sunday and/or Monday morning.
With Sunday being Mother's Day, make some plans for her indoors as a backup for now.