Temperatures are warm across the state today, with mostly dry conditions as well. Highs will top out in the mid 80s for Denver, with Red Flag Warnings in effect for El Paso county and much of western Colorado. The record high for the date is 91°F set back in 1964 so we likely aren't in danger of breaking that... but temperatures are running well above the average of 73°F nonetheless.
Friday will be cooler with a better chance of showers and storms moving into the state. Some storms may become severe during the day Friday, mainly across northeast Colorado, with heavy rainfall possible as well.
The SPC has issued a Slight Risk for severe storms Friday across northeast Colorado including the eastern and northern Denver suburbs. Low level upslope and decent moisture should help initiate storms along the I25 urban corridor midday Friday, with storms eventually working their way east/northeast through the afternoon and evening. Damaging hail, strong winds, and heavy rain look to be the primary threat with these storms, with a lower probability (but still the chance) for tornadoes.
Here is the current SPC outlook for Friday: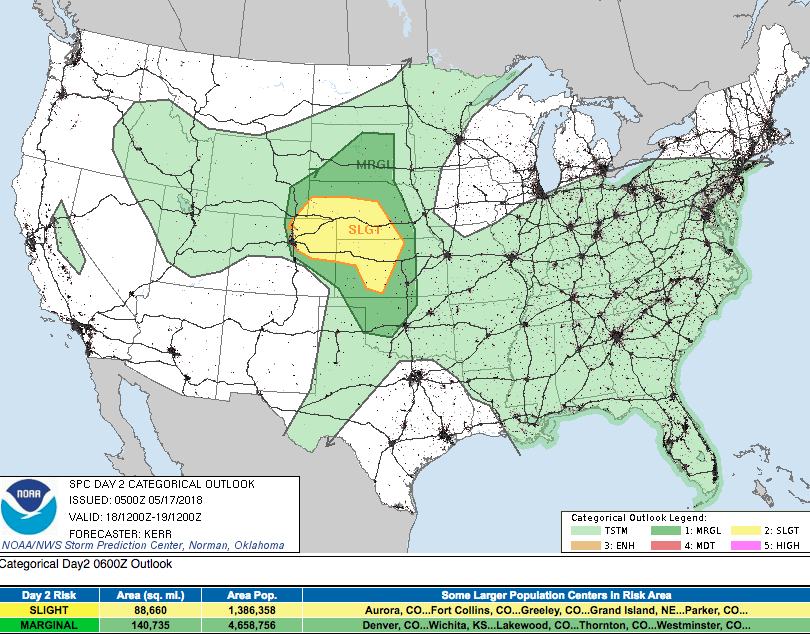 And the GFS PWAT forecast for Friday afternoon showing good moisture across northern Colorado and upslope flow: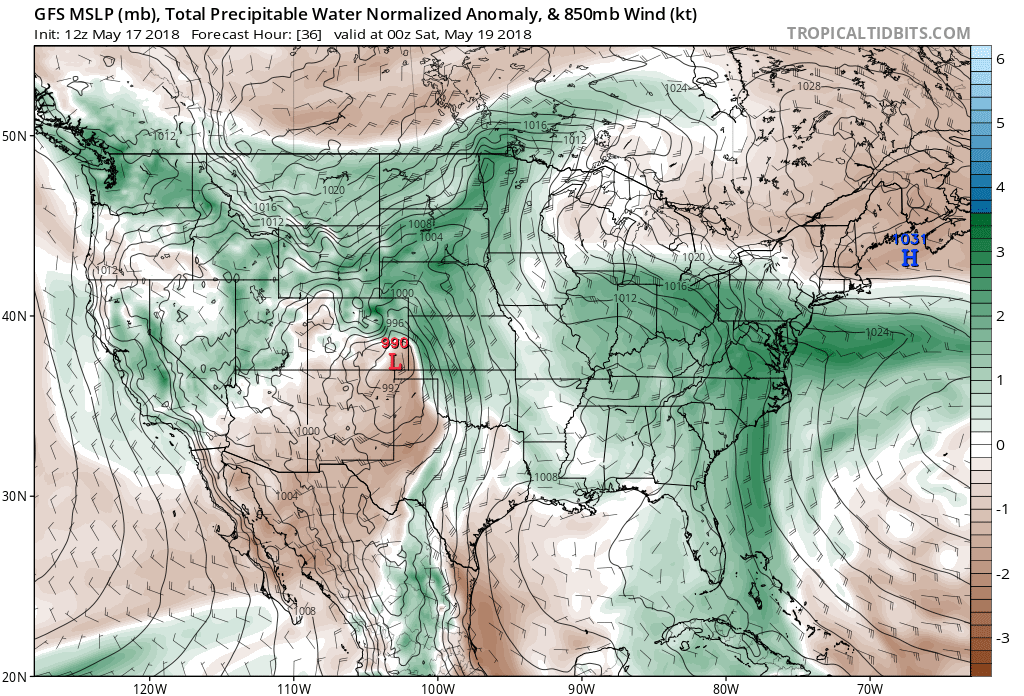 Still some differencing in modeling with exactly where the greatest chance for storm initialization will be. The NAM continues to show best storm development Friday north/northeast of Denver, while other models initiate storms further south across Denver and the Palmer. As it stands it looks like the city is in a good spot to see some of this storm activity... but as is always the case with thunderstorms, there will be a plenty of folks that miss out on the stronger storms during the day Friday as well. Current storm chances for the city are at about 40%, with those probabilities going up to 50 to 60% north/northeast of Denver.
Friday night and Saturday
While we see the severe storm threat decrease as we head into Friday evening and Saturday, the chance for rain will continue. Showers and storms will be likely across northeast Colorado Friday night, with those rain chances continuing for your Saturday.
A cold front will push into the region late Friday afternoon (behind the severe weather threat) and will help increase rain chances once more, with rain becoming more widespread from Friday evening through Saturday across northeast Colorado.
Your Saturday looks quite chilly, with highs in the 50s for Denver, and below average temperatures forecast for much of Colorado as well: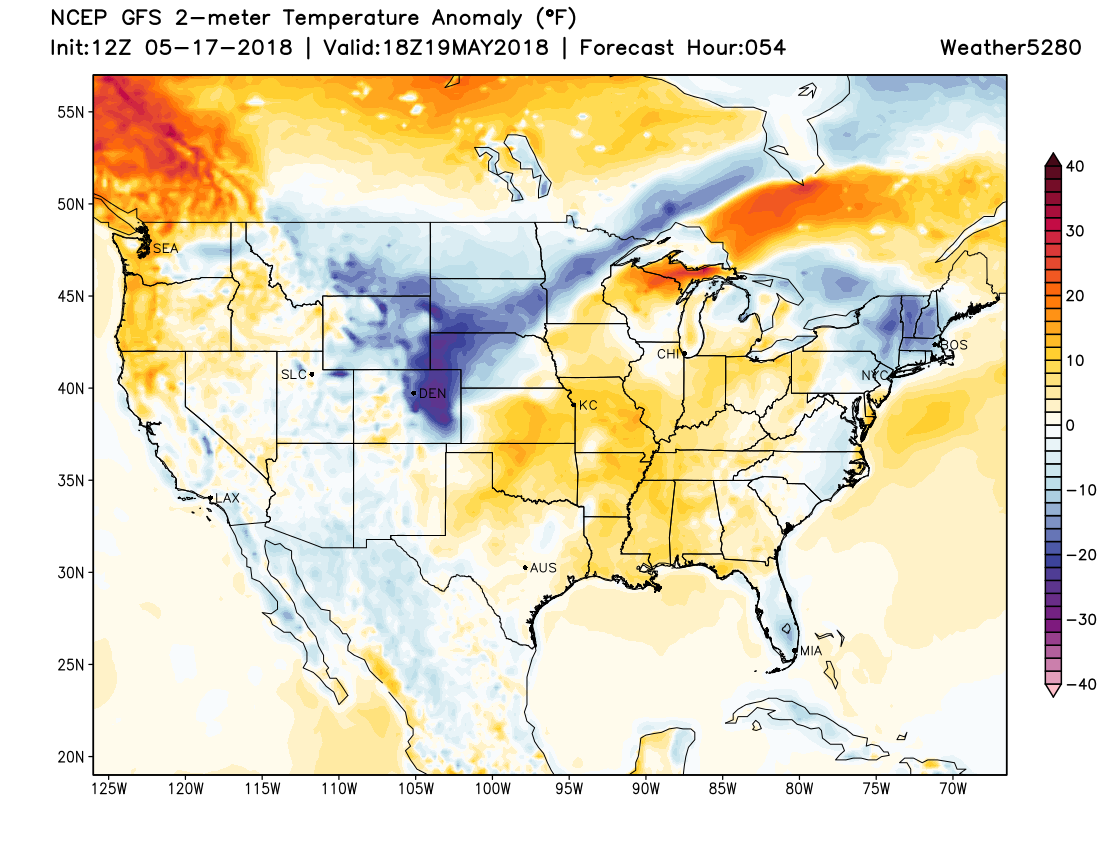 Again, all depends on if you end up under a heavier rain shower/storm, but overall odds look good for another round of beneficial moisture across northeast Colorado. Areas that see storms earlier in the day Friday should certainly do well with moisture over the next few days, but most areas should pick up some rain by Friday/Saturday night, especially from Denver - northeast.
A look at the EURO ensemble mean forecast shows upwards of an inch possible across northeast Colorado through Sunday: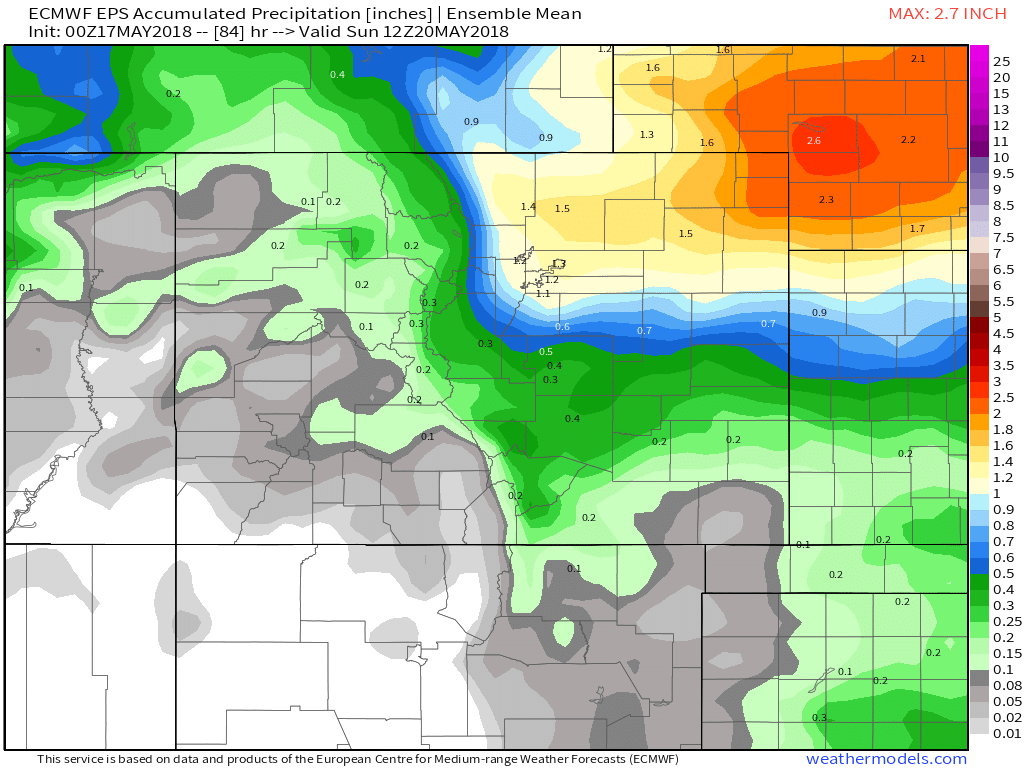 With the probability of picking up more than 0.5" of rain looking pretty good from the Palmer north: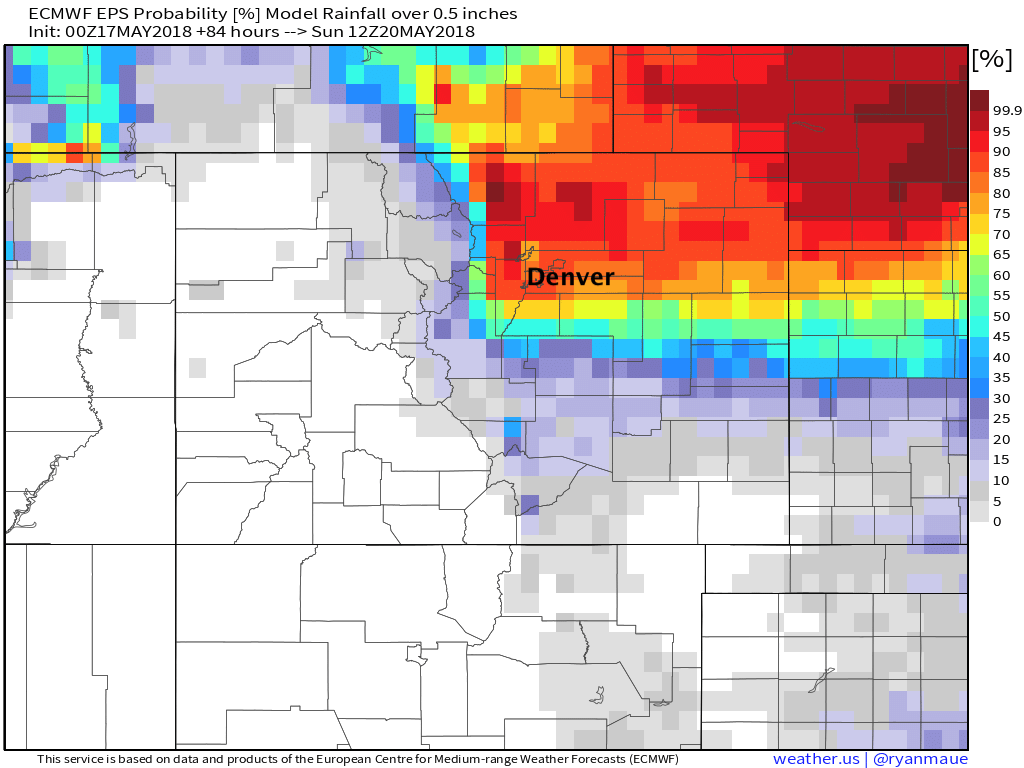 And, for those still clinging on to winter... some snow possible up above about 9k feet Friday night into Saturday, with perhaps upwards of 6" for these peaks west of Denver: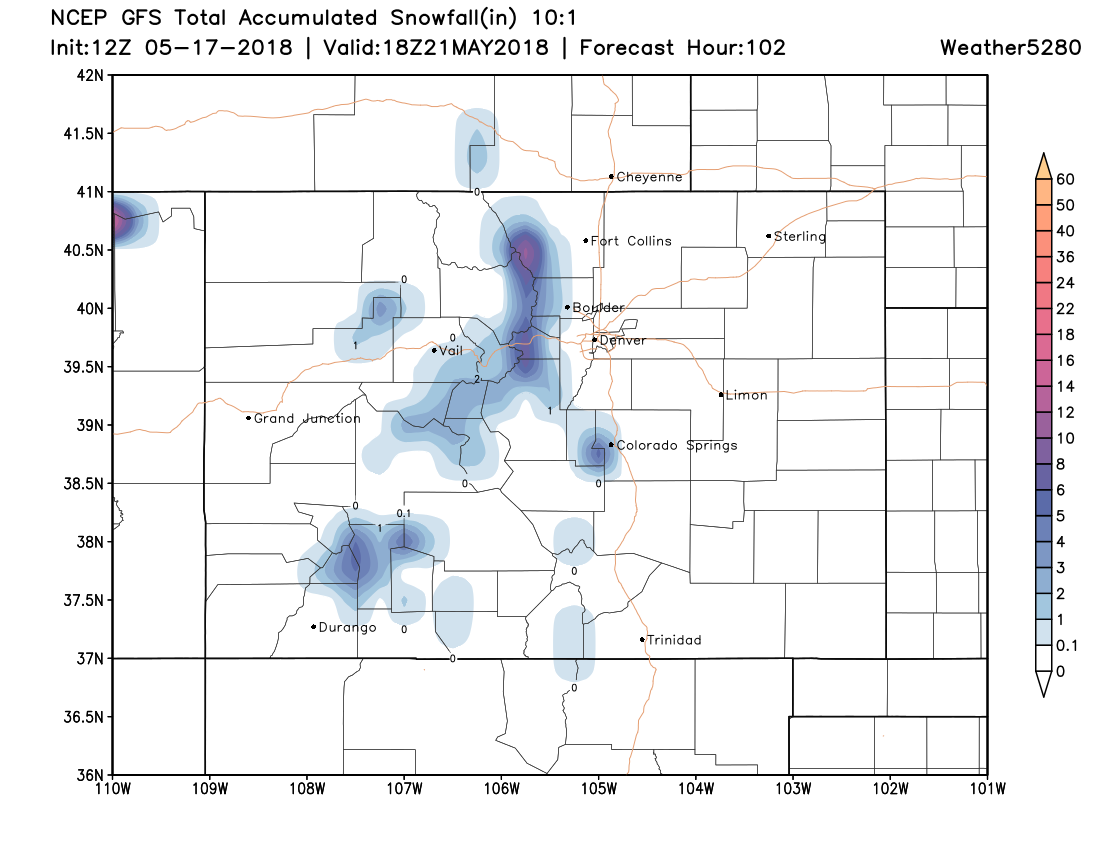 We warm into the 60s for Sunday, with a lower chance, but chance nonetheless, for a few showers and storms across the region.