As discussed in Friday's Insider update today's weather could be quite active across northeast Colorado. Current temperatures are in the 60s across northeast Colorado at this hour, with dew points in the 50s – so it certainly has "that feel" for an active storm day: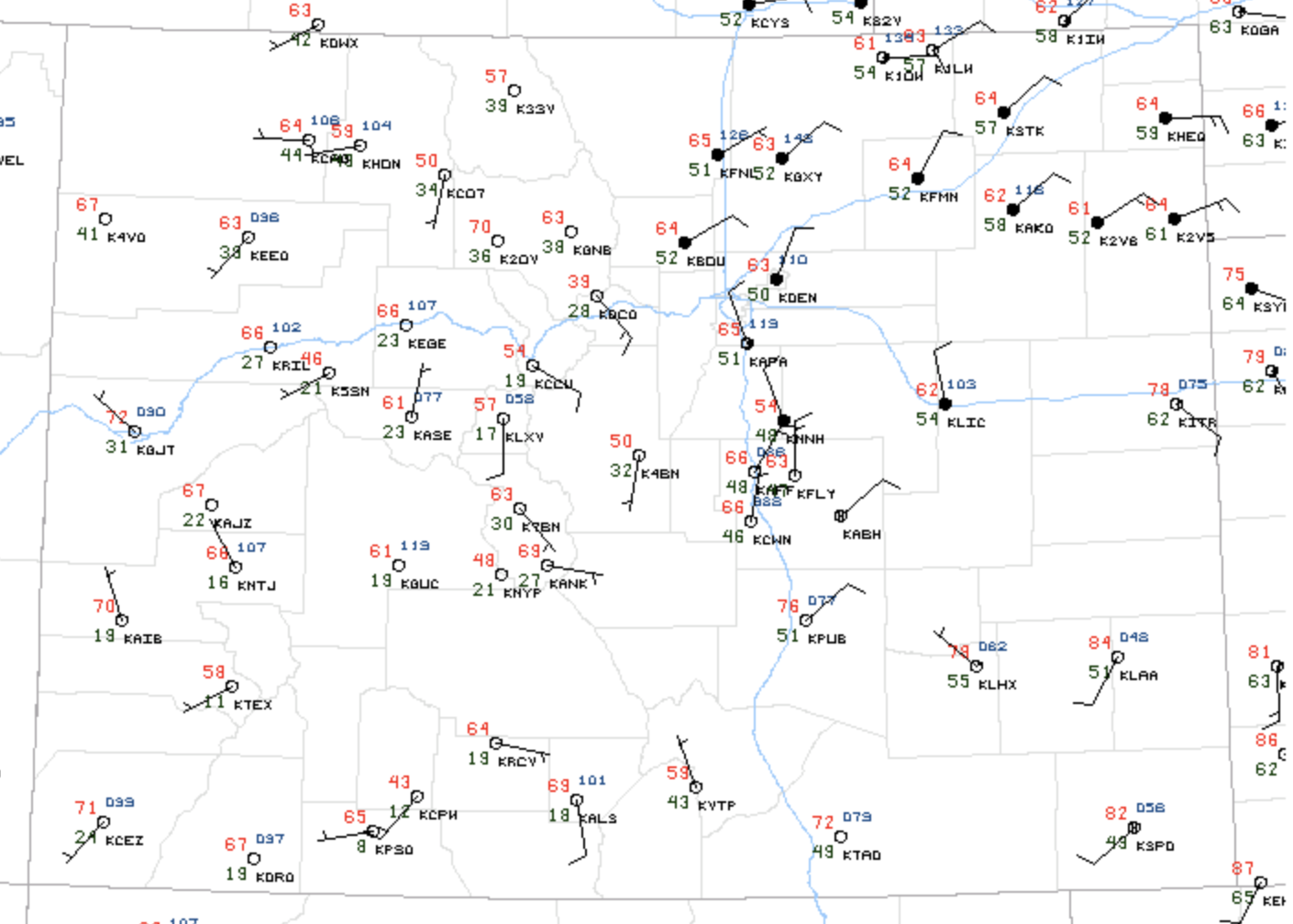 Storms are likely to develop along the Front Range by early to mid afternoon, and move northeast across the plains through the evening. Storms that do develop will have the potential to produce hail, damaging wind, and even a tornado.
The SPC midday outlook shows most of northeast Colorado under an Enhanced Outlook for severe storms this afternoon (not including Denver proper, but close):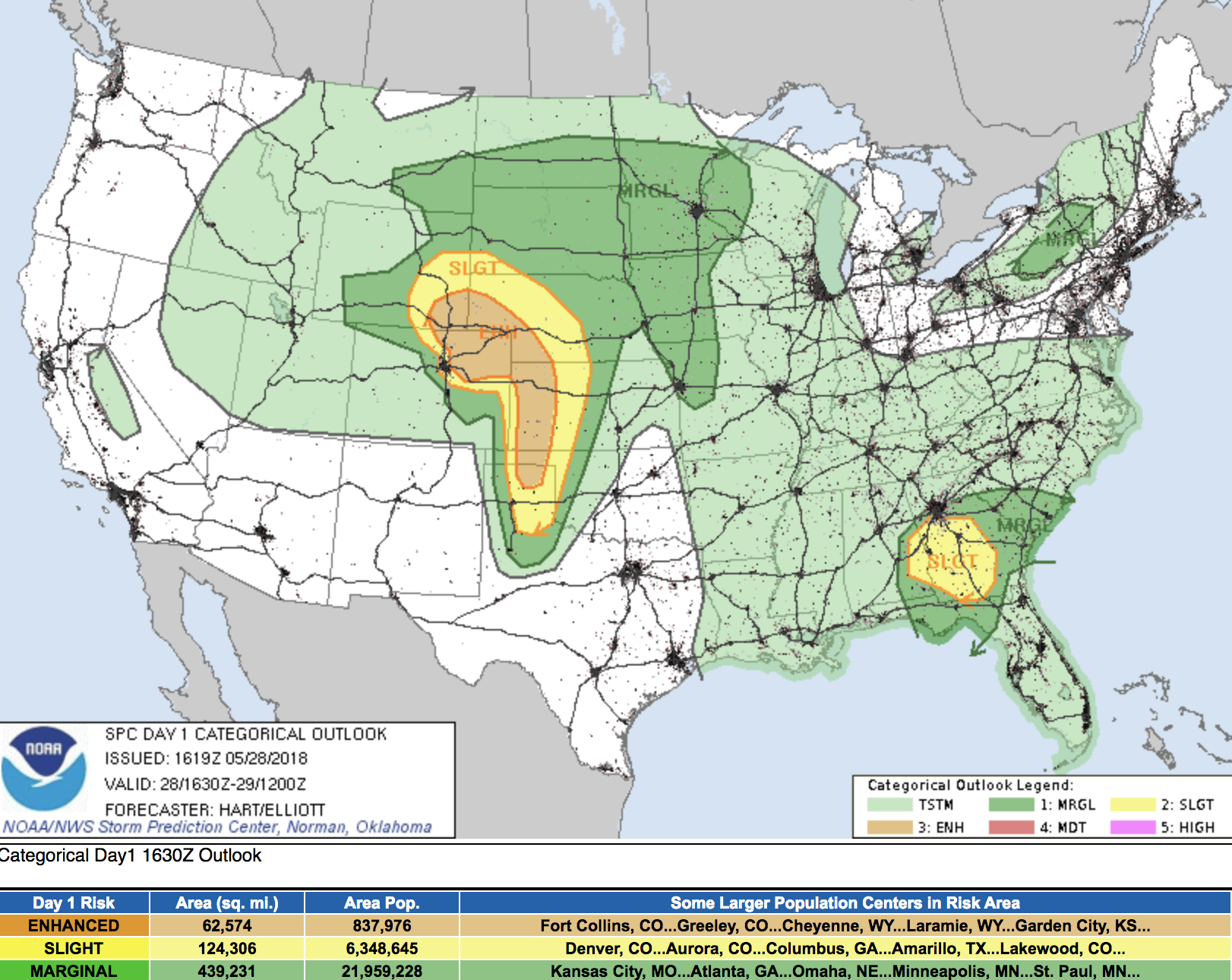 With a relatively rare 10% probability for tornadoes east of Denver, centered between I-70 and I-76 this afternoon. Denver proper is in the 2% probability area, with eastern cities (Aurora, Brighton) in the 5% probability shading: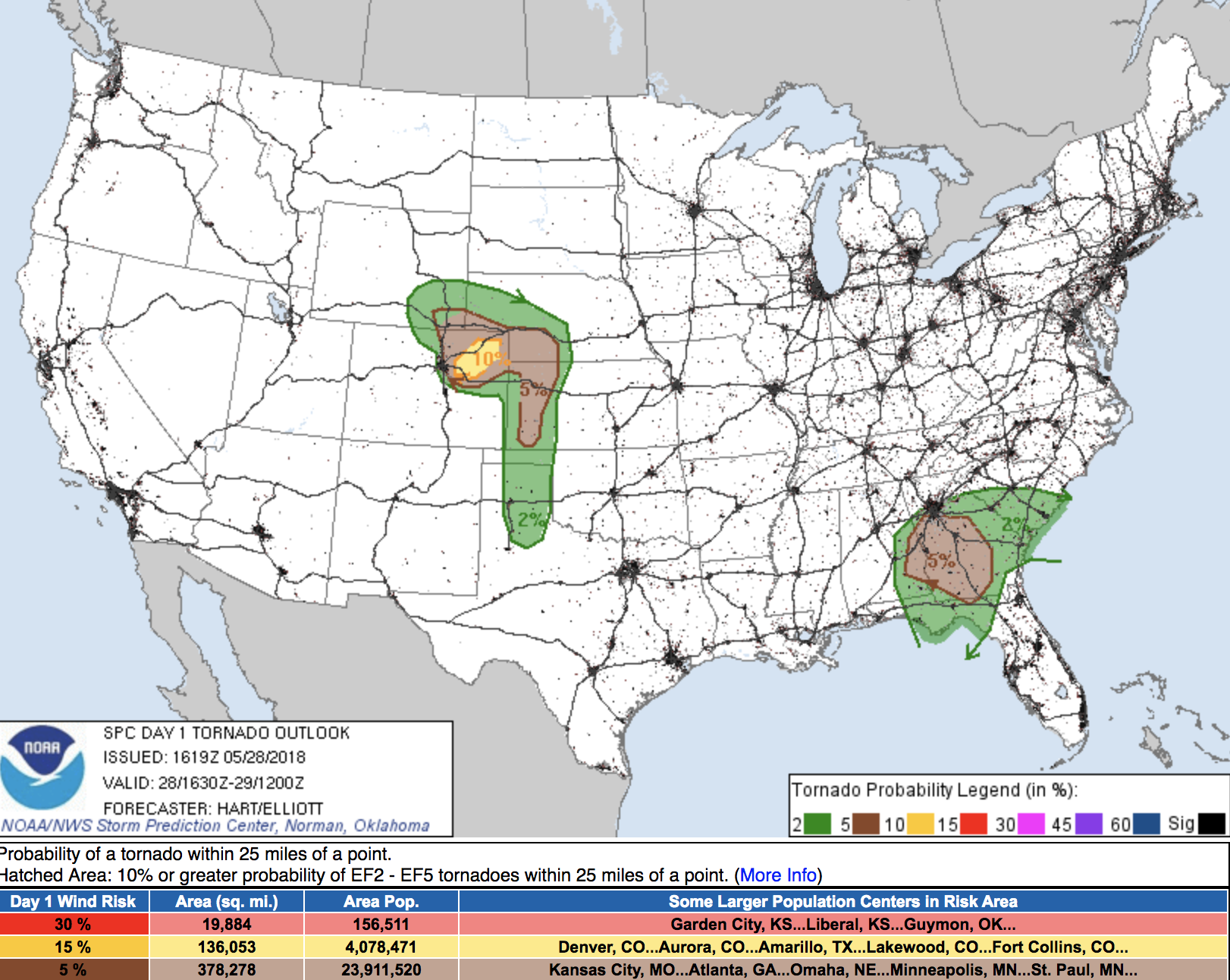 Needless to say, the potential for an active afternoon across our region, so PLEASE stay weather aware, and seek shelter should a tornado warning be issued for your area.
The latest HRRR has storms initiating between 12 and 2pm along the Front Range, then pushing east/northeast through the afternoon: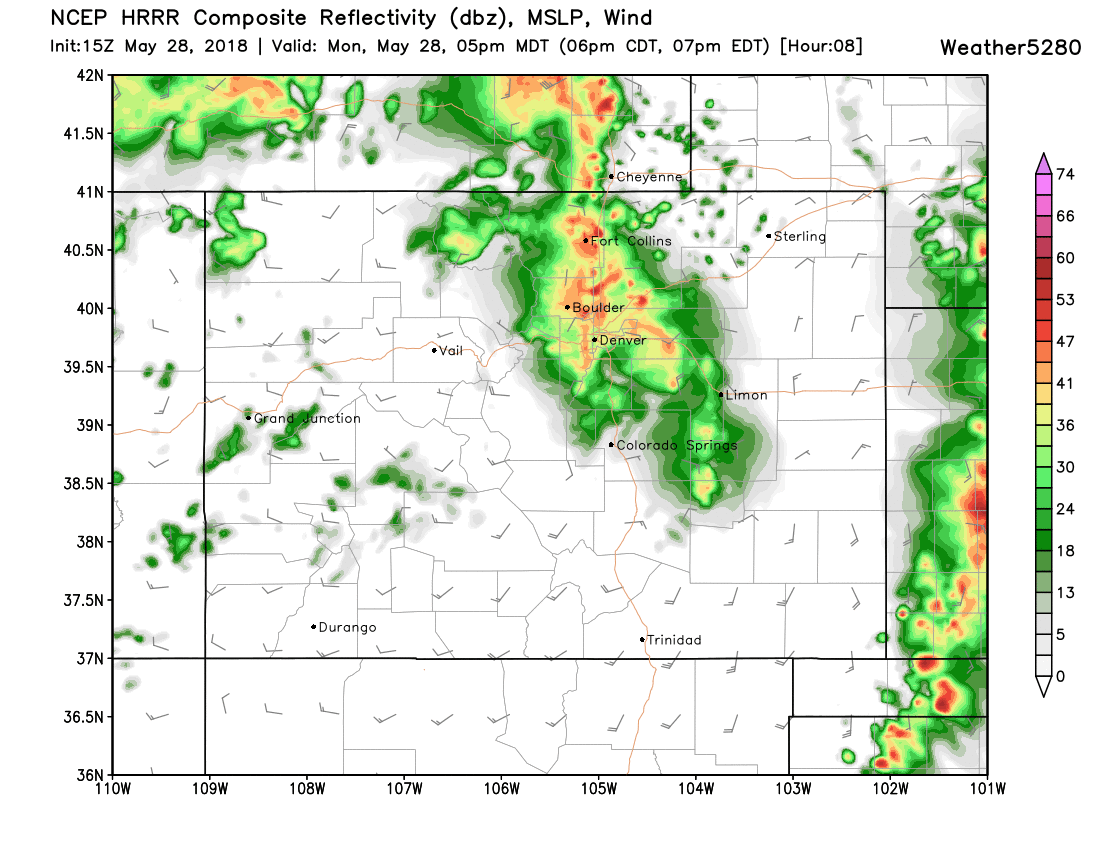 Where storms do develop (not everyone see the activity in their back yard) potential for at least brief heavy rainfall will be possible too.
Here is the HRRR's precipitation forecast for this afternoon/evening, with 1/2" to 1" along the urban corridor: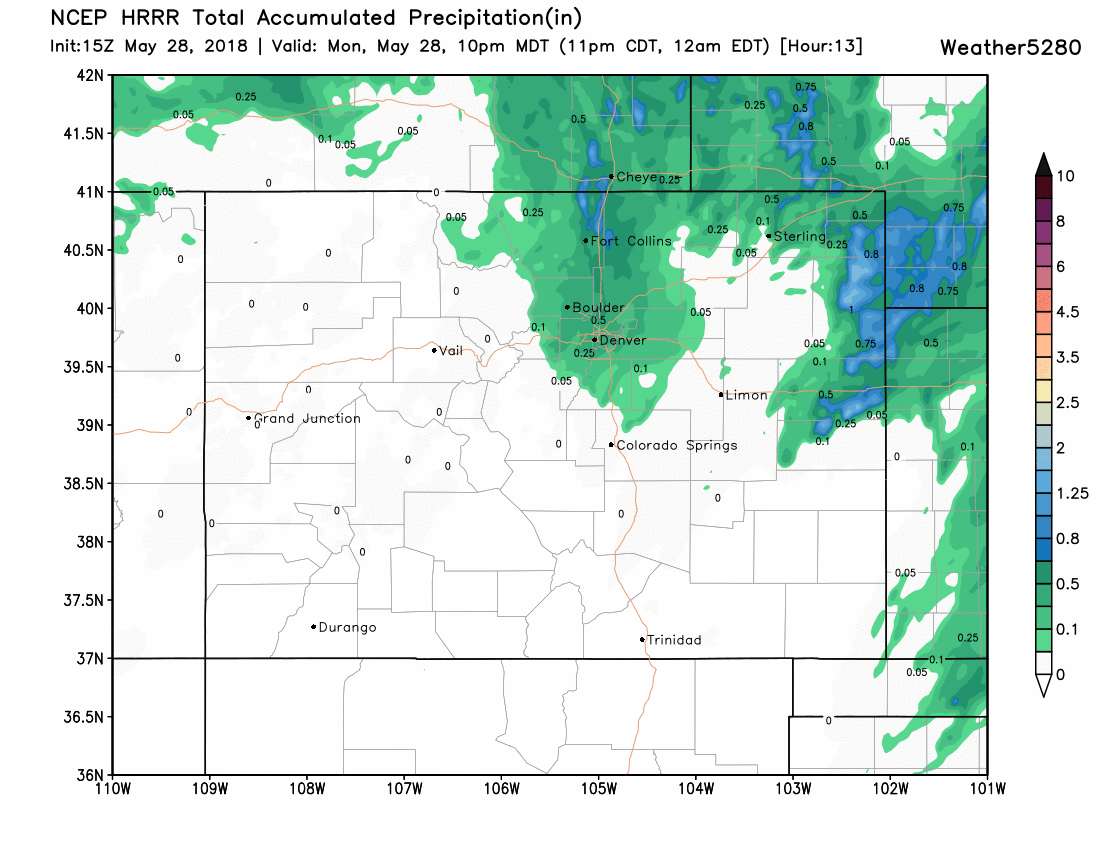 And the 3km NAM showing pockets of 1"+ totals under the heavier storms: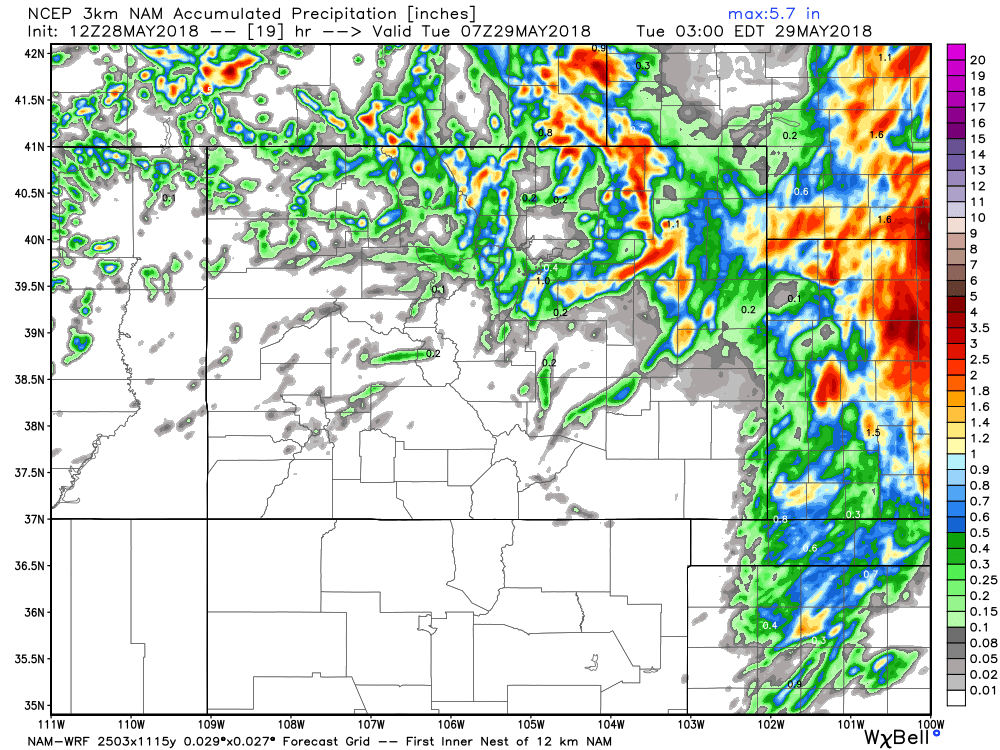 Note, above, that these totals are for areas that see those storms roll through. Could be you get nothing, while just up the street sees that heavy rain/hail. That said, probably best to have an alternate plan in place for those holiday BBQs just in case, or plan to wait until the activity has moved east before lighting those grills. Ah summer.
We should see another round of showers and storms tomorrow, but the greatest severe threat looks to move east of the state. That said, the potential will likely exist for a least an isolated severe threat – so certainly continue to monitor latest conditions for your Tuesday as well.
We gradually warm things up and dry things out through the remainder of the week. Should see highs in the 90s by Thursday and likely through the weekend, with those storm chance decreasing.