Post via kdvr.com / @MattMakens a member of the Pinpoint Weather Team for KDVR/KWGN.
Northeastern Colorado jumped from the 70s to the 90s in a matter of moments in the early morning hours Thursday.
Hot temperatures Wednesday afternoon fueled very few thunderstorms, but those storms that did form had very strong wind.
Microbursts were reported from Parker to Boulder and DIA and also on the plains.
In a similar event, a dry microburst with rapidly warming temperatures hit the northeastern plains just after 1 am.
At 1:02 am, Julesburg had a temperature of 78 degrees that warmed to 97 degrees by 1:42 am.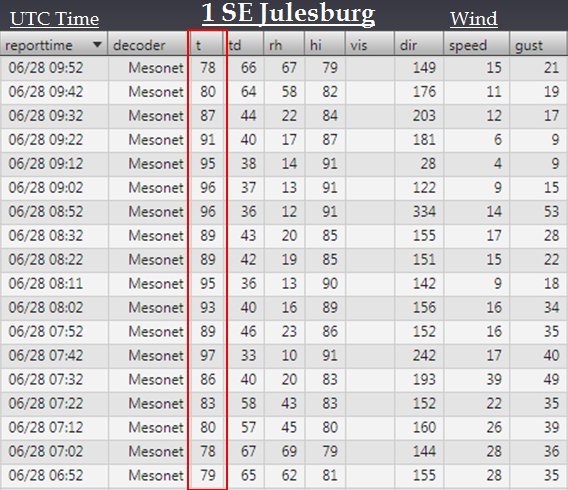 Julesburg wasn't alone, many locations in Northeastern Colorado felt the warm-up.
This rapid warming was a result of what we call a heat burst. Heat bursts are rare and occur when air descends out of a thunderstorm creating gusty winds and warmer temps.
The AMS definition of a heat burst is: "Localized, sudden increase in surface temperature associated with a thunderstorm, shower, or mesoscale convective system, often accompanied by extreme drying. The temperature jump can be so extreme that it is at times referred to as a "hot blast of air." Occurs in association with precipitation-driven downdrafts penetrating a shallow surface stable layer and reaching the ground."
The heat theme continued today, with many records daily records being set across the region. Denver tied its all time high and set a record for the date topping out at 105F this afternoon at DIA. Many other cities across eastern Colorado saw that triple digit heat as well this afternoon:
8 - 10 degrees "cooler" tomorrow with highs in the mid 90s for Denver, with the real cool down coming Saturday with highs in the upper 70s and low 80s. That will certainly feel nice.