Well, we made it, kicking and screaming, through yet another uncomfortably hot week along the Front Range. Yesterday's high of just 88°F felt amazing after five straight days with highs topping out at 95°F or hotter in Denver.
With the heat has come a period of drier weather for the Denver area, even as the monsoon ramps up across the southwest. Denver has recorded (officially) just 0.02" of rain so far this month, which has the city running 0.67" below average through the first 12 days of the month. Surrounding areas have fared better, however, with our station recording 0.25" on the month thanks to a few storms early in the month.
Despite a pretty dry last seven days across eastern Colorado, the monsoon has been doing its work across the southwest where severe drought continues to hold on. Seven day totals show appreciable moisture across portions of Arizona, Nevada, Utah, Southwest Colorado, and New Mexico, with more on the way: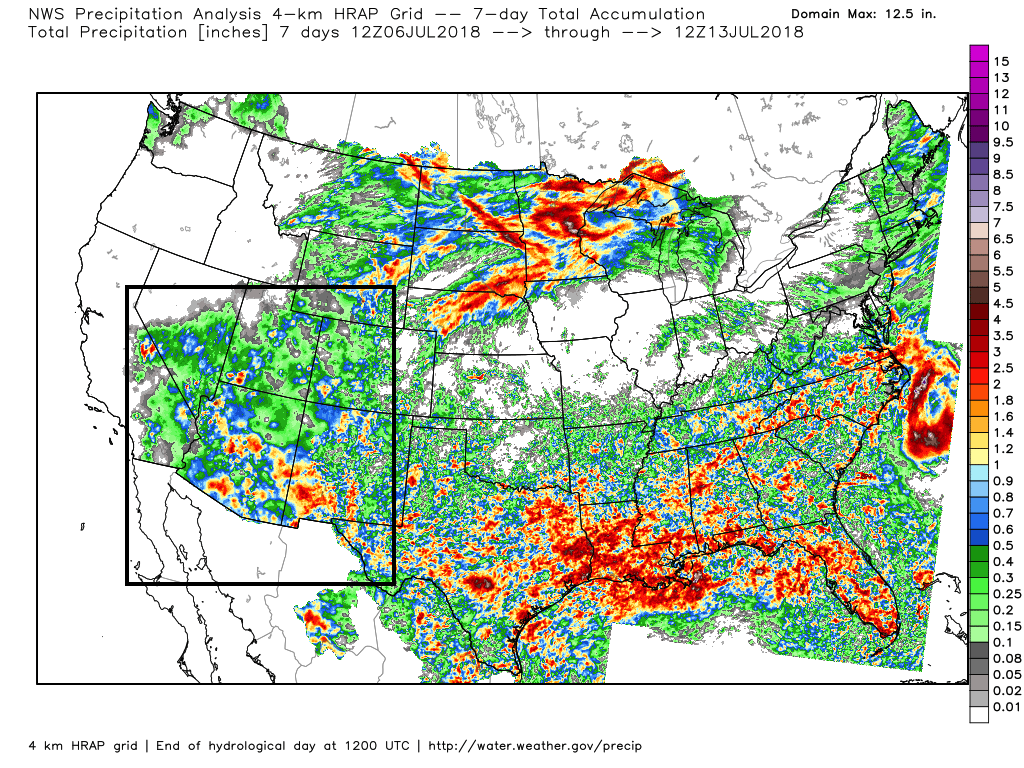 So far, we've largely been unable to tap into that monsoonal moisture across northeast Colorado, despite models at times being rather gung-ho about that possibility. The good news is, our rain chances aren't yet over, so there's still hope.
Across the southwest more moisture is expected in the coming days as well. Flash Flood Watches remain in effect across several states (including southwest Colorado where rain + burn scars will be greatest concern):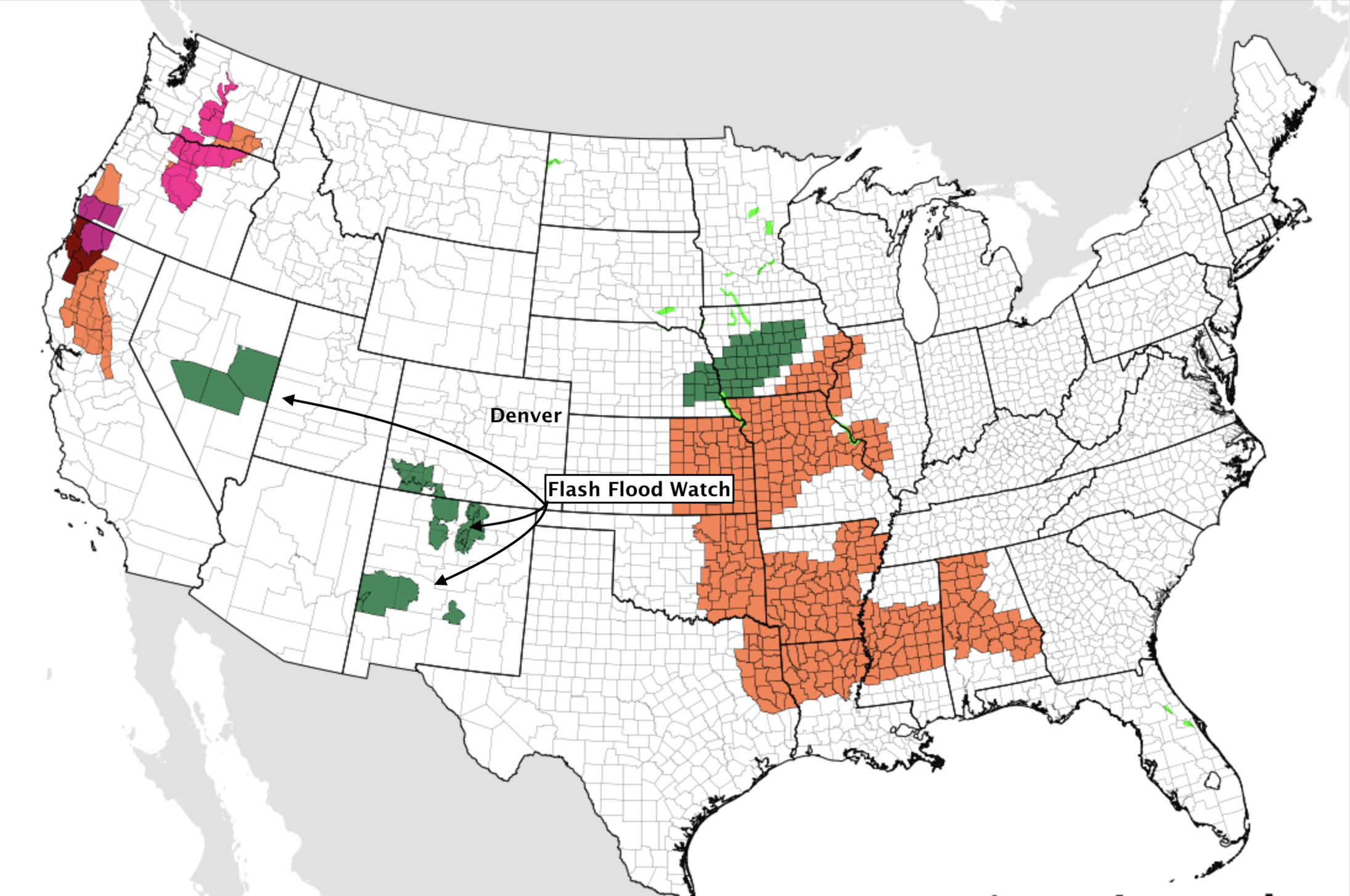 Further north, we continue to await that tropical moisture. For Denver it looks like we'll need to wait at least another day before our rain chances increase... with very low probabilities for storms this afternoon (greatest chances should stick to the higher terrain west), and a drier/hotter day on the way for your Saturday.
Sunday should offer a better chance for storms and cooler temperatures as well, though after recent days I'd say my confidence in this equating to rain in Denver is rather low. If we could pull from our winter Bust Index I'd say we're sitting somewhere around an 8 at this time. That said, probabilistically those rain chances DO increase Sunday, with perhaps some beneficial moisture for the region finally making an appearance.
The GFS precipitation forecast through Saturday looks like this (best rainfall across southern Colorado):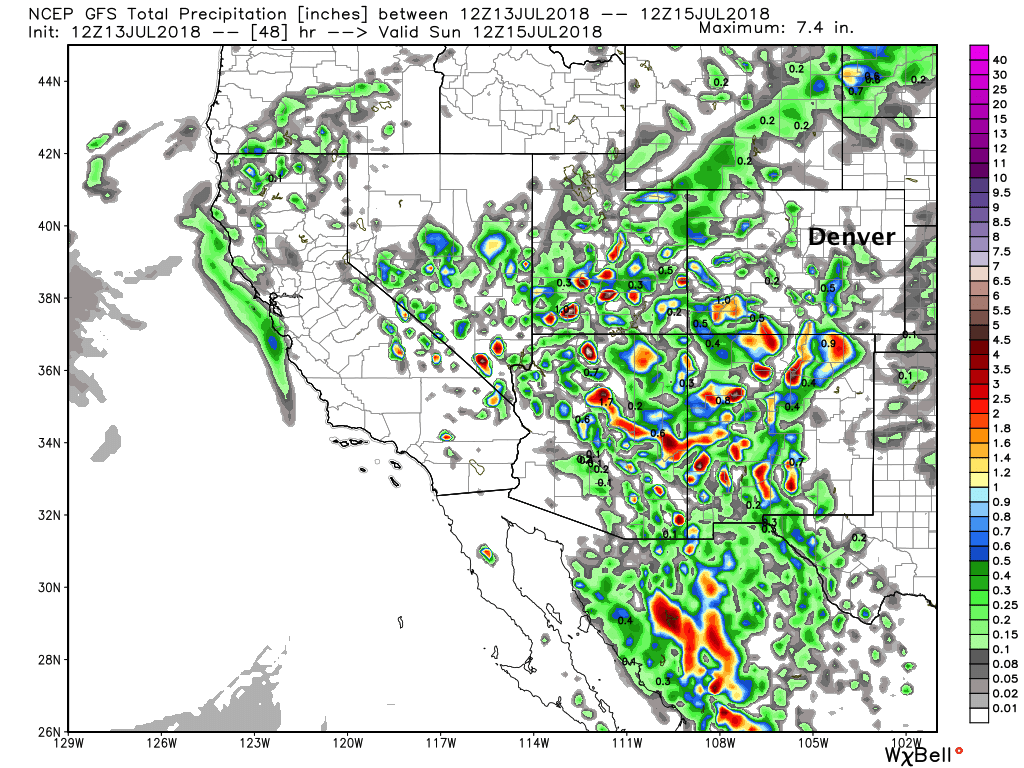 With totals through Sunday night showing the potential for better storm activity Sunday across northeast Colorado: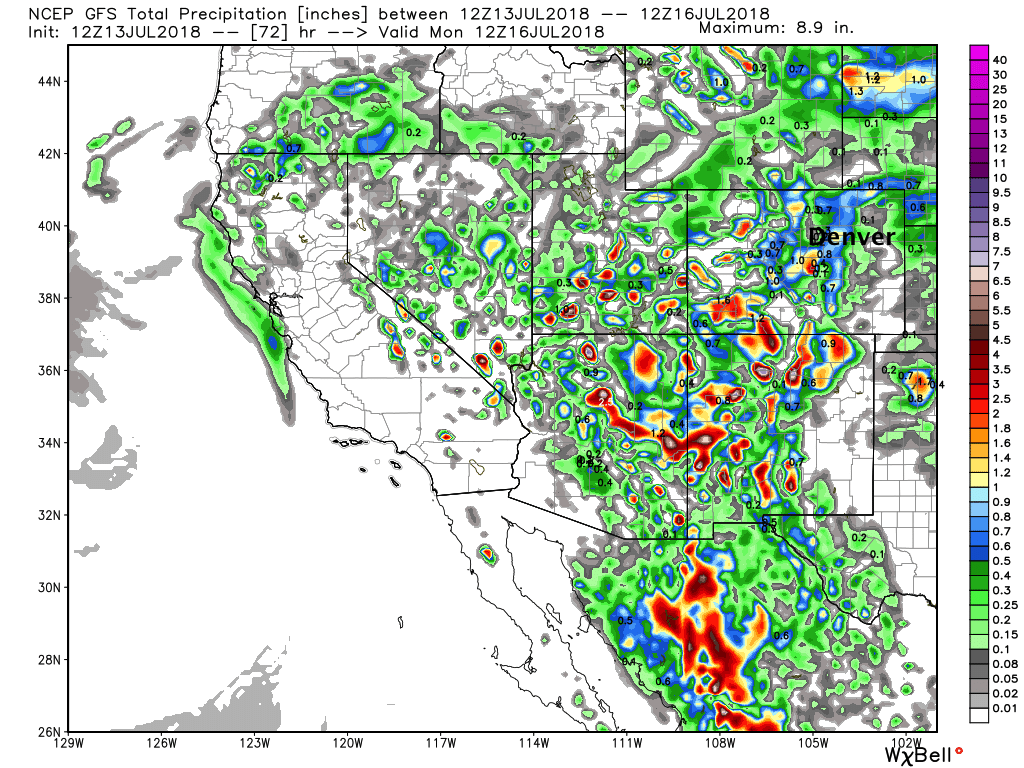 We see a similar look from the 3km NAM, though it (probably accurately?) misses Denver with the best storm activity east of Denver on Sunday: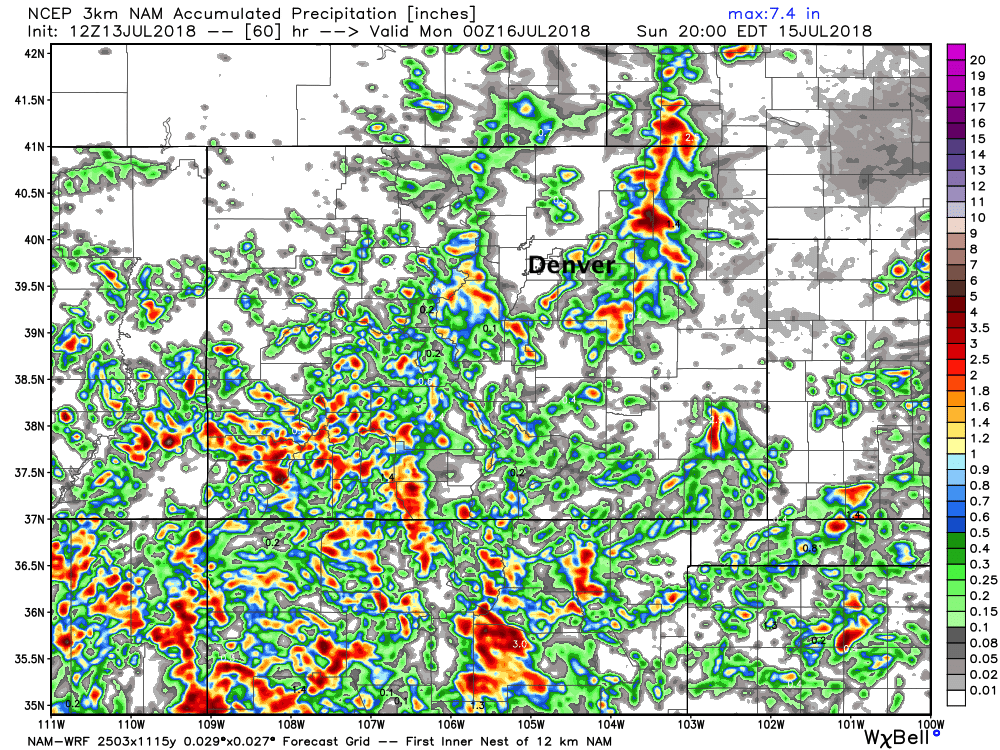 In short, hot and mostly dry for your Saturday with limited moisture around and a fairly good cap in place. By early Sunday we see a cold front push through northeast Colorado which should help to keep temperatures down a good 4 - 10° from those highs Saturday, as well as an increase in moisture with upslope flow in place for much of the day. Should see scattered storms develop across northeast Colorado Sunday, with those chances in the 30 - 40% chance range for most locales. Models at this time indicate storms may not fire until late in the day as there will be quite a bit of stable air around behind the front... so something to watch. At any rate, a CHANCE of storms, and we'll take it.
Monday through Wednesday of next week look to keep decent storm chances in the forecast with highs near normal (upper 80s to near 90), before perhaps a warmer end to the week.
Enjoy your weekend and tell it to rain, please!