We talked a bit more about this in today's Insider update, but a look at rainfall over the last week shows some good totals across much of eastern Colorado –– and a relief from the heat to boot!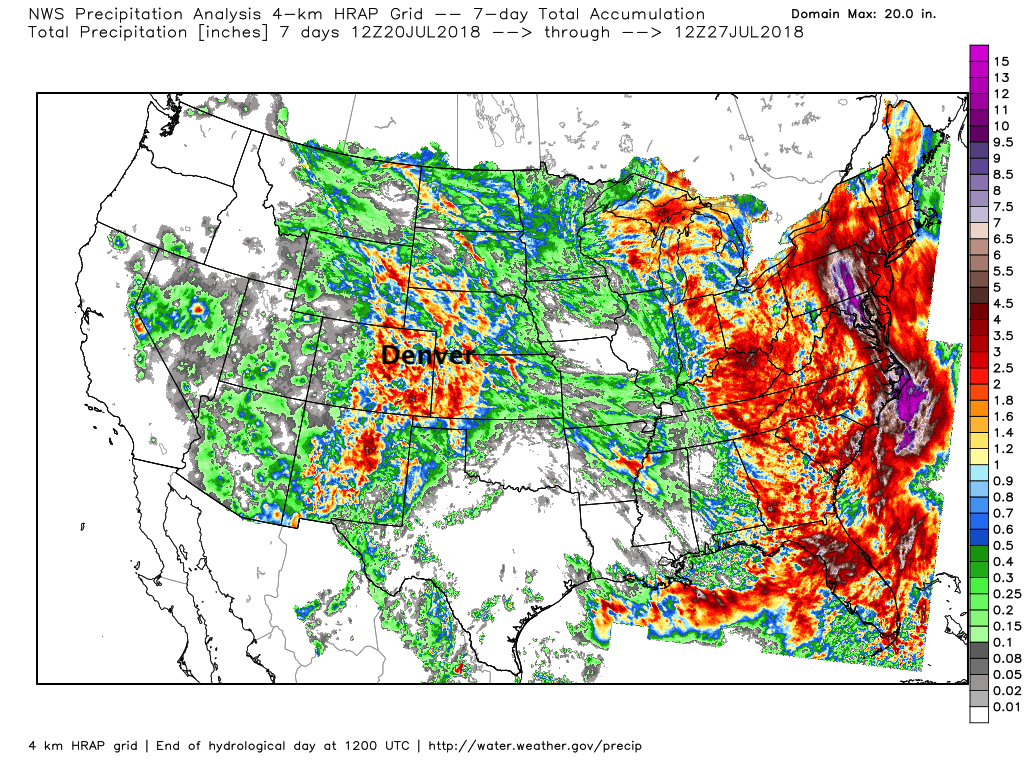 The trend continues this weekend, with MOS guidance showing Denver in the low 80s (perhaps even some 70s?) over the next several days, after a warmer day today. For now, we are going with mid 80s for your Saturday, near 80 on Sunday, and mid 70s for Monday, with a chance of storms each day.
As it stands, it looks like Sunday may feature the best storm chances for Denver, but chances overall will continue to be pretty good over the next three or four days before perhaps some drying (and warming) next week. We'll have chances in the 30 - 40% range each day through Monday, and adjust as needed.
Storms each day will be capable of becoming severe, just as we've seen all week. Today a tornado watch is in place for much of northeast Colorado (excluding Denver). Heavy rain, hail, and damaging wind will be the primary threats.
A look at the 4km NAM model shows plenty of storm activity over the next 60 hours for eastern Colorado, with areas that do see storms likely to see more heavy rainfall, much like we've seen all week. Tough to say who exactly gets how much (please don't take map literally), but rather note the widespread nature of the heavier precipitation expected from afternoon storms over the coming days.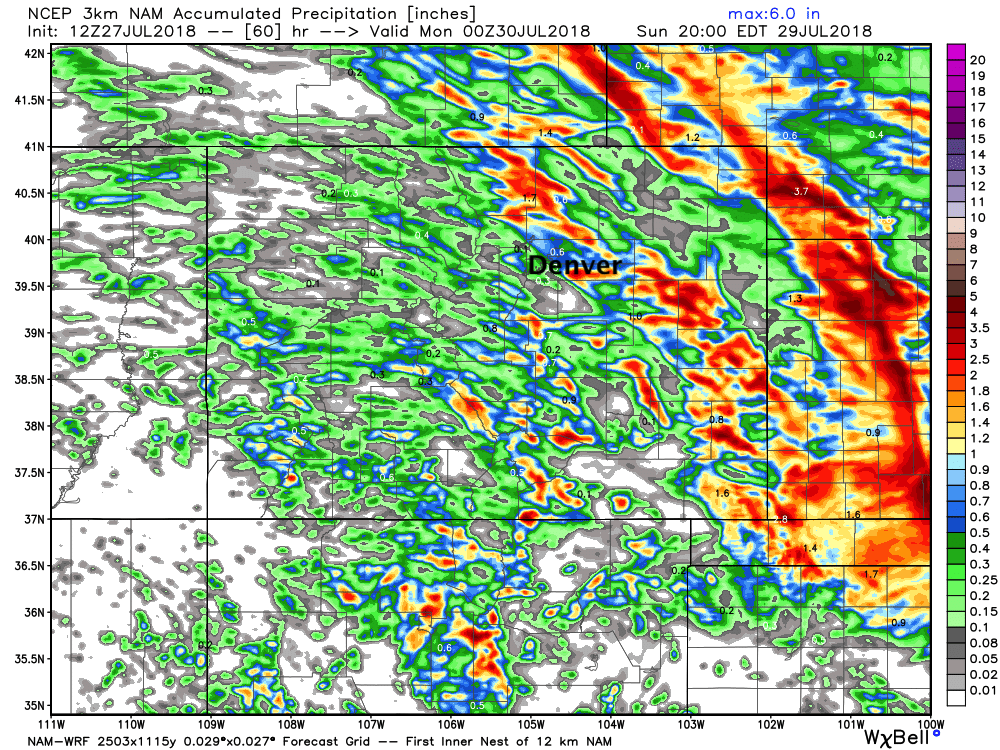 On the month we have picked up 2.68" of rain at our station. Denver International Airport finally hit the 1" mark last night (1.02" to be exact), but is still running 0.75" below average for the month. Looks like a couple more chances before the end of the month for Denver's official numbers to come up... but of course it'll come down to threading a needle getting one of these storms to move directly over DIA. We'll see.
In short, if you're heading to the Underground Music Showcase in Denver this weekend look for a COOLER UMS than we have seen in recent years, but also prepare for that chance of rain. It shouldn't be a washout by any means, but can not rule out a strong storm with heavy, heavy rain moving through on any given day. Please plan accordingly, and have fun!