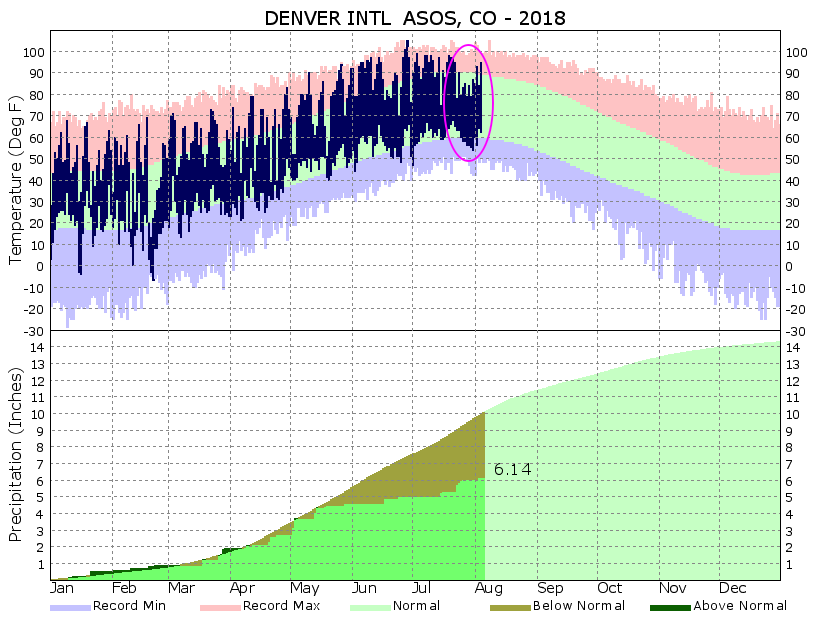 The graph above shows Denver's year to date temperatures on top (dark blue) as compared to average (and extremes), and year to date precipitation (bottom) as compared to average.
There are several items of interest in these charts. The most notable, however, may be that as of August 2nd, Denver's average high began its steady fall which will continue through the end of the year. The average high for August 1st is 90°F in Denver, for tomorrow it's dropped to 89°F, by the 31st the average high will have dipped to 84°F. The average low drops from 60°F to 54°F over the same period, with those cool late-summer nights becoming all the more frequent by month's end.
We also see that after a very hot start to summer, the last 15 days have featured temperatures below (at times well below) average in Denver (circled in pink). Looking back over the year, we see this is a rare feat indeed, with a lot of above average highs (and lows) in Denver so far this year.
Lastly, Denver International Airport has only recorded 6.14" of rain so far this year, well below the average. Meanwhile, our station has recorded 11.04", which would actually land us above average through the same period. We happened to get hit by a couple of good storms in July that the airport largely missed on, which explains much of the difference in the two numbers.
The week ahead
August has started pretty quiet across the Denver metro area, with storms over the last week being more isolated in nature.
While both days this weekend featured afternoon storms, for the most part the helped cool temperatures a bit more than deliver on beneficial moisture. The two main exceptions today were across the Palmer Divide and extreme northern Colorado, where storms managed to deliver some better rain.
We carry those storm chances into the week ahead, with perhaps a bit better storm coverage for your Monday. High temperatures will likely be a bit cooler Monday as well, with MOS guidance showing Denver topping out in the upper 70s to low 80s.
We should see about a 40% chance of rain Monday into Monday night, dropping to 30% for Tuesday, and 10 - 20% on Wednesday. At this time rain chances look pretty low for Thursday and Friday.
Greatest storm coverage over the next two days may end up focusing over southeast Colorado, but we should see a handful of good storms across northeast Colorado to start the week as well. The latest 3km NAM shows this, definitely hinting at storm coverage being more widespread south and east of Denver. Given the setup, however, I think the northern Front Range sees some good storm activity, and again, a pretty good chances of a few of those storms rolling out across the urban corridor and eastern plains as well. Also of note, it'll again be pretty dry over western Colorado to start the week...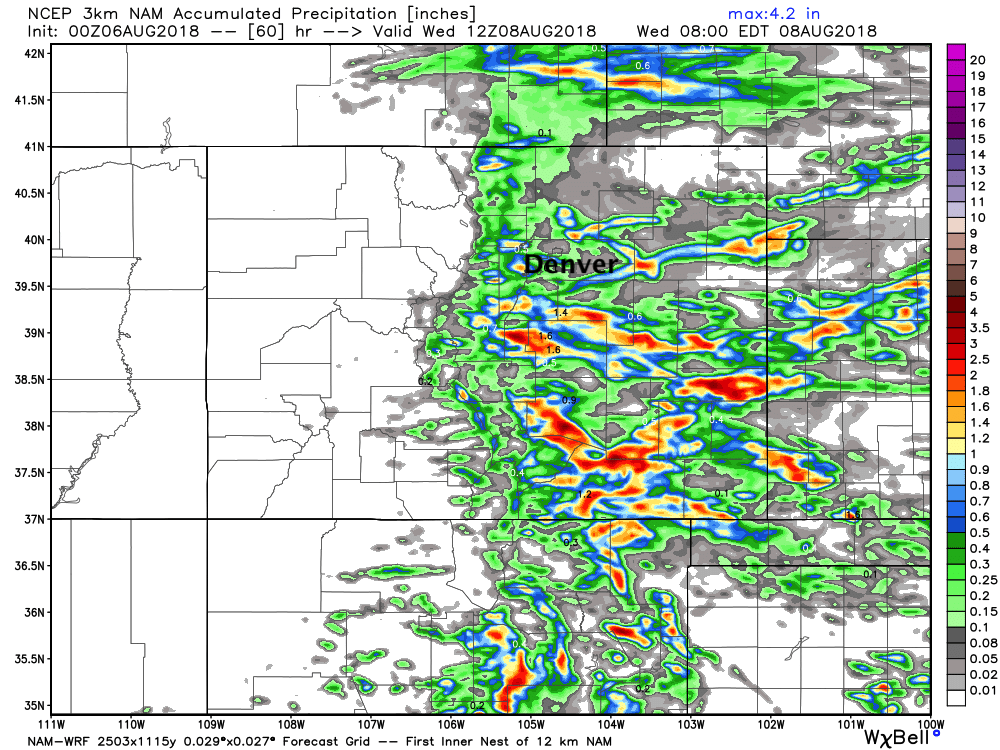 If we don't luck out on some storms to start the week, we could be waiting a bit for our next good chance. The EURO shows a steady climb in temperatures over the next 10 days, with very few rain chances as well in Denver: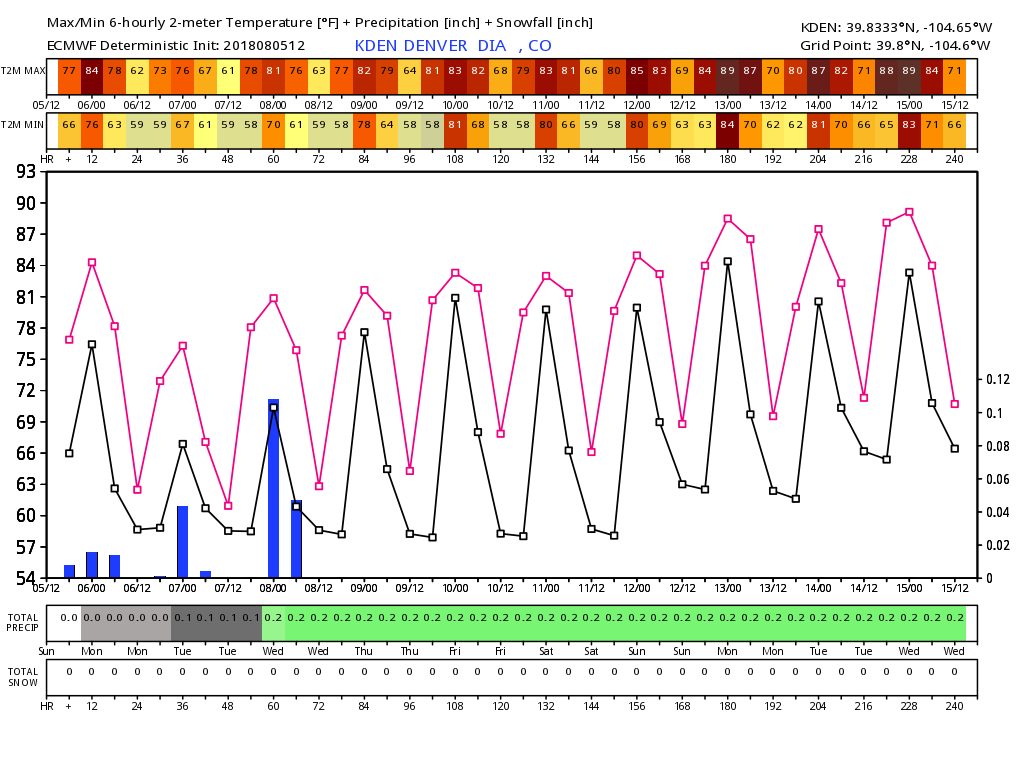 Overdone on the dry? Perhaps. It's ensemble is a bit wetter and keeps some monsoonal moisture around from time to time... and of course the GFS is wetter... but it's been too wet all summer.
The good news is, even if we dry out a bit, we should be able to keep that early summer heat at bay more often than not over the next two weeks. Can't rule out a hot day sneaking in there from time to time (especially for Denver, a lower chance east), but overall a pretty good look for temperatures over the next two weeks for this time of year.
The next seven days: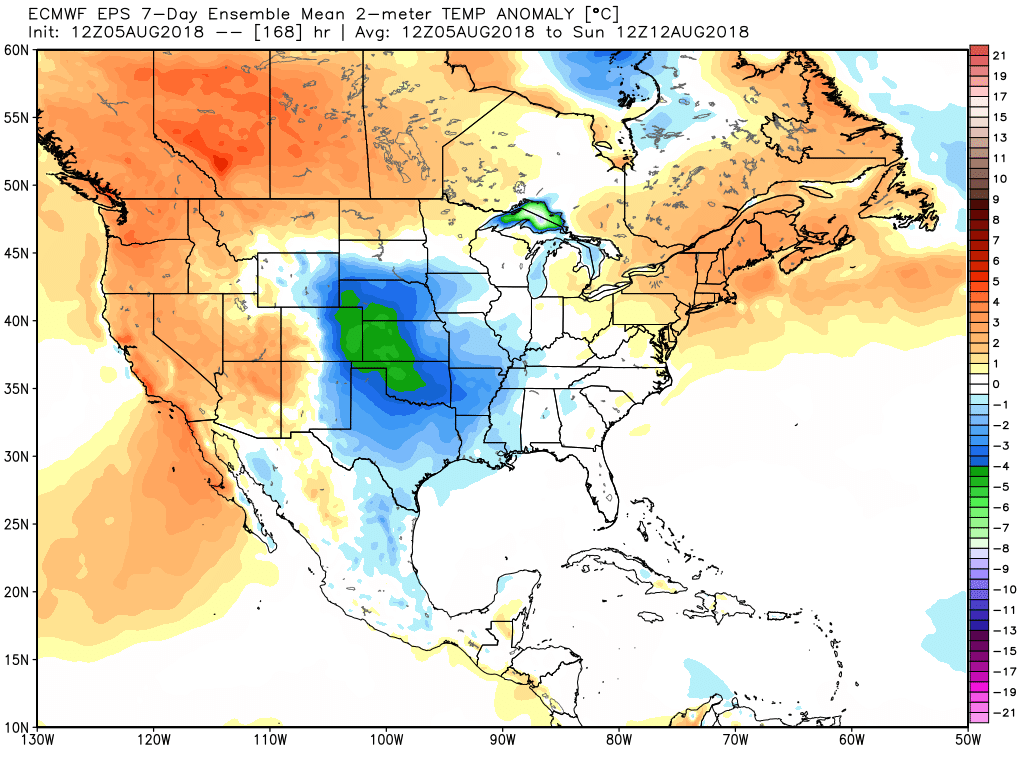 The following seven days: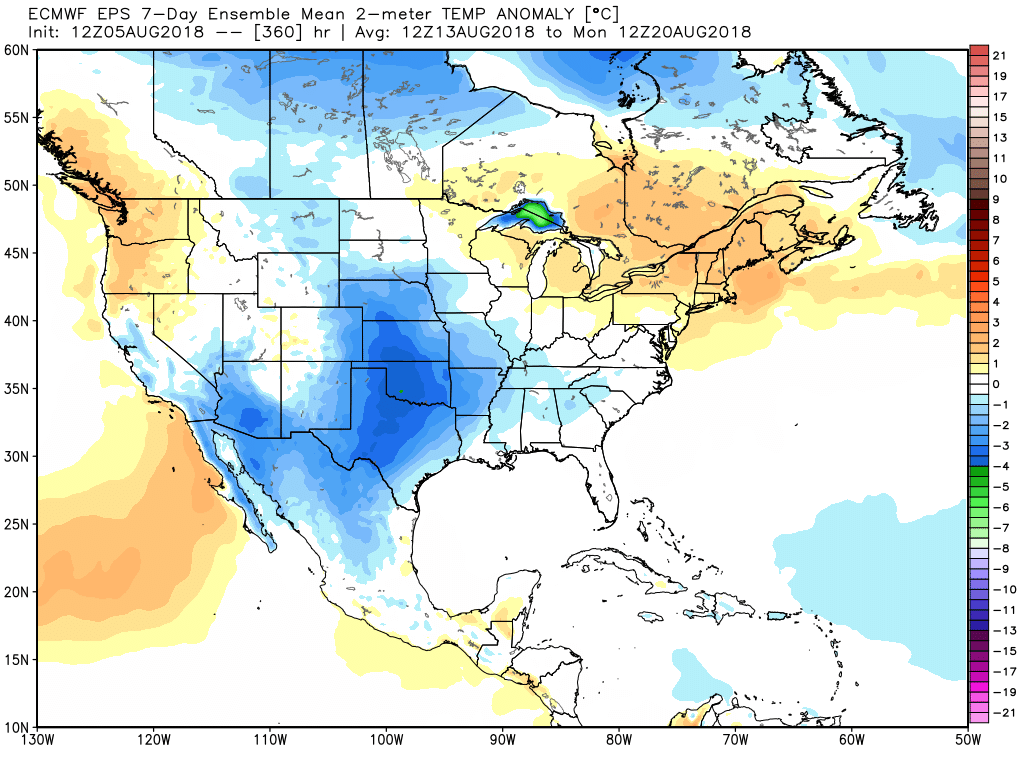 Yes please.